NHL Prospect Report
USHL Stock Watch: Macklin Celebrini putting himself in the pole position for 2024 NHL Draft
We're rounding into the home stretch of the USHL regular season, with teams looking to make final pushes into the playoffs. It's crunch time, and a few players have seriously stepped up their game, looking to lead their teams to the promised land.
Moreover, the 2023 NHL Entry Draft is just around the corner, and both eligibles and re-entries will be looking to make positive final impressions in the final few games of the year. Let's take a look at some players who have been hot approaching the postseason, as well as a few who will be looked to for more.
Stock Rising
Macklin Celebrini, C, Chicago Steel (2024 NHL Draft)
NCAA Commitment: Boston University
It's hard to say that a projected first-overall pick's stock is rising, but with 16 goals and eight assists in his last 10 games for the Steel, Macklin Celebrini has certainly been turning heads. Celebrini boasts everything you could want in an elite forward. He plays fast, building up speed through the neutral zone to put defenders on their heels before using a slick deke or cut to get off the wall. Celebrini can also create through delays, finding space for himself and slipping the puck to a trailer in a dangerous position. He consistently improves the positioning of the puck, and without possession, slips into soft areas to be an outlet for his gifted linemates, who usually find him. Celebrini is gifted physically and while not the tallest player on the ice, leverages a strong lower body to win battles and explode out of tight spaces with the puck. He's cerebral defensively, scanning and anticipating to help start transition the other way where he can. If he can translate the success he's had in the USHL to Hockey East next year, he'll cement himself as a first-overall pick.
Jayden Perron, W, Chicago Steel (2023 NHL Draft)
NCAA Commitment: North Dakota
A consistent knock on Jayden Perron this season has been his good-not-great bottom line as a first-time draft-eligible skater. With three goals and 18 assists in his last 10 games – good for USHL Forward of the Week honours last week –, Perron has pretty much silenced the haters. Playing on a stacked line with Celebrini and Jack Harvey, Perron is far more than just a passenger. The undersized forward makes up for his diminutive stature with a high motor that allows him to find open space in zone entries. He's got a slick set of hands and elite vision that he combines to make jaw-dropping dangles and set-up plays to his linemates, who help him by almost always being in the right place at the right time. Defensively, Perron uses his speed to clog up lanes and disrupt passes. He's not the strongest player on the half-wall but is effective at pre-scanning and making a bump or chip to move the play forward. Perron has continued to get better as the season has gone on and will look to earn himself a high draft pick come June.
Jacob Fowler, G, Youngstown Phantoms (2023 NHL Draft)
NCAA Commitment: Boston College
Jacob Fowler has been stellar for Youngstown all year but has been especially impressive as of late, posting a .939 save percentage and a 1.62 GAA in his last eight starts. Standing at 6-foot-2, Fowler covers a ton of ground with his pushes, getting from post to post exceptionally quickly, which allows him to track well to the back door. He is also efficient getting from his RVH to his butterfly to standing, which helps him as the puck moves low-to-high in the offensive zone. Fowler is off to Boston College next year, a program that has had its fair share of success with American goaltending prospects. If Fowler continues to improve the way he has this season, whatever NHL team selects him is going to get a ton of value.
Tanner Adams, C, Tri-City Storm (2023 NHL Draft)
NCAA Commitment: Providence
Tanner Adams has been on a heater of late, with four goals and five assists in his last 10 games. The Providence commit is a hard-working two-way player with some legitimate playmaking ability. Adams has a great mental map of the ice, understanding how to draw in pressure before delegating possession to a teammate in a dangerous position. He's got some smarts off the puck too, darting into soft spaces when there's a chance for him to get a shooting chance. Adams is also reliable defensively, supporting and winning board battles. He works hard to be a factor on the backcheck, too. His skating and mobility will need to improve if he is going to continue success at the collegiate and professional levels, but Adams certainly has an impressive toolkit already.
Stock Steady
Sam Rinzel, D, Waterloo Black Hawks (Chicago Blackhawks)
NCAA Commitment: Minnesota
Sam Rinzel has continued to be a stabilizing presence on Waterloo's blue line all season. It's rare to find such a combination of size and skating ability in a defenceman, but Chicago has gotten just that in Rinzel. The Minnesota native leverages his long skating stride to create separation from forecheckers in transition before finding an outlet or gaining the zone himself. He's a huge piece of the Blackhawks' power play, using deceptive puckhandling to create shooting and passing lanes from the point. Defensively, Rinzel's long reach allows him to disrupt plays early and deny the blue line, killing rushes and starting transitions the other way. He needs to fill out his frame a bit before he turns pro, but he's got plenty of time and there's a ton to love about his game already.
[Read more: How Blackhawks' prospect Sam Rinzel's in-game transition explains his bright future]
Stock Falling
Zack Sharp, F, Sioux Falls Stampede (2023 NHL Draft)
NCAA Commitment: Western Michigan
There's a ton to like about Zack Sharp's game. He's got a great first touch on the puck, using dekes, handles, and fakes to create passing lanes in transition. There's some decent activation ability too. However, the footwork, particularly defensively, gives reason for pause. He's not especially agile laterally which prevents him from being a successful rush defender. He allows the zone too easily and sometimes struggles to turn the play around in transition, something that might be exposed at the next level. Sharp is obviously a very talented player, but his path to professional hockey may take a bit longer than I thought earlier in the year.
You may also be interested in: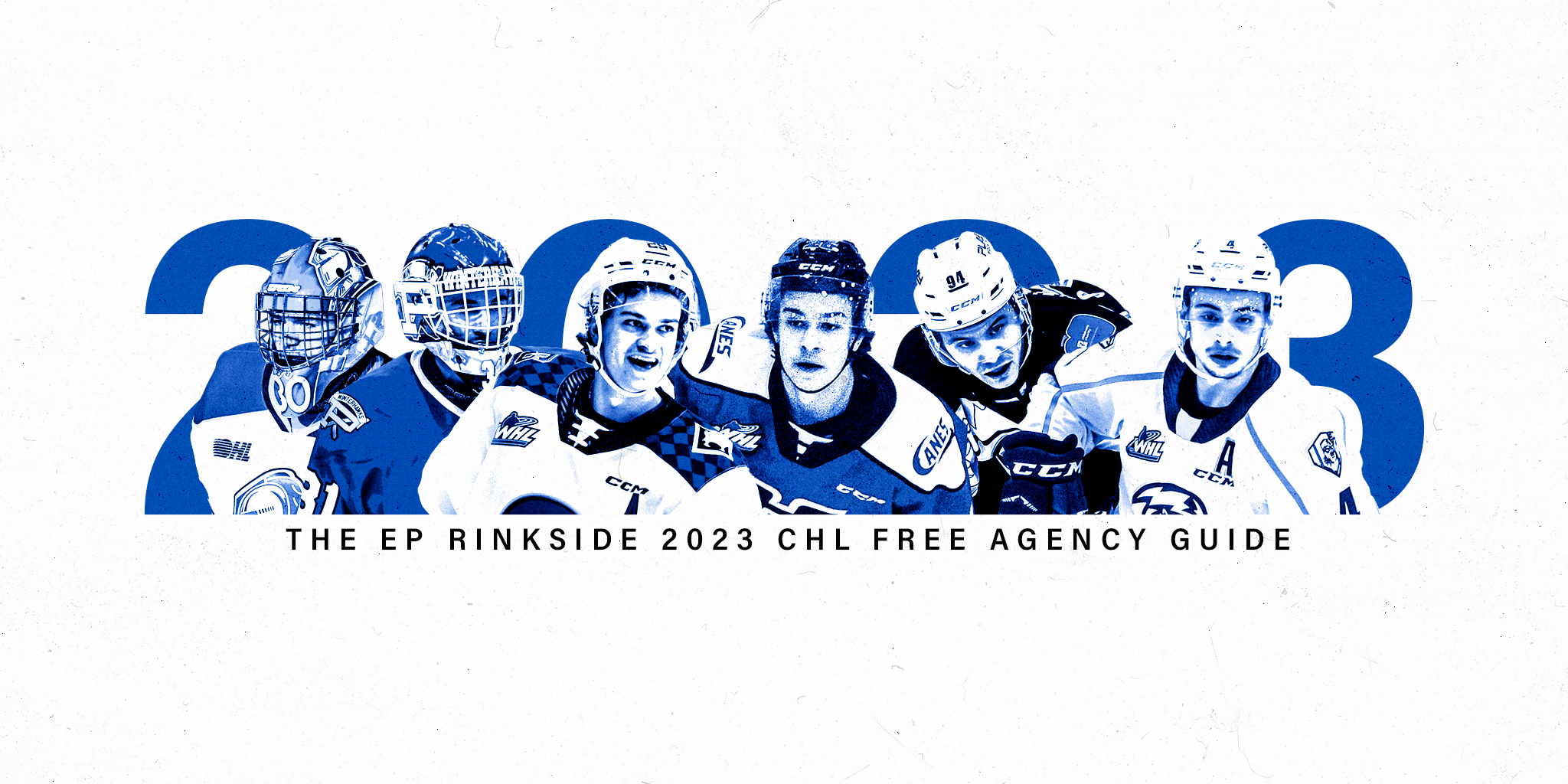 The EP Rinkside 2023 CHL Free Agency Guide
This article is about: