NCAA
NCAA Tourney Takes Day 1: Cornell pulls off the upset; stage set for all Minnesota battle
A brief recap of today's NCAA tournament games:
No. 13 Cornell 2, No. 4 Denver 0 (Manchester regional)
Jack O'Leary had five goals and 10 assists on the season coming into the NCAA tournament. In the first period against the reigning national champions, he looked like a Hobey Baker candidate.
He was all over the ice, making things happen on the forecheck, generating scoring chances, and scoring the opening goal before setting up the second on a broken odd-man rush.
Jack O'Leary opens the scoring for @CornellMHockey in the Manchester Regional.

Max Andreyev (FA) and Matthew Stienburg (#GoAvsGo) the assists on the play.#NCAATournament pic.twitter.com/9eWRkSYF4Q

— EP Rinkside (@EPRinkside) March 23, 2023
The fact that a fourth-line winger was running the show against one of the best teams in the country typified Cornell's approach in its 2-0 upset win over Denver: They hammered the Pioneers at every opportunity, leveraging a roster full of good-sized players (16 players dressed today were over 6 feet tall) and a physical approach to completely discombobulate Denver.
O'Leary, though, is listed at 5-foot-7, but when even those guys are getting in on the action down low, that's how you know you've got 'em running uphill. Shots after 20 minutes were 13-6 for Cornell.
"Our league prepares us for this," said Cornell coach Mike Schafer, whose team lost 1-0 to Harvard in the ECAC tournament. "There are dynamic offences in our league. Harvard is dangerous just like Denver. And tonight, we attacked more and weren't tentative."
Then, just 24 seconds into the second, Denver's Justin Lee added to his team-leading 54 penalty minutes with a five-minute major for direct contact to the head on an open-ice hit. The head contact was so obvious that when they showed the replay on the big screen in the arena, the whole crowd let out a guttural, "Oof."
The Big Red didn't extend its lead on that play, but it was another five minutes off the clock for a team that was already doing a really good job of limiting opportunities, and if things were going to come that few and far between for Denver at 5-on-5, then you take the free quarter-period where it should be mostly one-way traffic.
"They're a good team," said star Denver forward Carter Mazur. "They pressured us well and we couldn't really adjust to that until the second period. They were just a physical team and it felt like we started to match that in the second and third."
The Pioneers did a good job of tightening things up in their own end, but the physical play, the pushing and shoving? It all continued and Magnus Chrona (25 saves) had to make a handful of huge saves that held his team's deficit to just two goals.
Magnus Chrona (#SJSharks) with a pair of massive saves on Ondřej Pšenička to keep Denver in this hockey game.#NCAATournament pic.twitter.com/hXVJpJp3mX

— EP Rinkside (@EPRinkside) March 23, 2023
It looked like Cornell was going to try to squeeze the life out of this one. But then came the pushback, some of it self-inflicted. Dalton Bancroft threw a headshot – on a play where the puck was long gone – and got a five-minute major of his own. The door was officially open for Denver.
(Funny story on both headshots: They were majors, but neither guy got a game misconduct. Now That's What I Call Game Management!)
This was the first opportunity the Pioneers really had to establish some zone time, but the actual opportunities weren't really coming as Cornell dominated the middle of the ice just as it had before. Just about every cute bang-bang passing play, every cycle, rejected and cleared the length of the ice.
And for the one or two plays that actually resulted in a scoring chance over the course of the first two periods, Big Red goaltender Ian Shane (27 saves and the shutout) was more than capable. Denver's Jack Devine had a golden opportunity all alone in front and Shane deflected it out of play with a save that had the sophomore right wing holding his hands to his head in disbelief.
"I don't know how he is not an all-league goalie," Schafer said. "He has the second-best goals-against average in the country and he doesn't even get third team in our league or second team in the All-Ivy, and I think that's his mentality as he has a little chip on his shoulder to prove people wrong."
The third period was more of the same for a while. Cornell even drew a penalty shot on an early Nick DeSantis breakaway, but Chrona stopped it comfortably.
Then Denver got its legs under it again, as the Big Red shelled up and was content to run out the clock for much of the last two-thirds of the final period. Denver got a few more decent looks, but none were from particularly dangerous areas of the ice. By the time the Pioneers finally got to 20 shots for the game, it was inside of five minutes to go, and it felt like whatever effort they were cobbling together just didn't matter that much after all. A few more good looks with the net empty came to nothing.
This is the apotheosis of Cornell hockey: Big, damaging, limiting, and happy to let you fool around on the perimeter.
That said, this was also just their second win this season against a top-15 team, and the last one was back in January. Credit to them for stepping up significantly when it mattered – it looked like a steep climb coming in and they gave every appearance of being the favourite from the word "go."
No. 5 Boston University 5, No. 12 Western Michigan 1 (Manchester regional)
MANCHESTER, N.H. — Boston University has scored 17 goals in four games since the start of the playoffs a few weeks ago. Lane Hutson has been on the ice for 15 of them.
That number includes every single Terriers goal in today's confident 5-1 win over Western Michigan in the first round of the NCAA tournament. He scored BU's first one by himself on the kind of play he's dined out on all season – suddenly just appearing in a scoring area and rifling it past Western goalie Cameron Rowe with little difficulty.
Who else? Lane Hutson (#GoHabsGo) opens the scoring for Boston University in the Manchester Regional.

Jay O'Brien (#FueledByPhilly) and Ethan Phillips (#LGRW) the assists on the play.#NCAATournament pic.twitter.com/NLwOxG1plU

— EP Rinkside (@EPRinkside) March 23, 2023
With that goal, Hutson became the most productive U-19 defenseman in college hockey in decades, moving into third place all-time with 48 points. That surpasses Brian Leetch's rookie year at Boston College in 1986-87 for sole possession of third all-time and only one point behind Curt Giles' 1976-77 campaign.
"His hockey IQ is off the charts," BU coach Jay Pandolfo said. "I think that's one of the biggest things [about how he impacts the game]. Also he's really competitive. He wants the puck on his stick, he wants to make a difference. He likes big moments."
So it was no surprise that he opened BU's account for the game, just as he had in the Hockey East final last week.
On paper, it was a relatively even first period – shots on goal were 9-8 for BU – but the Terriers definitely had the territorial advantage, getting closer to the net with far greater consistency, holding the puck in the offensive zone for longer periods of time, and generally doing more to bother Rowe than the Broncos were doing to trouble BU's Drew Commesso (25 saves on 26 shots).
While Hutson was on the ice for all five Terrier goals, Ethan Phillips had a three-point night, picking up one of those it-was-actually-pretty-crucial secondary assists you see sometimes, adding a primary assist on the third BU goal, and dumping the last shovelful of dirt onto the coffin with an empty-netter.
"Ethan Phillips was excellent tonight," Pandolfo said. "I think it was the best game he's played all year. I give him a lot of credit and, you know, I was really happy for him to find a way to get the empty netter."
The first notable action of the game was a disallowed Western goal midway through the first period, as Hugh Larkin pushed the puck out from under Commesso's pad, but that was on a partial break against the run of play.
Hutson's goal to give BU a 1-0 lead, on the other hand, was about what you'd expect. He's an elite ambush hunter, and Rowe didn't stand a chance when Hutson popped out of coverage within 15 feet of the net.
Western has been known as an up-and-down team all season and, often, if the top line wasn't scoring, no one was. Win six straight, lose four straight, win five of six, lose four of six, and so on. Basically all year.
So when it felt like the game was starting to run away from Western halfway through the second period, it was no real surprise. First Quinn Hutson scored on a breezy 3-on-1 rush then 1:27 later, Matt Brown extended the lead to three, though you wouldn't know it from how much the Terriers continued to lean on the Broncos, as Grade-A chances piled up.
"I think [it was] kind of getting back to our game a little bit, we got away from it a bit in the first," Lane Hutson said. "Winning our 50/50s, and playing hard in all three zones."
Jason Polin, the nation's leading goalscorer, broke through for the Broncos on a nice 2-on-1 play with top triggerman Ryan McAllister, who saucered the puck in full stride over a sliding defender. It was his 30th goal this year, and 47th overall point. There were a few plays throughout the game where you said to yourself, "It's easy to see why that guy scored 30." He's really dangerous around the net, has a great shot, and seems to always put himself in a position to score. But in this particular game, his accuracy was just a little off (two shots on goal from five attempts), so the game got out of hand a bit. The entire top line was in tough to generate offence, and the rest of the game kinda took care of itself.
Jason Polin (FA) with the deft deflection on the rush to get Western Michigan on the board.

Ryan McAllister (FA) the lone assist on the play.#NCAATournament pic.twitter.com/eHuHcGgK9a

— EP Rinkside (@EPRinkside) March 23, 2023
"We talked about it, just trying to eliminate time and space," Pandolfo said. "We knew it was going to be a group effort … We just tried to limit their chances as much as we could. [Polin] still ended up finding a way to score a pretty nice goal there."
Wilmer Skoog gave BU its three-goal lead back about five minutes later, just before the end of the second period to really put the period at the end of the sentence.
"That's hockey, right?" Western's Max Sasson said. "It's unfortunate. I thought we had a lot of good looks. The last 10 minutes of the first period and the second period, they capitalized, and we didn't. And that was the game."
The third period featured a bit more back-and-forth but the Terriers weren't letting Western get too close to the net and there was a lot of special-teams play (including a BU 5-on-3 and a few minutes of 4-on-4). Hutson took a lot of shifts down the stretch, just to ensure BU stayed dangerous while also protecting the lead, and the result wasn't really in doubt after that second-period flurry. Western coach Pat Ferschweiler pulled the goalie with more than four minutes to go, but the deficit was too big, and BU too good at protecting the high-danger areas for it to matter. Ethan Phillips added an empty netter to twist the knife a bit more.
"We worked hard to produce very, overall, few opportunities," Ferschweiler said. "I thought their skating was a factor up front. I really thought they were able to challenge our defensemen on the outside and win some of those challenges."
BU is now undefeated all-time in its five games of the various Manchester regionals over the past several years, and as long as they have Hutson playing his 26 minutes a night or so and get another total team effort defensively, Saturday's opponent will be in tough to break that streak.
No. 6 St. Cloud State 4, No. 11 Minnesota State 0 (Fargo regional)
Jaxon Castor is dialled in. The senior goaltender stopped all 34 shots he faced to pick up his fourth shutout of the season, and second in as many appearances, to lead St. Cloud to a big 4-0 win over its in-state rival.
The game was certainly closer than the scoreline suggests, but honestly, not by that much. Following a relatively quiet first period, St. Cloud scored twice in the second and again early in the third before adding an empty-net goal.
Castor hasn't allowed a goal in almost eight periods of hockey, dating back to St. Patrick's Day. And in his last four appearances, he's conceded just three times on 103 shots, good for a .971 save percentage. That's peaking at the right time.
But on top of Castor's quality, it just kinda seemed like one of those nights for the Mavericks. The thing is, on paper, this game went the complete opposite of how it "should have." Minnesota State, as is their wont, completely dominated territorially. They held a dramatic lead in shots (34-21), drew more penalties (4-3) and otherwise did a lot to keep St. Cloud at bay. Except, of course, for the goals.
Veeti Miettinen scored on a seeing-eye shot through a couple players to sneak it past Keenan Rancier a little more than halfway through the second period.
Jack Peart doubled the Huskies lead on a similar shot, this time from the opposite side of the ice, less than five minutes later. A laser-guided shot through four different bodies that Rancier didn't really have a chance to save.
A goal from Zachary Okabe put this one out of reach even before Grant Cruikshank's empty-netter. Late in the game, the Mavericks put a shot off both posts and out, but honestly, that was as close as it ever got for them.
It's fair to say that the better team, for the bulk of the season, won tonight, even if they perhaps didn't play their best game.
No. 1 Minnesota 9, No. 16 Canisius 2 (Fargo regional)
It was almost interesting for the No. 1 Minnesota Golden Gophers. But then they made sure it wasn't interesting at all.
Coming into this game, Canisius was No. 41 in the Pairwise, the last team into the tournament by a good margin. And when you're 40 spots back of your opponent, expectations are low.
Especially when your opponent opens a 1-0 lead 6:08 into the game. But then the Golden Griffins levelled the score on a Danny DiGrande about 90 seconds later. Wow, that's cool. Good for them to be tied at one after 20 minutes.
Danny DiGrande ties this one up for @GriffsHockey on the power play.

Nick Bowman and Jackson Decker the assists on the play.#NCAATournament pic.twitter.com/6pLZHIL3K0

— EP Rinkside (@EPRinkside) March 24, 2023
Then, sheesh, 3:23 into the second period, Nick Bowman scores to give the heavy, heavy underdogs a 2-1 lead. People were dusting off their very best Holy Cross jokes from 2006 and seeing how they could wedge some tortured new pun into them.
And Minnesota said, "No more." Aaron Huglen tied the game at 8:15. Connor Kurth gave the Gophers the lead 10 minutes later. Suddenly it was 3-2 going into the third period, though it felt Minnesota was about to open it up.
They got their opportunity almost immediately, as Canisius's Stefano Bottini was whistled for five and a game on a headshot 27 seconds into that crucial third period. Minnesota scored two goals on the major power play through Jimmy Snuggerud and Brody Lamb almost immediately. "Bye bye. Game over. Hope you enjoyed your trip to scenic Fargo, North Dakota. The rest of this one is gonna be a formality." The Gophers spent its remainder reveling in the skill disparity between the two teams.
The odd-man rushes came regularly, as did another power play, and a few more goals. Canisius barely touched the puck in the last 12 minutes or so of the game. They just didn't play teams like this all year, and eventually, it showed.
In the end, Bryce Brodzinski had a hat trick and an assist. Logan Cooley had three assists. Five other Gophers had two assists. It all looked so easy, it just took a while to get going.
Slick set of moves by Logan Cooley (#Yotes) to set up the Bryce Brodzinski (#FueledByPhilly) goal.@GopherHockey leads 6-2 in the third period.#NCAATournament pic.twitter.com/J909tp7mZe

— EP Rinkside (@EPRinkside) March 24, 2023
Look, it was always gonna go this way. How the Gophers got to a 9-2 scoreline is secondary to the fact that they did so. If anything, the mini-scare in the first 25 minutes will be good fodder for coach Bob Motzko to say, "You think you can get away with a slow start like that against St. Cloud on Saturday? That's interesting, because you sure as hell aren't scoring nine on them," for the next 36 hours or so.
Those two teams met for a home-and-home series back in early January, and Minnesota failed to pick up a regulation win in either meeting. They'd like to shake a few more goals out of their in-state rivals, and maybe tonight proved to them that they could.
You may also be interested in: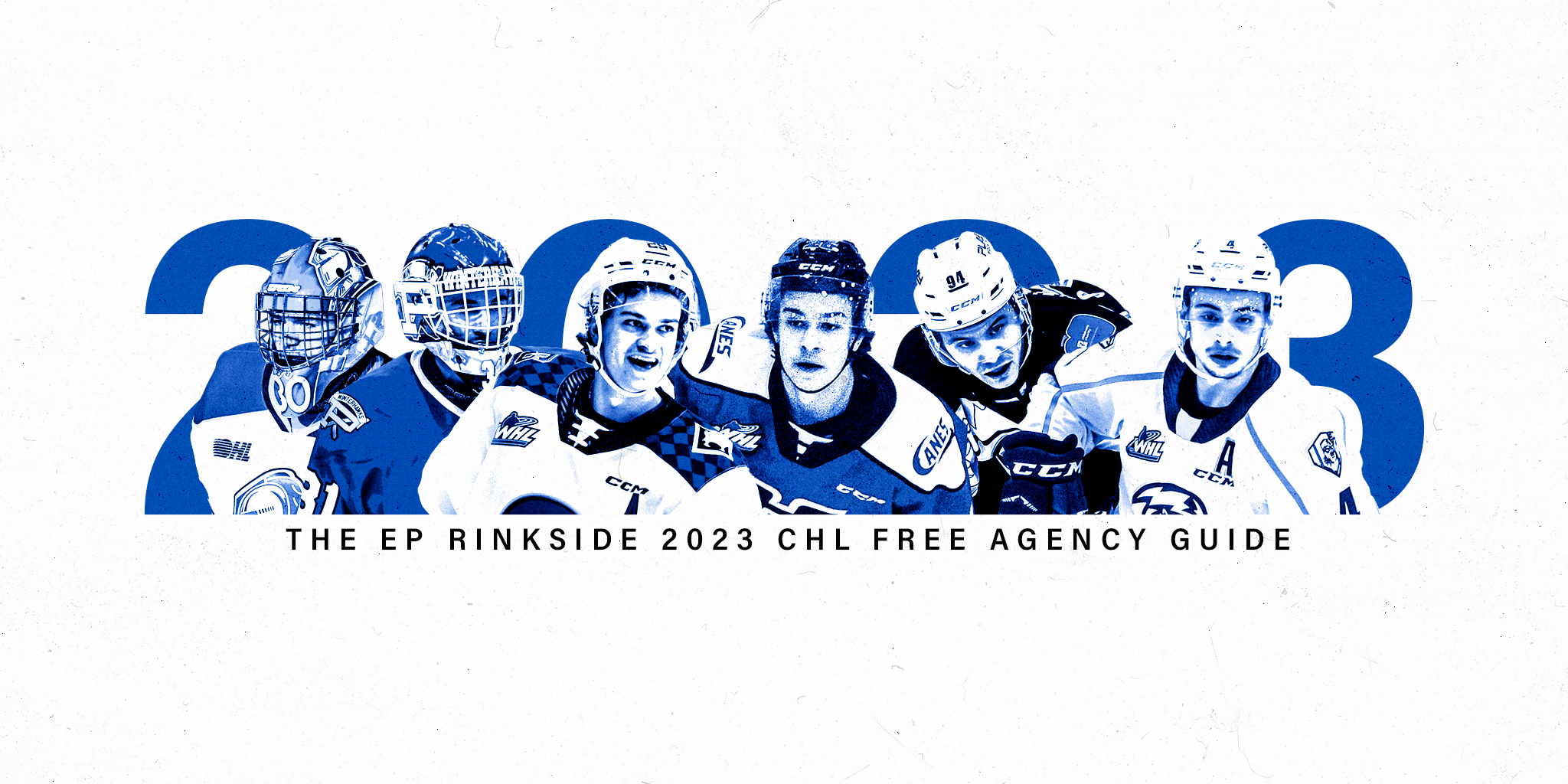 The EP Rinkside 2023 CHL Free Agency Guide
This article is about: