NCAA
NCAA Tournament Takes Day 2: All eyes on Big Ten in a day of blowouts
A brief recap of today's NCAA tournament games:
No. 8 Ohio State 8, No. 7 Harvard 1 (Bridgeport regional)
BRIDGEPORT, Connecticut — Is the gap between the Big Ten and the ECAC really as massive as today's game made it appear?
The Buckeyes finished third in their conference, but their points percentage was only .500. Meanwhile, Harvard dominated the ECAC and finished second behind a powerhouse Quinnipiac, but offered such little resistance that it almost didn't make sense.
And it only got worse from there. Ohio State did basically everything right, Harvard did basically everything wrong, and the final score was 8-1.
"It's a tough pill to swallow," said Harvard coach Ted Donato. "Obviously that kind of score is difficult. I just felt like they beat us to pucks, they won 1-on-1 battles. I thought they had a lot more poise with the puck early on; we turned the puck over. First couple shifts I thought we were fine, and I think once they scored their first goal, that kind of put us on our heels a little bit."
Hell, it was a big day for the entire Big Ten. Combining the wins for Ohio State, Penn State, and Michigan today with Minnesota's last night, the aggregate score for the Big Ten teams in this year's tournament were 36-4. Stunning. Even for a conference everyone knew was the best in the country all year.
(Of note: The teams that won the eight games so far have outscored opponents by a combined score of 47-5. All but one of the games had a margin of at least four goals. Total combined time the eventual winners were losing is just under five minutes; that's about eight times less than they spent up by eight goals or more. I've never seen anything even close to like this.)
And they were well-earned blowouts, this one included. Final shots on goal were 40-22 in OSU's favour, and a lot of Harvard's late push was simply third-period score effects.
Cam Thiesing opened the scoring just 3:22 into the game, finishing a nifty passing play with a shot over Mitchell Gibson's shoulder that the Harvard goaltender would probably like back. But that interplay between Thiesing, Gustaf Westlund (playing in his first game since an injury in Oct. 14), and Jake Wise highlighted a weakness that ended up getting exploited quite a bit: The Buckeyes were just consistently getting the puck down low, moving with little resistance to the net, generating scoring chances, and generally making it look like Harvard had skipped a couple of film sessions in the run-up to this game. It came as little surprise that OSU extended its lead to 2-0 through a wacky series of deflections on a Cole McWard point shot with 96 seconds to go.
Cam Thiesing gets @OhioStateMHKY on the board first, sniping one top corner for the 1-0 goal.

Gustaf Westlund and Jake Wise (CHI) the assists on the play.#NCAATournament pic.twitter.com/Al56xvEpXe

— EP Rinkside (@EPRinkside) March 24, 2023
"We had some chances and I almost felt like, man, if we don't get to two here… we got one and we were playing pretty well," said OSU coach Steve Rohlik. "We just wanted to keep things going in the second, keep putting pucks on the net. Sometimes luck's with you, but there's a lot of hard work behind that."
It was just that kind of period. Shot attempts in the first were 32-10, and shots on goal were 17-3, both in the lower seed's favour. Five of those Harvard attempts and two of the shots on goal came on the first few shifts, before Thiesing scored.
"I think we had many more chances than just the few we scored in the first period," said Wise. "I think that was kind of a confidence boost. If we kept playing like that, eventually they have to start going in, right?"
It must be said that Harvard has a history of this kind of baffling performance in the NCAA tournament, and this season in particular, they found themselves trailing early in games rather a lot. But this was like the A-side of a best-of album by a band with a dozen platinum singles. Everything instantly recognizable, coming back-to-back-to-back-to-back. Ohio State was just making a very good team look hapless.
"Really, just everything was clicking," Wise said. "And we all know that when we play like that, it doesn't really matter who we play. We're so confident that we can play and even dominate teams."
The second period was much the same. Harvard pressed early, then Ohio State got a couple looks and one of them ended up in the back of the net, and then another one followed just six seconds later. To go down 4-0 like that is brutal, especially in a season where it looked like you might really have it – Harvard has more drafted players than any team in college hockey this year and their top six forwards and first couple D pairs are extremely dangerous. And not that putting up a fight at any point in the game is necessarily a bad thing, but when Harvard did start putting together more solid shifts after that fourth goal, it somehow felt worse. What did it matter? Even when they drew a penalty and had a decent enough power play, OSU got the puck back the second their skater came out of the box and Harvard was right back to getting shelled; Mason Lohrei – who had an absolute monster of a game today – extended the lead to 5-0 less than a minute after the penalty expired, then set up a sixth goal with about five minutes left just for fun. A seventh goal followed, this time on the power play. I'll spare you the gory details.
Joe Dunlap scores on the rush and @OhioStateMHKY now leads 6-0 over Harvard.

Patrick Guzzo and Mason Lohrei (#NHLBruins) the assists on the play.#NCAATournament pic.twitter.com/BNWZw0R8SU

— EP Rinkside (@EPRinkside) March 24, 2023
By the end of the second period, that best-of album went from looking like U2's to looking like the Beatles'. You're like two sides deep and they're only just getting to like "All You Need is Love." At a certain point it just fails to compute anymore; how did they have this many completely ubiquitous hits?
"It's hard to really think about it right now," said co-captain John Farinacci, who scored Harvard's only goal of the day. "A lot of credit goes to them. They did their job, we only had eight or something shots late in the game, and I don't think we really executed our game plan properly."
Frankly, this was just a style-matchup nightmare for Harvard. They play fast, skilled, straight-ahead hockey. Ohio State is just as fast in transition, bigger, more physical, and… well, maybe not really equally skilled, but probably they are at the top end of their lineup. You could have also said the Buckeyes' goaltending was a clear advantage, but the fact is Harvard only had one more shot on goal through 40 minutes than Ohio State had actual goals (SOG were 34-8 and attempts were 62-24). So at that point, Jakub Dobeš' long history of quality play is not really even part of the equation.
Ohio State scored again to open the third period because why not?
Farinacci scored on a Harvard power play to save at least some face. But not enough that this loss, on this grand a stage, won't sting for a while.
No. 8 Penn State 8, No. 10 Michigan Tech 0 (Allentown regional)
Not much to say about this one other than that it was the largest margin of victory in a shutout in the history of the NCAA tournament, breaking a record that stood since 1988.
Suffice it to say, Penn State dominated from the jump, scoring 2:12 into the game, controlling play throughout the first period, and generally looking like the team they were early in the season, when they scored 40 goals in their first nine games and won all of them.
Of course, they struggled down the stretch, going 12-15-1 after that nuclear start, and that included losing in the Big Ten quarterfinals to Ohio State, which made its own big-time statement today. But again, playing multiple Big Ten juggernauts four-plus times a season is a bit different from playing, well, anyone else.
And while it would be unfair to characterize Michigan Tech as a one-dimensional team, let's just say they didn't play many offences as dynamic as the Nittany Lions' this season, and there's only so much even an exceptional goaltender like Blake Pietila can do in the face of a team that averages 39.5 shots on goal per game.
You can't get into trading chances with these guys, because they can score from nothing. The first four goals came in transition, the fifth was off an offensive-zone draw, the sixth was also in transition, the seventh and eighth were just 33 seconds apart.
And as dominant as the Big Ten was today, let's spare a thought for the two CCHA teams in the tournament (Michigan Tech and Minnesota State), who were outscored 12-0 in their games. It's a better league than the scores suggest, but perhaps not, like, that much better.
Nobody from Penn State had more than two points, but six guys hit that number. Liam Soulière got the shutout. Everything else speaks for itself.
No. 2 Quinnipiac 5, No. 14 Merrimack 0 (Bridgeport regional)
At last, a walkaway win that doesn't involve a Big Ten team. Instead, an ECAC club put the boots to the Hockey East runner-up.
Merrimack and Quinnipiac are two of the better teams in the country in terms of limiting attempts, shots, scoring chances, and goals meeting in the first round of the NCAA tournament kind of promises, on its face, a low-scoring, low-event game. To an extent, that was the case for the vast majority of the game's runtime.
One might have also guessed, though it wasn't guaranteed, that both teams would be throwing their bodies around, and at each other, like reckless luchadors. On that front, the game more than delivered.
But from that meat grinder, a winner had to emerge, and perhaps inevitably, it was the No. 2 team in the nation that did so, by a final score of 5-0.
"I thought we had all 12 forwards who were going, obviously Yaniv [Perets] was excellent, and that's one of the reasons we're winning games this year. Every game is somebody different," said QU coach Rand Pecknold. "They made plays and they competed. And probably the best thing they did was they defended well. We keep preaching you play defence well, and you work on the bad side of the puck, and you get that you're willing to play offence for 25 seconds, and did a great job."
Merrimack got the Bobcats to play a fairly Merrimack-friendly style, but it seemed to suit the higher seed just fine. The game was goalless through the first period, but Quinnipiac certainly had the better of the play. It wasn't necessarily about weathering a storm early, because the Bobcats have had the puck on their sticks for like 65 percent of their games from the first game of the season; it's just how they play. Even if the Warriors were hoping for a respite, they knew for sure it wasn't going to come naturally, and that they would have to manufacture offence whenever the opportunity presented. Which, at least in the first 20 minutes, was rare. Especially because Quinnipiac drew a couple of power plays.
But in Merrimack's goal, Zachary Borgiel made a number of astonishing saves in the first period, stealing back a couple of sure goals. Meanwhile, the team in front of him did what they always do, and got in front of shooters.
"Obviously, there's a lot of pressure, a lot of high-stakes moments and for us to focus was just kind of taking it one step at a time, especially with a lot of media timeouts, just a lot of rests," said Quinnipiac forward Joey Cipollone. "It's a long game out there, especially compared to what we're used to."
The goal that finally broke the deadlock was a goofy one: A blocked Jayden Lee shot bounced right to teammate Cipollone, who shot from a low angle off a Merrimack skate, and it trickled past Borgiel just 1:56 into the second period. That kind of game, but definitely also indicative of just how much Quinnipiac was around the net, while Merrimack really only cobbled together short bursts of offence.
Joey Cipollone bounces one in off of the Merrimack defender's skates to give @QU_MIH a 1-0 lead.

Jayden Lee and CJ McGee the assists.#NCAATournament pic.twitter.com/m1KpGDVAdp

— EP Rinkside (@EPRinkside) March 24, 2023
Then the dam broke. Jacob Quillan got behind the defence on a transition play with Samuel Lipkin and beat Borgiel 1-on-1 just 1:33 after the first goal, and this is how Quinnipiac jumps on you. They push, poke, prod and find your vulnerabilities, then they put the game away; through the first two periods of all games this season, they outscored opponents 102-30, including 61-15 in the second period alone. The Bobcats were 23-1-3 when scoring first, and 26-1-3 when leading after two periods, for a reason.
It's not, however, fair to say they choke the life out of games or try to sit on 3-0 leads, because they also continue to dramatically outshoot (plus-74) and outscore (plus-20) opponents in third periods, but those are downgrades from their territorial and scoring dominance in either of the first two periods. Maybe it's because they just don't need to try that hard when the average margins after two periods are so heavily in their favour. Maybe score effects kick in, as they seemed to here in Bridgeport tonight.
End result is that it doesn't matter. Michael Lombardi scored midway through the third period to make it 3-0 and academic, before Quillan scored his second of the night to broaden the lead even more, and Lipkin added an empty-netter. At the other end, Yaniv Perets pitched the 15-save shutout but only had to make a few critical stops. At the other end, Borgiel could only stop 29 of 33, but none of the goals against were really his fault; he was swimming against the current all night.
"It's always tough when you lose the last game, but tonight we just lost to a team that played a lot better than we did in the critical areas of the game," said Merrimack coach Scott Borek. "I'm not emotional because we lost, I just love our team. I didn't want to stop coaching them. It kills me."
Merrimack played a good game tonight. At least as good as they reasonably could have against one of the best teams in the country over the last several years. But their roster weaknesses being what they were – mostly that they don't have the kind of huge difference-makers up front that Quinnipiac does – they were just never going to be able to recover from a two-goal deficit against a team this comprehensively smothering.
That's hockey sometimes.
No. 3 Michigan 11, No. 15 Colgate 1 (Allentown regional)
And now the devastating denouement. On a day in which the Big Ten really planted its flag as the nation's premier hockey conference – and more help is on the way through the transfer portal, believe me – the Michigan Wolverines made the statement emphatic.
After another slow start, only leading 1-0 through the first period on a Nick Granowicz goal, they went bananas in the second. Goals from seven different scorers in the space of only 9:21 turned something that was at least close on the scoreboard if not the actual substance of the play itself into an abattoir. That included a shorthanded goal. Shots ballooned from 17-7 in the first to 36-14 at the end of the second. It wasn't just Colgate swimming against a current, it was Colgate going over Niagara Falls.
Nick Granowicz finishes off the slick Luke Hughes (#NJDevils) feed and @umichhockey leads 1-0 over Colgate.

Nolan Moyle the secondary helper.#NCAATournament pic.twitter.com/mFlId0juw5

— EP Rinkside (@EPRinkside) March 25, 2023
And that was before Colgate took a five-minute major penalty that briefly knocked Mackie Samoskevich out of the game. That pissed the Wolverines off. Three more goals followed.
At the end, 17 different Wolverines had at least one point. Five had two. Two had three. One had five. Erik Portillo stopped 20 of 21.
This beatdown was so comprehensive, so typical of what the Big Ten has done to everyone in this tournament so far, that one has to wonder who from outside that conference can stand in opposition. Only one regional – Manchester – didn't have a Big Ten team involved, and not to discount Quinnipiac's chances on Sunday in particular, but man, we already saw what Ohio State did to a different (slightly worse) ECAC team.
The finer details of this Michigan win are all inconsequential. They won big, it probably could have been even worse than it was, and I'm not sure there was a single positive in this for Colgate.
You may also be interested in: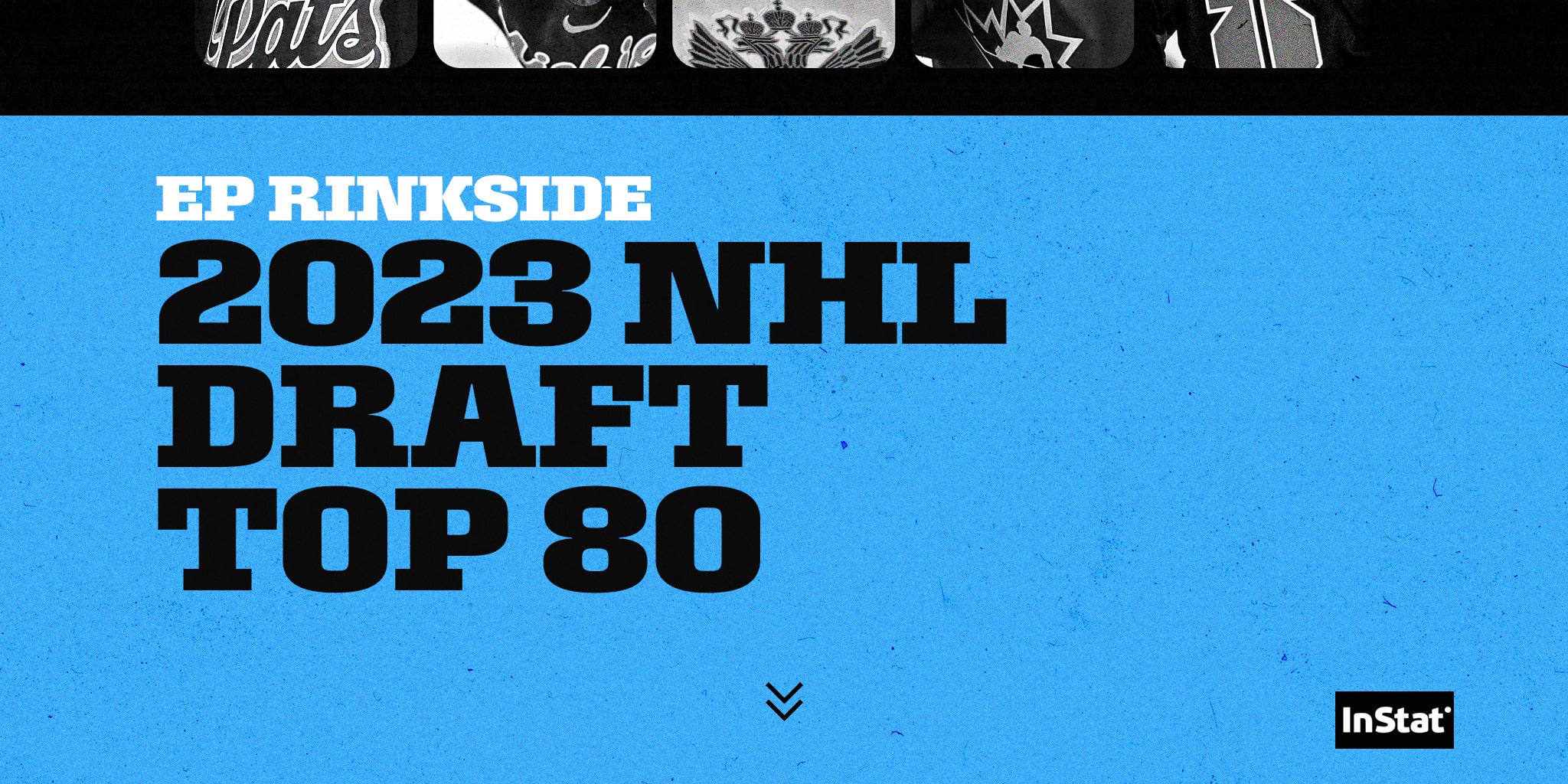 The Elite Prospects pre-U18 ranking of the top 80 prospects in the 2023 NHL Draft
This article is about: