NCAA
NCAA Tourney Takes Day 4: Quinnipiac, Michigan book Frozen Four trips in tight games
A brief recap of today's NCAA tournament games:
No. 2 Quinnipiac 4, No. 9 Ohio State 1 (Bridgeport regional)
BRIDGEPORT, Conn. — Coming into today, Quinnipiac averaged 33 shots on goal per game, and conceded only about 21. As one of the premier possession teams in the nation, their reputation for playing keepaway with the puck was well earned as they racked up 31 wins, the highest total in the nation.
But Ohio State, no possession slouch itself, flipped the script, outshooting the Bobcats a stunning 34-17, but the ending remained the same. The No. 2 team in the country made sure a good offensive stretch in the first period was all it needed to win in its home state, and is now headed to the Frozen Four with a 4-1 win.
"One of the reasons we're such a good defensive hockey team is we have the puck a lot," said Quinnipiac coach Rand Pecknold, whose team is going to its third Frozen Four in the past decade. "And OSU did a good job tonight of kind of shutting us down. I thought in the second we were a little tentative at times, probably too tentative. Our [first forechecker] was fine, our [second forechecker] wasn't getting in there. We need to get in there and cause havoc."
OSU did a good job of causing it first. A bad giveaway by Jacob Nordqvist at the attacking blue line sprung Joseph Dunlap for a breakaway goal that juuuuust squeaked over the line under Yaniv Perets just 91 seconds into the game.
Joe Dunlap goes in alone on the breakaway and just barely opens the scoring for @OhioStateMHKY #NCAATournament #MFrozenFour pic.twitter.com/KDBnPobY1d

— EP Rinkside (@EPRinkside) March 26, 2023
And with Ohio State having only lost three games in which they scored first, it quickly felt like it was going to be another one of those nights like when they bombed Harvard two days ago. Especially once Quinnipiac's Jake Johnson took a tripping penalty shortly after the goal. Perets (33 saves in the win) may have the better track record overall, but at the other end, Jakub Dobeš isn't the kind of goaltender that's prone to bad nights, or even too many bad moments.
Despite the gaffe, Quinnipiac was able to quickly and kind of easily turn the game into the one they like to play. They were in on the forecheck, throwing big hits, forcing turnovers, and causing chaos around OSU's crease. Even if it wasn't necessarily resulting in a lot of scoring chances, they were in there leaning hard on Ohio State after being made to bleed their own blood early. Ohio State was getting the puck on occasion, but they weren't really holding onto it for very long. It felt like only a matter of time until Quinnipiac made something happen.
Then it very much did. Victor Czerneckianair put a shot off Dobeš' chest, and the rebound went off Christophe Fillion and in. Tie game. The next shift, Quinnipiac won the draw, went right down the ice, and Skyler Brind'Amour scored on another rebound play 15 seconds later.
Skyler Brind'Amour (#LetsGoOilers) gives @QU_MIH their first lead of the game in the first.#NCAATournament pic.twitter.com/xO1UCEkzPb

— EP Rinkside (@EPRinkside) March 26, 2023
The Bobcats went from what could have been a discouraging deficit against a team that obliterated their top conference foe, and just turned the game completely on its head without missing a beat. From the end of the Ohio State power play to Brind'Amour's go-ahead goal, Quinnipiac had a 14-2 edge in shot attempts. Things settled down a bit after that, but even the most casual observer would have had to concede that Quinnipiac was by far the better team in the period, first three and a half minutes excepted.
"We were disappointed, so we reloaded really well and had a great period," Pecknold said. "That's something that we've talked about a lot over the last probably 12, 13 years. It's gonna happen. Things are always going to happen in these type of games, whether it's a bad change or a bad bounce or a bad play. We've got to fight through it."
Perhaps, in retrospect, we might have expected something like this. After all, Ohio State might have gone 16-3-1 when scoring first, but Quinnipiac was 7-3-0 when conceding first.
The second period started much like the first, with Ohio State controlling play a bit more than Quinnipiac might have liked, building a huge edge in shots before drawing a hooking penalty. But the Buckeyes weren't able to generate much in the way of quality looks, even as the shots on goal piled up. It's not often that Quinnipiac goes several minutes without a shot attempt, but that's very much what happened here; shots in the first 10 minutes of the second were 12-1. Even a mid-period power play wasn't enough to help QU really get to the net with the consistency it had in the first, but at least it ran some time off the clock and gave the Bobcats the opportunity to turn it into a more up-and-down game once again. While not preferable, that was certainly an improvement over the previous state of affairs, and nothing much happened in the remaining several minutes of the period except a few big hits from both sides and another Ohio State power play that came to nothing.
"I mean, it's frustrating," said OSU's Jake Wise. "You're [out]shooting them 2-to-1, and nothing's going in. And you have the puck the whole period, and nothing's going in. So I think frustrating is the best word to use, but I mean, we stuck with it."
That's all Perets. Given Quinnipiac's quality all 200 feet of the ice, he is rarely asked to make a lot of saves, and it's even less common to see those saves be of high quality, but he was very strong tonight, making a handful of spectacular saves in the face of what should have been a withering barrage.
"He's a big-time goalie, you know," Pecknold said. "Richter finalist, Hobey Baker finalist, and he was excellent, as we expect him to be every night. And I thought we did a nice job in front of him in the end defensively."
In the same way that Ohio State spent much of Friday's game just denying Harvard the middle of the ice, and Quinnipiac did the same to Merrimack, both teams just froze out their opponents throughout the third period. It didn't make for the most engaging hockey, but Quinnipiac, holding the one-goal lead, was making it work for them even if OSU still had the puck more often.
As the game wound down, the physicality – and penalties – started to rise.
Then, to end it, some wackiness. Christophe Tellier scored Quinnipiac's third goal just as a late power play expired, on a play where the puck bounced up in the air, and got swatted into the goalie's glove, but play continued despite Tellier being adamant that the puck had crossed the line. A quick video review confirmed that Tellier had been right all along, and the game was effectively over, but it was a hell of an effort from Dobeš (13 saves) to even make that play look close.
"I didn't see much, to be honest," Tellier said. I just flipped the puck up and then I came back and tried to take a whack at it, and then it went in."
What! A! Goal! Christophe Tellier alley-oops the puck to himself and bats it out of mid-air to give @QU_MIH a 3-1 lead.#NCAATournament pic.twitter.com/spVpNgETrh

— EP Rinkside (@EPRinkside) March 26, 2023
A few minutes later, Jayden Lee added an empty-net goal to seal Quinnipiac's return to the Frozen Four, its first in seven years.
"The third one's as good as the first two," Pecknold said. "It feels great. I'm happy for the guys in the room."
No. 3 Michigan 2, No. 8 Penn State 1 (Allentown regional)
Talk about confidence.
Adam Fantilli scored the tying goal a little more than midway through the third period, then in the intermission before overtime began, all but guaranteed a win in the extra period.
Mackie Samoskevich made sure Fantilli and all his other teammates didn't wait long, scoring on a laser shot just 52 seconds into OT and propelling Michigan to a Frozen Four for the second straight season, and third time since 2018.
Michigan, with its high-end depth, was one of the most dynamic offensive teams in the country, and was only shut out once all season. The goalie who recorded that shutout? Penn State's Liam Soulière. And while he didn't pick up another clean sheet or even the win tonight, he was the reason this game even got to OT. Soulière stopped 41 of 43 shots in the game, while Erik Portillo went 31 of 32 at the other end.
There was never a point in the game where Michigan looked like it was taking on water, but Penn State's Connor MacEachern scored on the power play with 1:02 left in the second period to open the scoring, and that felt like it could end up mattering quite a bit.
But Fantilli scored a power-play goal of his own to force OT. Samoskevich took care of the rest.
Much like Minnesota last night, the fact that the game was close felt almost beside the point. Penn State hung around, but the win felt like it was Michigan's to give away. Instead, they didn't.
This was, however, the only overtime game of the NCAA tournament to date, and one of just two that were decided by a single goal. The other was yesterday's Manchester regional final between BU and Cornell.
The Wolverines will play Quinnipiac with a trip to a national championship on the line on April 6.
You may also be interested in: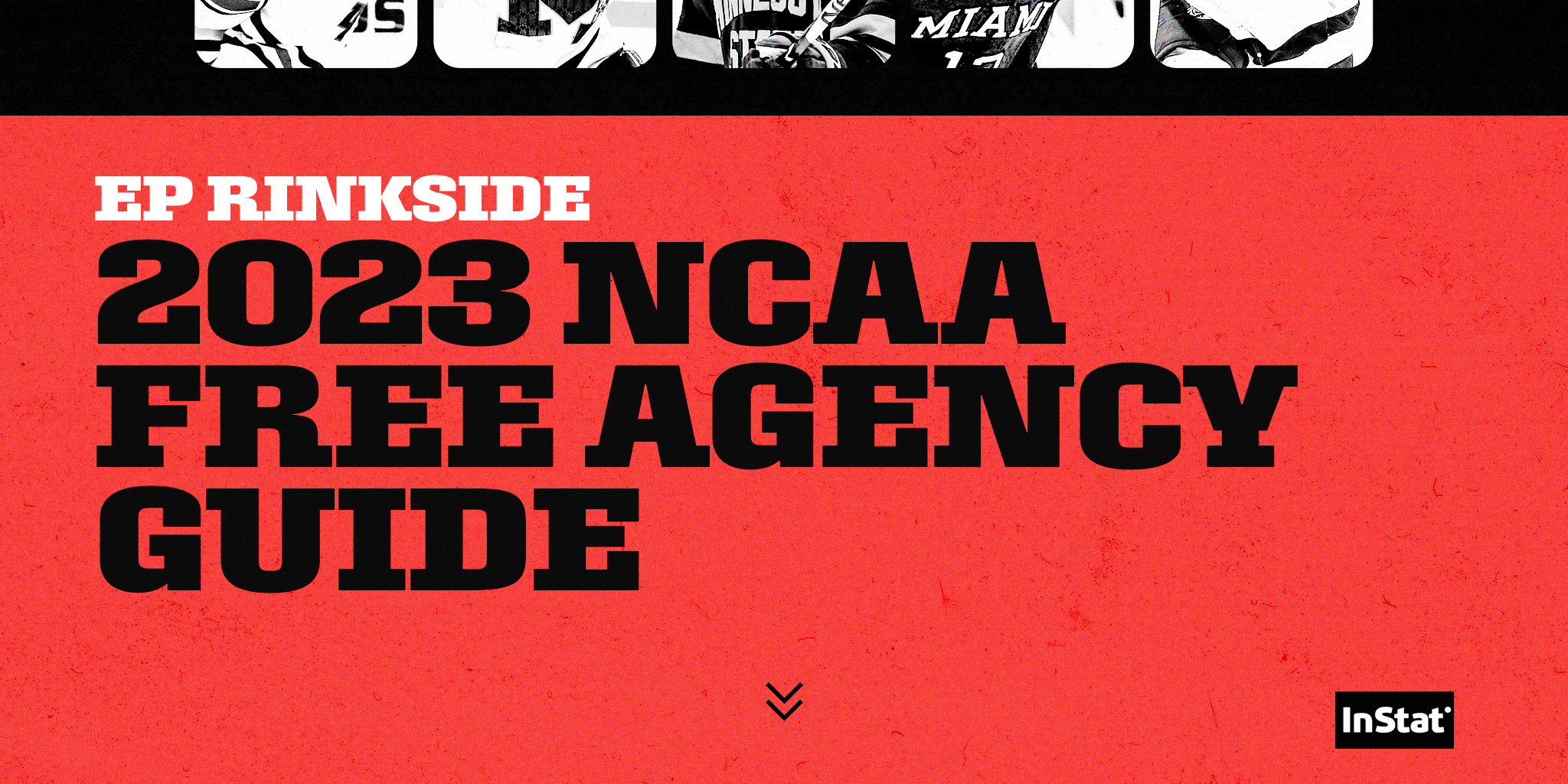 The EP Rinkside 2023 NCAA Free Agency Guide
This article is about: