NHL Prospect Report
Sweden Stock Watch: Leo Carlsson catching fire in the SHL playoffs
The playoffs are now in full swing across every level of Swedish hockey, with SHL and HockeyAllvsenskan teams locked in seven-game series that provides a more physical, intense, competitive environment for young, developing players. It's crunch time.
And when some of those teams get eliminated, then the junior players on their roster go down a league or two and feature in the J20 and J18 playoffs. It's just another way to evaluate these players, this time as the guy for their team rather than a bit player.
With that in mind, I'm taking a look at a mixed bag of drafted prospects and first-time draft-eligible prospects in this month's stock watch.
Stock Rising
Leo Carlsson, C/F, Örebro HK (2023 NHL Draft)
Leo Carlsson is looking exceptionally good in the SHL playoffs. He's a powerful puck carrier, capable of controlling space with good reads and intelligent, skilled plays in the small-area game, often a step or two ahead of his opponents. He's not an elite skater, but he covers ground well enough with his anticipation of the play.
Only 2 draft-eligible players have ever recorded more SHL playoff points than Leo Carlsson's 8 so far this spring:

Daniel and Henrik Sedin.

Pretty good company to keep.

— /Cam Robinson/ (@Hockey_Robinson) April 3, 2023
There are just so many translatable tools in Carlsson's game that he's just starting to wield to their full effect in the highest level of Swedish professional hockey. He's playing some of his best hockey of the season right as the games matter most. Carlsson's stock is already sky-high, but he may well challenge for the No. 2 overall spot in this year's draft.
Adam Engström, D, Rögle BK (Montréal Canadiens)
Adam Engström was one of Rögle's very best players at the end of the season. His ability to open up space in the offensive zone was so fun and impressive to watch. For opponents, less so. They struggled to contain the deceptive, skilled Canadiens prospect when he combined his mobility and slick handling skills on the attack.
That's Engström's game. He's got good reach, four-way mobility, and offensive instincts. He's used those tools to play the best hockey of any Swedish defenceman from the 2022 NHL Draft, showing the most development in the process. He looks like he has the potential to be an NHL player a few years down the road.
Lucas Forsell, F, Färjestads BK (Vancouver Canucks)
When you're a 19-year-old, former seventh-round pick who's on a heater like Lucas Forsell has been in these playoffs with Färjestad, then you definitely deserve a shoutout in this space. And as of this writing, Forsell has two goals in the playoffs after scoring 11 in the regular season.
There's still a long road in front of Forsell to make the NHL. That's par for the course with a seventh-round pick though. Foremost on his development checklist will be developing a more well-rounded offensive skill set.
Forsell has great timing and spacing around the slot, sneaking open for shooting opportunities and one-timing the puck on goal. He's a good skater, inside-driven with the puck, and that shot's pretty good, too. There's an interesting foundation in place.
Stock Steady
Elias Salomonsson, D, Skellefteå AIK (Winnipeg Jets)
Elias Salomonsson didn't have the strongest draft season, and that was reflected in his place on most rankings. He bounced back early this year with an impressive start to his SHL season, and then a long-term injury forced him to the sidelines, missing the World Juniors and only returning in February. Since making his return, Salomonsson's had to fight for ice time and earn his old spot in the lineup back.
Salomonsson is a mobile defenceman with good reach and an impressive skating stride. He moves smoothly in all four directions, and his play with the puck has improved a great deal since his draft year, too. Salomonsson's decision-making is following a similar trajectory, and that coupled with his tools may be enough for him to challenge for an NHL job at some point.
Stock Falling
Dalibor Dvorský, C, AIK (2023 NHL Draft)
This may seem like a peculiar place for Dalibor Dvorský since I had him in the stock steady section only a month ago. Bear with me. I've been trying to explain the lack of creativity from Dvorský all season, citing his role lower in a HockeyAllsvenskan lineup as one such justification. Now he's playing junior hockey again, and those concerns remain.
Dvorský seems to lack high-end offensive instincts or even anticipation with the puck, often skating into pressure and being forced into uncontrolled plays. These are not the signs of a high-end NHL scorer. Not a consistently high-end scorer, anyway.
Make no mistake though, Dvorský has many other translatable assets, and he will be an NHL player. It's just that he'll probably be more of a middle-six player than a top-six one. That is in fact lowering his draft stock from the top half to the second half of the first round.
Axel Sandin Pellikka, D, Skellefteå AIK (2023 NHL Draft)
Almost everything seemed to go right for Axel Sandin Pellikka early in the season. He played well at the Hlinka Gretzky, was impressive in the SHL, and put on a good performance for Sweden at the World Juniors. In the second half of the season, Sandin Pellikka's been demoted to the J20 Nationell, and his play at that level has been inconsistent, too.
His tools are all translatable. Sandin Pellikka's skating, puck skills, and ability to think the game two steps ahead in every phase all fit with a modern NHL defenceman. It's just that they're showing up less frequently and less consistently these days. He's registering options, but the execution isn't there. Where controlled, calculated plays usually defined his work with the puck, Sandin Pellikka now opts for hope passes.
I don't think these are signs of critical flaws in Sandin Pellikka's game, so you can't drop him too far for this year's draft. He belongs in the middle of the first round, it's just that he's a bit further away from 10th overall than he was in December and January.
You may also be interested in: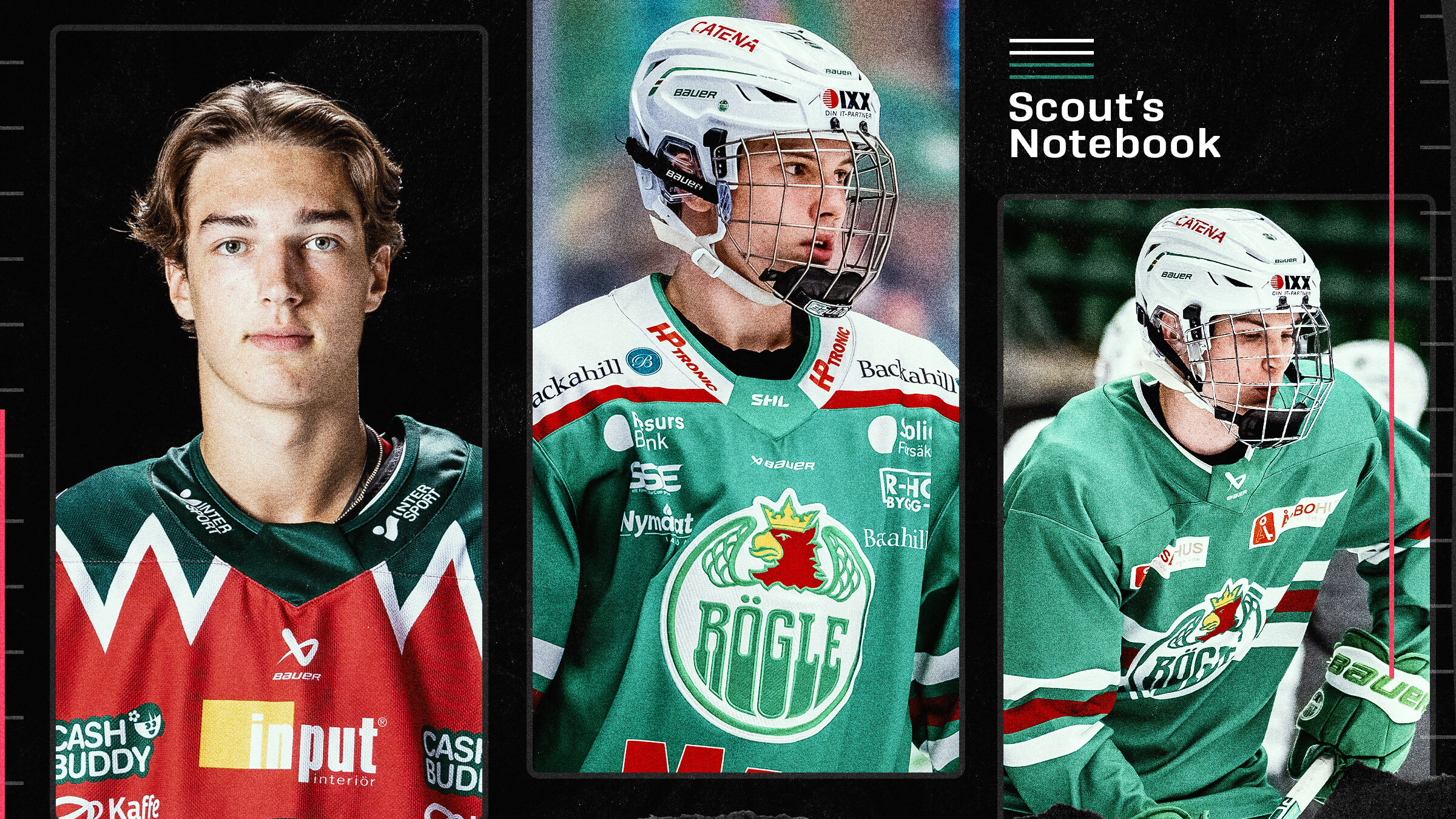 Scout's Notebook: Checking in on Felix Nilsson, Tom Willander, and David Edstrom's progress in the J20
This article is about: