NHL Prospect Report
WHL Stock Watch: Brad Lambert's a complete player in Seattle
The WHL's regular season has ended, with the Winnipeg ICE leading the East while the Kamloops Blazers and Seattle Thunderbirds pulled way ahead of the rest out west.
Connor Bedard finished with 143 points in 57 games, a 36-point cushion over the WHL's second-leading scorer. That player? Chase Wheatcroft, an overage forward who turned a depth role in Winnipeg into a 107-point season in Prince George, earned himself an NHL contract.
Some top scorers include 47-goal-scorer Josh Filmon, top-five in the WHL despite being a sixth-rounder in the summer. Six defencemen cleared 70 points, but only one cleared 250 shots on goal: Olen Zellweger, who hit the net 345 times in 55 games.
It was also an impressive year for draft eligibles, claiming five spots in the WHL's top 10 point-getters.
Let's look at some of the WHL's standout players to close out the regular season.
Stock Rising
Brad Lambert, C, Seattle Thunderbirds (Winnipeg Jets)
It's tough to look at Brad Lambert's stat line – 17 goals, 21 assists in just 26 games – and talk about anything other than scoring. But that's exactly what I'm going to do. The most interesting development in his time in the WHL has been Lambert's off-puck game.
See, Lambert's not messing around without the puck. The reaching and passive defence are mostly gone, replaced by non-stop energy, scanning, and proactive movement. He swings down low, sprints to close out space, and dusts opponents with his speed.
Alongside the defence has come Lambert's more nuanced approach to offence. Away from the puck, he works into space at the right moments. With it, he's predominantly preferred quick passing plays and give-and-goes over the flashy rushes that dominated his tape in the years leading up to his draft.
In short, he looks like a more refined, translatable player. If he doesn't hit as a dynamic top-six scorer, he still looks like a probable middle-six contributor.
Connor Bedard, C, Regina Pats (2023 Eligible)
I really tried to avoid talking about Connor Bedard in this series. After all, he's going to be the first overall pick; how much can his stock really improve? Somehow, it has. He just keeps getting better and better.
The production's insane. Bedard had 29 points in March and has 90 since returning from the World Juniors 28 games ago. That's 2.8 points per game! How? In the playoffs, he has points on 11 of Regina's 15 goals as they're up 2-1 on the 102-point Saskatoon Blades.
Every weekend, he one-ups the crazy thing he did the weekend before. He's playing a game that looks more like his soon-to-be NHL self, leaning heavier on playmaking, give-and-gos, and shooting off the pass.
Enjoy the ride.
Matthew Savoie, C, Winnipeg ICE (Buffalo Sabres)
Matthew Savoie appeared as a stock falling in December's stock watch. At that stage, his production had taken a bit of a hit; his promise as a dynamic playmaker had gone mostly unfulfilled. Since then, Savoie's production reached new heights. By the end of the regular season, he averaged 1.06 even strength points per game, fifth in the WHL. But the reason he lands in stock rising isn't the production; it's how he's leveraging his tools better.
Savoie's rushes, specifically to create shooting lanes, are more dynamic. He still uses the crossover-driven, high-speed rushes, but now he fakes wide, then cuts to the middle or vice-versa. Instead of shooting immediately from just outside the slot, he makes the extra move to improve his shot.
That's to go alongside the NHL shot and intelligent off-puck movement. Savoie might not become the dynamic passer that seemed possible a couple of years ago, but he has the tools and reads to score 30-plus goals in the NHL. That's great to see.
Matthew Seminoff, RW, Kamloops Blazers (Dallas Stars)
For a while, Matthew Seminoff's production stalled, with 20 points through his first 20 games. Then, the percentages swung in his favour. From December and on, he clipped away at a roughly one-and-a-half point-per-game clip, accumulating 62 points in his next 42 regular season games. The highlight? A four-goal, four-assist game in mid-March.
But Seminoff's not just on a scoring tear – he's posting the underlying results to suggest this is no fluke. In a sample of over 3000 CHL players spanning five-plus seasons, his 2.43 expected goals per 60 lands sixth. That's not a typo. Of course, playing alongside Logan Stankoven and Caedan Bankier certainly helps. But Seminoff's play along the boards and off-puck awareness have, in part, allowed both to achieve new playmaking success.
There's also Seminoff's transition impact. Last season, with skating as a weakness, his transition was mostly to defer and dump the puck in. Now, his passing skill and vision enable him to bypass defenders and needless footraces. The mechanical limitations highlighted in the Elite Prospects 2022 NHL Draft Guide still loom, but it's easier than ever to imagine this crafty, three-zone winger overcoming the odds.
Stock Steady
Nolan Allan, D, Seattle Thunderbirds (Chicago Blackhawks)
It'd be easy to look at Nolan Allan's 16 points in 41 games with Seattle and assume the worst. It'd also be wrong. He's done the Thunderbirds stuff – the activation and breaking down the forecheck – successfully, but there are only so many points to go around.
Where Allan stayed on the point in Prince Albert, he now jumps into the play. He's always a shooting threat because of his willingness to attack space with the puck – and Kevin Korchinski's dynamic playmaking. Instead of dumping the puck on the first sign of pressure, he cuts back, uses the middle, and tries to fake out incoming pressure. With carrying degrees of success, sure, but his improvement's noticeable.
As a first-rounder two years removed from his draft, Allan should probably be finding the net more often. But he's holding.
Zack Ostapchuk, C, Winnipeg ICE (Ottawa Senators)
Few players show as much versatility as Zack Ostapchuk has throughout his WHL career. In his draft year, he was a toolsy playmaker limited by infrequent touches. The next season, his ability to get open and create away from the puck improved significantly. This season, he returned to more of a puck-carrying playmaker role, following up wide-lane dashes with quick passes to the inside and exciting drives to the slot with passes back against the grain.
Well, until the trade to Winnipeg. On a loaded team with a largely established top-six, Ostapchuk has mostly played a third-line role. His even strength minutes have dropped from 16:53 per game to 13:28 via InStat Hockey. His role has become less about dynamic rushes and playmaking. Instead, he's shifted back to the 2021-22's goalscorer and play-supporter to go alongside a significant defensive impact.
The result isn't a player who has taken a significant leap but one who continues to show the number of ways he can help an NHL team.
Stock Falling
Carson Latimer, RW, Winnipeg ICE (Ottawa Senators)
While Ostapchuk has repurposed his many tools into a style suited for his situation in Winnipeg, Carson Latimer has struggled to find his offence with the new team. First, some context. He was one of the WHL's bubble season hits. His tools stood out, including his deep stride, shooting skill, flashes of playmaking, and nuanced defensive game. A trade to Prince Albert finally put him in a play-driving role, but his game never quite took off.
In Winnipeg, Latimer's only recorded 12 points in 22 games. His minutes are reduced, but he's struggled to generate offence against largely weaker competition than he's used to going up against. Where Ostapchuk creates by getting off the boards, Latimer remains largely stuck to the outside.
Of course, it's not all bad for Latimer. He's brought a nuanced defensive game, and he plays Winnipeg's in-motion offensive zone structure effectively. But the lack of consistent offensive output makes it hard to justify an NHL contract at this stage, even with his tools and attention to detail.
You may also be interested in: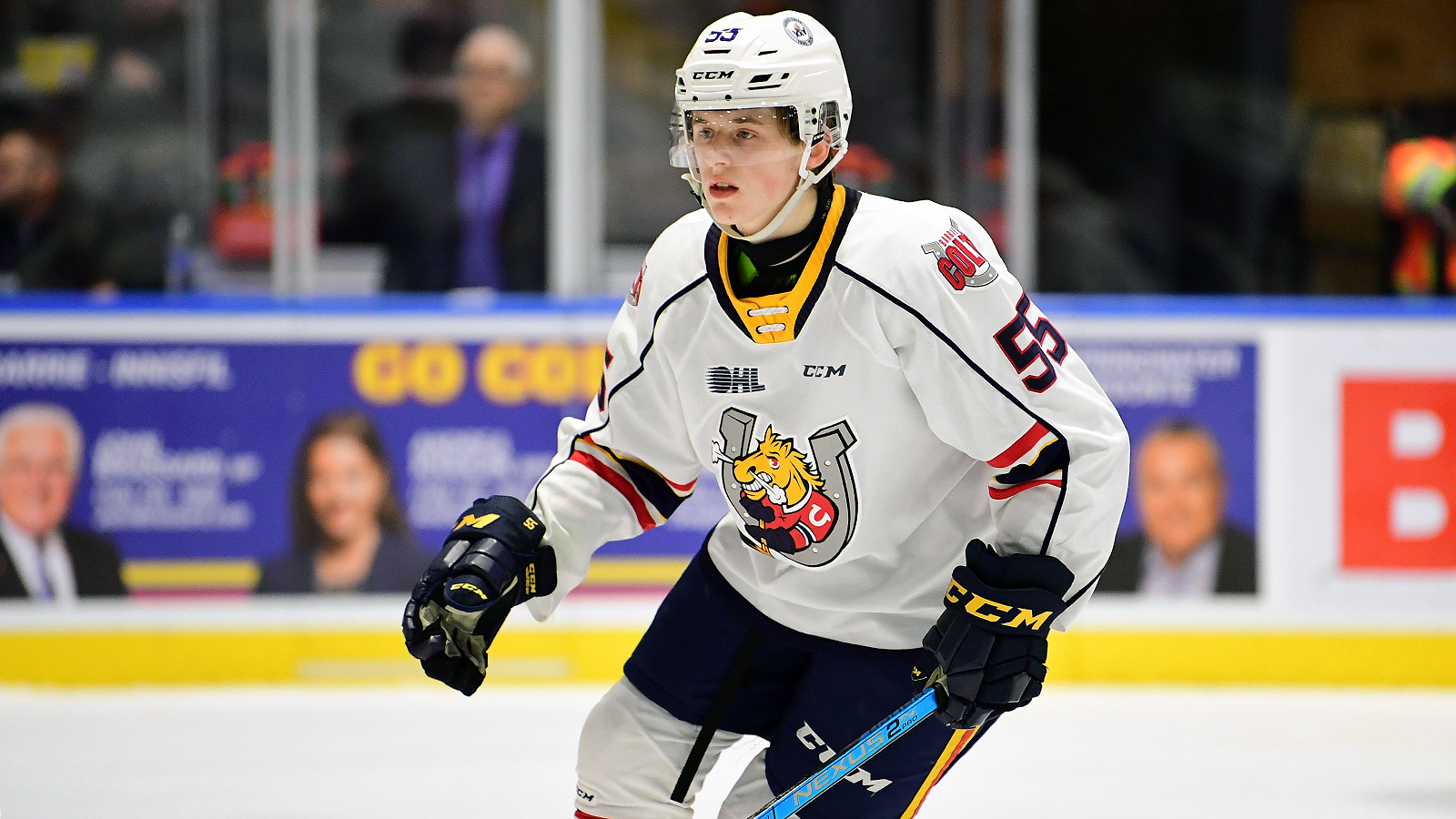 OHL Stock Watch: Brandt Clarke playing best hockey of his career as games matter most
This article is about: