NHL Prospect Report
QMJHL Stock Watch: Powerhouse Gatineau Olympiques getting the most out of Tristan Luneau
Assembling a super team is more difficult than it looks. There's only one puck and five skaters on the ice at any given moment (for the most part). This forces star players to adapt their games to work in concert with their teammates; they limit their creativity and touches to the benefit of the team.
This season, the Gatineau Olympiques are showing that it's possible to build chemistry in a powerhouse by targeting the right, complementary players. Following their final acquisitions at the trade deadline, the team went on an 18-game win streak. Not only did they rapidly climb the standings, becoming a heavy favourite to win the QMJHL playoffs, but their top players became even better. Fitted with a better supporting cast, their creativity and scoring soared.
In this article, we review the development and progress of these prospects and how their new environment is helping them develop their game.
Stock Rising
Tristan Luneau, RD, Gatineau Olympiques (Anaheim Ducks)
Tristan Luneau took significant steps forward this season. His defensive and breakout games have continued to improve. He shows more awareness and even more abilities to manipulate the defence at the blue line and in regroups. Luneau was already comfortable with the puck on his stick, but his poise is becoming a real asset now. While he does hold possession too long in certain situations, he makes many more creative passes than mistakes. He's on the right development track. Adding even more speed and quickness to go along with his agility would cement his top-four upside.
Zach Dean, C, Gatineau Olympiques (St. Louis Blues)
In Zach Dean's first three QMJHL seasons, he scored around a point a game. That mark always felt low for the talent he brought to the table. The St. Louis Blues prospect's tools are all high-end in the QMJHL; he's faster, more precise, and smarter than most. Yet, his results never really reflected his upside. Until now.
As Gatineau's supporting cast improved, so did Dean's numbers, to the point where he's now scoring at twice his usual pace in the final weeks of the season. He's completing more plays, setting them up with more deception, and using his pace advantage even more. Now, for him, it's all about carrying his offensive confidence in the playoffs.
Alexis Gendron, RW, Gatineau Olympiques (Philadelphia Flyers)
Over the past couple of years, Gatineau's lack of high-end finishers didn't enable them to capitalize on the talent of some of their more dynamic playmakers. They solved that problem when they brought Alexis Gendron from the Blainville-Boisbriand Armada, one of the best net-front scorers in the QMJHL.
Undersized, he doesn't bulldoze his way to the cage. He's more cunning than that. He dangles through sticks and scores by anticipating puck movements and presenting his stick at just the right time to his teammates at the far post. If Gendron can continue to develop his speed, playmaking game, and grittier side, he could carve himself a role in the NHL down the line, not unlike another similarly talented, seventh-rounder, Rafaël Harvey-Pinard.
Riley Kidney, C, Gatineau Olympiques (Montréal Canadiens)
Gatineau has turned into the perfect environment for Riley Kidney. Every time he gets the puck, the Habs prospect seems to know where his outlets and advantages are and what his next play should be. He's picking apart defences, scoring almost at will, and becoming one of the most threatening offensive creators in junior hockey. While his skills and flaws haven't changed -- he still lacks dynamic and defensive qualities-- we can't ignore the impact that playing in such a creative environment will have on his game in the long term. It has already significantly boosted his playmaking.
Samuel Savoie, LW, Gatineau Olympiques (Chicago Blackhawks)
Few prospects who only score around 0.5 points per game in the CHL get drafted, but as Samuel Savoie's heavy playstyle was much more translatable to the NHL, the Blackhawks took a gamble on him.
The forward has rewarded them this season by close to doubling his production and developing his softer skills, like his playmaking, even more. This season, he became even better at finding outlets under tight pressure along the boards. This skill will serve him well in the professional game, where he will often act as the puck retriever on a line. He already has the physical skills and the motor required for that role, but becoming even better defensively would help him secure it.
Stock Steady
Olivier Nadeau, RW, Gatineau Olympiques (Buffalo Sabres)
Olivier Nadeau helped transform the Gatineau Olympiques into the powerhouse that they are now. His combination of hard and soft skills, especially his high-end playmaking, made him a great complement to some of the team's many playmakers. Nadeau can engage opponents on the boards and come out with the puck, make clever one-touch plays to teammates in the slot, turn pass interceptions into scoring chances, and drive the net to take on the goalie one-on-one.
He became a better version of himself this season, an even quick and more deceptive passer and engager on the boards. To translate his game to the NHL, however, Nadeau still has to work on his skating.
Noah Warren, D, Gatineau Olympiques (Anaheim Ducks)
As Gatineau continued to add talents this season, our team hoped to see Noah Warren develop offensively. We thought that if others gave him a bit more space and predictable options, he would become better at moving the puck in controlled ways in breakouts and at orchestrating the flow of the play in the offensive zone. But it didn't really happen.
Warren flashes puck-moving and playmaking skills, but he remains about the same player he was in his draft year: a great defensive engager, a high-end mover for his size, and a cannon from the point. It's too early to revise his upside, however, as his season did get cut short by injuries. He's a long-term project.
Stock Falling
Cameron MacDonald, LW, Gatineau Olympiques (Tampa Bay Lightning)
In year four of his Major Junior hockey career, Cameron MacDonald remains a secondary scorer. He's a useful piece for the Gatineau Olympiques as his forechecking game has improved and he can still make defenders look foolish from time to time with his handling skills. But, to increase his impact on the ice and improve his chance of becoming a productive professional player, he has to learn to make more of his plays in movement and to better scan the ice as he rushes up ice.
Isaac Belliveau, LD, Gatineau Olympiques (Pittsburgh Penguins)
The Pittsburgh Penguins probably disagree with us, as they signed Isaac Belliveau to an entry-level contract a few weeks ago, but our team hasn't seen much progress in Belliveau's game over the years. The defenceman hasn't quite figured out his identity. He flashes playmaking abilities. And, with his stature, he can engage opponents well in the defensive end, but his decision-making and lack of agility continue to cause issues. Belliveau is scoring significantly more this season, however, and will have plenty of time to work with the Penguins' development staff.
You may also be interested in: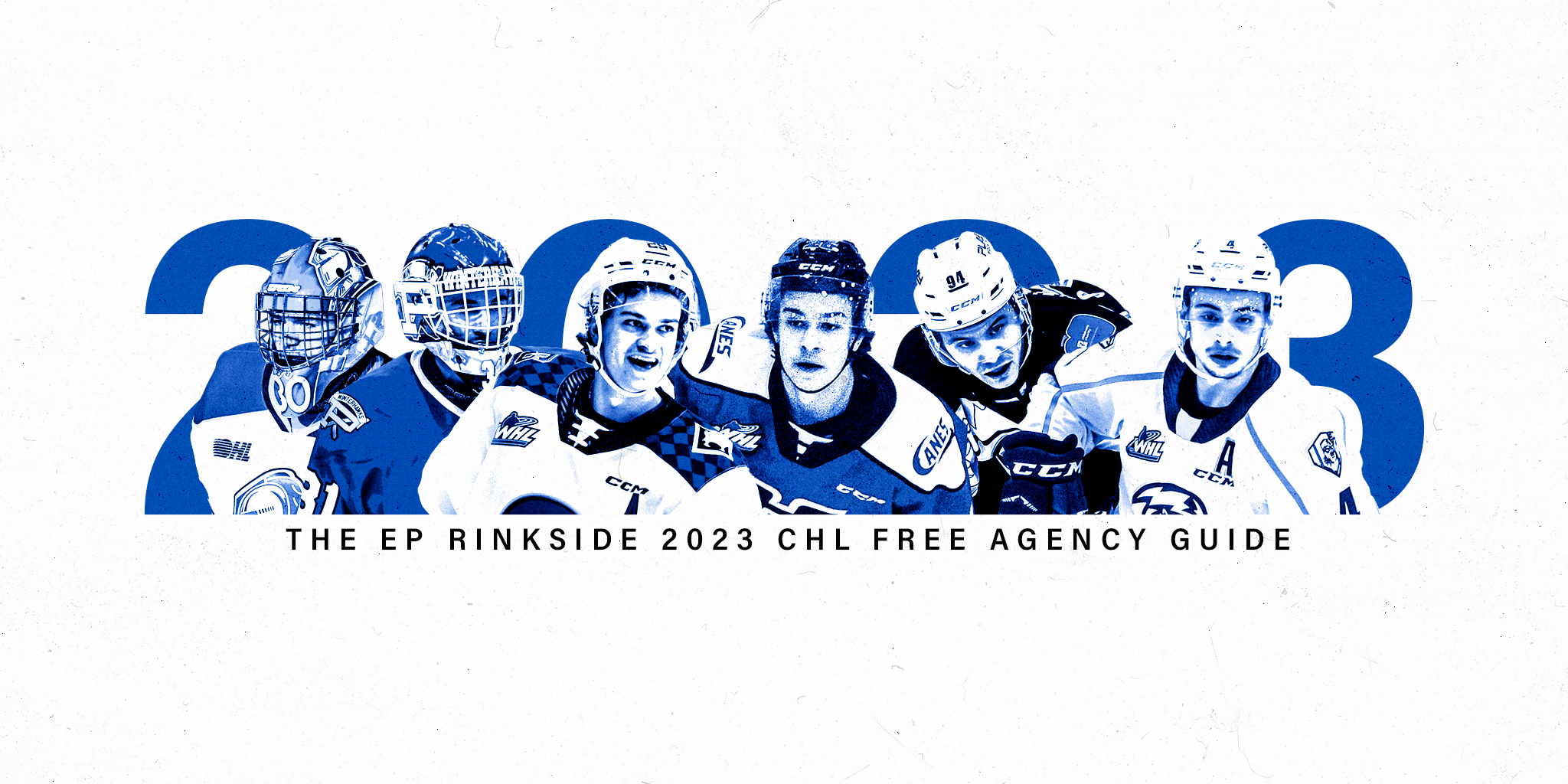 The EP Rinkside 2023 CHL Free Agency Guide
This article is about: