NHL Prospect Report
Russia Stock Watch: Ivan Demidov is coming
The playoffs have been in full swing for weeks now in Russia. The KHL is already into its conference finals, and the MHL is also down to its final four teams. It's crunch time, and then some.
As the flame of the 2022-23 season rises one last time before its extinguished for the offseason, we'll take another look at how several top prospects' stock is doing in that corner of the hockey world.
Stock Rising
Marat Khusnutdinov, C, SKA St Petersburg (Minnesota Wild)
It's no secret that the Wild have long been searching for a top-line centre to complement the bevy of wingers on their big league roster. And while it's unlikely that Marat Khusnutdinov will ever ascend to that part of their lineup, he represents another dart to toss at the board. In this case, the dart may miss the bullseye but it's not likely to fall to the floor either.
In his second full season in the KHL, the 20-year-old centre took a substantial step forward offensively. He clicked at a 0.65 point-pr-game rate over 63 regular season games, and as the playoffs have worn on, he's continued to produce at that rate. Maintaining a similar level of success into the post-season is no easy feat – especially for a player his age.
The weight of his importance to the team cannot be understated. His minutes are up all over the place. His power play time has doubled compared to the regular season. He's seeing nearly a minute more on the penalty kill. All told he's up over four minutes per night as he's working hand-in-glove among the team's top-six skaters.
Khusnutdinov has one more season left on his KHL deal before becoming free to transition to North America as a recently-turned 22-year-old. He should be plenty marinated by then.
Ivan Demidov, RW, SKA-1946 St. Petersburg (2024 NHL Draft)
The hype around Matvei Michkov has been building since long before his draft year commenced, but there's another Russian phenom-like prospect coming in 2024 who hasn't generated nearly the same buzz.
Ivan Demidov posted the top U18 season in MHL history by recording 64 points in 41 games. On a per-game level, that mark of 1.45 points per game falls to second behind only Michkov's 2021-22 campaign of 1.82.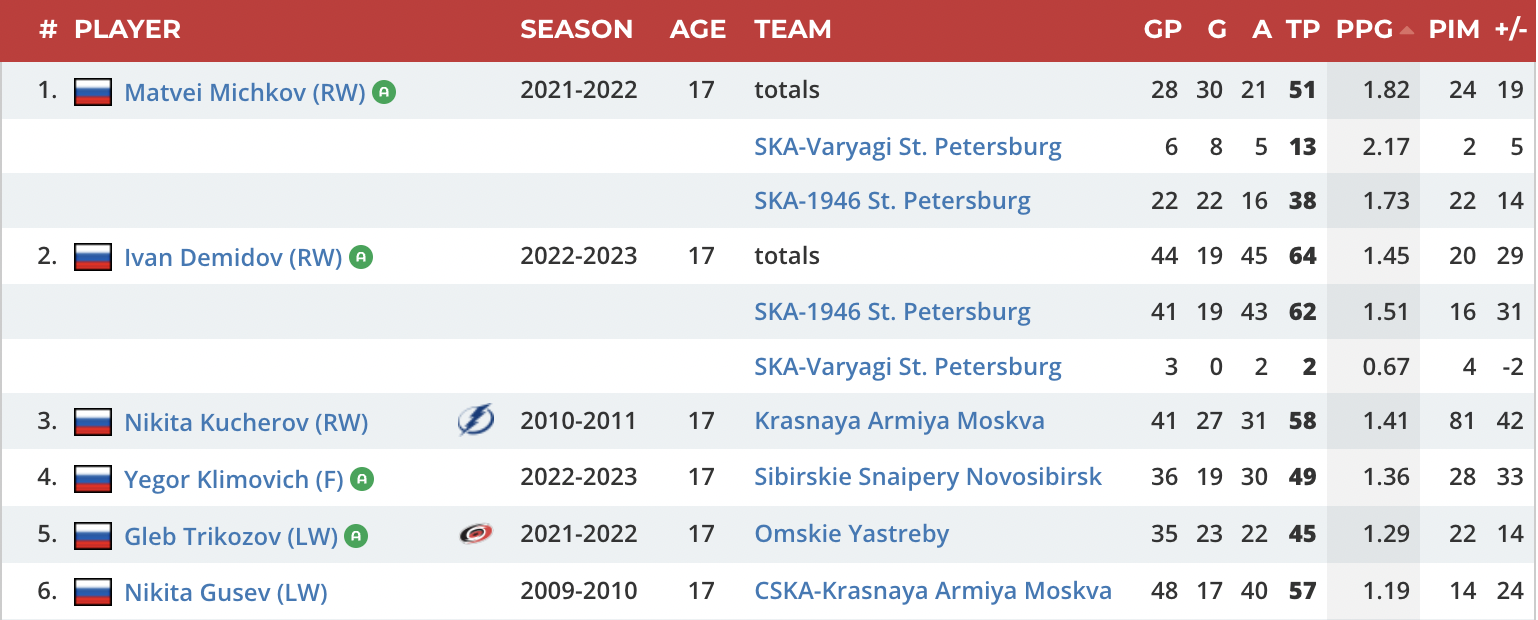 So far in the post-season, after a slow start, the 17-year-old has been equally dynamic, recording 10 points over his last seven games - he sits with the fifth-most playoff points in the league.
This is a player with top-end aspirations in next year's draft class and for good reason. He blends creativity, quick hands, high-end offensive IQ, and a wicked release to shake pressure and make opponents pay.
Maxim Fedotov, D, Torpedo Nizhny Novgorod (2023 NHL Draft re-entry)
The undrafted Maxim Fedotov improved his value with a strong two-round performance for Torpedo this past month. The 21-year-old blueliner generated a respectable nine goals and 21 points in 64 KHL regular season games – his first full season at that level. He backed it up with seven points in 10 postseason contests.
The 5-foot-11, right-shot defender has passed through each of the last two NHL drafts. He remains eligible for the 2023 edition before becoming a free agent. With one year left on his deal in Russia, we'll see if a team decides to take a late-round flyer on him this year or waits until his contract expires after the 2023-24 season before tendering him an offer.
His production this season will certainly have teams interested.
Stock Steady
Nikita Chibrikov, W, MHK Spartak Moskva (Winnipeg Jets)
Selected in the second round in 2021, Nikita Chibrikov found immense success in the VHL last season, producing over a point per game. The expectation was he would find a home in the KHL this season - either with SKA-St. Petersburg or through a loan elsewhere. The loan happened, but the 20-year-old winger was unable to find his footing in the top Russian league. Furthermore, he struggled to rekindle the same product in the second division.
However, a return to the junior ranks saw him flourish with 10 points in seven MHL playoff games. It's certainly nothing to write home about for a bonafide NHL prospect, but it's at least something to keep his stock hovering.
The Jets will likely look to sign Chibrikov this summer and get him over to North America where they can have greater control over his situation.
Alexander Nikishin, D, SKA St Petersburg (Carolina Hurricanes)
We can't always have Alexander Nikishin on the stock rising list. Despite just how damn good he's been. The 6-foot-4 defender continues to churn out points and looks every bit the part of a future NHL top-four defender.
The 21-year-old blueliner has six points through 11 playoff contests and is playing a big role in SKA's push toward another Gagarin Cup final. It's just such a shame that the Hurricanes have to wait at least two more seasons to get their mitts on him.
Trending Down
Danila Yurov, RW, Metallurg Magnitogorsk (Minnesota Wild)
Danila Yurov scoring 12 points in 56 KHL games this season may not sound like much of an accomplishment, but when you consider he did so while seeing just eight minutes of action per game – after going pointless over 40 games last season – it becomes a little brighter.
However, that production, as limited as it may have been, has dried up in the postseason. The Minnesota Wild first-round prospect has witnessed his minutes cut to five per outing including one match where he saw just six seconds. And another with 90 seconds.
He's failed to hit the scoresheet.
The skillful winger is just 19-years-old and remains a highly intriguing prospect. His KHL contract expires at the end of this month and he'll be eligible to sign his entry-level deal with the Wild on May 1. This appears to be the projected scenario and will allow Minnesota to get him into the American League and start moulding him to their specifics.
The change will surely aid in his stock rising once again.
Mikhail Gulyayev, D, Omskie Yastreby (2023 Draft-eligible)
Mikhail Gulyayev boasts some of the more desirable offensive traits of any defender from the 2023 draft. His mobility – especially laterally – is dynamic and stands out as soon as he steps onto the ice. He blends his great feet with some creativity and above-average hands, but what he does with those tools can sometimes leave scouts wanting more.
During the regular season, he was the top offensive back in the MHL on a per-game basis while recording 25 points in 22 games. That level has failed to follow him into the postseason thus far. Fortunately, for his Omskie club, it hasn't hurt them as they hold a 2-0 series lead in the Conference Finals against SKA-1946.
Gulyayev will be an interesting name to watch at the draft this June. With a dearth of puck movers on the blueline, he could go very early, but his final stretch of games won't be enticing teams to move heaven and earth to select him.
You may also be interested in: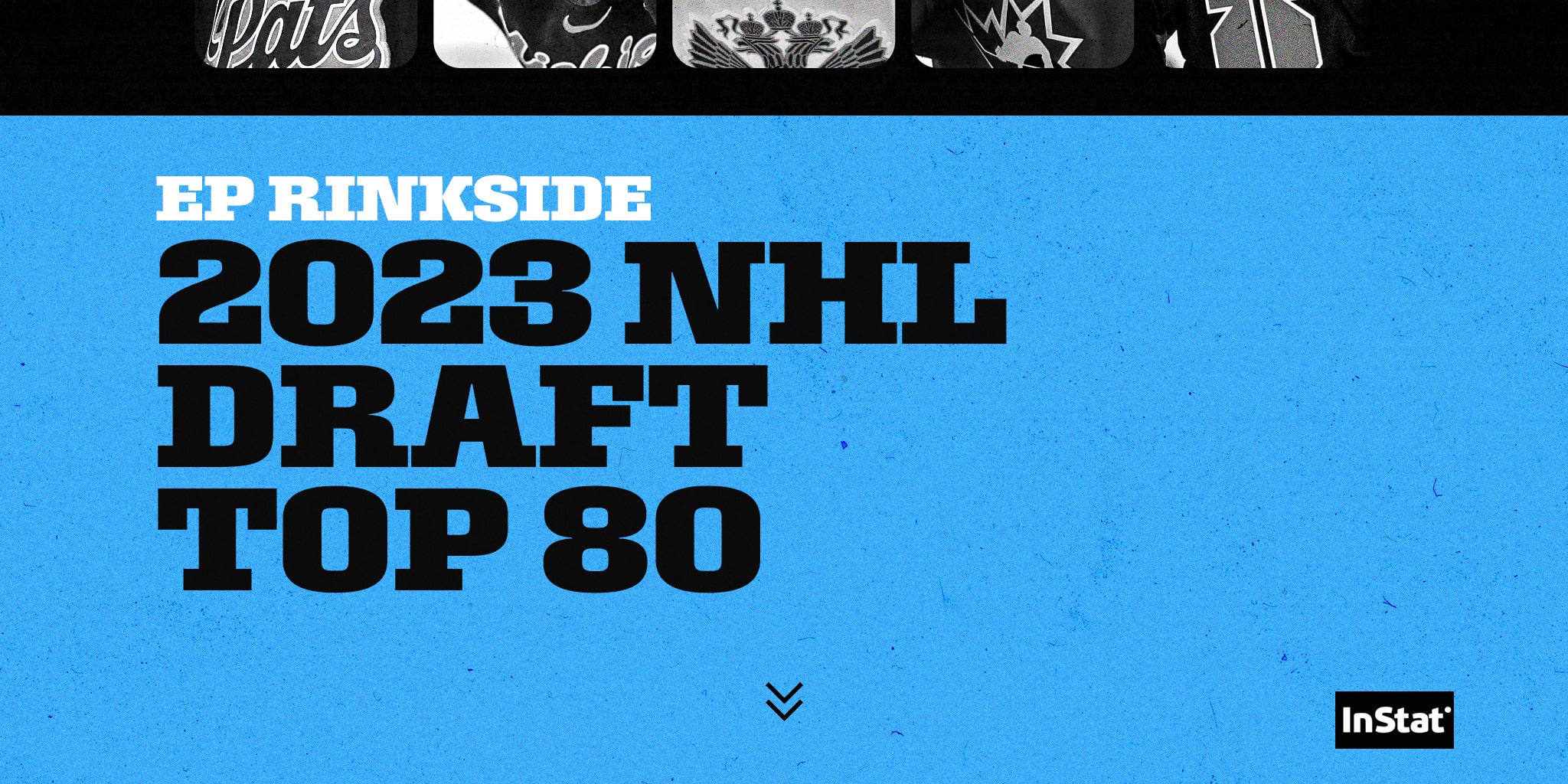 The Elite Prospects pre-U18 ranking of the top 80 prospects in the 2023 NHL Draft
This article is about: