2023 NHL Entry Draft
"He has the top half of the first-round puck skills:" Jayson Shaugabay could be late riser in 2023 NHL Draft
Jayson Shaugabay just won the Mr. Hockey Award, granted to the best high school hockey player in the state of Minnesota. It doesn't get any better than that, especially with such stiff competition, as is always the case with this award.
"It was pretty special," Shaugabay beamed. "A lot of really great guys have won it, but not a lot of people get to win it, so I'm grateful I had a chance to win it."
Going into the season, he had that award on his mind. But Shaugabay knew it wasn't going to be handed to him.
"A lot of people were saying that, but there are so many good players in Minnesota I think anybody could have gotten it that was up for it. I wasn't like 'I think I should win it.' I knew I'd be up for the conversation. I didn't really think I was going to win it," Shaugabay insisted.
As far as his high school season went, it didn't end the way he wanted with a championship. He was the captain at Warroad High, and it was still a season to remember.
"We lost in overtime. It was a really good season. I think we had a 28-1-1- record. It was still a really good season. It just didn't end the way we wanted it to," said Shaugabay.
Shaugabay ended up scoring 96 points in 31 games.
"I don't know if I was feeling if I was going to, but I was trying to," he said honestly. "I wanted to do the best I could knowing it was my last season."
Now the prospect is playing for the Green Bay Gamblers in the USHL.
"I'm in Green Bay right now. I feel comfortable. It feels like I'm in a good spot," Shaugabay added. "I'm on the second-line right wing. I don't know if they want me to be a centre. If they want to maybe next year. I can play centre. I can play wherever they want me to. I'm more of a winger I would say."
Here's what an NHL scout said about this Minnesota hockey player.
"Not exaggerating when I say he has the top half of the first-round puck skills. He's one of the most purely skilled players and best playmakers in this class. He's unselfish to a fault and needs to get nearer the net and shoot more. He will be one of the few players taken outside of the first round who realistically has the talent to develop into an NHL top-six/half-wall power play forward"
Shaugabay could still be growing. He's currently 5-foot-9.5 and weighs 167 pounds. Even though he's a smaller player, don't think he won't get chippy now and then.
"I like to control the game with my smarts. I'm not going to be buzzing around, but I will use my body a little bit. I'm not a very physical guy. I try to take the game to another level at other people," Shaugabay recited. "If it's in the corner, I won't try and run through the guy. I might sit there, and wait for him to turn and take the puck from him. Something like that. I played skilled and smart."
Being a patient passer is a talent, not every player has. That's something that stands out with this prospect.
"I think it's something god gifted with me I guess. I've always been a guy that lets it slow down and looks for the pass. I'm more of a passer than a goal scorer, " Shaugabay admitted. "I always like to slow it down and find that open seam."
Playing off the wall is different if you're on the right or the left depending on what side you shoot from. When I asked him which side he preferred, he paused and then said, "To be honest, sometimes my left. I really can't tell you why. I'm just more comfortable coming into the zone that way. I like to get it on my high forehand like that."
As a guy who can put up points. He has a terrific one-timer and wrist shot, but he knows which one is better.
"I would say it's my wrist shot. I think it's my accuracy. My wrist shot is pretty accurate. I try and use that when I can," Shaugabay mentioned.
Shaugabay's skating improved dramatically. Not with a coach but with something else that you might not expect.
"I've worked hard on it because when I was younger and really small, I wasn't a good skater. When I grew it kind of helped my stride get smoother and longer," Shaugabay recounted. "Obviously, I'm not a big guy but when I grew it helped my stride."
The rest of his season in Green Bay is worth the watch.
"I have come here to prove myself, get better and win hockey games. I think I'll be back next year. Everybody is really good. In high school, sometimes you don't have to try that hard. Out here everybody is really, really good."
Travelling can be hard on young players, but Shaugabay is used to it.
"I always had to do a lot of travel because of where I grew up. I lived in the middle of nowhere. The closest Walmart to my house is like two-and-a-half hours away," he laughed. "I live up by the Canadian border. We have nothing. All I did was travel on these eight-hour trips."
As far as attending the NHL Draft, Shaugabay had one idea and his family had another.
"I'm playing as good as I can so hopefully, I get drafted," Shaugabay said cautiously. "I'm not thinking about it too much. My whole family thinks I should go. But I can't bring everybody. I'd like to be at home with everybody I know. My little brother said if you don't go you're stupid. I think we will probably end up going."
Shaugabay will rise to a degree in the rankings. Let's see what happens but he's still playing.
You may also be interested in: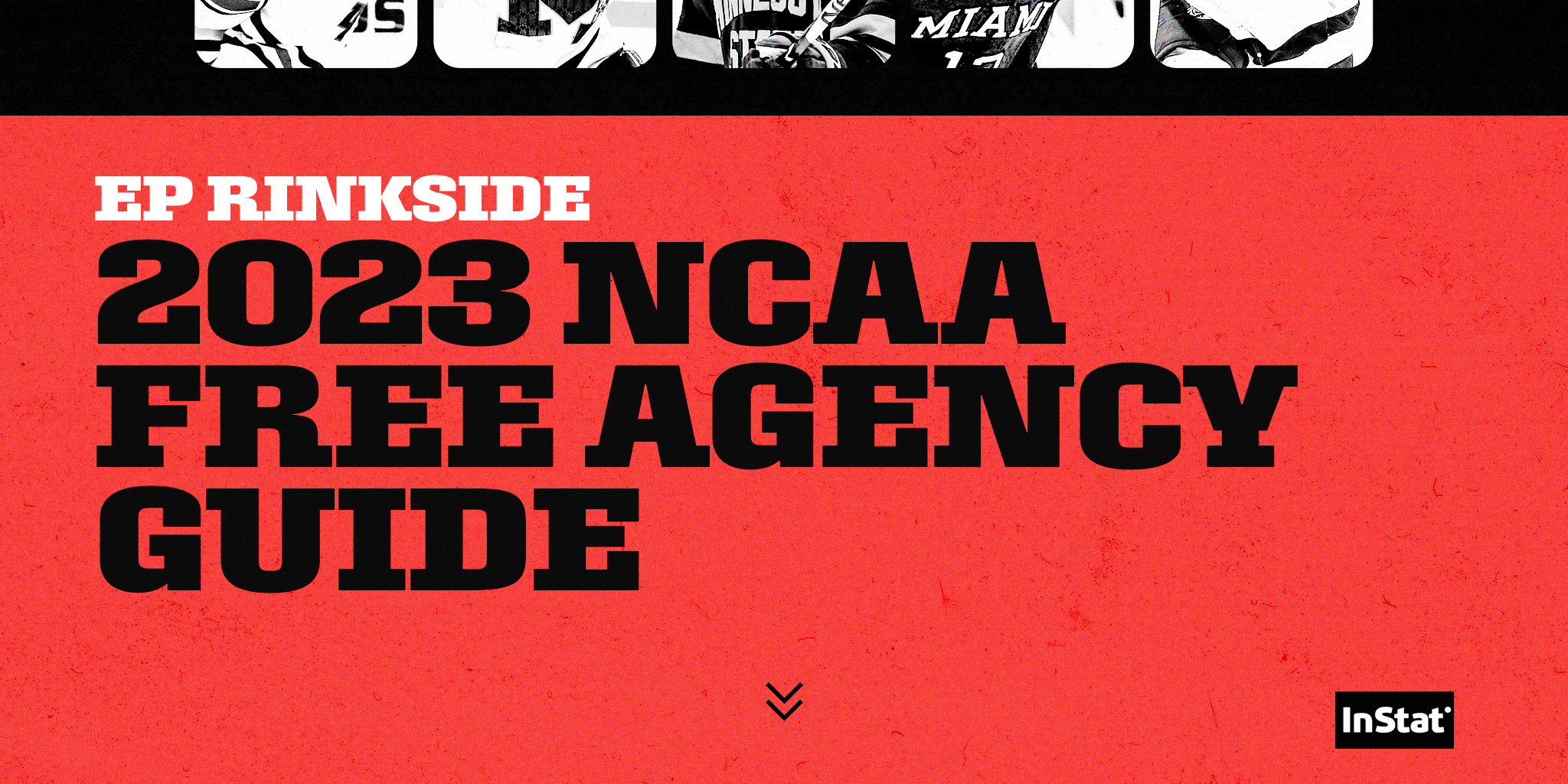 The EP Rinkside 2023 NCAA Free Agency Guide
This article is about: