NHL Prospect Report
AHL Stock Watch: Tyson Foerster rapidly developing in the AHL
The path from the AHL to the NHL is rarely a one-way street for most prospects. Just because they earn spots with their main club doesn't mean they're there for the long haul. Demotions are frequent early in many players' careers. They allow not-quite-ready players to get top minutes in all situations and work on their game to cement their NHL role.
In this edition of Stock Watch, we focus on a few players who went back to the AHL after NHL stints and who are using their time in the minors to improve. We cover two teams specifically, the Hershey Bears and the Lehigh Valley Phantoms, respectively the affiliate of the Washington Capitals and Philadelphia Flyers.
Stock Rising
Tyson Foerster, RW, Lehigh Valley Phantoms (Philadelphia Flyers)
Tyson Foerster took significant steps forward this season. He's not just a scorer anymore, but a legitimate dual-threat forward, who can just as effectively move the puck around the defence and fire through it. His skating mechanics could still improve, but the AHL game no longer seems fast for him. He anticipates what's coming, the routes of teammates, and the flow of the play. He connects with them rapidly in the offensive zone and then repositions inside space to use his elite shot. His recent NHL stint, where he scored seven points in eight games, suggests that he could be ready for a full-time role with the Flyers next season.
Elliot Desnoyers, LW, Lehigh Valley Phantoms (Philadelphia Flyers)
Despite Elliot Desnoyers's low production in his first two seasons with the Moncton Wildcats, the prospect's motor, pace, and playmaking abilities convinced us to include him on our first draft board in 2020. Three seasons later, after seeing his many improvements over his last two QMJHL seasons and in his first AHL year, it seems like adding him was the right call.
Desnoyers has been one of the main offensive drivers for the Phantoms this season. He probably won't play in the Flyers' top-six over the long term, but his passing ability, forechecking skills and net-front game could serve the team well in a bottom-six role. His playstyle will likely endear him to head coach John Tortorella.
Connor McMichael, C, Hershey Bears (Washington Capitals)
Connor McMichael was demoted to the AHL this season after a full campaign with the Capitals last year. It was the right move for his development. Another season of playing an average of 10 minutes a night would have set him back. He needed to rediscover his scoring touch and further improve his two-way game to earn more ice time with the Capitals. McMichael is accomplishing these objectives.
While his numbers could be even higher, on most game nights, he plays his facilitator role well. He distributes the puck smartly and quickly, attacks pockets of space to get it back, and drives the net for goals. He also positions well defensively. With the playoffs approaching, he's heating up at just the right time
Stock Steady
Yegor Zamula, D, Lehigh Valley Phantoms (Philadelphia Flyers)
Steady. That's the right adjective to describe Yegor Zamula. While most prospects change their playstyle as they rise in level, Zamula has mostly remained the same. Unphased by pressure, in any league, he tries the same dangles through the forecheck and the same feints and creative passes. His poise is both his biggest quality and flaw. His defensive game has improved over the last few years, but he still lacks urgency in that facet of play. He remains one of the most toolsy prospects out there, a potential high-end offensive quarterback, but at 23-years-old, it's getting a bit late for him to round out his game.
Hendrix Lapierre, C/LW, Hershey Bears (Washington Capitals)
When Hendrix Lapierre made the Washington Capitals lineup at the start of the 2020-21 season, he looked on a fast track to an NHL role, but his first season with Hershey has changed that perception.
Like most prospects, he will need time. His skills continue to flash in the AHL. We still see him slip and saucer passes to the slot to teammates, but for a rookie, especially one who missed so many months of junior hockey due to injuries, the AHL is a large step. Before he can become a play-driver with Hershey, Lapierre will have to develop his physical skills and learn to better handle defensive pressure. He tends to rush some of his plays. His recent hat trick should help him regain some of his offensive confidence going into the playoffs.
Bobby Brink, RW, Lehigh Valley Phantoms (Philadelphia Flyers)
The professional game will always be more difficult for Bobby Brink. He's smarter than most on the ice, but that doesn't always matter when opponents can easily bring him to a stop with their superior strength and mobility. Brink's quickness and overall speed have improved over the past few seasons; he can fly down the wing, get past opponents, and attack space. But because of his natural disadvantages, he's forced to make most of his plays under heavy defensive pressure. If teammates aren't giving him fast outlets, he finds himself without a solution.
It's good that the Flyers are taking a slower approach with him. Brink needs to learn to remain one step ahead of the opposition at all times to avoid entering battles.
Stock Falling
Ronnie Attard, D, Lehigh Valley Phantoms (Philadelphia Flyers)
For the most part, Ronnie Attard continued to operate in the same way with the Phantoms in the AHL as he did in college. He hunted space at the point to unleash his cannon of a shot and used his size to engage opponents.
As Attard is already 24-years-old, he doesn't have as much time as other prospects to prove that he belongs. His game remains pretty raw even at this stage of his career. Tightening up his defence away from the puck and improving the fluidity of his skating would help him win his role with the Flyers' next training camp. The team will also have to be patient with him.
You may also be interested in: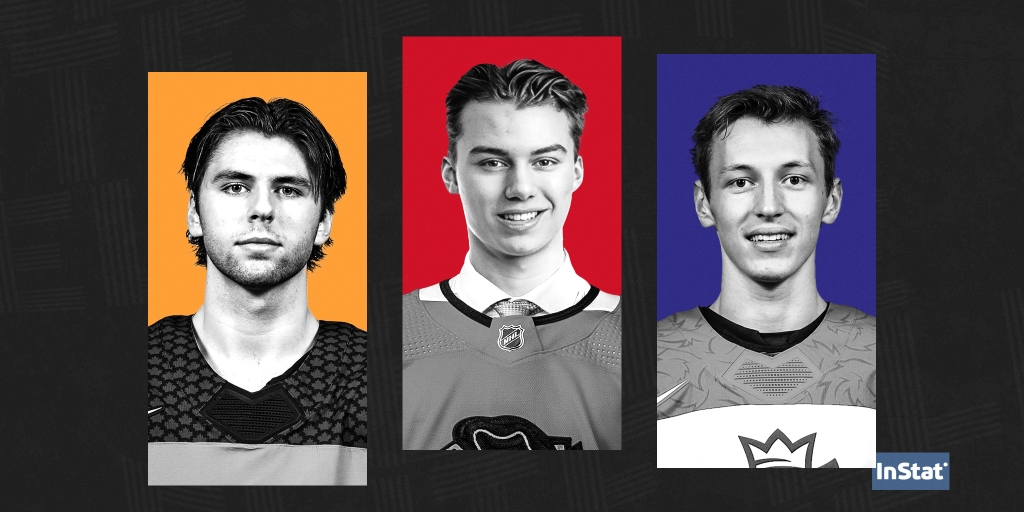 The EP Rinkside post-World Juniors 2023 NHL Mock Draft
This article is about: