NHL Prospect Report
Central European Stock Watch: Adam Csabi a sneaky good player in 2023 NHL Draft
With each passing Stock Watch, I realize just how quickly the season is going by. The playoffs have been in full swing for some time now in most European leagues, and the championships won't be far off.
Soon, these seasons will be at an end, but guess what? As one thing ends, another begins, right? And that something in this instance is the 2023 U18 World Hockey Championships; the last really important event on the scouting calendar. And oh, are we ever looking forward to it at EP Rinkside.
There are going to be a couple repeat appearances in this Stock Watch from earlier in the year. One player who won't be is Martin Misiak, who was my favourite prospect from this neck of the woods before he left for the USHL, and he seems to be doing well. So, keep an eye on him.
Who did make the cut for this month's Stock Watch? Read on to find out.
Stock Rising
Dominik Bokk, F, Löwen Frankfurt (Carolina Hurricanes)
Dominik Bokk has made a lot of progress since returning home and playing in the DEL. His team didn't fare so well in the DEL playoffs, though. They were handily dispatched, looking especially grim in the first two games, both losses with a minus-nine goal differential. To his credit, Bokk picked up the secondary helper on their one goal, though.
Still, Bokk should feel good about his season. He scored at a 1.1 points per game pace and is up to 60 points in 57 games total in his DEL career.
Bokk skates with a low centre of gravity, which allows him to handle puck battles better than most at his size. It's really hard to get the puck off of his stick. He's an offensive driver in the DEL, with his trademark goalscoring ability and signs of growth as a playmaker, too. He can take the puck coast-to-coast with his puckhandling skill, too.
Carolina owns his rights through next season, and it will be interesting to see if he gets a shot in the AHL or stays in Europe. One thing is for sure though, he's got enough quality that a move elsewhere would be interesting to watch.
Adam Csabi, F, HC Energie Karlovy Vary U20 (2023 NHL Draft)
Adam Csabi spent most of the season in Finland but then returned to Karlovy Vary in his native Czechia, where he played three seasons prior. His season ended in March in the playoffs.
Csabi is good at finding teammates in open space and generally has a good sense for creating high-danger chances. He has skilled hands and can carry the puck into the zone at a fairly high rate of speed while controlling the puck. He's slightly undersized but fairly agile and often takes advantage of this when he cuts to the middle and tries to attack the net.
I find Csabi to be a sneaky good player who is very intriguing, he just lacks a quality defensive game. A better skating stride and a higher motor would serve him well.
David Reinbacher, D, EHC Kloten (2023 NHL Draft)
Another returnee? You can't be that surprised when it's a 6-foot-2, 187-pound Austrian defensive prospect playing big minutes in Switzerland's top men's league. On top of it all, David Reinbacher is putting up strong offensive numbers, with 22 points in 46 games with EHC Kloten.
Reinbacher's season is now done after his team bowed out in the NL playoffs; for his part, Reinbacher had a two-point game in their three-game series with Bern.
There are several NHL qualities in Reinbacher's game. At first glance, he profiles like a modern defensive defenceman with a really strong defensive stick, but it's not quite that simple. He's grown as a three-zone player over the course of the season, and I was really impressed with how he supported the offence late in the year, particularly as a power play quarterback.
Sure, Reinbacher makes the odd mistake in the defensive zone, but he's still learning and he works hard to improve that part of his game constantly. He's a great prospect.
Stock Steady
Matteo Kočí, HC Energie Karlovy Vary (2023 NHL Draft)
If you're looking for an under-the-radar defenceman in this year's draft, have I got the player for you. Matteo Kočí is a defenceman on Karlovy Vary's junior team, one of the better ones in Czechia, and he's played really well for them all season.
Koči scored 20 points in 36 games this season, then three points in three playoff games. He also played seven games in the Extraliga where he notched two assists. Kočí is a versatile blueliner with a lot to offer. He has quality edge work and gap control. He also offers a package of offensive-defensive work with quick switching between these two. He can create very dangerous chances, and get heavily involved in the offence by setting up his teammates and leveraging his shot. Then, as play turns in the other direction, Kočí catches opponents in the neutral zone with absolutely devastating hits. He deserves late-round consideration.
Stock Falling
František Dej, F, HC Modre Kridla Slovan (2023 NHL Draft)
Frantisek Dej spent the season with Bratislava and HC Modre Kridla Slovan (the second-highest level of play in Slovakia). He was also part of the U20 national team at the World Juniors in December, but I expected more from him this season.
Dej is a big two-way centre who is a wrecking ball, more than willing to throw his weight around on the ice. I often see in his game that he focuses on that important defensive work like clearing the defensive zone, trying to take the puck away from opposing players or just hitting. I think that role will stay with him throughout his career, but I honestly don't think it will be in the NHL.
You may also be interested in: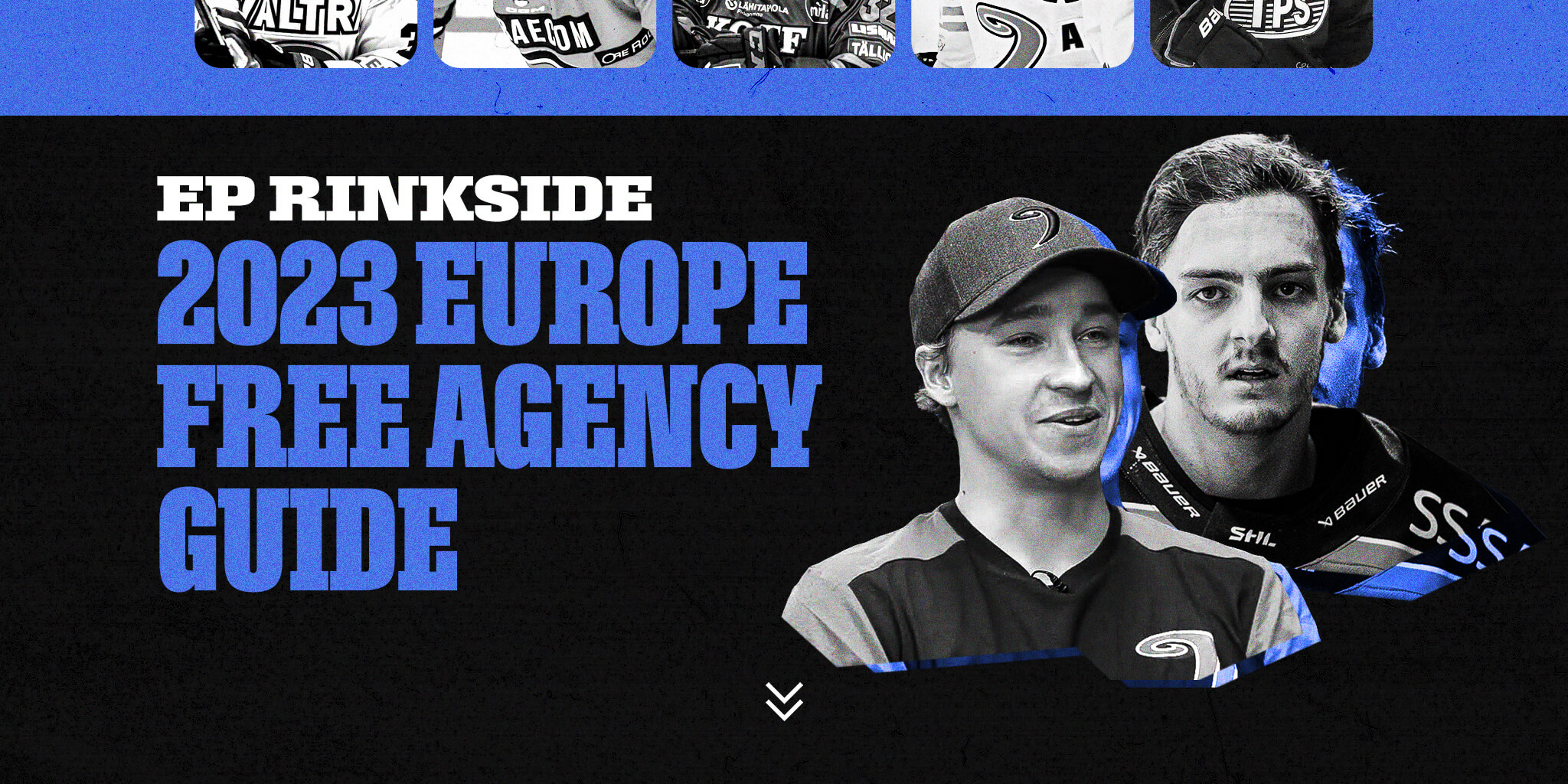 The EP Rinkside 2023 European Free Agency Guide
This article is about: