NHL
Where do the Philadelphia Flyers go from here?
The Philadelphia Flyers are going to be on the outside looking in at the NHL playoffs for the third straight season.
Worse still, they're almost certainly condemned to pick outside the top four in this year's draft, missing out on the franchise building block-type piece they so desperately need.
It's a fate that the good people over at HockeyViz have charted as the "Sadness" index, a measure of a team's likelihood of missing the playoffs and not picking first overall. The Flyers place ninth by that measure, with an 87 percent chance of suffering that fate as of this writing.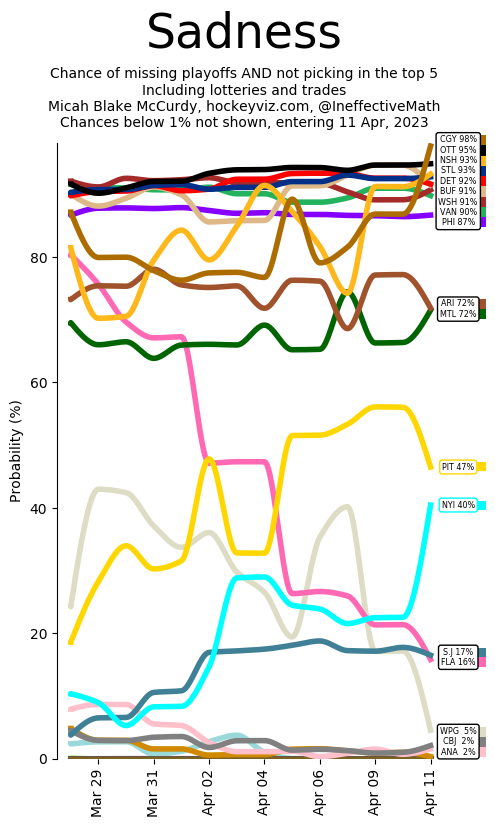 There wasn't much suspense there, though. Everyone knew the score coming into the season. Except for, critically, the decision-makers at every level of Wells Fargo Arena.
Because let's be honest here, you don't pour the amount of sweat equity into this roster that then-Flyers general manager Chuck Fletcher did without the intention of making a serious run at the postseason.
Most especially not if one of those moves is installing John Tortorella as your team's head coach. Say what you will of his methods, but the guy gets results. They're just not the most ambitious ones. Think lots of loser points, the last refuge of the bad team trying to make hay in the false parity era of the NHL. But they are nonetheless results.
For a time, it looked like they'd cracked the code, too. That Fletcher and Tortorella had found the right recipe for a retool that actually worked. The Flyers lept out of the gates to the tune of a 5-2-0 start, playing punishing hockey and riding a hot goaltender to among the league's best results.
Then they collided face-first with reality in November, losing 10 games straight at one point, and their season was functionally over.
It wasn't long before Tortorella sent out a letter to the fans preaching patience, and soon after, it wasn't uncommon for him to describe the Flyers' situation as a rebuild in plain language.
Fletcher was fired a week after the deadline, one last pitiful performance on the job in which he failed to move James van Riemsdyk and only added a fifth- and sixth-round pick to his team's war chest of futures. Talk about not with a bang but a whimper.
The new boss? Well, that's none other than former Flyers great Daniel Brière. He's assumed the general manager's job in an interim capacity, though there are some reports out there – namely, one by Sportsnet's Elliotte Friedman – that suggests he's got a good shot at keeping the gig.
He's said all of the right things – or a lot of the right things, anyway – since taking the job, even spelling out in no uncertain terms that this team needs a rebuild. As my colleague Ryan Lambert wrote when Brière got the job, though, there are some reasons to be circumspect about that messaging.
Whatever the case, retool or rebuild, it's almost impossible to overstate the enormity of the task in front of Brière.
First on his to-do list should be rounding out his front office. We can't say with any certainty that Brière is or isn't a capable executive based on his limited track record, but that track record such as it is, it wouldn't hurt to build out an all-star supporting cast. Unless, of course, the plan is to keep Fletcher's support staff in place.
Then there's the roster. To which I say, where does one even start here?
The answer is probably with the team's restricted free agents. This group includes Noah Cates (arbitration-eligible), Morgan Frost, Cam York, Wade Allison, and (if only for the sake of posterity) Kieffer Bellows.
Cates and Frost, in particular, present an interesting opportunity for the supposedly rebuilding Flyers. If we're to take this new regime at their word, then the priority here should be sacrificing short-term flexibility with a higher cap charge to keep them cost-controlled when the games start to matter again. Cates, in particular, seems like the perfect candidate for a like deal.
You can perhaps lump York in with that group too, depending upon how much faith you place in his strong underlying results in somewhat managed minutes to date. Realistically, I would expect a garden variety, one or two-year deal for their former first-round pick.
The drawback with this strategy, of course, is that the Flyers don't have a lot of salary cap space to work with. Only about $8-million, by CapFriendly's reckoning.
They also don't have many holes in their lineup though. They already have 13 forwards on the books for next season, and the only one of any consequence (this might be generous) that they have to replace is van Riemsdyk. Their blue line is in similar shape, with six players locked in for next season.
Of course, a lot can change very quickly, and the Flyers have a few players who could generate substantial interest on the trade market if they really want to strip this thing down to the studs. Which, of course, they should.
Travis Konecny and Ivan Provorov's names have circulated in trade rumours for some time now, and perhaps this is the offseason where they find new homes. I'm sure they wouldn't mind such an arrangement in the slightest. I'm also fairly certain the Flyers wouldn't mind finding a trade partner for Kevin Hayes either, but that could prove more difficult with the three years at close to $7.2-million per remaining on his deal after this season.
Then, of course, there's Tony DeAngelo who they acquired for three (3!) mid-round picks last summer only to realize about halfway through the season that he's not that good defensively. He's been a healthy scratch at times, and I have to imagine there's significant buyer's remorse there. I know, I know. It's hard to believe anyone would encounter that with DeAngelo. Good luck moving that contract (one more year at $5-million) though.
Speaking of buyer's remorse, I'm sure the Flyers would be thrilled to find a taker for Rasmus Ristolainen and the four years at $5.1-million per remaining on the ill-advised extension (and this isn't hindsight, anyone with access to Natural Stat Trick could've told you as much at the time!) that they signed him to ahead of last deadline. They shouldn't be able to, but then again, this league has always had an outsized affinity for Ristolainen's game, so never say never.
Then the focus shifts to their crease, where Carter Hart is eligible for an extension and has earned a sizeable raise on his almost $4-million cap hit. He's had an up-and-down career to date, but his game seems to have stabilized in the last two seasons. If he's your goalie of the future, then act accordingly. If not, there should be a suitor out there.
After that? Well, get ready for more short-term pain. Things have to get a lot worse for this team before they can get better. The Flyers have drafted reasonably well for the last little bit, but there isn't a franchise player in their system around which they can build a contender. Not yet anyway.
Philadelphia may not have ever had a shot at Connor Bedard, but now may be a good time for this team and their fans to familiarize themselves with Macklin Celebrini.
You may also be interested in: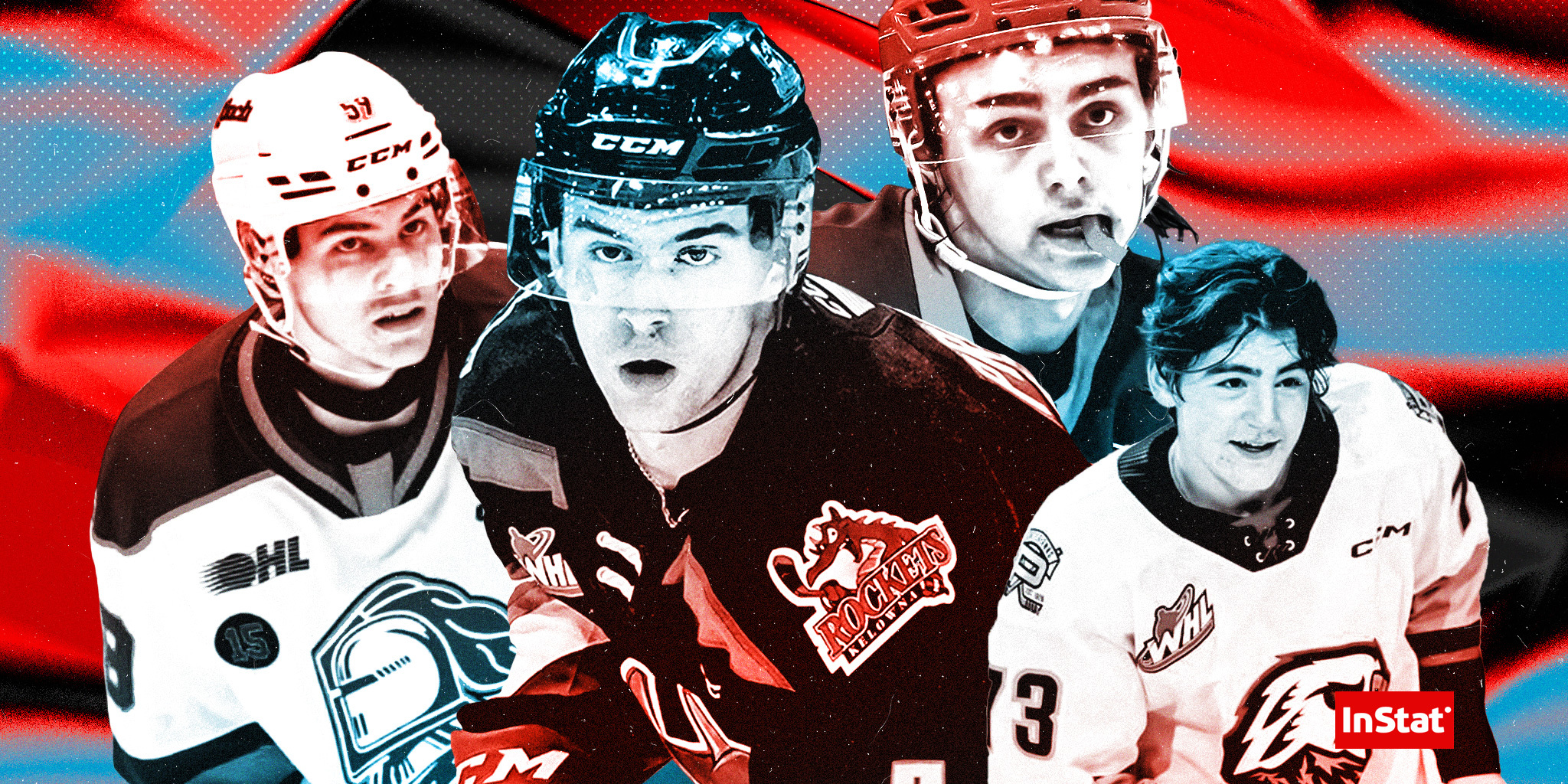 What to make of the North American defence class of the 2023 NHL Draft
This article is about: