2023 U18 World Hockey Championships
EP Rinkside's 3 Stars from Day 2 of the 2023 U18 World Hockey Championship
It didn't take Canada long to shake off their embarrassing 8-0 loss to Sweden in the opening match of the 2023 U18 World Hockey Championships.
They returned serve with an 8-0 show of force against Germany in their second game of the tournament, one that should have the rest of the participants on notice.
Germany had a tough time staying out of the penalty box, and Canada made them pay at nearly every turn. It took a little while for their power play to get going, but once they figured it out, it was game over. Three straight goals on the man-advantage later, everyone knew the result.
"We know how good of a team we are. We wanted to go out and push ourselves, and we did," Canadien defenceman Lukas Dragicevic, who was awarded Best Player of the Game honours said. "We are an offensive team and we are just going to get better."
They couldn't get any worse. And in an ultra-competitive group with Sweden, Slovakia, and Czechia, a game like this could be the first step towards them building towards that something better.
"Yesterday was tough, but the guys prepared and they worked hard," Canadian head coach Jeff Truitt said after the game. "There was a lot of improvement today on our puck movement and overall structure. Special teams were good, but I liked our work ethic. Attacking in the offensive zone, using the zone to our advantage was a really big thing and we got contributions from everyone today."
Now, it's on Canada to show that they can do this against some of the other top dogs in their group. They'll get a day off tomorrow, but they're back on the ice to kick off the fourth day of the tournament with a game against Slovakia.
"It's good to get a win for our team, but we still have a long tournament to go," Canadian forward Matthew Wood said. "Everyone here is offensive, we have the ability to score and a lot of guys got on the board today. It's a big confidence boost for the team and we're going to try and keep it going."
1. Lukas Dragicevic, D, Canada (2023 NHL Draft)
It was Dragicevic's end-to-end goal that sealed the deal for Canada. Everyone knew this game was over when he twisted the dagger with that beautiful 3-0 goal.
"I was on the power play, had some time and space, and just wanted to put the puck on the net," Dragicevic said after the game. "I was lucky for it to go in."
LUKAS 👏 DRAGICEVIC 👏

His end-to-end rush makes it 3-0 Canada! #2023NHLDraft

🔗: https://t.co/TVVM7BFQZw

pic.twitter.com/UK59zvfQhb

— Elite Prospects (@eliteprospects) April 21, 2023
Dragicevic put in a commanding performance on the Canadian blue line. He was first on loose pucks, won every battle, and connected with nearly every one of his passes. There's a reason he won Best Player of the Game.
You got a really good sense for how Dragicevic has lit up the WHL this season, with 75 points in 68 regular season games. That made him the most productive U18 defenceman in the league, by a decent margin at that.
It was a nice return to form after missing the playoffs the last season and being a part of a Canadian team that disappointed at the U18s in Germany last spring.
"Obviously, we did not do too well last year, losing in the quarterfinal," Dragicevic said. "That's still a bit sour for me, but I am excited for this year. Me and two other guys have some experience and obviously want to win the tournament this time."
What makes this all the more compelling is that the last time Canada had a chance to call on Dragicevic, they passed on the opportunity. From making the U18 squad as a draft-minus-one skater to not even making the cut for the Hlinka Gretzky ahead of his draft year. And back again to the U18s.
"Obviously I didn't make the Hlinka and that hurt for me," Dragicevic admitted. "I wanted to make that team but I didn't and I try to use that as motivation to push myself harder."
2. Rasmus Kumpulainen, LW, Finland (2023)
Finland's third line was probably its best one from puck drop to the final horn, and Rasmus Kumpulainen was the one driving the bus.
He opened the scoring for Finland's in the first period, driving the net and snapping home the rebound from a Tuomas Uronen shot sent right into the goalie's feet. Then he put the exclamation mark on their 5-2 win dangling his way to a goal, sneaking the puck past an outstretched Linards Feldbergs.
What made their line so effective? For Kumpulainen, it was all about keeping it simple.
"I think it's because we played pretty simple. We didn't try to do too [many] dangles," the Finnish forward told EP Rinkside after the game. "Of course, when there was the chance, we did it, but that's because [Emil] Järventie and Uronen are really skilled players. We just played with the same rhythm and played with speed and it was all simple goals. We didn't score special, pretty goals. It was all in front of the net. That's what it was."
Finnish head coach Lauri Merikivi seemed to echo that sentiment, heaping praise on their third line for sticking with it and getting results.
"Scoring wasn't super easy for us, but the players kept going for it, and they got what they earned," he said after the game.
"I think Kumpulainen played an amazing game," Merkivi added. "How he covered the puck, and now he's improved his skating. The offensive game is much better than it was earlier this year."
There was hardly any surprise when Kumpulainen earned Best Player of the Game for Finland when the final horn sounded. He earned every bit of it.
"I'm happy. We've got two wins. That's all you can do. A full six points. There is, of course, small things we can do better. Our next game is against USA and it's going to be the toughest one so far. We just have to do the small things better and we'll be good."
3. Aron Kiviharju, D, Finland (2024 NHL Draft)
It's appointment viewing every time Aron Kiviharju steps on the ice, and today was no different. The 2024 NHL Draft super prospect was creative as ever with the puck on his stick, stout in the defensive zone without it, and a force multiplier when his team was on the attack with his savvy activations from the offensive blue line.
"Good, good. Two games, two wins for the team," Kiviharju said after the game when asked about his performance. "That's the thing we're looking for – to win the cup for the team."
His teammate, Kumpulainen, was far more effusive in his praise of the 17-year-old blueliner's game.
"Yeah, it's incredible. He's a great kid, works hard. A really good teammate. It's just… I can't say anything bad," today's Best Player of the Game for Finland said. "He's incredible, and we can learn a lot from him. Just an incredible player with a really bright future in front of him."
An incredible player indeed. It's not often that you see a coach willing to play an underage defenceman in their top-four at a tournament like this one, much less both of their first-unit special teams. Yet, there Kiviharju is, playing big minutes, often in high-leverage spots.
"Yeah, of course, I'm the lucky one when I get that ice time. It's nice that the coaches trust me, and I'm thankful for that," Kiviharju said. "The biggest thing for me is that this team wins the game. It doesn't matter for me if it's me playing those 25 minutes or if it's someone else. The biggest thing there is that the team wins."
It's a testament to just how well Kiviharju can defend, even at just 17-years-old, despite being generously listed at 5-foot-10.
"He's not the biggest guy on the ice, but he knows how to use his stick," Merkivi said. "His timing is amazing. He can move the puck really well, too."
He's only scratching the surface at this tournament, too. Kiviharju's only contributed two points to the cause thus far, one of them an assist today. The points will come, a few highlight reel moments among them almost certainly.
You may also be interested in: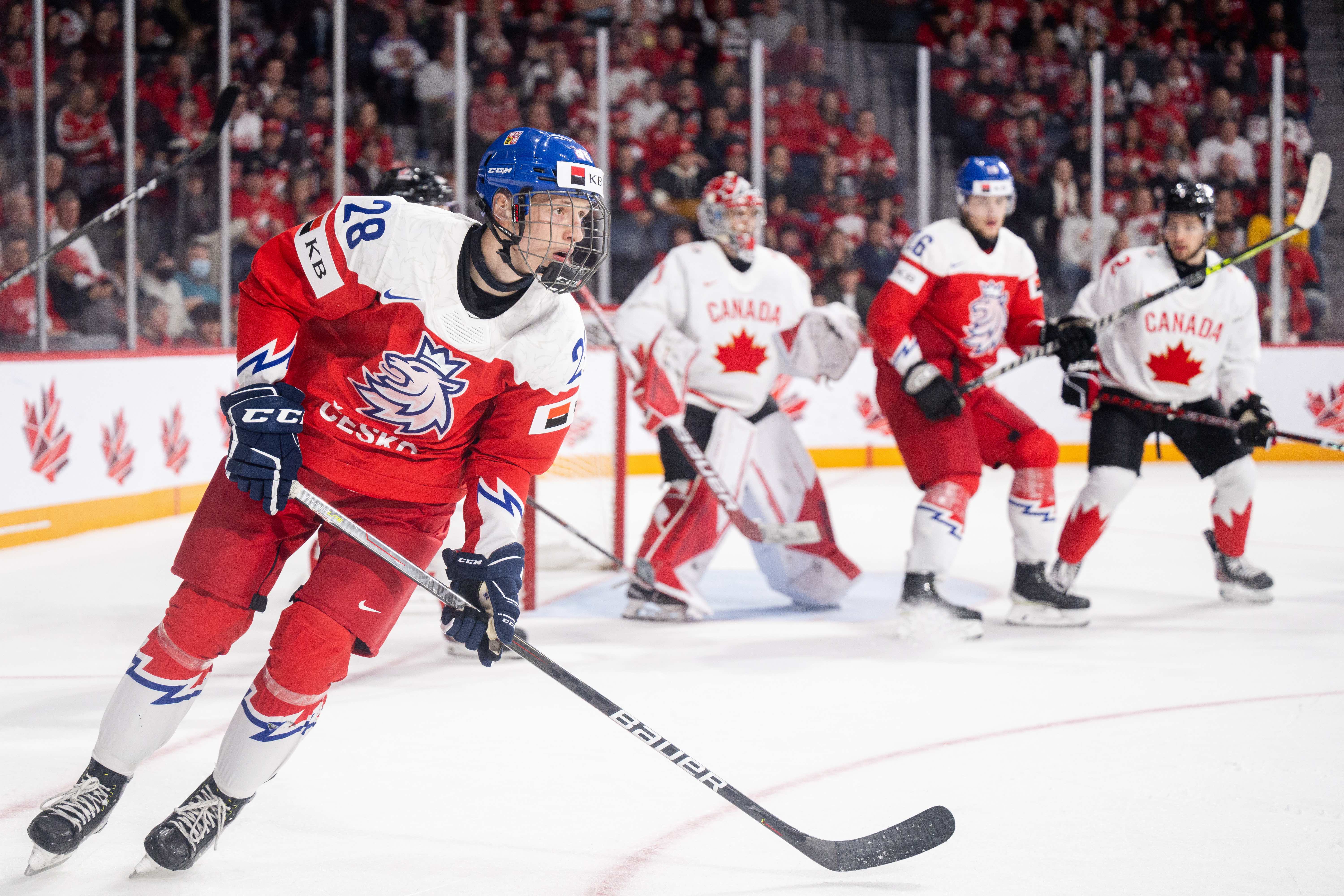 Robinson's Fantasy Hockey Rundown: U18s through a fantasy lens
This article is about: