2023 U18 World Hockey Championships
EP Rinkside's 3 Stars from Day 4 of the 2023 U18 World Hockey Championship
BASEL & PORRENTRUY, Switzerland – This is the game everyone had circled on their calendar coming into the tournament.
It was the USA. It was Finland. It was the most competitive match on paper in the round-robin portion of the tournament at the St. Jakobshalle in Basel, and it lived up to the hype.
The two titans of Group B went back and forth, playing a chippy, skilled affair that displayed all of the sport's best qualities before the Americans pulled away with two late goals to secure the 8-4 win and all but lock up first place.
"That was a close game. That game was a lot closer than the final score. I think anyone who saw that game tonight would say the same thing," USA head coach Dan Muse said. "They're a really good team. Those are the types of games you want to be in. Those are the types of games we want to play in."
It's a shared sentiment on the opposite side, too. Finland felt like they played a hard 60 minutes, but costly mistakes kept them from jumping in front of the Americans. Costly mistakes that you just can't make if you're going to try and keep up with them in a track meet.
"Our first period was actually really good for us," Finland head coach Lauri Merikivi said. "The first few minutes, we played well, but USA scores twice. A few mistakes, and the game was 2-0. After that, we played well, and I think we deserved that 2-2 tie [going into the intermission]. In the third period, I think we started losing pucks in the neutral zone and inside our [formation]. They have so much offensive skill."
"Obviously, USA is a great team, so many skilled players," Finland's captain Kasper Halttunen said. "If we give them anything, then they will score. That was the game today."
That was certainly the case when the American top line was out there. They were the difference in this hockey game.
Will Smith, the Best Player of the Game for the Americans, was particularly opportunistic, carving his way through the young Finnish blue line like a hot knife through butter en route to a five-point night, several highlight-reel plays among them.
"He's outstanding. Outstanding," Muse said. "It goes back for me; I mean, I thought his line yesterday, when they went out there, they helped set the tone. Especially early on. I thought they did the same thing here tonight. You look at some of those key moments in the game – momentum swings, shifts, big goals, big plays – and they came up with a lot of them. They weren't the only ones, but they had a lot of them."
"I love the way the guys played tonight. I loved the consistent responses that we had. That's hockey. We're in a World Championship event, and that's a great team over there in Finland. Every team here is at their best. "
1. Will Smith, C, USA (2023 NHL Draft)
Where does one even start with what Smith did tonight? This was as dominant a performance as we've had the pleasure of seeing in Basel, and it's perhaps all the more impressive because it occurred in the only tightly contested game that we've seen to this point in the tournament.
Five points, all but one of them of the primary variety, and maybe three that were legitimately jaw-dropping displays of skill and sense. The most impressive of the bunch? This goal he scored in the second period.
WILL SMITH ARE YOU KIDDING ME?! pic.twitter.com/k3v8VspbKJ

— TLY (@TheLibertyYell) April 23, 2023
The way that Smith probes for an opening, circles back in the face of pressure, cuts to the inside, sells the inside before shifting his weight outside as the defender commits with his feet – textbook stuff. There was hooting, hollering even, on press row when that puck crossed the line.
"I was thinking about chipping it in, picked my head up, and I tried to go to the net," Smith said of the goal. "I went to the net, and I didn't see too many holes. And then I threw it through his arm and it went in."
It's a fascinating play, because you just don't often see a player take on four opponents and break them down in real-time like that; like the Terminator scanning his surroundings, picking out targets and assessing their weaknesses before striking with lethal precision.
"I think he recognizes when guys don't have great gaps on him, or maybe they're taking a bad angle…These guys are – not just on our team, but in the tournament – the best players in the world," Muse said of Smith taking on four opponents on that goal. "You're going to see some skill. You're going to see that.
"One of the things with Will and Gabe and Moorsy and Lenny is that these guys recognize situations a lot better now, too. It's not just doing it for the sake of doing it. It's 'okay, maybe you got some time and space, or you got a guy angling you a little bit off.' They can recognize that. When they do, they can create some offence."
I'm not sure if he's been the best player at the tournament, but Smith's been the clear-cut standout in Basel. A few more performances like that and fifth overall might be within reach, if not even a bit higher.
Will Smith is one of the most creative players in the draft class and an excellent playmaker. He just makes the game more exciting. Here's my video on him. https://t.co/EAK3dMhr6E

— David St-Louis (@DavidSt_Louis) April 21, 2023
2. Noah Erliden, G, Sweden (2023)
Sweden needed three points to secure the top spot in Group A. The only thing that stood in their way was Czechia. You could tell that both teams understood what was at stake because it was an intense, tightly contested hockey game, right down to the 2-0 final.
As much as anything, this was a classic goalie duel. Michael Hrabal in the Czech crease and Noah Erliden in the Swedish one both seemed unbeatable at points today. Eventually, Erliden won that battle and shut out the Czechs. It was his second shutout in three games.
"It felt good the whole game. We played really well as a team, it was an easy outing for me. Of course, it felt good for me, but the most important thing is the win," Erliden said after the game. "They're skilled on the counterattack and you gotta be alert the whole game. I think I did a good job and I was ready when they had their opportunities".
Erliden may have only faced 15 shots, but a lot of them were high-quality scoring chances. There were a pair of breakaways, a number of dangerous looks from the slot, and a lot of traffic at the top of his crease. He had to battle for the clean sheet.
"It's like I said before, you gotta be ready all the time when you're up against Czechia," Erliden said.
And he was indeed ready. He came up with some big stops and gave Sweden the chance to win the game in the third period.
When you see Erliden play, it's the decision-making that stands out. He's not the most athletic goalie out there, making 10-bell saves left and right, but he is really hard to beat 1-on-1. He doesn't make mistakes.
"I read the play well. I'm not the biggest goalkeeper so I've to use my smartness and be smart out there."
Erlidens' 5-foot-11 frame has meant that much of his success has been greeted with skepticism by the scouting community, public and team alike. But at this point, he's turned the height deficit into a strength.
"It's something I've learned to live with. That has forced me to be better at reading the game."
3. Leo Braillard, LW, Switzerland (2023)
It may not have looked like it, but Switzerland and Latvia's match was one of the more important ones to be played in Basel over the last few days. The loser would almost certainly face Sweden, the tournament's buzzsaw side; the winner, a date with the far less formidable Canadians.
Leo Braillard understood the assignment. He scored the game-winning goal shorthanded, sniping one past the Latvian goaltender on a counter play shorthanded. Then he put the exclamation point on the win with a nice shot short side that snuck past the goaltender.
"So the first one, it was shorthanded. We were able to get a 2-on-1 going, and Timo Bunzli found me and gave me a good pass, and I was able to beat the goalie," Braillard said after the game.
"The second one, that one was on the power play, and I got a bit lucky there, but I'll take it. It's always nice to score big goals."
It must be nice, because Braillard seems to do that for Switzerland every time he takes the ice in his country's colours. He's scoring at a goal a game clip for his native country after today's performance, following up on an impressive Hlinka Gretzky Cup in Red Deer.
It was extra special today, though. This time, Braillard got to lead Switzerland to the win, and he got to do so in front of the home crowd.
"It was nice to have such a big crowd and the noise and everything – it gave the team energy," Braillard said. "It's always better to play in front of a big crowd. It made the win even sweeter."
You may also be interested in: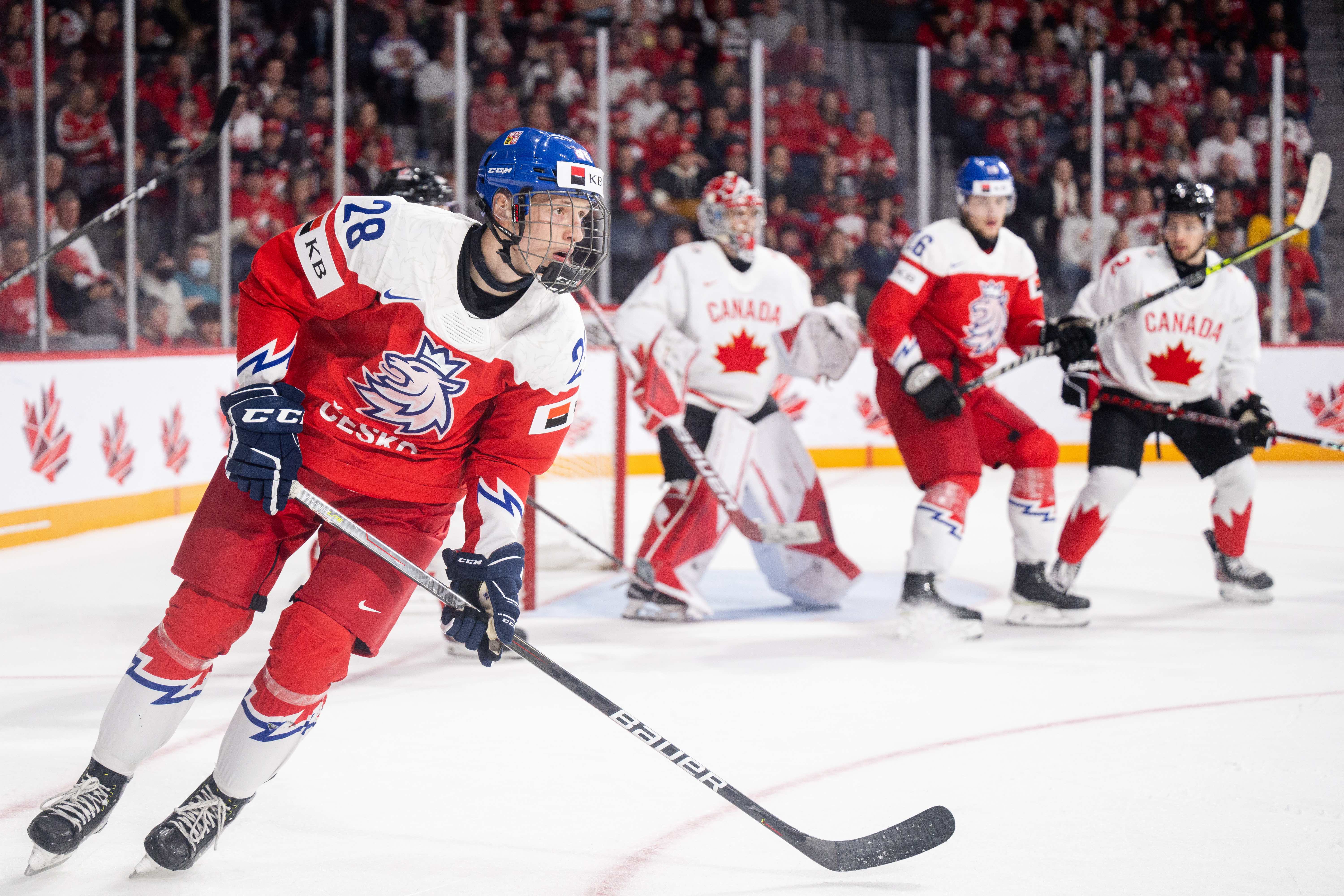 Robinson's Fantasy Hockey Rundown: U18s through a fantasy lens
This article is about: