2023 NHL Entry Draft
Daniil But is one of the mystery boxes in the 2023 NHL Draft Class
Scouts can't agree on where to rank Daniil But.
He's been ranked as low as 49th by Craig Button and as high as 19th by McKeen's.
For some, he's got top-10 potential. Other lists have him going later in the second round.
Why such a disparity?
Because evaluating the Russian forward is one of the great challenges in this draft class. Projecting him is not only a matter of determining the upside of his unique tools, but also the value of size as a whole in the NHL, especially his kind of size.
But is impossible to miss. At 6-foot-5, he's one of the tallest forwards in his draft class and probably the tallest one that will get selected in the first few rounds.
His size put him on scout's radar early on, it also sped up his course through the levels of Russian hockey and earned him minutes in the KHL in his draft season, while most of his counterparts were playing in junior leagues. His physical gifts simply made it easier for him to hold off professional opponents and make plays against them.
Even if the NHL changed in terms of playstyle over the past season, becoming faster and more skilled, just like in the KHL, length remains an appreciable advantage in the top league. Only 21 forwards 5-foot-9 and under have played more than 20 games in the NHL this season and the average NHL player is 6 feet or taller.
When presented with a draft class containing many skilled, smaller forwards, these numbers probably explain why some scouts are showing a preference for But, a massive and skilled forward.
But is also one of its better playmakers in the class.
Here's a compilation of some of his moves this season.
In that video, But launches slip and hook passes, prepared with just the right timing and movement, to teammates in better positions than him. With his stickhandling, he punishes defenders rushing at him, thinking they had him cornered. And he manipulates the opposition. On top of having a deep bag of stickhandling moves, But is also deceptive. He can trick and fake defenders, pull them out of position, and open scoring chances
But's frame might have given him more opportunities than others since the start of his career, but it's really his ability to think the game that has allowed him to seize them.
His hockey sense projects as above average in the NHL. It shows up in many ways: when he spots a gap in between two defenders and immediately drives inside it, when he intercepts a puck with a timely stick lift, and in his passing game.
Rarely does But go into a situation without having preemptively identified his outlets. He's clever and aware and knows where to move the disc to keep it in possession of his team.
The catch in his game is that, when looking at the general NHL population, But doesn't differentiate himself all that much from these uncertain, smaller playmaking forwards that some prefer him to. His projection has the same caveat:
Few NHLers, especially high-end ones, look like him.
There are just as few But-sized forwards as undersized ones. Only 18 forwards 6-foot-5 and above played more than 20 games this season and only five of those scored more than 0.5 points per game.
Size is an asset in the NHL, but contrary to other ones like skating and stickhandling ability, more of it isn't always better. Past a certain height, just like for undersized forwards, it becomes more appropriate to talk about size as a limitation than an advantage.
Due to their great lengths, But's limbs can't fold into an athletic, balanced, and explosive skating stance. He can hold on to possession under pressure and drive through opponents — to an extent — but it's hard for him to escape these opponents with the puck and catch up to them on the forecheck. Unfortunately, those are the main abilities necessary to become a powerforward, the role many envision for him. But has the sense, strength, and stick skills necessary to perform that role, but he probably would have been a better fit for it had his growth spurt stopped just a bit earlier.

Considering his limitations, But's projection is not more certain than other top prospects in this draft. Ranking him is just as much an act of faith.
If you believe in his ability to develop his agility then it's easy to slide him up a draft board. If you think his skating will continue to weigh him down and that his particular attributes won't translate as well to the NHL, then it's harder to lift him up.
But there's a third way to think about his projection, one that might give more hope to the skating development doubters out there.
While But may not turn into an elite playoff performer like 2021-22 Valeri Nichushkin, the Russian forward could still become a top NHLer in another way.
The many highly interesting ingredients in his game — his above-average sense, stickhandling ability, physical skills, and playmaking game — could combine unexpectedly. They could turn him into something we can't yet fully envision, something unique in the league, not unlike what we have seen happen with other players with uncommon NHL profiles like Tage Thompson.
Just for that possibility, it's tempting to give But more consideration and move him up our list at our next draft meeting.
You may also be interested in: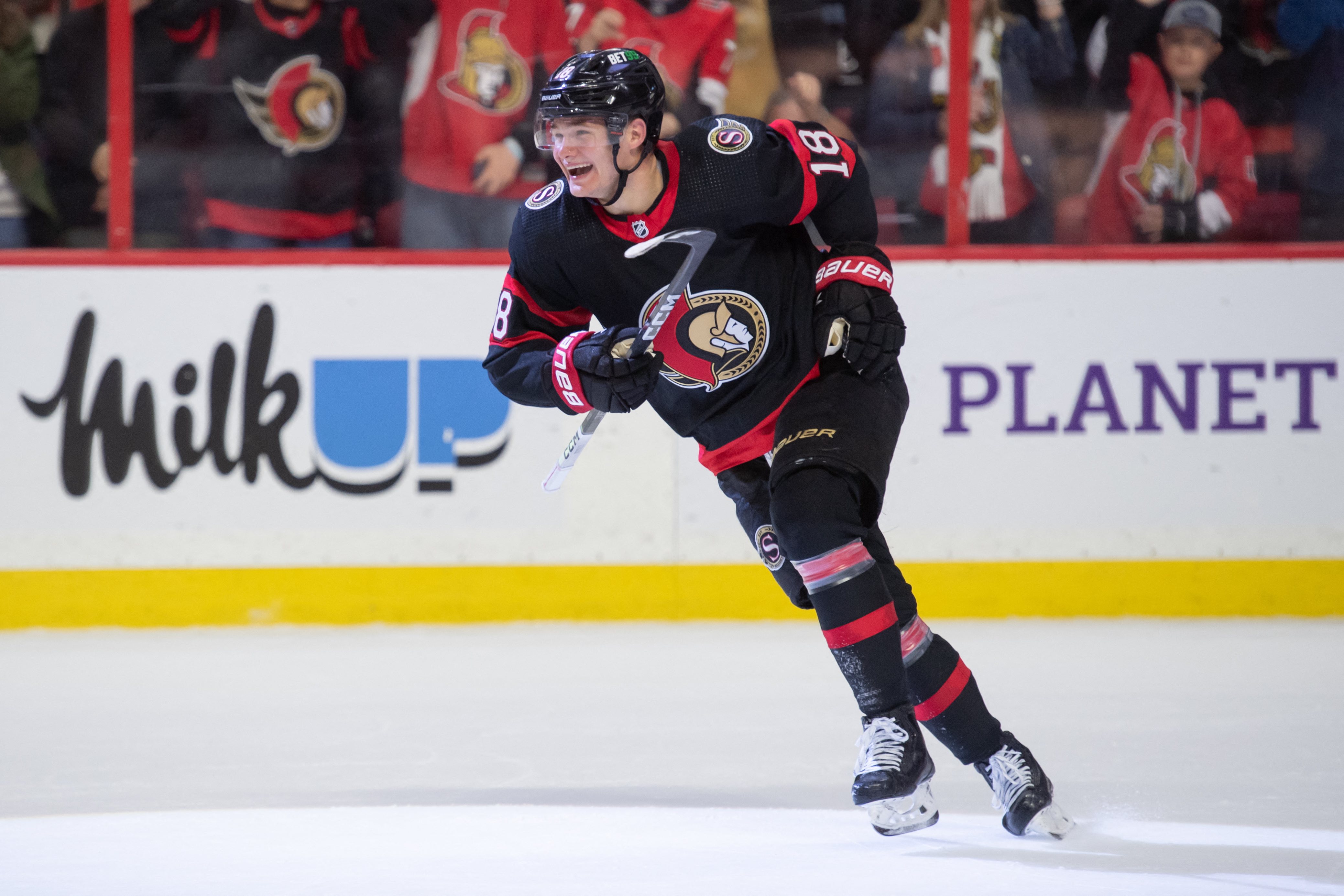 Fantasy Hockey Focus: Is Tim Stützle one of hockey's next great superstars?
This article is about: