2023 U18 World Hockey Championships
EP Rinkside's 3 Stars from 2023 U18 World Hockey Championship medal rounds
USA completes the comeback to win gold in overtime thriller
BASEL, Switzerland – It only took Ryan Leonard about two-and-a-half minutes in overtime to snap the game-winner past Swedish goaltender Noah Erliden and secure the gold medal for his country.
They completed the comeback from down 2-0 and exacted revenge for last year's gold medal defeat in Landshut, Germany.
"Chills right now. Just going through the moments," Leonard said after the game, trying to describe the feeling. "But I don't know, it doesn't really feel real at all right now. So it's gotta soak in a little."
Meanwhile, opposite the Americans, the bitter agony of defeat.
"It's really bitter. I think we played a good match for 40 minutes," Swedish defenceman Theo Lindstein said after the game. "Overall, we were the better team, but it's the small margins that decide. Today they were better at that, but it's bitter."
It's not an outrageous claim either on Lindstein's part. Sweden appeared to be in control for much of the game, establishing a 2-0 lead about halfway through and continuing to press their advantage looking for a third goal.
The team was rolling at evens. Erliden was solid in goal. Everything seemed to be working just fine.
"I thought our first period, I thought it was a good back and forth," USA head coach Dan Muse said of the first 40 minutes."They had great goaltending. I thought we had great goaltending and, you know, I thought our second period, we might have got away a little bit in the second period from the way that we wanted to play and that happens.
"They came out, they're very disciplined in terms of the way that they play and they stay with it and they got some great players over there that are very, very well coached,"
Then the Americans mounted a late push, wrestling total control away from Sweden in the last 10 minutes of regulation.
Danny Nelson eventually got the Americans on the board, deflecting the Zeev Buium point shot past Erliden to make it a 2-1 game.
"Zeev had it at the point and was kind of walking the blue line, and I figured I'd better try to get across and in front of the goalie's eyes. I was able to get a stick on it and redirect it in, and that was pretty nice."
Before you know it, Carey Terrance is redirecting a Cole Eiserman shot past Erliden to tie the game late, and the stage was set for history. Leonard took care of the rest.
"I haven't watched it again," Muse said through laughter of the game-winning goal. "Overtime started with a huge kill. Then you go into 3-on-3 play and it's about possession, it's about capitalizing on your opportunities. Lenny had an opportunity and he capitalized.
"For our guys, for everyone involved, for our staff – this meant everything. It was such an amazing group of young men to work with. Like, these guys, this core has been together for two years, but also these young guys who came in at different points over the course of this year. For every single player to play and to truly buy in to play for that player next to them and care about the player next to them more than themselves and play as a group – this had so much meaning."
Canada claws back for 4-3 overtime win in bronze medal game against Slovakia
BASEL, Switzerland – You never know what you're going to get with a bronze medal game, and today that truism held for the better.
St. Jakob's Arena had never been louder, the competition never more fierce, and as the game was being played, the stakes any higher. This was the best the tournament had to offer. True now as it was before the gold medal game.
"It was a crazy game. I think the Slovak fans were unreal; the Canadian fans too," Canadian defenceman Caden Price said after the game. "They were both unreal. The atmosphere in the building was amazing. It was a tight game back and forth all the way."
There was a bit of a feeling-out period in the opening frame. Some back-and-forth action, but it was a first period mostly defined by special teams play, never team's penalty kill giving up an inch.
But in the second period, that's when these heavyweights started exchanging haymakers.
Macklin Celebrini, considered by many to be the top prospect in next year's draft, opened the scoring for Canada as he so often has in this tournament, catching the puck in the slot and sniping it past the Slovak goaltender.
Dalibor Dvorsky strikes from the point to bring Slovakia level with Canada! #2023NHLDraft

🔗: https://t.co/WyLUg11zg3

pic.twitter.com/9XBSAI3OdT

— Elite Prospects (@eliteprospects) April 30, 2023
And only three minutes later, Slovak centre (and member of the tournament All-Star Team, as voted by the media) Dalibor Dvorský erased the Canadian lead with a seeing-eye shot from high in the zone on the power play.
That goal spurred perhaps the best 30 minutes of hockey that the Slovaks had played in these playoffs. Colby Barlow would regain the Canadian lead near the end of the second period, but it was clear that the ostensible home team, with their fans cheering them along all the way, had seized the momentum.
The Slovaks were in the driver's seat, and when Peter Cisar and Daniel Jencko found twine back-to-back to get their first lead in the third period, the checkered flag was in sight.
Daniel Jenčko gives Slovakia the lead late in the third period! #2023NHLDraft

🔗: https://t.co/4xe4rpFFVX

pic.twitter.com/9GCJ2xm2pJ

— Elite Prospects (@eliteprospects) April 30, 2023
Canada had other plans, and they mounted a furious comeback effort late in regulation, sending everything they had on net and then some – bodies, pucks, opponents, you name it. And eventually, they broke through.
A puck squeaked out of a net-front scramble to Matthew Wood in the slot, and he snapped it home to draw this game to a 3-3 tie.
"Everyone was battling at the front and I was just waiting for the puck to spring loose to me, and the puck came right to my stick, and I put it in the goal," the Canadian winger said after the game.
"All I could think about was that I hope we don't lose the puck, and they come down and put it in to end us off," Canadian head coach Jeff Truitt said. "Again though, a lot of clutch performances by key guys. You gotta pull the goaltender and you get the tie. We found a way."
Next up, overtime. The two teams went back and forth, up and down the ice, trading chances and putting on a hell of a show in the process.
Then with little over two minutes left in the 10-minute overtime period, Celebrini took a slip pass from Wood high in the offensive zone, charged in 1-on-1 against Slovak goaltender Samuel Urban, and dangled his way to the 4-3 overtime-winning goal.
"It was a great play by Woody. I kind of took a chance. If that went the other way, we'd be having a different conversation," Celebrini said of his overtime goal. "He made a great play, slipped [the puck] through, and I just went in on instincts and tried to make the best play I could."
MACKLIN CELEBRINI CALLS GAME! He scores in overtime to clinch bronze for Canada! #2024NHLDraft

🔗: https://t.co/YQIL2xaRI2

pic.twitter.com/qq55c0S6yb

— Elite Prospects (@eliteprospects) April 30, 2023
There was never any doubt on the Canadian bench. They knew that when you gave Celebrini time and space, good things happened. That was the case all tournament long, so why would it be any different then?
"I was kind of looking at the bench and I saw him at the net and he made the move at the net, and I knew once he made that move and the goaltender kind of got pulled away, he just tucked it in," Truitt said. "Unbelievable skill by a player who's got a very bright future."
As for what this win means to the team, Truitt had this to say.
"We wanted to come home with something. The way this game was played, by both teams, I think was unreal competition. You gotta give the Slovaks a lot of credit. They worked hard. Every one of their players, they wanted this as much as we did. We talked about rising to the occasion and taking it to a different level for our country and for the players, and they responded really well."
For Slovakia, it's heartbreak. They played about as well as they possibly could and had a one-goal lead with just over a minute left. The bronze medal was right there, directly in front of them. Then it was gone.
"It's really hard to find the words right now. The wound is still fresh and it hurts," Slovakian captain Maxim Štrbák said. "I don't think we should be ashamed of anything. We played our hearts out. We never gave up until the last second. That was a real competitive game, but we lost. We tip our caps to Canada. Yeah, it was just really tough. It's hard to find words right now."
Still, they can leave with their heads held high. This time a year ago, Slovakia was fighting for promotion in the Div. 1A U18s. Today, one goal away from bronze.
"I think it's huge for Slovakia. We're on the upswing, and we're just getting better and better every year," Štrbák said. "With this team that we had at this tournament, we came here as a bunch of friends, but at the end of this tournament, I can really say that they're my family. I appreciate every single one of them. It was a crazy journey."
1. Macklin Celebrini, C, Canada (2024 NHL Draft)
If there were room for a fourth forward on my tournament all-star ballot, Celebrini would've got it. It was that kind of tournament for the top 2024 NHL Draft prospect, who scored the first goal for his country in every one of their playoff games. Most critically, he scored their last goal of the tournament, too.
"Yeah, that felt good. That felt good," Celebrini said when asked about scoring the bronze medal-winning goal. "That's at the top [of my career moments] probably. That's at the top."
Instead, Celebrini will have to settle for Best Player of the Game honours in the bronze medal game. Also, as my colleague Cam Robinson pointed out on Twitter, the distinction of being the highest-scoring Canadian U17 player in tournament history.
Most points by a U17 Canadian at the U18 Worlds:

• Macklin Celebrini 15
• Shane Wright 14
• Connor Bedard 14
• Connor McDavid 14

Celebrini hanging with a fun crowd.

— /Cam Robinson/ (@Hockey_Robinson) April 30, 2023
"It's a lot of fun playing with him," Wood said of getting a front row seat to Celebrini playing on his left wing for the entire tournament. "He's a really special player and a great kid. I think he's going to be special for a long time."
You know what? I just so happen to think that, too.
2. Ryan Leonard, RW, USA (2023 NHL Draft)
No surprise that it was Leonard who scored the golden goal. He's made for moments like these. He's a genuine star, and in any other draft year, he would be talked about in those terms.
The Swedes did a tremendous job of shutting down the USA's first line in regulation. All it takes is a moment though when you're as talented as they are, and he proved that in the game's most critical moment.
A few minutes into the overtime Leonard found some space, stepped into a shooting position and snuck a puck past Erliden.
"I actually saw a defender had a little bit of a weaker gap and tried to get to the middle and shoot it. I saw it get nearly across the goal line and then, yeah, I don't really know," Leonard said after the game.
Just like that, the game was over. The Americans are world champions for the first time in five years. "Doing it for our country, doing it for the people that have put in so much time and effort to our program in the past two years for us. It's really special to all of us."
Leonard leaves the U18s with 17 points in seven games and a golden goal.
Together with Will Smith and Gabe Perreault, they formed the tournament's best line.
"He's an amazing player, great shot and he just makes plays happen out of nothing," Cole Eiserman says about Leonard.
Head coach Dan Muse also isn't surprised about who got the game-winning goal. "He's a big-time player who I think he thrives in big moments. It could've been a number of players, but it's not shocking it was him."
3. Tom Willander, D, Sweden (2023)
Axel Sandin Pellikka was awarded top defenceman at the tournament, but Willander's play wasn't all that far behind. The Swede had an amazing tournament from game one to the final.
In this last game against Team USA, Willander played almost 30 minutes in regulation and was a defensive giant for Sweden. At one point it felt like he won almost every puck battle and came out of his own zone with full control. It was truly a joy to watch.
And this was the toughest test that the Swedish defence had faced to this point in the tournament. Perhaps the most fierce test the tournament could offer period. This was an American team with a ton of offensive firepower.
"Obviously we have a great goaltender who helped us a lot. I'd also say that our defenders have been doing a really good job generally of defending, so we haven't done too much differently this game," Willander Said after the game. "I think we handled it well. I played very aggressively and we were physical.
Unfortunately, it wasn't enough. Leonard's goal was heartbreaking for the Swedes, who couldn't hang on to their 2-0 lead in the third period.
"Obviously it's not fun to lose. But I think everyone agrees that it was a very fun tournament. Also the journey from a few years back when we first spent has been amazing."
Even though he's not leaving with the hardware he was looking for, Willander can look at this tournament as a success. He showed everyone what he's capable of and really raised the bar for himself.
Now the question is, which NHL club bets on the talented Swede this summer?
"I aim to be a two-way defender. I take a lot of pride in my defensive play and of course, I love to join the offensive," Willander said about his style of play. "I think I try to model my game after a lot of parts from Miro Heiskanen. Just I try to twist it and be a little more aggressive on the defense."
You may also be interested in: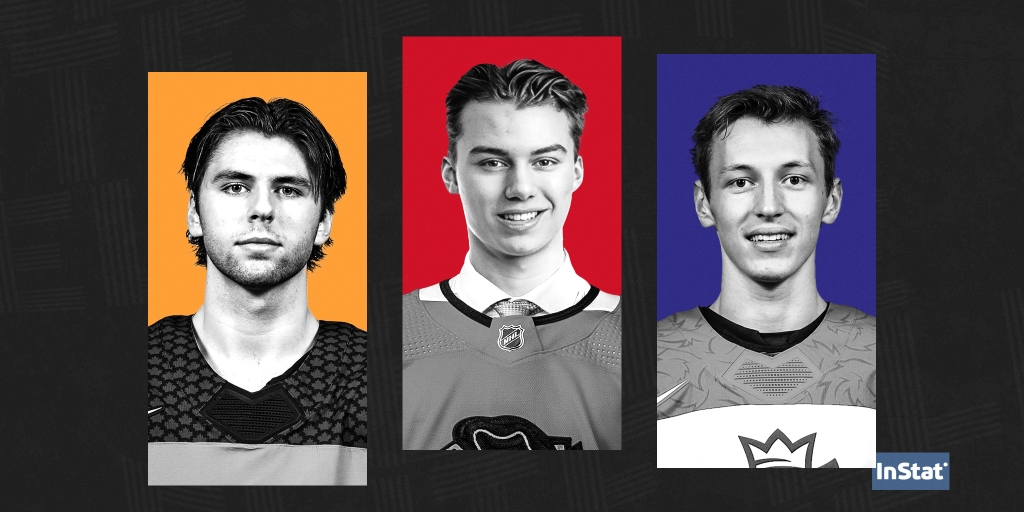 The EP Rinkside post-World Juniors 2023 NHL Mock Draft
This article is about: