NHL
Stanley Cup Final Preview: Vegas Golden Knights vs. Florida Panthers
Six years ago, the Vegas Golden Knights went from a presumably doomed incoming expansion team to one of the most consistently competitive teams in the league thanks to the Florida Panthers.
Coming off a disappointing campaign, Florida dumped the contract of Reilly Smith, throwing in Jonathan Marchessault in the deal, to protect defensive defenceman Alexander Petrovic. While this wasn't the only robbery the Knights pulled off on the night of the expansion draft, it's easy to argue that acquiring those two players who continue to play important roles on their roster was the most significant to their current position as a marquee franchise.
That's the strongest storyline connecting the two remaining teams in the 2023 Stanley Cup Final, who aren't exactly hated rivals but probably will be within the first twenty minutes of Game 1 on Saturday night,
In the past few weeks, Vegas has gone from being a forgotten contender to the Cup favourite. All it took was one injury-riddled season missing the playoffs for the hockey world to ignore the previous four years of close shaves, but the star power that GM Kelly McCrimmon staked his job on has come through for him in a huge way. After an extraordinarily convincing demolition of the Dallas Stars in game six, they have a lot of momentum entering the finals.
As for the Panthers, I mean, what can you say at this point? Since Game 5 against the Boston Bruins they have run right through three of the best teams in hockey losing only twice in their past thirteen games. Between Sergei Bobrovski shutting the door and Matthew Tkachuk coming up huge, they look almost unstoppable at this point.
My playoff previews are stats-based, going off of both macro- and micro-level statistics gathered by TopDownHockey and AllThreeZones respectively. This allows us to look not only at high-level results (like goals, shots, and expected goals) but also the stylistic process that creates them (like passes, shot types, and transition play) to get a better sense of how the teams match up. Instead of comparing offence to offence and defence to defence, I'll be breaking down the offence vs. defence matchups.
Head-to-Head: Vegas Offence vs. Florida Defence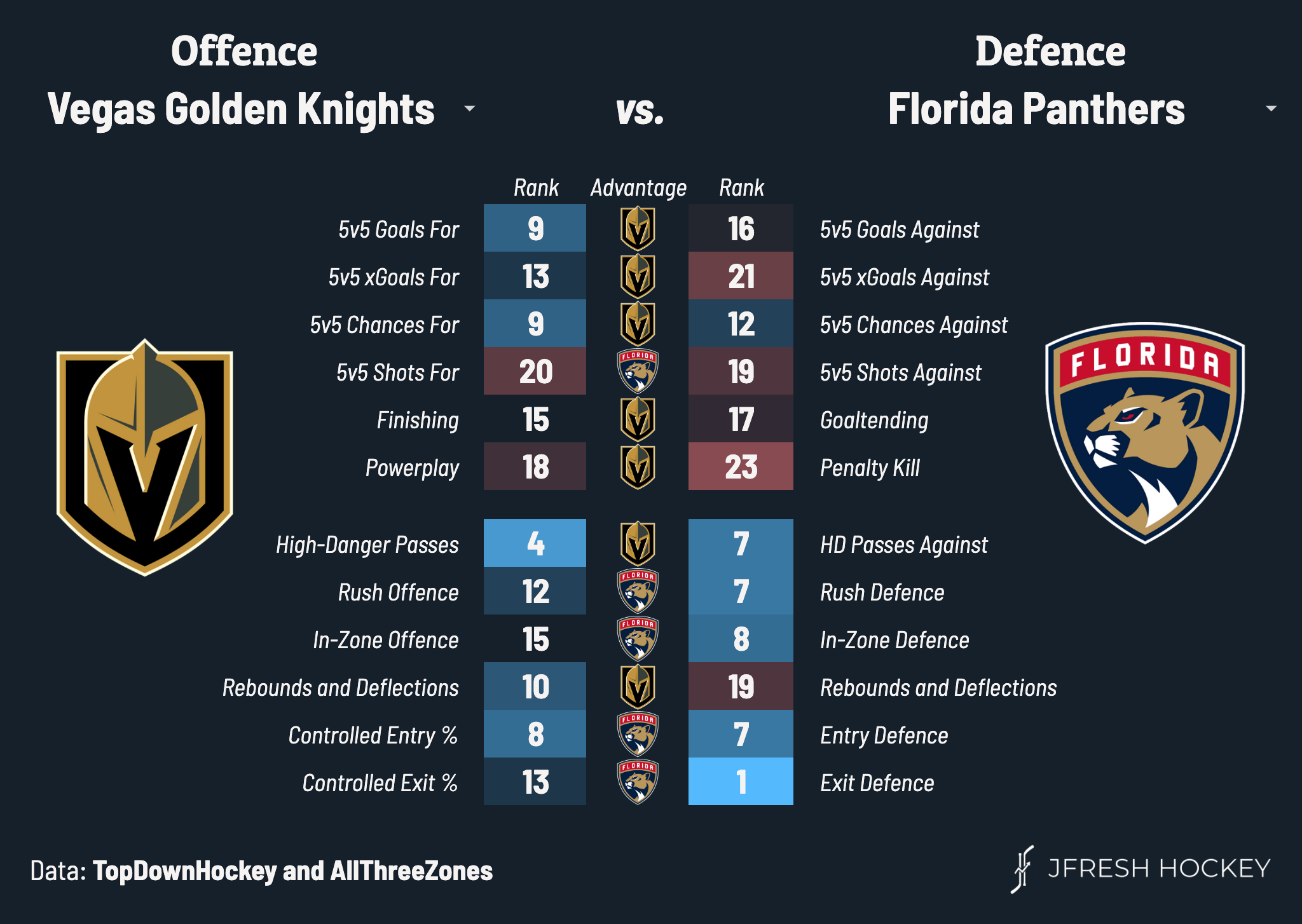 Why don't we get the elephant in the room out of the way first? Usually I deal with goaltending last and fairly glancingly at that, because it's so utterly unpredictable. I think that's been vindicated in this postseason, where we've seen all the league's marquee netminders crumble in turn until we're left with a guy who played 27 games in the regular season and a former Vezina winner who lost his net to two different goalies in the past couple years. But Bobrovski's stellar play has been one of the dominant narratives for Florida for good reason, even if it has been exaggerated by some people eager to crown his run as one of the greatest ever.
What Bob has done ties into the broader matter of the Panthers' defensive play. Like the Islanders in the past, Florida have made peace with surrendering quantity, particularly in the form of shots from the perimeter. Bobrovski is facing a lot of shots, but they're mostly manageable. When pucks do make it into the inside, they're usually off net-front scrambles or rebounds, not rush opportunities or cross-seam passes. The Panthers contest shots, they pressure shooters, and all that has added up to a beneficial environment for Bobrovski to develop a rhythm. He has been terrific, but he is not singlehandedly carrying this squad.
Let's assume he holds up - maybe not at an elite level, but enough to provide strong starter-calibre netminding. What's the Vegas key to victory? It's offensive depth, quality chance creation, and playmaking. The Knights have remained true to who they were in the regular season offensively, and it represents a big turnaround from the style they played under coach Peter DeBoer. If the Panthers were playing against the 2021 Golden Knights I would be telling you that this series would look a lot like the Hurricanes series, but they've flipped the script to become one of the most dedicated quality-over-quantity teams in hockey. They play patient, fast, creative hockey led by some of the strongest playmakers in the league in Jack Eichel and Mark Stone.
This series will be a battle for control of the slot. The Panthers convincingly discarded a team that went for point shots and crease crashing but now they're looking at a group that will carry the puck in, pass it to the slot, and wait for the right opportunity to get the goalie moving. Is Bobrovski in for something he hasn't seen yet, or will the Knights be forced to generate offence in a different way?
Head-to-Head: Florida Offence vs. Vegas Defence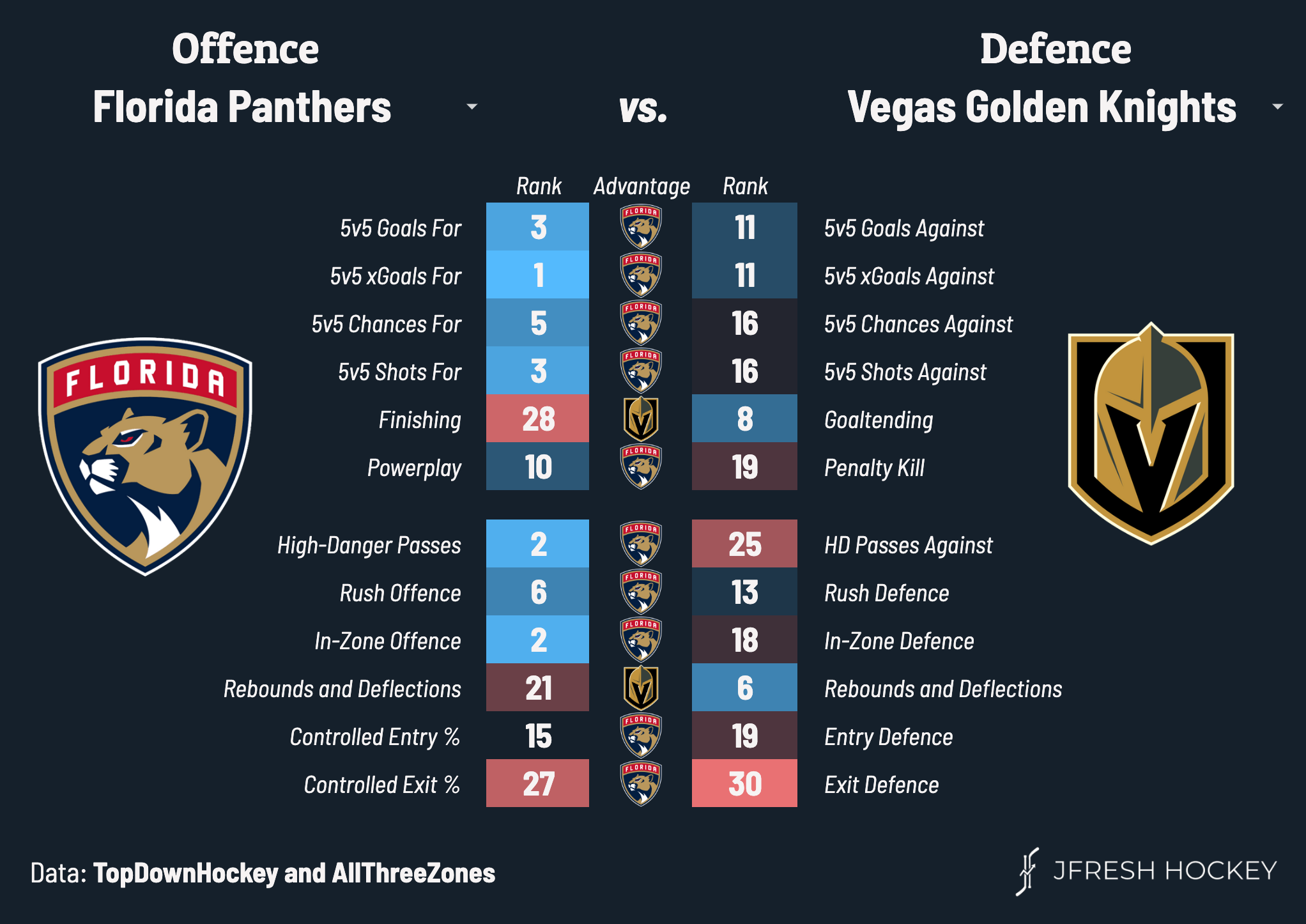 I think the right word to describe the Panthers' offence in these playoffs is "adaptable." Among the 16 playoff teams this postseason, they rank 11th in shots, attempts, expected goals, and goals, a far cry from their very strong regular season in those areas. They have managed to navigate out of some very tight spots, thanks in large part to Tkachuk's clutch scoring. He is getting support from players like Sam Reinhart and Sam Bennett, it's true, but Florida will likely need to step it up against Vegas to win the Cup. Carolina was very effective at possessing the puck and limiting what the Panthers were able to generate but this group has plenty of upside, especially if Aleksander Barkov can finally really get going at 5-on-5.
Vegas, meanwhile, has been very strong in the playoffs defensively even if there have been times when the levee breaks and chances pile up. William Karlsson has been outstanding as a shut-down centre and will be leaned upon heavily, as will the usual suspect Stone. The model for them to follow will be their unbelievable game 6 drubbing of the Stars where they surrendered just three scoring chances and did so without having to sacrifice any offence whatsoever.
Then there's Adin Hill. He is a goalie. Sometimes he has been good, sometimes he has been not so good. In these playoffs, he has been good. The extent to which he is good may singlehandedly determine this series. Hockey, right? Love it. The Knights, like the Panthers, make their goalie's job easier by protecting the inside of the slot but they did allow a bit of daylight on pre-shot passing that could make the difference if Florida can exploit it.
Analysis and Prediction
Both these teams have made it this far by generating quality over quantity offensively and preventing quality over quantity defensively. Are we in for a pure goalie duel, then, between two squads with a 5-on-5 save percentage above 0.940 in the playoffs? Or will we see a breakthrough, either from the offensive talent or one (or both?) of the goalies collapsing?
This upset-filled playoffs is going to end with a deceptively tight Stanley Cup Final. Maybe Vegas is the better team on paper, maybe the Panthers have truly been lucking their way through, maybe Bobrovski will put up a .860 and we'll look back on the Conn Smythe talk and laugh. But I'm going with the eighth seed here. Somehow I don't think we've seen all that this Panthers team can do and a matchup against a team that plays a similar game with give them the chance to dictate play again.
Prediction: Florida in 7
You may also be interested in: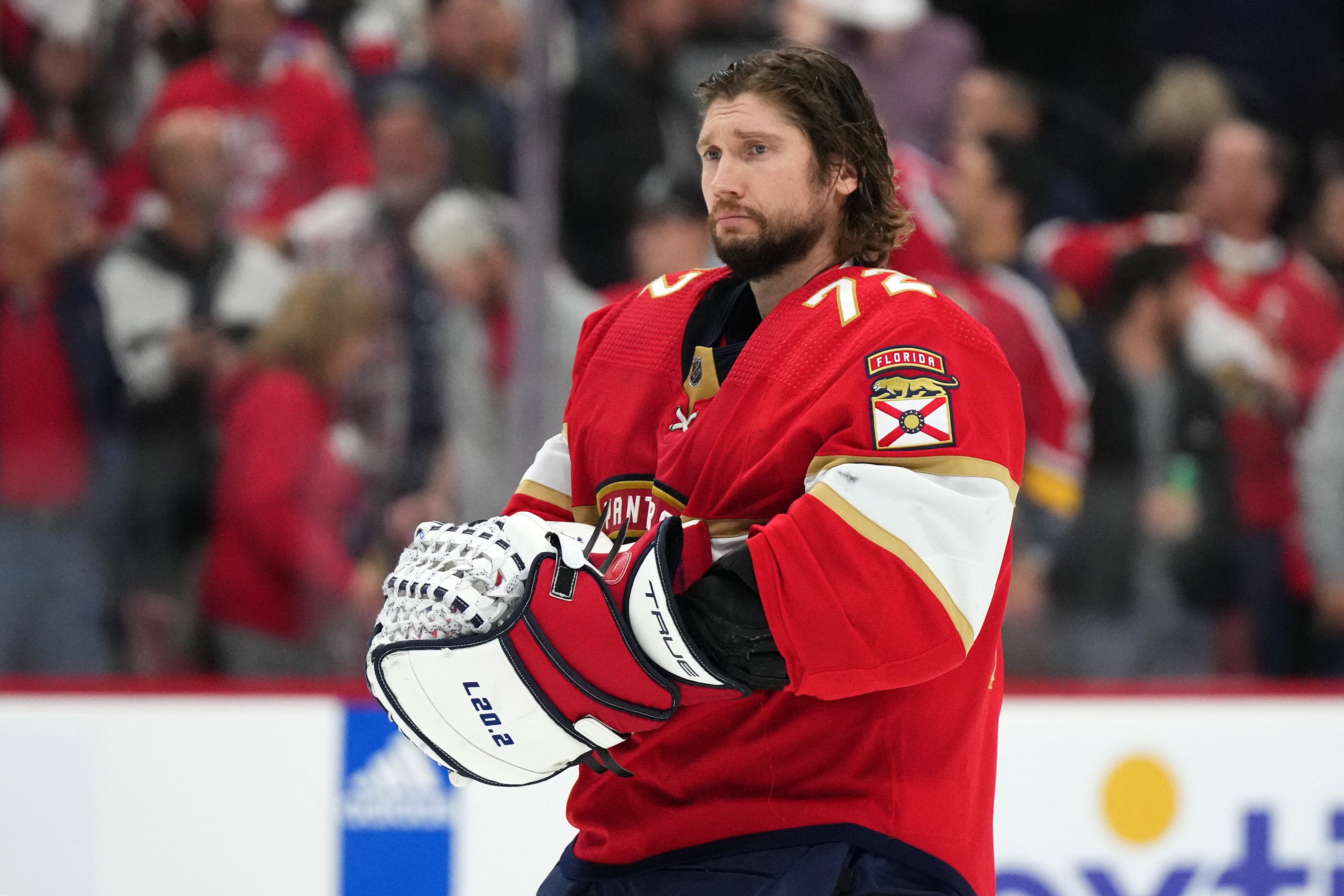 Stanley Cup Notebook: What lessons should we take from Sergei Bobrovsky's playoff performance?
This article is about: