NHL
Shane Wright is in the right spot, but he may have to return to OHL next season
Shane Wright is where he needs to be right now.
The Seattle Kraken No. 4 pick in the 2022 NHL Draft, is playing in the Calder Cup Finals with the Coachella Valley Firebirds – he and his teammates will try to force a Game 7 tonight – and he's been getting better with each shift.
The Kraken brass have noticed it, Wright's coaches have noticed it, and anyone with a whiff of hockey acumen can see the progress in Wright's game from the start of the AHL playoffs to now.
"It's clear to us how much this is the spot for him," a Kraken source told EP Rinkside. "He's learning, he's making mistakes, but getting better from them. After the season he had, this is the spot he needed to be to really take a development jump."
The fact he's doing so in a bottom-six role with Coachella Valley, a spot he's never played in his life, is a testament to Wright's development. He's taken an adverse situation, or adverse ice time, and turned a corner he wasn't able to turn before.
And it's not all Wright's fault. He's been stuck in a wonky situation where he wasn't allowed to properly play in the league that best fit him until the AHL playoffs.
Wright started the season with the Kraken, was carried as a practice player that got into eight NHL games, and was then released to play for Team Canada at the World Junior Championships, where he won a gold medal. He had an AHL conditioning stint in the middle of all that, but it was always going to be a cameo because the NHL-CHL agreement forced him back to the OHL.
Wright likely would have returned to the OHL sooner, but the Kraken were waiting out the Kingston Frontenacs, who eventually relented and traded Wright's OHL rights to the Windsor Spitfires.
Wright finished the regular season with Windsor, before an upset loss in the first-round of the playoffs ended his junior season and released him to play in the AHL, where his development has finally taken a more natural curve.
Turns out the early playoff loss by Windsor was both a blessing and a curse, because Wright may be stuck playing in the OHL again next season.
According to the NHL-CHL agreement a player drafted from an CHL team can't be assigned to an AHL club until they've reached 20 years of age or played four years of junior hockey. For a year of junior hockey to count, a player must have played 25 games according to the document.
Wright, like the rest of the OHL, missed the entire 2020-21 season because of COVID cancellation. The Kraken internally believe they'll get a pass on that season, that the CHL and NHL wouldn't hold it against him.
But this season Wright only played 24 OHL games. Because of the time he was assigned to Windsor, injuries, and the early playoff loss he missed the 25-game threshold for this season to count as one of his four junior campaigns. That's right, by one game.
So technically Wright has only played two seasons of junior hockey, and by the way the rules are written, he won't be eligible to play in the AHL next season. Seattle is seeking clarification on this, according to multiple sources, and is hopeful to get a ruling in the opposite direction, but is also worried the league will stand firm on his usage this season – 24 games isn't 25, rules are rules.
And if that's the case, Wright will be stuck back in a wonky situation next season. He'll either have to be on the Kraken roster on opening night or he'll have to be back in the OHL, likely with the Windsor Spitfires.
There could be a similar song-and-dance to this season, he could play some games with Seattle, practice a lot and get a brief AHL conditioning stint, but eventually Seattle will be forced to decide on whether Wright is an NHLer or OHLer.
Seattle's NHL trajectory also changed the equation. If the Kraken had struggled out of the gate, they could likely justify gifting Wright an NHL roster spot, but the team has shown it's already in a win-now mode, and the 2023 playoffs were a perfect example that franchise age has nothing to do with Stanley Cup readiness.
Seattle also wants Wright to earn an NHL spot, they want him to go through the trials and tribulations of the AHL, like he is right now, and emerge as a better prospect for it. They don't want him playing down to OHL competition, they don't want him stuck on the NHL roster because of a rule out of their control.
It's a sticky situation, and it's one of the reasons that Wright has been sheltered so much on and off the ice in Coachella Valley. In addition to play a bottom-six role, Wright is being guarded from media members covering the Calder Cup Final. Right now the Kraken want him focusing on his play and not questions that he, nor they, can answer until the NHL and CHL give more clarification.
You may also be interested in: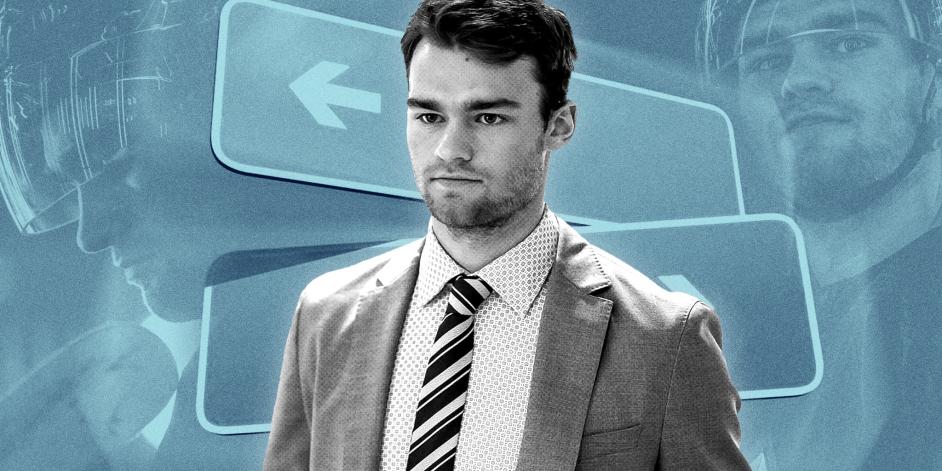 Should Shane Wright stay or should he go?
This article is about: