2023 NHL Entry Draft
Tom Willander's strong second half has made him a lock for first round in 2023 NHL Draft
Tom Willander, a smooth-moving Swedish defenceman who started the year as a fringe first-round pick, has now seen his stock explode to the point that he's a lock for the first, if not the top 15 picks.
He had some buzz but not a lot, and that's because countryman Axel Sandin Pellikka was stealing all of the helium.
During the 5 Nations tournament in November, he was one of, if not the best skating defencemen there. His speed with the puck was on display, and he was noticeable on almost every shift.
One thing Willander has to work on is the occasional risky pass. He will try a few of those in tight games, but that's something he can correct with experience. It may be the one reason that he wasn't mentioned in the top defenseman early on, and maybe the other is, he's not a high-octane offensive player. Does that keep him out of the top-15? I can't answer that currently, but if there's a run-on defenceman that could change for sure.
"I have to work on my offensive game. It's a little bit behind my defensive capabilities," Willander acknowledged.
If that offense blossoms his hard wrist shot will be his go-to shot. It's very good, and that's something that could enhance his overall game if he starts to use it more.
Willander is coming off of a solid season at Rögle BK with their J20 team, with 25 points in 39 regular season contests, along with another four in six playoff games. I wondered how he ended the season so strongly, and it made me start to think about his training and what that means for his game.
Seeing Willander do his vertical jump made me realize where some of that explosiveness in his skating comes from. This was new to me, but it was just the same old good news to this Swedish rearguard.
"Usually when I get tested I do really well," he mentioned. "A bit of everything changed in my game since the five nations. I gained experience, I played a lot of games. I made better decisions. I would say, mainly my offensive game. That improved this season."
When I told him I noticed he wasn't shooting enough and maybe he was passing too much. he replied, "True. He gave short, thoughtful answers at times during the interview, but this one sufficed.
I brought up that maybe he needed to be more selfish. He pondered that and answered, "a little bit. I'd say being able to take offensive chances. Get it to the net. I have a lot of teammates that do good work there."
The U18s were a massive boon to his stick. His ability was on full display, and it was going to be a chance to leave a great impression on the scouts, who would eventually report back that Willander was better than they originally thought.
"I'd say it probably did well for me," Willander stated. "For me, I feel that it was a result of me putting in all that work this season. I just battled."
When he said 30 teams spoke to him at the NHL combine, I knew his draft stock had changed. It hit me that pretty much every team wanted him, and there would be one that might step up earlier than I previously thought.
Willander will attend Boston University next season and then talked about a few of his future teammates.
"I know a few of like (Lane0 Hutson. He's a great player for sure. I look forward to meeting him and seeing how he plays up close. I know Macklin Celebrini, he will be drafted next year. He's supposed to be really good. I played against him and thought he did really well in the U18s, so that's going to be fun for sure," Willander said with some extra excitement.
Taking some time away from the rink is important to him.
"When I do take time off in the summer, I get back home and hang out with childhood friends. Just to get away from the hockey part. I do like golfing, and basketball is fun too," Willander said.

This summer is important for him to get ready for his NCAA debut.
"I want to build up more strength. Obviously, work on the explosive parts of skating. Getting that explosive parts in the legs. Also building size and strength. I'll do this back at home," said Willander.
Sandin Pellikka got a lot of attention at the Combine but did mention what was special about Willander.
"Willander is a great skater."
Then Willander talked about his national team teammate.
"We're quite different as players. He's a bit more offensively skilled than me. I think I have the upper hand in the d-zone and a bit more of a complete player," Willander surmised. "I feel like I make quick defensive reads. I feel like I see what the other team will do. I feel like I read the passes quite well. All top players have a competition. But we're great teammates as well. On the ice."
Willander's physical game is on point.
"I'd say strong. Mainly around the boards," Willander divulged. "I feel like I am very competitive and will win a lot of puck battles."
Willander sees a lot of his game in a top-line Dallas Stars defenseman. I don't think it's apples to apples, but there are some similarities for sure.
"I really like how Miro Heiskanen plays. His two-way game is really good. He's strong with his skating I feel like his transition game is super good. Not too flashy but very effective in the offensive zone," Willander added.

At this point, everybody knows that the Toronto Maple Leafs show a hockey video to the prospects in their interview sessions and then stop the footage and have the player tell them what happens next. Willander's response was the smartest I've heard since they started doing that. It was impressive.
"The screen only shows so much."
That resonated with me because he has great vision and wanted to see everything that was going on. That's what he does in games, and then he reacts accordingly. So the Leafs should use a bigger screen. Willander is on to something.
You may also be interested in: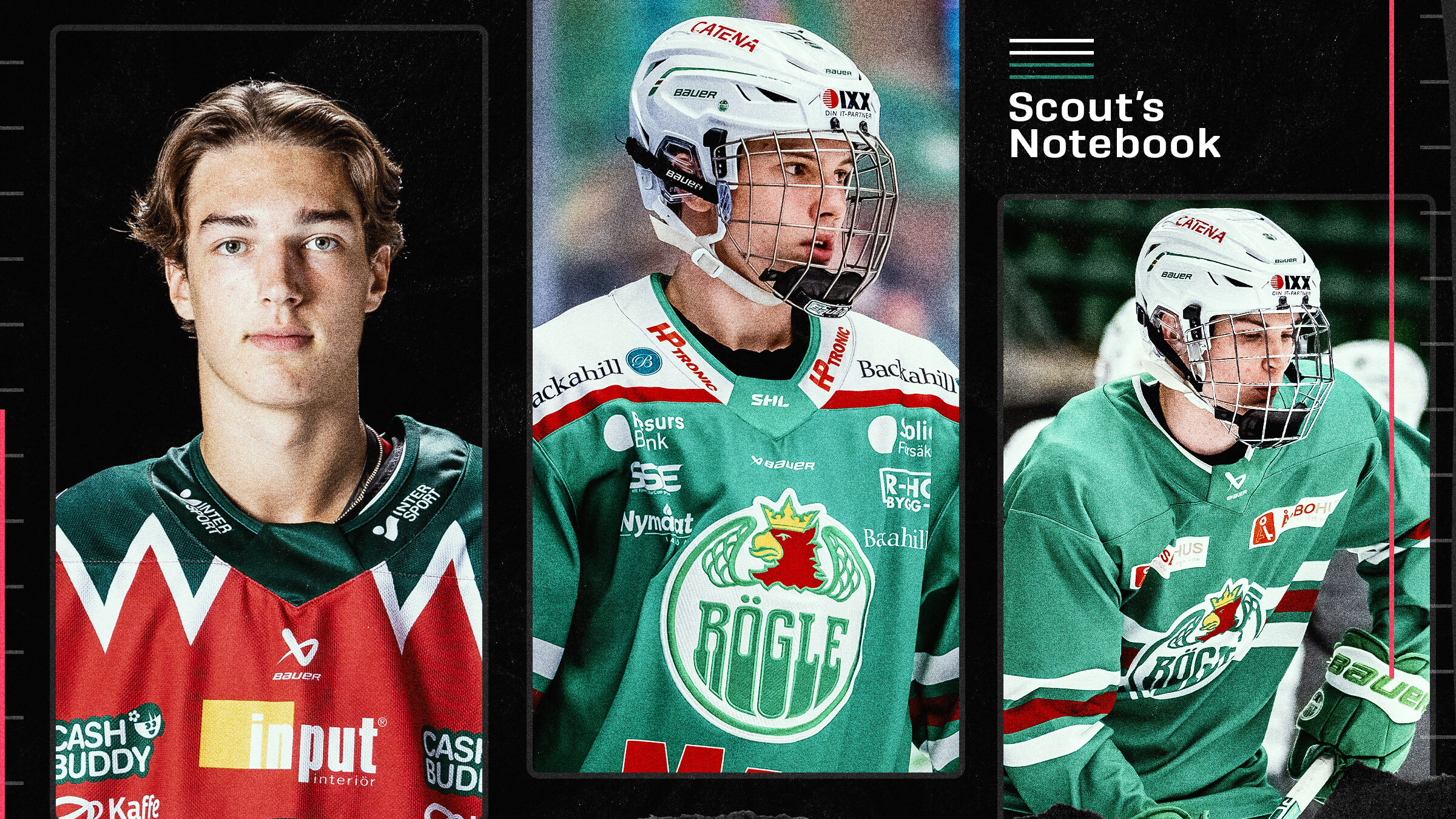 Scout's Notebook: Checking in on Felix Nilsson, Tom Willander, and David Edstrom's progress in the J20
This article is about: