NHL
EP Rinkside 3 Stars: Celebrating big starts
Something fun for you to do: Head on over to NHL.com/standings right now — an excellent website — and click where it says "League."
It's the most absurd list of teams in playoff positions you're ever gonna see. The Vegas Golden Knights and Colorado Avalanche atop the list, undefeated? Okay, fine. The Boston Bruins also undefeated and in third place is surprising but not outrageous. Then you go on a wacky run of 3-1-0 teams: The Ottawa Senators, Detroit Red Wings, and Philadelphia Flyers. Strange.
Then you get to the Carolina Hurricanes and Dallas Stars, back to normal. The Los Angeles Kings are next, tied with the Dallas Stars, yeah that's reasonable. The Calgary Flames, too, are even with the Stars. Then it's the Tampa Bay Lightning in 11th, which is maybe to be expected because of their whole goalie situation.
Then the New York Islanders (also undefeated) strikes you as bizarre, in part because they've played just two games, followed by a bundle of teams that are sitting at .500: the Vancouver Canucks, Pittsburgh Penguins, New York Rangers, Florida Panthers, Minnesota Wild, Arizona Coyotes, and Toronto Maple Leafs are all tied for 14th, though stuff like "regulation wins" or "goal difference" might technically separate them a bit.
This time of year is fun because everyone can convince themselves they're in the running. Except, of course, the San Jose Sharks. That team stinks.
Let's go:
3. Making it look easy
Far be it for me to say that the Colorado Avalanche do a hell of a lot to ensure their goaltenders can do as little work as possible, but let's just say playing behind that team makes you feel like you could at least go out there are stop 15 of 18 on any given night and probably pick up a win.
I say this because Alexandar Georgiyev has played more minutes so far this season than all but one goalie (Juuse Saros) and faced just under 11.3 expected goals. He's allowed just four goals on 113 shots.
This after he had a .918 save percentage last season, and played 62 games, for a team that spent a good chunk of the season extremely banged up. And after seasons in which guys like Darcy Kuemper and Philipp Grubauer posted incredible numbers then went elsewhere and looked a lot more average (or, in Grubauer's case, much worse than average). Likewise, Georgiev didn't exactly look like a world-beater with the New York Rangers, but he gets to Colorado and ho-hum, he's one of the best goalies in the league.
Nice situation they've got out there.
2. Big Leon
Just a nice little note here about Leon Draisaitl: He is now the Edmonton Oilers' all-time leader in power play goals, up to 128.
He's passed Wayne Gretzky, he's passed Glenn Anderson. He basically averages about one in every five games throughout his nearly decade-long career. And for a guy with only 642 career games, and whose power-play production has really risen sharply in the last two-plus seasons — 59 in 164 games! — it's got me wondering if he's ever gonna be able to run down the all-time leader, Alexander Ovechkin. Ovechkin is one away from 300, so it's a tall order, obviously, but if he keeps scoring more than one in every three games for the next few years, it'll at least be a long-term conversation.
Which, when you're passing names like Gretzky on any kind of list, that's all you can ever really hope to accomplish as an NHL player.
And that wasn't Draisaitl's only accomplishment this week. He also had 2-2-4 (both goals on the power play, of course) in Nashville earlier this week, running his career total against the Preds to 24-15-39 in 24 career games. That's almost 11 percent of his entire record-setting power play goal output has come against the Preds, in just under 4 percent of the career games.
Wouldn't be surprised if Draisaitl starts lobbying to get the Oilers moved to the Central Division next season so he can get those guys on the schedule a couple more times.
We love seeing the big man score.
1. Ruining the rebuild
I was thinking to myself, "Didn't this happen last year, too?"
And indeed it did. Last October, the Flyers roared out of the gates with three wins from their first four games, outscoring opponents 14-10. Eventually, they went 7-3-2 in the first 12 (plus-4 goal difference), then they lost 10 straight and got outscored by 25.
So far this season, the Flyers are also 3-1-0, outscoring opponents 12-8.
You know what extremely annoying people say in situations like this: Coaches and players don't tank. But here's a stat for ya: The Flyers are currently the No. 1 team in the league by expected-goals share (61.6 percent). Last year, they got badly outshot in the first four games (minus-28). This year, plus-20. Now, granted, they have played mostly bad teams. You should outshoot your Vancouvers and Columbuses. But of course, the Flyers are also a bad team, so maybe it shouldn't be this pronounced. They also, obviously, ran the No. 2 star Draisaitl and his Oilers out of the building last night.
So I don't know what's going on. I straight-up don't have an explanation for it. But I do know that this is really gonna hurt their chances of getting Macklin Celebrini or Cole Eiserman or Ivan Demidov. Which is why you don't hire John Tortorella to coach you through a rebuild.
You may also be interested in: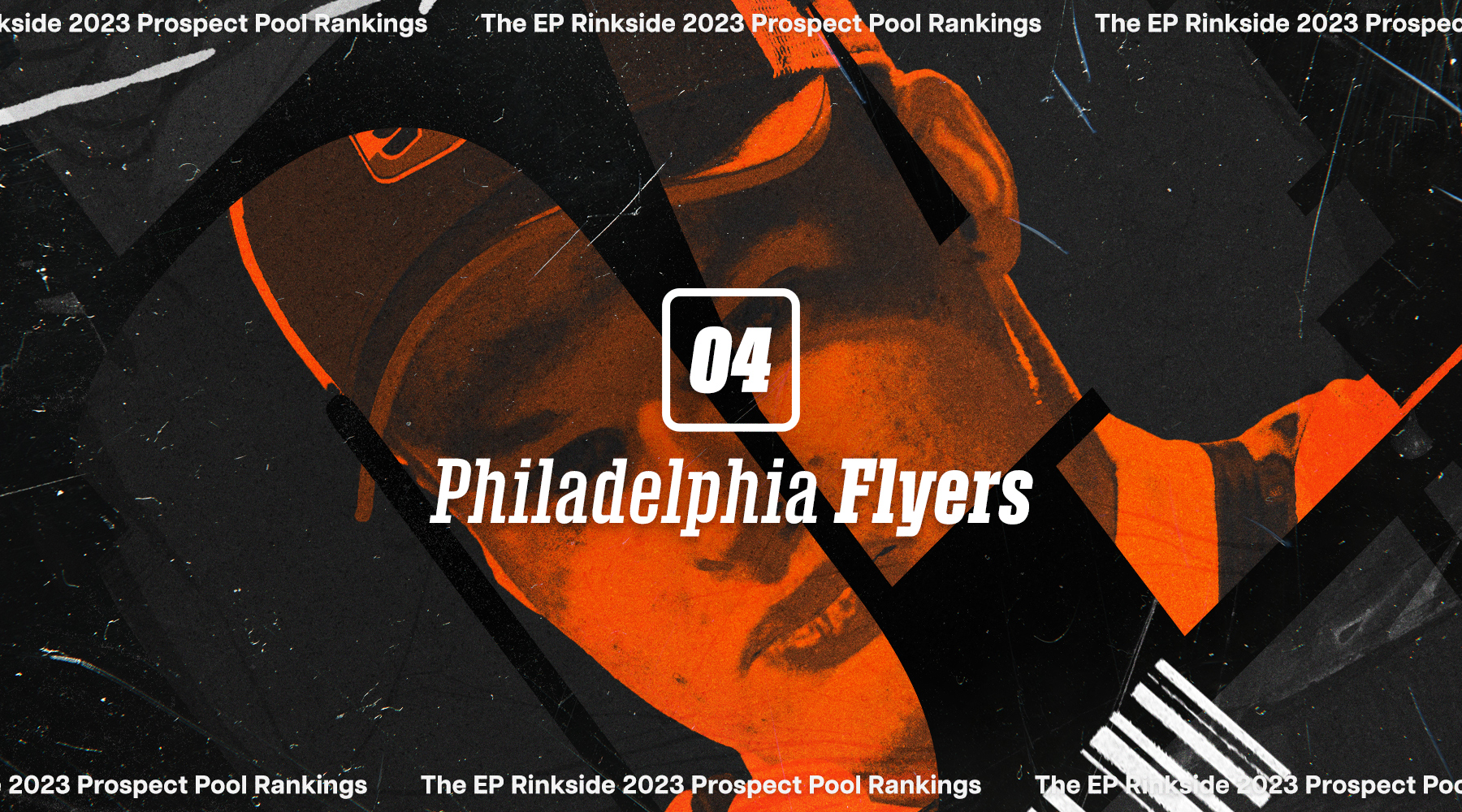 EP Rinkside 2023 NHL Prospect Pool Rankings: No. 4-ranked Philadelphia Flyers
This article is about: