NHL Prospect Report
NCAA Stock Watch: All eyes on 2024 first-overall favourite Macklin Celebrini
The college hockey season is back, and it's been good as ever in the early proceedings.
Some of that is just baked into the product. Anyone who follows prospects closely enough will tell you that it just doesn't get much better than the college game – just the right measures of frenetic, youthful energy and structure make for good hockey, who knew?
The schedule-makers deserve a ton of credit too, though. They've crafted a schedule with so many compelling series on a week-to-week basis, it's almost impossible to keep up with it all.
So, I've gone to the liberty of doing that for you, and I kick off this new scouting season's Stock Watch series on EP Rinkside with a look at who's rising, falling, or holding steady in this debut edition. Let's go!
Stock Rising 📈
Macklin Celebrini, C, Boston Univ. (2024 NHL Draft)
Macklin Celebrini's torrid start to the season hasn't quite risen to the same heights as Adam Fantilli through his first few weeks as a freshman, at least not statistically, but it's been every bit as impressive to watch. I'm not sure a league-leading eight goals in six contests is anything to sneeze at anyway, no matter the comparison.
Nothing new there. Celebrini's been one of the best pure snipers outside of the NHL for as long as he's been on the league's radar. Just look at his performance in last year's U18s when he finished second in goals (six) and first in points (15) on Canada's bronze medal-winning squad.
What's been most striking when I've watched Celebrini closely, though, is the deliberate focus he's placed on adding new, more projectable elements to his game.
For one, Celebrini is far more discerning with the puck on his stick than he has been at previous stops. He's already learned that what once passed as a high percentage shot at lower levels is functionally a turnover in college. So, he's adapted, leveraging the threat of his shot to create clean looks as a distributor, faking defenders out of passing lanes, drawing them into his space before sneaking pucks below sticks and around defenders to set up his linemates.
This growth as a distributor hasn't registered on the scoresheet (only the three assists to show for his first six contests), but I suspect some of that is usage and percentage-driven. With time, expect the gap to close between his goals and assists.
In the meantime, I think everyone involved is satisfied with his bottom line, Cy Young-like or otherwise. Man, can this kid hammer the puck.
Macklin Celebrini with his 7th goal of the season. In his 6th NCAA game.

He's 17 years old. It's just not fair. pic.twitter.com/Xh6hucUJpL

— /Cam Robinson/ (@Hockey_Robinson) October 29, 2023
Rutger McGroarty, LW, Michigan (Winnipeg Jets)
Through the first month or so of action, it's Rutger McGroarty who sits atop the NCAA scoring leaderboard (tied with teammate T.J. Hughes) with 15 points in eight contests. If he continues on this pace, he'll crest 70 points with relative ease over the balance of a 39-game season. Not too shabby.
It would be easy enough to attribute at least some of this offensive output to McGroarty adding a step as a skater. Certainly, Michigan head coach Brandon Naurato put that theory forward to my colleague Ryan Lambert almost two weeks ago, and that's always been the hold-up with his game.
I'm not sure that the tape bears that out, though. The reality is that McGroarty is just playing the best version of his brand of hockey. He's become even more skilled as a passer, routinely making what would pass as a trick-pass for others with stunning ease and grace, always identifying the right option and connecting with urgency.
Away from the puck, McGroarty is every bit as lethal a finisher as ever, cunning away from the puck, always probing for shooting opportunities, timing his entries into space perfectly. He's even become a better defender this year, attacking the puck carriers at an angle and forcing turnovers in space despite his limitations as a skater. He's a full 200-foot player.
Red Savage, C, Michigan State (Detroit Red Wings)
It's amazing what a change in environment can do for a player. Take, for example, Red Savage.
The Detroit Red Wings prospect spent his first two years of college hockey playing on a declining Miami (Ohio) program, and while that situation permitted him to take on an enormous role that wouldn't be available at most schools, it didn't offer him the support necessary to seize on it. His results reflected as much – 16 points in 35 games as a freshman and 14 in 32 as a sophomore.
Through eight games at Michigan State, Savage is on pace to outscore both of those seasons combined, with 11 points through his first eight contests. What's perhaps most impressive is that he's amassed these results with a pretty modest role, lining up at second and third-line centre and getting special teams reps in both phases.
Like McGroarty, Savage is amassing these points by playing the best version of his game. He's most effective as a forechecker, hanging over the puck, often reading the play one or two steps ahead of his opponent, and then turning up the pressure at just the right moment to force turnovers. Once he's secured possession, he quickly turns those steals into scoring plays.
The one interesting wrinkle has been Savage's brilliance at the net-front. He's an engaged player from that spot, screening goaltenders and popping out into space as a passing option when opportunities present themselves.
There may be hope yet for this prospect, and that's been In short supply ever since Savage left the program. A nice turn of events, to be sure.
Honourable mentions: Seamus Casey (New Jersey Devils), T.J. Hughes (FA), Scott Morrow (Carolina Hurricanes), Gavin Brindley (Columbus Blue Jackets), Jacob Fowler (Montréal Canadiens), Aaron Pionk (Minnesota Wild)
Stock Steady ↔️
Will Smith, C, Boston College (San Jose Sharks)
A cursory glance at Will Smith's counting stats would leave you with the impression that it's business as usual. Eight points in six contests on the nation's No. 1-ranked team, one that's marched out to a 5-1 record? Hard to beat that.
The tape has been far less flattering of Smith's work, though. He's disappeared for periods at a time in many of my viewings, left to the periphery or out of the picture entirely. His play with the puck has been chiefly characterized by ill-conceived attempts at dangling through numbers or low-percentage shots, some of which he's scored on.
It hasn't been all bad. Smith appeared to have turned a corner in the second half of Boston College's most recent series against Michigan State, coming to life with a strong third period and following up with a good, albeit unproductive showing in the second leg of their back-to-back.
Here's the thing: Smith will be fine. He's too skilled not to be. And if this is the sort of stuff he's pulling off when things aren't going his way? Watch out when they do.
Will Smith (#SJSharks) snipes one home right as the power play expires to give @BC_MHockey a 4-3 lead

Gabe Perreault (#NYR) and Ryan Leonard (#ALLCAPS) the assists on the play pic.twitter.com/GPajAex3Ox

— J.D. Burke (@JDylanBurke) October 27, 2023
Stock Falling 📉
Frank Nazar, C, Michigan (Chicago Blackhawks)
There have been flashes of the Frank Nazar that we held in such high esteem during the 2022 NHL Draft process at points this season. Maybe a shift here or there, even a full period at times when the blistering skating speed, handling skill, and creativity allow him to create something out of nothing for his team.
Two point night for Frank Nazar (#91) now. Two primary assists. #Blackhawks #HawksProspects pic.twitter.com/eD2vFJ2bvW

— Chicago Prospects (@Chi_Prospects) October 29, 2023
Still, at less than a point a game scoring clip on a team with four of the nation's five-leading scorers and very clearly not quite recovered from the injury that wiped out most of last season – Nazar's stock is undeniably in decline.
At times, it seems like Nazar is still pensive in his approach, not trusting his speed to turn the corner on defencemen in space and not charging at loose pucks with the same conviction that permitted him to generate retrievals like a machine at the program. He's deferential with the puck to a fault, often passing out of clean looks.
This is clearly someone trying to find their confidence after a tough run of brutal injury luck and not quite fitting in once he returned to the Michigan lineup late last season.
Rieger Lorenz, LW, Denver (Minnesota Wild)
The transition from being The Guy™️ in the AJHL to a fourth-line grinder on one of college hockey's top programs was bound to be a difficult one, and that was true of Rieger Lorenz's freshman season with Denver. His nine points in 37 contests last year tell that story.
Lorenz is scoring more often, but the devil is in the detail. Three of his four points have come against unranked schools, and he's looked downright invisible against some of college hockey's better teams. It's not even just that he's a step behind the play physically; he's also struggling to keep up with the demands of Denver's high-paced system.
At his best, Lorenz has provided some forechecking value and can be counted upon to play responsible hockey defensively, but he isn't playing up to his draft position or even close to it. He's getting a lot of rope this year, so there's still a chance he turns things around, but it's not looking good early.
You may also be interested in: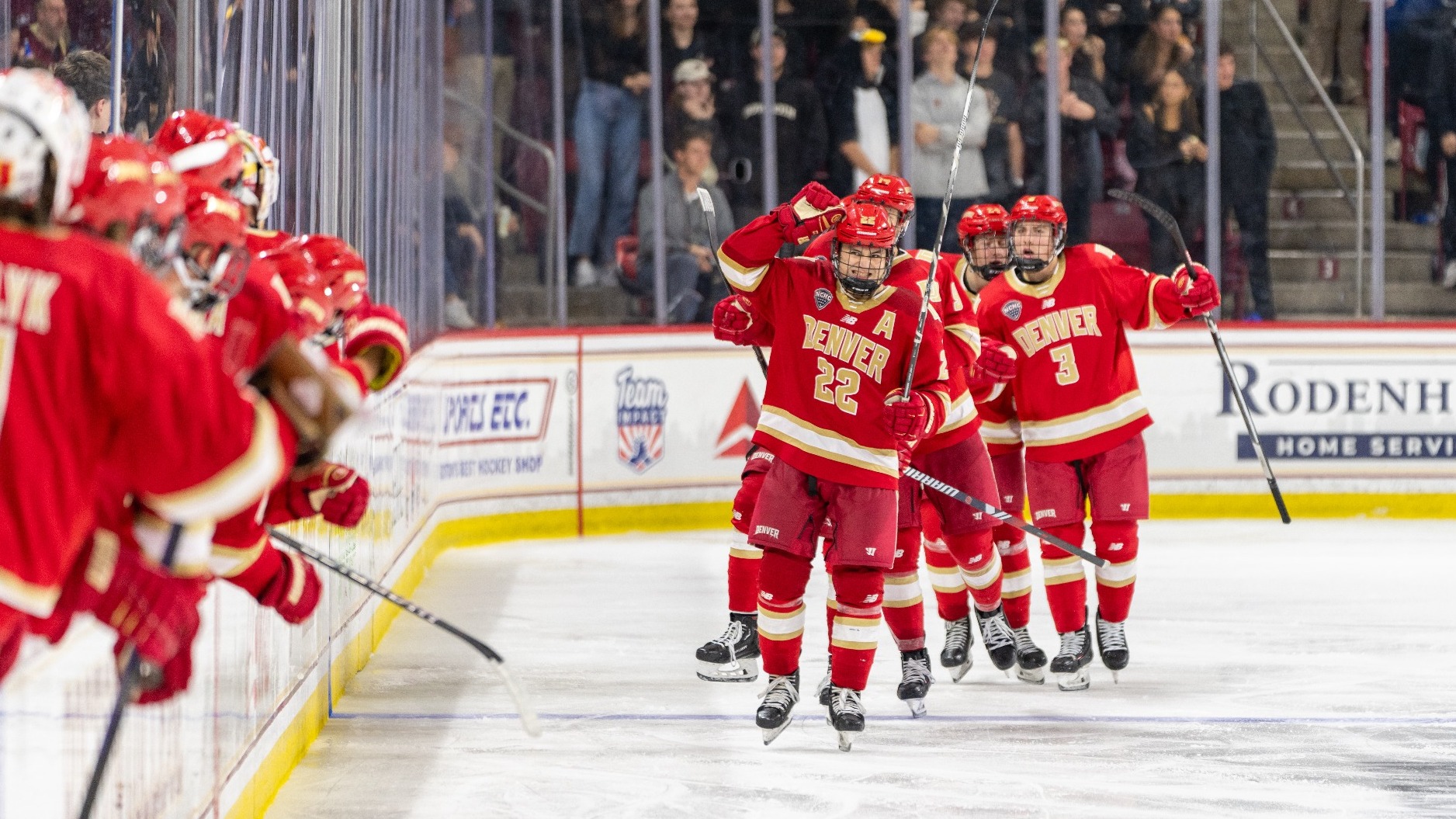 Denver Pioneers already showing serious growth
This article is about: