NHL Prospect Report
OHL Stock Watch: Luke Misa lighting the scoresheet on fire for Mississauga
The start of the 2023-24 OHL season has brought with it many surprises.
Many of the teams expected to be bottomfeeders have surged to the top of the standings, headlined by the defending champion Peterborough Petes, who currently lead the East Division.
The Kitchener Rangers have blossomed into the OHL's offensive powerhouse, while the league-leading Mississauga Steelheads have proven that the kids are more than alright.
Meanwhile, teams that were expected to dominate at the start of the year have faltered slightly. The London Knights sit third in a competitive Midwest Division, while the Memorial Cup hosts Saginaw Spirit are struggling to pick up wins.
That leaves a lot of opportunity for unexpected players to step into the spotlight, which is exactly what several have done in October.
Stock Rising 📈
Luke Misa, C/LW, Mississauga Steelheads (2024 NHL Draft)
Luke Misa may not have been the OHLer many expected to cross the 20-point mark first among first-time draft-eligible skaters, but he's raised the bar with each outing and placed himself firmly on the first-round radar for this year's draft. On a Mississauga team that is the youngest in the league with just one affiliated prospect, Misa is a large reason why they are in first place.
Misa kicked off his draft year with a bang, a four-point outing against the Erie Otters on opening night. Two weeks later, he recorded his first OHL hat trick. Though he's not as offensively flashy as his younger brother Michael, he is involved in every play, a remarkably detailed off-puck player, and tactically clinical in transition.
Misa creates his offence through give-and-goes and a variety of short-range passes. In spite of a smaller frame, he's difficult to knock off pucks, evidenced by his prowess at entering the offensive zone with controlled possession while under pressure. He works pucks off the boards, is a deft handler, and constantly supports his teammates at both ends of the ice.
No OHL draft-eligible player has raised their stock higher after the first month more than Misa. If he can continue to perform at this level of consistency, he will cement his status as a first-round talent in this class.
Hunter Brzustewicz, D, Kitchener Rangers (Vancouver Canucks)
The Rangers weren't supposed to be a competitive team this season, let alone pushing for the top spot in the league after the first month. Thanks to a ridiculous shooting percentage and players occupying all top four spots in league scoring, that's exactly where they find themselves though – tied for first in the Western Conference.
And it's not a forward that sits atop OHL scoring, but rather Vancouver Canucks prospect defenceman Hunter Brzustewicz. After finishing with 57 points in 68 games last season, the American blueliner is riding a 12-game point streak and is producing at just under two points per game.
At one point, Brzustewicz was converting on 25 percent of his shots, and while he's unlikely to continue at that clip, there's no doubt that he looks like a much more confident player this season. He's likely played his way into the conversation for a spot on Team USA's World Junior roster, too.
Anthony Romani (2024 NHL Draft, re-entry)
The North Bay Battalion have an undrafted Triplets-esque line of their own this year, and they might be the OHL's best-kept secret after the first month of play.
Dalyn Wakely and Owen Van Steensel (whom we ranked 82nd in 2022) are both beginning promising draft-plus-two campaigns, while Anthony Romani was a surprising snub at the 2023 NHL Draft.
Romani was the OHL's Player of the Week, recorded his first career hat trick, and finished the first month of the season with 10 goals and 19 points in 13 games. He has an impressive motor, is excellent in transition, turns steals into offence, and is a proactive player in his own end - all qualities that NHL teams typically covet in the later rounds of the draft.
If Romani and his linemates continue to look this dominant throughout the season, there's a chance that all three could play themselves into draft selections as overagers.
2024 NHL Draft-eligible goaltenders
The last time an OHL goaltender was selected in the first round of the NHL Draft was in 2012, when the Boston Bruins took Malcolm Subban 24th overall. This year's draft-eligible goalie crop may be the OHL's best chance to buck that trend.
Ryerson Leenders has stepped into the starting role in Mississauga and flourished. His eight wins in ten games, including two shutouts, are the most in the entire league and his 0.920 save percentage has him top-three amongst OHL goaltenders with 10 games played.
The difficulty level of the saves he has made all month has steadied a rather inexperienced Steelheads' blueline prone to defensive zone breakdowns. With controlled positioning, quick reflexes, excellent rebound control, puck-tracking abilities and lateral movement, Leenders continues to look like a first-round talent.
The other draft-eligible goalie who could play himself into first-round conversation? Owen Sound Attack goaltender Carter George, who backstopped Canada to gold at the 2023 Hlinka Gretzky Cup and has only looked better since the OHL season began. George's .929 save percentage has him second amongst netminders with ten games played and he was named the OHL's Rookie of the Month for October.
If both goaltenders maintain this level of consistency through the entire season, there's a good chance one or both could end up being selected in the first round next June.
Honourable Mentions: Porter Martone (2025 NHL Draft), Arttu Kärki (Vegas Golden Knights), Carey Terrance (Anaheim Ducks), Dalibor Dvorský (Sudbury Wolves), Eduard Šalé (Barrie Colts)
Stock Steady ↔️
Easton Cowan, C/LW, London Knights (Toronto Maple Leafs)
Easton Cowan's rise over the last six months has been meteoric. He was a surprising first-round selection of the Toronto Maple Leafs last June, he signed his entry-level contract after a stellar rookie camp, and even played so well in training camp that he nearly made it to the start of the regular season before being returned to London.
Which was the right decision, by all accounts. Cowan stepped into a role as London's primary offensive catalyst and never looked back, currently producing at a 1.71 points-per-game rate. Though his production has cooled off slightly since his nine points in the first four games, it would be a mistake to expect Cowan to stay quiet for long.
With the Knights in a tight division featuring Kitchener and the under-the-radar Guelph Storm, a return to the OHL Final no longer seems quite so clear, even if it is only a month into the season. But if Cowan continues to perform like this all year, they'll be a force to be reckoned with.
Stock Falling 📉
Jack Van Volsen, C, Mississauga Steelheads (2024 NHL Draft)
Once upon a time, Jack Van Volsen was one-third of the Toronto Jr. Canadiens' three-headed monster, alongside fellow minor hockey stars Michael Hage and Porter Martone. Just how dominant were they? The trio combined for over three hundred points in under 60 games.
Since entering the OHL, though, it's been difficult for Van Volsen to replicate those gaudy totals. He had just 25 points last season, which he split between the Peterborough Petes and the Steelheads. This year, he has just one goal in 13 games, and he's only on pace for 26 points in his NHL draft year.
Van Volsen's problems aren't limited to the production, either. While he may have size and off-puck awareness, he's limited mechanically and has difficulty making plays with the puck. His puck touches feel more reactionary than decisive, he struggles to handle pucks under pressure, and doesn't impact play.
For a sixth-overall pick in the OHL, Van Volsen's struggles are surprising. The Steelheads are far less offensively restrictive than the system he played in Peterborough, and he should be thriving there given how well the team has played to start the year. But unless something changes, it's difficult to imagine that he ends up being picked next summer.
You may also be interested in: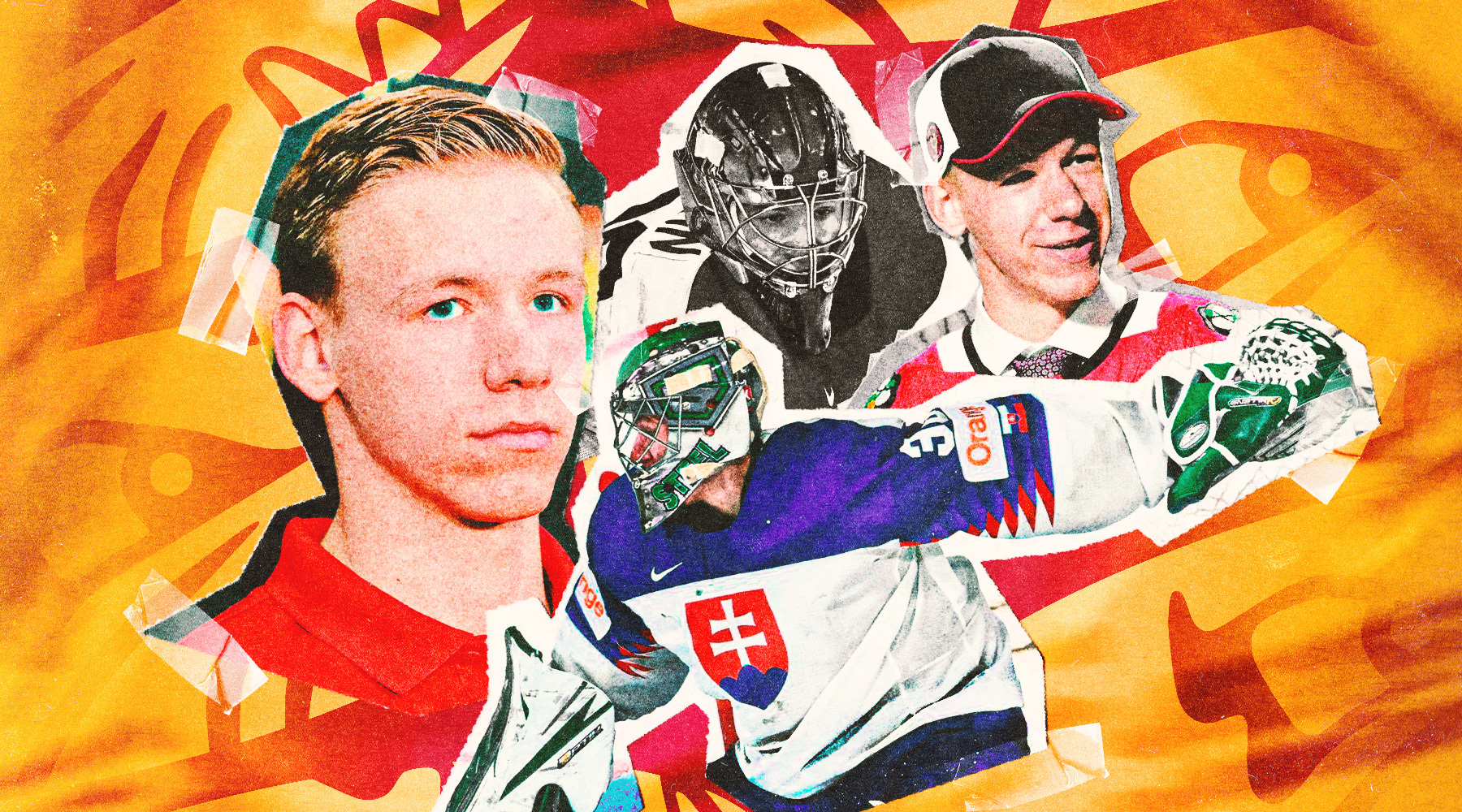 Chicago Blackhawks prospect Adam Gajan keeps taking his future, and his footage, into his own hands
This article is about: