Fantasy Hockey
Fantasy Hockey Features: Is it time to sell high on Noah Dobson?
It was a tremendous first month to the 2023-24 season for the New York Islanders defenceman Noah Dobson, managing three goals and 10 points in 10 games while averaging 2.6 shots and 3.0 blocks per game. Let's dig into what has been behind his success this season, the offensive environment he plays in, and what his fantasy hockey future may hold.
Dobson managed 100 points across 158 games from 2021-2023, or nearly 52 points/82 games. The key is he did that while averaging under 21 minutes per outing. His points per minute put him inside the top-20 blueliners in the league, or around the 90th percentile. His ability to shoot, block, and hit at reasonable rates is what made him a coveted fantasy option, though. In fact, on a 60-minute basis, his rates in all those categories line up with a pair of veteran fantasy stars and another young dynamo:

This is where it's important to note the team that he plays for. The Islanders are a franchise that usually encourages offence from the blue line, even if it's not readily apparent. In 2022-23, they got 40% of their 5-on-5 shot attempts from their defencemen, the highest rate in the league (yes, even higher than Carolina). That has changed this year, though, as they are getting 35.2% of their 5-on-5 attempts from their rearguards. That is also reflected in Dobson's shot attempt rate at that strength, as it's declined by 23%.
The additional shots from the forwards haven't helped (yet) thanks to a 7.7% team shot rate at 5-on-5, down from 8.7% a year ago. That their top line is shooting a combined 4.6% speaks to a lot of positive regression to come, so the dividends are likely to pay off. It just didn't happen in the first month.
We would expect a decline in shots per game from Dobson, which is what matters most for fantasy players, but that hasn't occurred. That is thanks to averaging over 25 minutes a game in his 10 appearances, a stretch he has never come close to achieving before (he only had two games last season over 25 minutes). That level of ice time has helped keep his peripherals solid even as his shots per minute are at a three-year low and his hits per minute are by far a career-low, falling 47% under his mark in 2022-23.
All that ice time is largely due to consecutive injuries to Scott Mayfield and Adam Pelech. New York relies on five rearguards to anchor their blueline so when an injury hits, rather than give more ice time to players like Sebastian Aho or Samuel Bolduc, they just give the remaining core players a bigger role. It is why Ryan Pulock has added roughly four minutes per game from last year's total while Alexander Romanov has received an extra 2:15 each outing. Mayfield returned over the weekend and though Pelech was out of the lineup, he's expected back quickly. In Mayfield's return, Dobson skated 23:49, his lowest mark in nine games. When Pelech is in the lineup, that will surely decline even further.
What is frustrating about this usage is Dobson is an excellent offensive defenceman. Per tracking from AllThreeZones, his scoring chance contributions (SCC, or individual chances plus assists on teammate chances) per 60 minutes at 5-on-5 in 2022-23 was 4.71, just behind Erik Karlsson's mark of 4.88, and ahead of Charlie McAvoy's 4.38. Across the 2021-22 and 2022-23 seasons, he averaged 3.51/60 minutes, a shade behind Brandon Montour's 3.53/60, and inside the 90th percentile of the league's defenders. That resulted in New York scoring 2.76 goals/60 minutes at 5-on-5 with Dobson on the ice and 2.37/60 when he was off the ice. If the team scored as often without Dobson on the ice as they did with him, they would be a top-10 offensive team in the league at 5-on-5. If they scored as little as they did with him off the ice all the time, they'd be in the bottom 10. He is very important to that Islanders attack.
This is a conundrum fantasy managers often find themselves in. A player shows a lot of promise and produces extremely well for his role, and when he finally gets a much larger role, his production goes from great to elite. We saw that just last season with Mikhail Sergachev and Miro Heiskanen. The conundrum happens when that player fails to hold onto that increased role, and that is Dobson's issue now. He could be a key cog in the offence, and even run the top power-play unit, but if he's back down to 20-21 minutes a night for the next five months, his production will suffer. There is just no defeating the way coaches approach their teams, and it's something fantasy owners have to contend with.
Compounding the problem is that the positive regression outlined earlier may not necessarily come for Dobson. Through 10 games, the team is scoring 4.3 goals/60 minutes with him on the ice – a career-best goal-scoring mark of 16.5% - and shooting 11.9%, also higher than his previous career mark by 17.1% (relatively speaking). If that declines at all, on top of the impending ice time drop, things could get ugly for his production very soon. He won't be an awful producer, but he won't be anywhere close to a point-per-game option.
Now might be the time for Dobson fantasy managers to explore a sell-high trade. It seems possible the team's scoring efficiency will decline with him on the ice from here on out, and it's probable he'll lose anywhere from 2-4 minutes per game in ice time. Unless the team radically alters its approach to ice time allocation, let another fantasy owner deal with that double-whammy.
*Additional stats from Natural Stat Trick
You may also be interested in: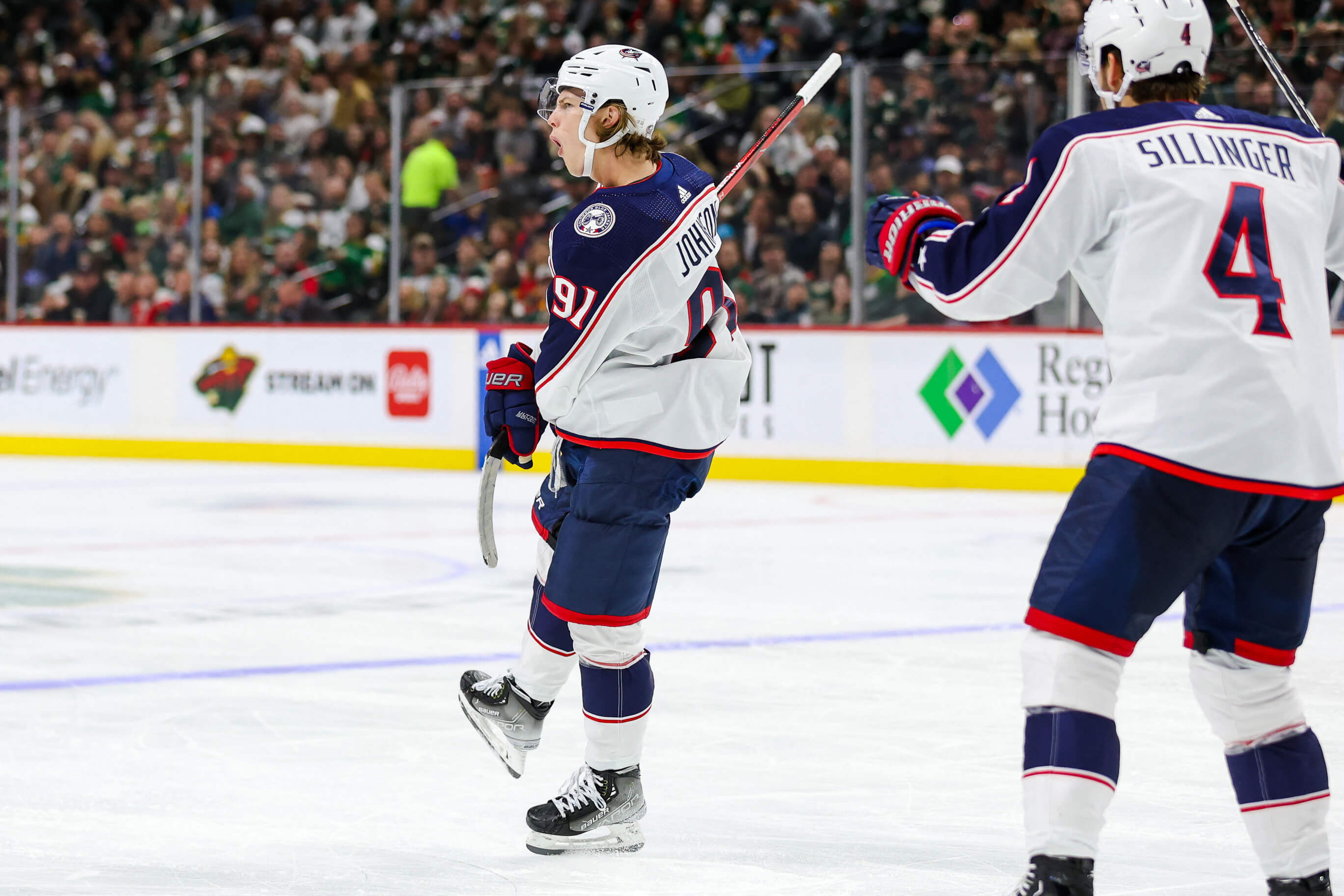 Fantasy Hockey X Gamers: Kent Johnson
This article is about: