NHL Prospect Report
Central European Stock Watch: Tomáš Galvas turning into a first-round sleeper for 2024 NHL Draft
We've been off to the races for a while now in most of Europe's professional and minor hockey leagues, and that includes those covered in the Central European Stock Watch! That's right, we're back, ready to get you up to speed on whose stock is rising, falling, or holding steady in this corner of the hockey world.
This November run of the Central European Stock Watch features players who will be available at this year's draft, affiliated prospects, and even some prospective European free agents. And with that, let's take a look at what they've done to this point in the season.
Stock rising 📈
Tomáš Galvas, D, Bílí Tygři Liberec (2024 NHL Draft)
Tomáš Galvas is flying way under the radar. Because what I've seen from this young, promising Czech defenceman has really been something to behold.
After picking up six games of Extraliga experience with Olomouc last season, Galvas signed a two-year pact with Liberec that started with this campaign. He's already picked up three points – three more than he had last year – in his first 10 contests, making him the most productive first-time draft-eligible skater in the Czech Extraliga to date.
Galvas is fast and very sharp on his edges. He complements his skating with great hands, and when the two are working in harmony, that makes him a very effective player. He can walk the blue line and support the offence with relative ease, activating with smart, well-timed attacks into the offensive zone. The lack of strength might be an issue for now, but that's something that could be improved with time.
Jiří Ticháček, D, Rytíři Kladno (free agent)
Jiří Ticháček now leads all Extraliga defencemen in scoring after passing through the NHL Draft unclaimed on three separate occasions – talk about a revenge tour. As of this writing, he's up to 16 points in 16 contests, on pace to finish the season with 52 points. That would smash the previous defencemen scoring record of 46 points, set by Martin Hamrlík in the 1999-2000 season.
Every team needs a No. 1 defenceman, right? That's the role Ticháček has filled for Kladno. He does everything for that team. When a teammate gets open, he's got the skill to make a quick lateral move and a dangle at the point to create a passing lane to connect. He really is a creative player with great vision, and he's a decisive, precise passer. He can lead the rush through the neutral zone and generate offensive zone entries with ease, too.
Ticháček has grown (and is still growing) into an important defenseman in the Czech hockey system. Someone to keep an eye on as a potential free agent signing.
Jaromír Peréz, W, Bílí Tygři Liberec (2024 NHL Draft, re-entry)
Jaromír Pérez may still be a junior-aged player with another two runs at the NHL Draft, but that hasn't stopped him from leveraging his diligence and skill to carve out an everyday role in the Extraliga lineup. He's been there for regular season matches and friendlies too, and has always held his own.
Peréz's offensive game is centred around his speed and skill with an excellent awareness and anticipation of the play around him. He's not shy of contact either for a player in a 5-foot-11 frame. This has been a very impressive start to the year for the 18-year-old winger.
while being extremely aware of the play going around him to facilitate and dictate where play will go or where he needs to be to make a play. Despite his size, he's not afraid of contact. Very impressive start to the season from the 18-year-old player.
Stock steady ↔️
Adam Jiříček, D, HC Plzeň (2024 NHL Draft)
You probably expected to see Adam Jiříček in the rising category. No such luck to this point in the season though.
That's partly a function of the high expectations I had for Jiříček this year, especially after a standout performance at the Hlinka Gretzky Cup. And to his credit, he's played well, especially for a first-time draft-eligible defenceman in the Extraliga. He's still a top prospect in this year's draft.
The reason I can't quite put him in the Stock Rising section of this article is that the bottom line just isn't there yet. His decision-making and penchant for mistakes haven't helped either. Of course, this is all to be expected from a player his age, but it's not like he's lighting the world on fire in the U20 league either. As of this writing, he's yet to register a point in 12 games of Extraliga action and in three games at the U20 level.
Jiříček is a two-way defenseman who is active in all three zones. He has an aggressive approach to the game, especially when he engages in puck battles. This lanky Czech defender is a great skater with solid edges that he likes to use when escaping pressure. He also has solid vision, which he uses for feeding linemates with precise passes. You will also like his ability to find shooting and passing lanes.
Stock falling 📉
Paul Mayer, D, Adler Manheim (2024 NHL Draft)
If you're looking for a prospect out of Germany to track, let me introduce you to Paul Mayer. Unfortunately, I'm not doing so under the best of circumstances. He's had a tough start to the season, even getting a demotion to the second-tier DEL2 after seeing his ice time drop game over game.
He's yet to find the scoresheet and his decision-making and constant turnovers stand as obvious reasons why he's struggling in that part of the game. It's odd that a player with his tools, particularly that booming point shot, can't seem to make a mark in Germany.
You may also be interested in: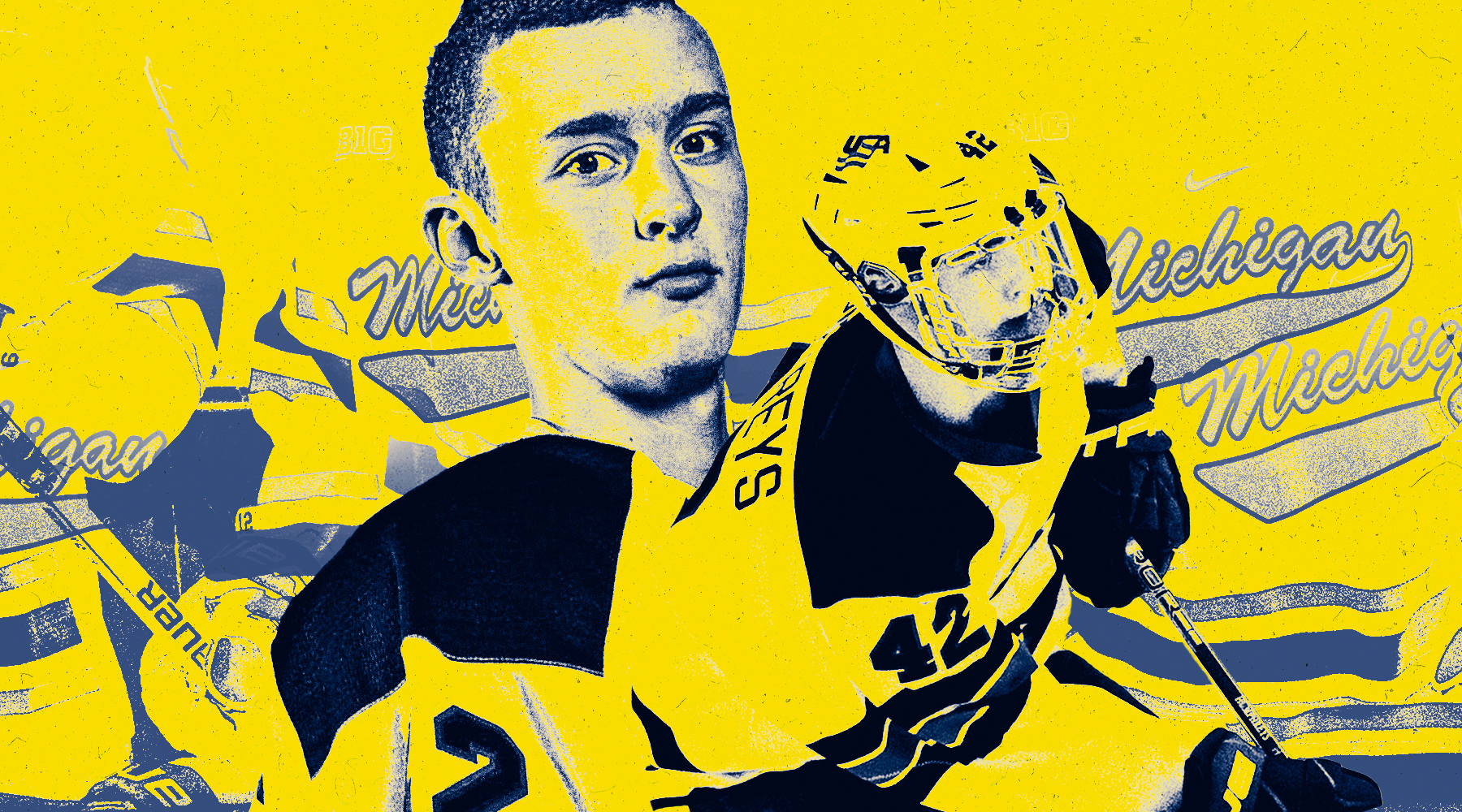 Why 2024 NHL Draft prospect Christian Humphreys flipped his commitment to Michigan
This article is about: