Fantasy Hockey
Fantasy Hockey Features: Wyatt Johnston's impressive future
One of the big surprises of the 2022-23 season was Dallas Stars rookie Wyatt Johnston. He scored 24 goals in 82 games, tying Matty Beniers for the lead among first-year players, and did so with just three power-play tallies, the fewest of any rookie that scored at least 15 goals. The 23rd overall pick from 2021 helped Jamie Benn's renaissance (Bennaissance?) to an eight-year high in points per 60 minutes at 5-on-5. Johnston is off to a great start thus far in 2023-24 with seven goals and six assists in 15 games. Let's look at the 20-year-old's draft hype, what has driven his success at the NHL level, and how high his fantasy upside can be in seasons to come.
Despite his first-round status, Johnston wasn't necessarily considered a top prospect. The 2021 Elite Prospect Draft Guide ranked him 54th overall while Bob McKenzie of TSN ranked him 40th, and Scott Wheeler of The Athletic rated him 55th. Most (not all) respected draft gurus had him somewhere in the second round, and not often at the top. That he went 23rd to Dallas was a bit of a surprise. To quickly summarize the feeling in the EP Draft Guide, Johnston was good in most areas but not elite in any, and the lack of high-end skating, playmaking, and stickhandling kept him as an intriguing prospect, but not a high-end one.
What sticks out in his EP Draft profile is this: The assumption is that a lot of his goals scored when (if) he gets to the NHL would be around the net. Adding to that, he rated very well by individual expected goals created both with Windsor of the OHL and at the U18 World Juniors. Let's keep that in our back pocket for now.
Aside from running a bit hot – Dallas shot nearly 13% at 5-on-5 with Benn and Johnston on the ice in the 2022-23 season – the key to that duo's success was generating good quality on their shot attempts by averaging one expected goal every 20.3 attempts. For reference, the Dallas top line generated one expected goal every 20.5 attempts and they were one of the best scoring lines in the NHL last season. It led to the Benn-Johnston duo creating a lot of their offence from below the faceoff dots (from HockeyViz):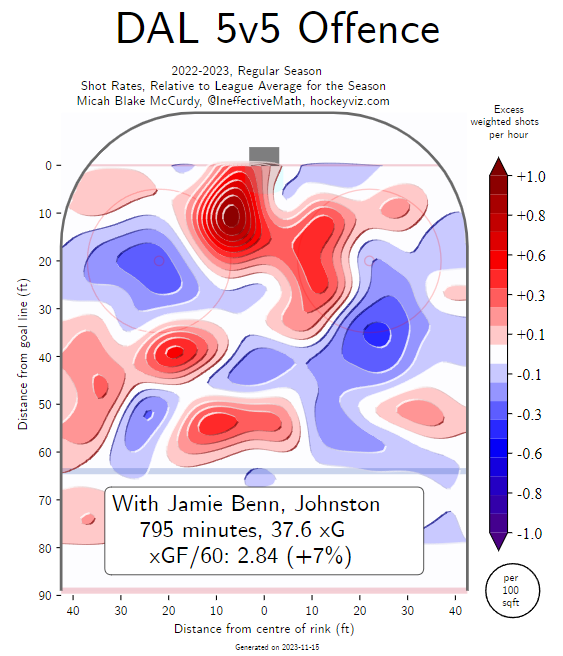 When he had Benn beside him, Johnston created 0.93 expected goals/60 at 5-on-5 by himself, a mark that would be around the 85th percentile of the league, or well inside a first-line rate. It was lower when he didn't have Benn as a linemate, so it was a very beneficial partnership for both players.
The point raised in the Elite Prospects Draft Guide about Johnston and his eventual NHL scoring – that it would largely be done around the net – held true in his rookie season. Of his 21 even-strength goals, 19 were scored below, and between, the faceoff dots: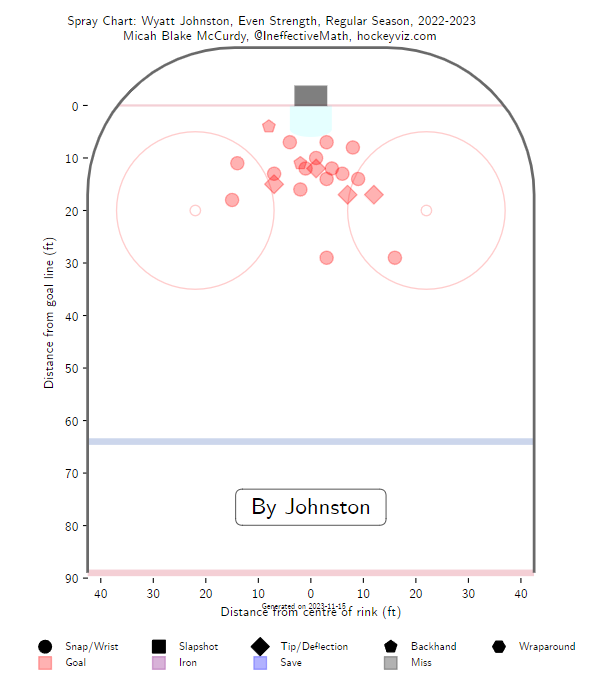 Our subject didn't succeed by loading up cross-ice one-timers or living at the tops of the faceoff circles. He went into traffic and got ready for close area passing with his linemates or deflecting shots from the point. This is encapsulated perfectly in the following clip from Game 1 of the 2023 postseason with Dallas at home to Minnesota. The puck is wrapped behind the net by Benn and rather than trying to cut it off, Johnston lets the puck continue to Evgenii Dadonov and then Johnston parks about a foot from the goal line. It leads to a quick pass from Dadonov and a decent chance for Johnston:
The decision to trust that Dadonov would get him the puck, and to keep himself in a place where he can quickly redirect the incoming pass on goal, is the type of decision that helped Johnston score all those goals.
Being able to shoot with decent volume and generate both quality shots and actual goals put Johnston in good company for his age-19 season. He compared well with two other fantasy stars even if they were older at the time:

There are three issues that are holding Johnston back from ascending in the fantasy game.
First, he doesn't hit. He has just 28 hits in 97 career regular season games. Any format that includes hits will see the forward be a drag on this stat. Pierre-Luc Dubois was referenced above and he had 127 hits in his rookie year and 115 as a sophomore. Until Johnston shows improvement there, it hurts his multi-category value a lot.
Second, the power play. For now, he's on the outside of the top PP unit and though it's not hard to envision him getting a prime role once the aging veterans really take a step back, that day remains to be seen. It could be January of 2024, or it could be in three years.
Lastly, a lack of scoring from his linemates. Over the last two years, the Stars have scored 58 goals with Johnston and Benn on the ice at 5-on-5. Johnston has scored 20 of those goals, or over half the total of everyone else on the ice with him (38). The goals are great for fantasy owners, but for a more rounded fantasy profile, there need to be more assists, and that means more goals from everyone else on the ice.
For now, it seems wise to put Johnston in the 'Better In Real Life Than Fantasy' bucket; he doesn't hit, he doesn't have high-end shot rates, he doesn't get top power play time, and his linemates aren't providing enough goals. With Jason Robertson, Roope Hintz, and Miro Heiskanen around for a while, on top of other prospects in the organization, there are much brighter fantasy days ahead. It may take a year or two before he gets the role necessary for high-end fantasy production, but the building blocks are there.
*Additional stats from Natural Stat Trick
You may also be interested in: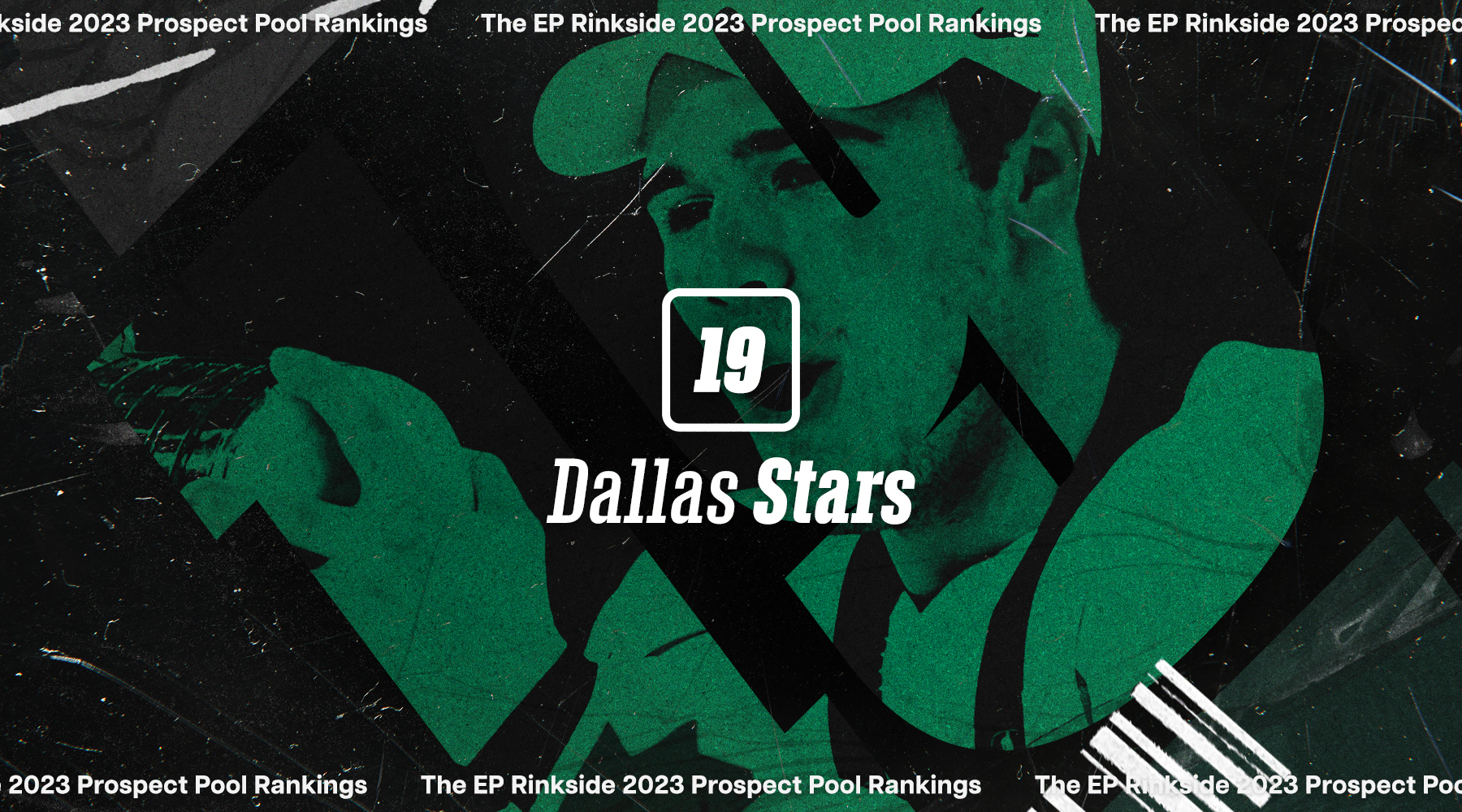 EP Rinkside 2023 Prospect Pool Rankings: No. 19-ranked Dallas Stars
This article is about: