Scouting Reports
BURKE: The Best Overage Players in This Year's NHL Entry Draft
Time has proven nothing if not the fallibility of the NHL's amateur talent evaluators. Even with all the recent advances in the industry, particularly in the realm of data-science and analytics, most judge a successful draft to be one in which a team receives two full-time NHL'ers for every seven picks.
Based on those numbers, the average NHL scouting department is converting at about a 29 percent rate. In any other industry, that would be cause for dismissal. Never mind getting fired; they'd fire you from a cannon.
So it shouldn't be overly surprising that there are many useful, excellent even, NHL'ers who went through the NHL Entry Draft without a dance partner one, two, sometimes even three times over.
Players like Vancouver Canucks forward Tanner Pearson, Tampa Bay Lightning centre Tyler Johnson and Buffalo Sabres defenceman Brandon Montour jump out as recent examples of players that either had to wait a year or two past their first year of draft eligibility or sign with a team undrafted altogether. The likes of Ottawa Senators forward Drake Batherson and Carolina Hurricanes forward Morgan Geekie can't be far behind.
The next batch? Well, it's going to take some time to find out who exactly belongs to that group for certain. In the meantime, we can make some educated guesses — isn't that what the Draft is all about anyway?
With that, so begins our countdown of the best overage players in this year's Draft.
Brett Leason, W, Prince Albert Raiders
Stats: 36G-53A-89P in 55GP
Elite Prospects Top 93 Ranking (Pre U18 Tournament): 34th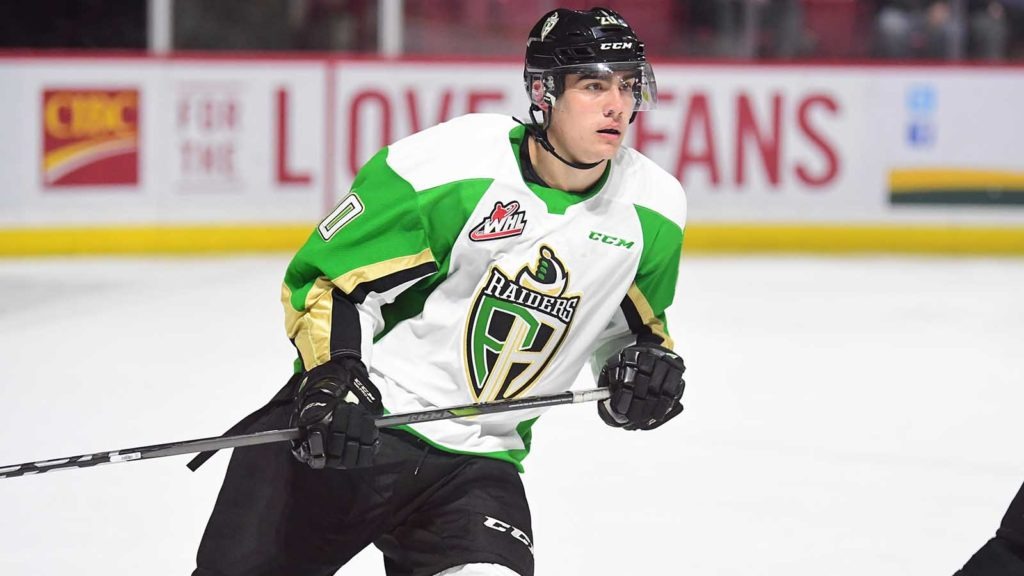 It's not often that a player goes undrafted twice only to find themselves a first-round pick, but Prince Albert Raiders forward Brett Leason could do just that this June in Vancouver. The Consolidated Draft Rankings article that Next Gen Hockey co-founder Jeremy Davis put out less than a month ago places Leason 31st overall based on the industry average. At the very least, Leason won't have to wait long to hear his name called on Day Two.
To say Leason came out of nowhere this season would be something of an understatement. He'd languished in a depth role on the Tri-City Americans until a trade about a quarter of the way through last season sent him to Prince Albert and a more substantial chunk of the pie offensively. Even so, Leason finished his 54-game stint with the Raiders with a modest 15 goals and 17 assists — not even close to enough production to warrant serious consideration with even a late-round pick as a draft-plus-one player.
Then Leason's skating improved last off-season, and he took off offensively. Suddenly he was no longer a 6-foot-4 grinder with okay hands, but a legitimate power forward that threatened to score every time the puck was on his stick. Leason exploded offensively with 63 points in a 31-game point streak to open the season. That was good enough to land Leason a spot on Team Canada at the World Junior Hockey Championship, where he put up five points in five games.
Considering the lack of offensive production from Leason in years previous, and the fact that he cooled down so significantly down the stretch, it's safe to wonder how much of this season was signal or noise. Whichever team drafts Leason won't have to wait long to find out is an understatement. Leason is AHL eligible next season. We'll all know relatively soon whether Leason is a real deal power forward or fool's gold.
Samuel Fagemo, W, Frolunda HC
Stats: 14G-11A-25P in 42GP
Elite Prospects Top 93 Ranking (Pre U18 Tournament): 44th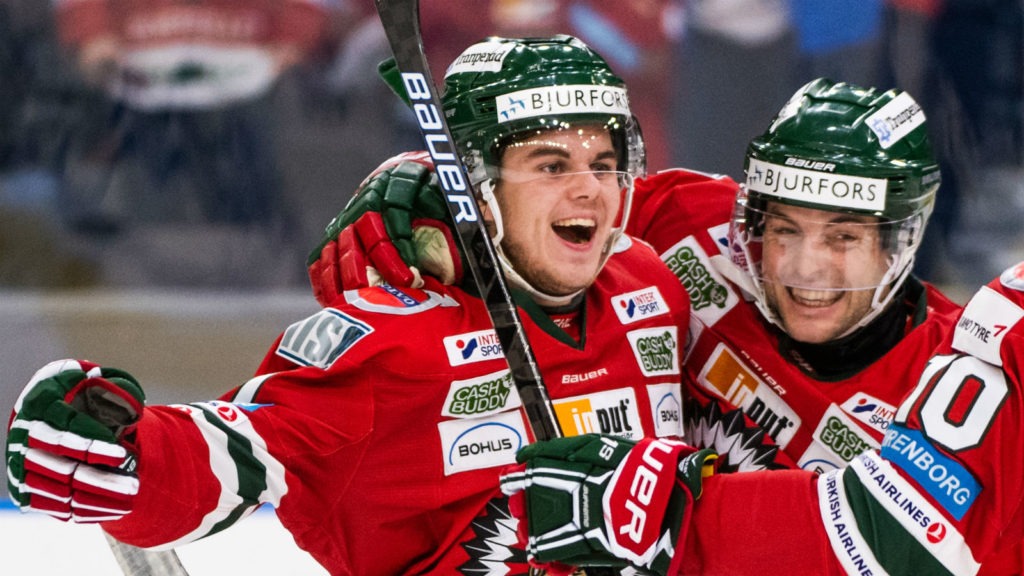 Some team would look like a genius at present if they'd had the foresight to draft Samuel Fagemo with a fourth-, fifth-, sixth- or even a seventh-round pick last year. Instead, they all passed on Fagemo due to concerns about his competitiveness, a poor showing at the Under-18 World Junior Hockey Championships, and lacklustre defensive habits.
A year later, it's hard to imagine there's a team in the NHL that wouldn't like to make amends with a second- or third-round pick at this year's draft.
ICYMI: Here's a comprehensive look at #NHLEntryDraft prospect, Samuel Fagemo.

Why was Fagemo not drafted last year? What changes has he made to his game since? Will a team grab him this go around?

Only on @EPRinkside, by @ChrHedlund!https://t.co/kXhxhiwaOj

— EP Rinkside (@EPRinkside) May 26, 2019
It shouldn't take much time or mental energy to grasp what's changed for Fagemo. Whereas he featured in spot duty in the Allsvenskan and SHL last year with little production to show for it; Fagemo was a full-time player, and a productive one at that, on a Frolunda HC team that won the Le Mat Trophy, awarded to the best team in the SHL, this go around.
Fagemo is a shoot-first winger with good offensive instincts and an improved skating stride over last season. There's production in a professional league to match, too. So much production, in fact, that players who share a statistical and stature-based profile with Fagemo historically owe to a 91 percent expected likelihood of a full-time NHL career based on the pGPS (prospect Graduation Probabilities System).
Whereas Fagemo doesn't possess any elite attributes in his game, and he's still something of a part-time contributor in the defensive zone, the floor for success with this player strikes me as landing in the middle-six range of an NHL roster.
Justin Bergeron, D, Rouyn-Noranda Huskies
Stats: 16G-41A-57P in 65GP
Elite Prospects Top 93 Ranking (Pre U18 Tournament): N/R
Had Justin Bergeron entered this world a day later than his September 14th, 2000 birthdate, we'd be discussing him as a player in his first year of draft eligibility. That's worthwhile context. Bergeron was a top-four defender all year for the Memorial Cup champion Huskies, and his presence on the ice coincided with a plus-52 goal differential at 5-on-5. Those players don't usually last long at the draft.
BURKE: 5 NHL Prospects That Distinguished Themselves at the 2019 Memorial Cup.#NHLBruins #Isles #GoHabsGo #GoKingsGo #Blackhawks #NHLEntryDraft

By @JDylanBurke, only available on @EPRinkside!https://t.co/QSaKRMSx1r

— EP Rinkside (@EPRinkside) May 28, 2019
Even so, Bergeron struggles with defensive reads, and his competitiveness often leaves scouts wanting. Combined with an average skating stride, it's fair to wonder if Bergeron's production was enough to assuage those concerns a year later. That he played his worst hockey this year in the Memorial Cup probably won't help his cause, either.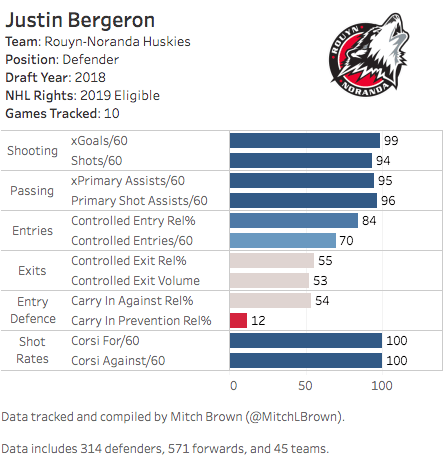 Most of Bergeron's cons are of the correctable variety, and there are enough pros to make it worth the trouble. There's no balking at Bergeron's production, much of it earned as his QMJHL-leading 9.55 shots per hour (estimated) and 0.48 xG per hour (estimated) at 5-on-5.
At the very least, Bergeron strikes me as someone well-worth the price of admission as a mid-round flier. Precisely the type of overager that teams should be targetting from round-three onward.
Ronnie Attard, D, Tri-City Storm
Stats: 30G-34A-64P in 48GP
Elite Prospects Top 93 Ranking (Pre U18 Tournament): 73rd
I'm not sure many scouts had Tri-City Storm defender Ronnie Attard on their radar period going into this year, much less as a legitimate mid-round option. Then Attard exploded for 30 goals — he'd only combined for 20 points in the two seasons prior — and 64 points, playing No. 1 defensive minutes and exiting with a plus-43 goal differential at evens.
Defenseman @ronnieattard had a record-setting year with the @USHL's @TriCityStorm, making him the 2019 Dave Tyler Junior Player of the Year. #USAHCongress → https://t.co/ugrylzgw1i pic.twitter.com/fBFbsZckcj

— USA Hockey (@usahockey) June 5, 2019
The physical tools were always present in Attard's game. He's got the size that general managers covet at 6-foot-3, is a decent north-south skater, and his shot is a veritable cannon. It took until his draft-plus-two season for it all to come together in one effective, dynamic offensive package.
That said, Attard presents a series of red flags all his own, even relative to his peers reentering the Draft this June. For starters, Attard converted on 20 percent of his shots in all situations last season, well north of the defensive average, and a significant jump on his previous. Then there's the matter of Attard's significant developmental and physical advantages as a 20-year-old in one of the Draft's weaker Major Junior leagues.
Attard's isn't a case of a player who was modestly productive until a more prominent role in their draft-plus-two tapped into previously untapped potential; he went from replacement level to USHL Defenceman of the Year overnight.
It's possible that Attard is just a late-bloomer. One would just hate to make that bet any sooner than the third or fourth round of the Draft. Unless, of course, you're EP Rinkside contributor Russ Cohen.
Pyotr Kochetkov, G, HK Ryazan
Stats: .930 Sv%, 2.13 GAA in 18GP
Elite Prospects Top 93 Ranking (Pre U18 Tournament): N/A
Nobody even knew who Pyotr Kochetkov was last season, or so the story goes. That's why we're talking about where he'll go in this year's draft instead of which genius scout unearthed him from the miasma of the MHL a year ago.
The NHL's Central Scouting Bureau now has Kochetkov ranked as the No. 1 goaltender in all of Europe going into this year's draft. With a dominant performance for Team Russia at the World Juniors in Vancouver, in which Kochetkov posted a .953 through five games, and a strong showing in the Russian second-tier men's league, the VHL, it's easy to see why that's the case.
Scouts describe Kochetkov as a technical, blocking style netminder who rarely shrinks in the net. It wouldn't surprise me if Kochetkov was the second goaltender to hear his name called at the Draft.
Honourable Mentions
You may also be interested in: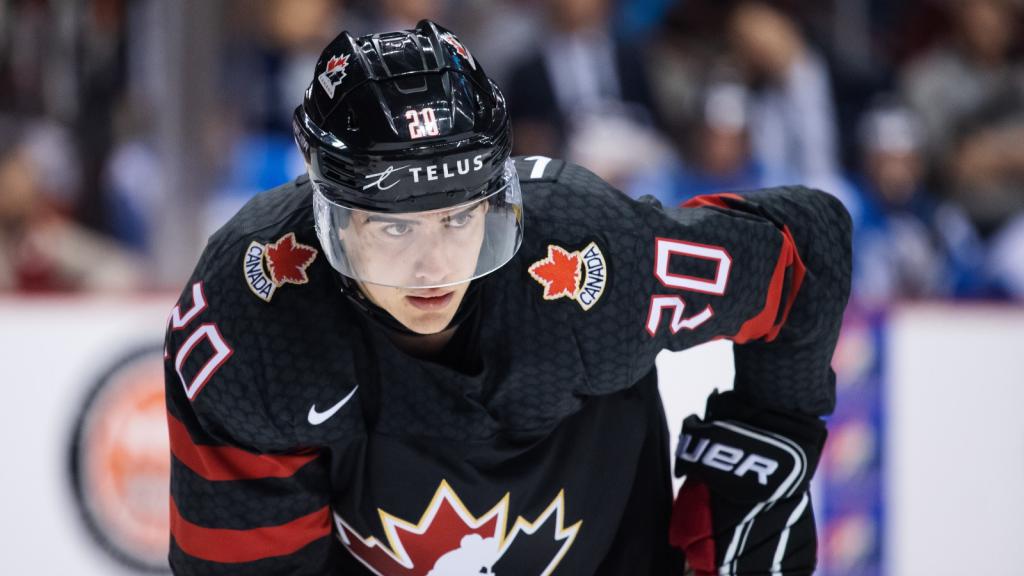 Moving Christmas to Vancouver – Leason hopes to celebrate holidays with gold
This article is about: