NHL
Thatcher Demko: From his mother's eyes
Danielle Demko can't say the word "shutout". She will find ways to describe it but for a goaltender's mother, saying the word is a jinx.

On Monday night, Thatcher Demko stopped all 27 shots he faced from the Winnipeg Jets in a 4-0 win for the Vancouver Canucks. His first-career regular-season shutout. His first-career shutout came against the Vegas Golden Knights during the 2019-20 playoffs.

"You don't even say that word. There's so much around it. There are group texts always, throughout the game, and there's a point where nobody is saying anything. We know he's working on something here. All the sudden things go silent," she laughed.

Thatcher Demko made 27 saves for his first career shutout. At 25 years, 83 days old, he is the youngest #Canucks goalie with a shutout since Cory Schneider on March 6, 2011 (24-353). pic.twitter.com/yrH1r81nR4

— Sportsnet Stats (@SNstats) March 2, 2021
Brenton and Danielle Demko knew their son, Thatcher, wouldn't have an easy path to the NHL. Who would take a chance on a goaltender from sunny San Diego, California?

So, they did what parents do. They supported him and did what they could for him to achieve his dream of being an NHL goaltender.

The dream became a reality in 2019.

In his NHL debut with the Vancouver Canucks, he stopped 36 shots in his against the Buffalo Sabres. Many took notice, but he was the known backup to Jacob Markström.

Things were looking up for the rookie.

But, Demko's story starts long before the Canucks.

"When Thatch played for SDIA (San Diego Ice Arena) and no one took him seriously. He was so determined and knew he had what it took to be a successful goalie," said Danielle. "Believing when you can't always see it; that is the difference between good and great."

The Demko family began to see the dream come true when Thatcher was 10. He was selected to play for the USA Selects and traveled to the Czech Republic to play in a tournament.

From there, Thatcher blossomed and his performance on the ice took him across the country to Boston College where he left his mark on the historic collegiate program.

In 2014, he played the Frozen Four in Philadelphia and was drafted shortly after. He didn't become a champion that season but several NHL clubs took notice all while suffering from a hip injury.

The Vancouver Canucks took a chance and took him 36th-overall in the 2014 NHL Draft. He became the highest-drafted, California-born goaltender in the history of the game.

Playing through injuries was the norm for Thatcher. He had been playing with issues in both hips for a while. In 2015, he opted for surgery.

"He had double hip surgery. He had an impingement on both sides, bone on bone, and he had torn labrums," said Thatcher's mom, Danielle Demko, "So it was both hips, and normally the doctor doesn't do both hips at the same time because the body can't handle all that trauma. When they tested Thatcher, they told him he was in such great shape, you can endure this, and Thatcher wanted to get both done and accelerate and be done with it and get back to playing."

He returned to the crease as soon as possible, won the Mike Richter Award and helped BC to another Frozen Four appearance in 2016.

"I never sat down once. I can't watch with people. I watch them all by myself. It's one shot. I can see a couple of plays or moves from him and see if he's feeling super. I can tell how he's feeling by watching a couple. Then I'm like OMG he's dialed in," his mom stated. "Then I get moving to excitement. Even then I still can't sit down. I'm never thinking it's over, that's why sports are so great. Any team can beat any team on any given day."

Markstrom left Vancouver for Calgary in the offseason and instead of immediately promoting Demko to No.1, the Canucks signed veteran Braden Holtby. That didn't worry Danielle, she embraced it. She asked about his tortoises when they got detained at the border.
"I love Holtby" she said. "There isn't this crazy pressure either. I think they're a good tandem together."

Having Holtby has also worked in Danielle's favor.

"I never know when he's going to play, and now, he plays better when I'm not watching," she laughed. "It's nice knowing he might get the nod."

Due to the ongoing pandemic, the Demko's can't see their son play in person because they are based in the United States. They haven't seen their son since October when he was home for about a week.

"I always want to go," Danielle said. "I just want to see my son. It's a bonus if he plays. I wanted him to stay a month, but he was determined. He didn't want to take any time off at all."

His urgency to return to work has paid off. He has made three consecutive starts and he appears to have staked his claim as No. 1. His 3.55 goals saved is more than expected and 12th among all NHL goaltenders after his outing against Winnipeg.

So, while Demko continues to be sturdy in net for the Canucks, his parents will proudly watch from home and have visitors do a double-take at the green and blue flag flying proudly from their balcony. They will also have to wait a little while longer before they hug their son again.

You may also be interested in: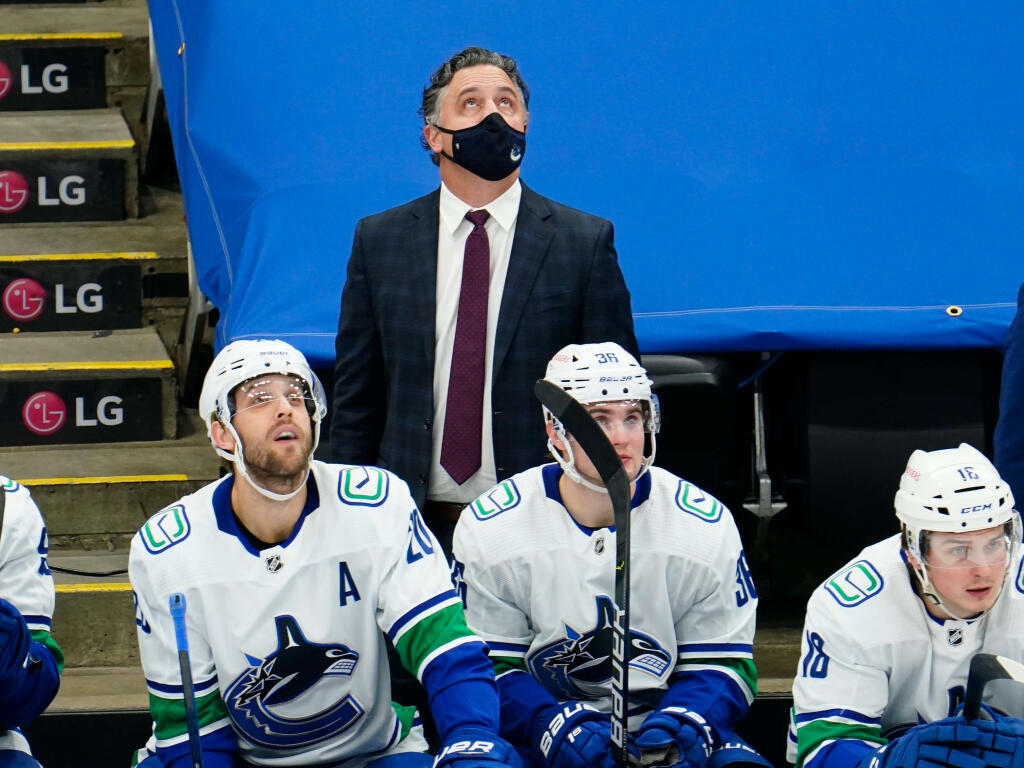 This isn't the end, but the Vancouver Canucks can see it from here
This article is about: