World Juniors 2022
5 of the most memorable World Junior Championship moments
Nearly every hockey fan has a favourite World Junior Championship memory of their own. Most involve their home nation winning. Some of the most treasured moments came while seeing the event live. Others gain joy from seeing their nemesis fail. And for some, it's simply the ritual of sitting down in the Christmas pyjamas with family on Boxing Day and spending time together yelling at the screen. Whatever it is for you personally, it's important.
Throughout the course of this event, there have been, without question, enough historical moments to fill several memory banks. Golden goals, otherworldly saves, suspensions, weird 100-foot goals, and record-breaking point totals. This has led me to dig into some of the more memorable moments and performances that have occurred over the 47-year history of the event.
Left on the cutting floor was John Slaney's golden tally in 1991, Wayne Gretzky's dominant 16-year-old showing, Jonathan Toews scoring all the shootout goals in 2007, The Finns taking the world by storm in 2016, Denis Godla eating more rubber than any netminder ever at this event, John Carlson's overtime winner in the finals, the early Soviet dominance and when Sweden finally unseated their reign, and many many more.
Honestly, I could have spent a month writing this piece. My working list began at 15, and even culling that list was a gruelling exercise. But the whittling continued down to five. These are not necessarily your most memorable, but they surely are for some. And for most of these, their impact went above the game itself; in some cases, shifting the entire landscape of the hockey culture.
The Punch-up in Piešťany
Many of you, myself included, will be too young to remember the 1987 World Junior Championships in Piešťany, Czechoslovakia. Back then, the tournament was a simple round-robin setup that determined the medalists from those results. There was no medal round where a loss ended your chances at glory. It was a different format than we're used to today, but still held the capacity for intense rivalries with that championship on the line.

In the infamous game in question, the Canadian squad was playing for gold against a Soviet team that was already eliminated from medal contention. And after winning two of the past three events, it was not a position the Soviets were accustomed to finding themselves in.
The game featured several future NHL superstars in Brendan Shanahan, Theo Fleury, Sergei Fedorov, Alexander Mogilny, Glen Wesley, and Pierre Turgeon. There were a lot of rumours swirling around the event about how the Soviets were being treated by the coaching staff. One report even suggested that the team was being starved after losses as a punishment. They were not a friendly bunch by this point.
With just 6:07 remaining in the third period and Canada leading 4-2, Soviet centre Pavel Kostichkin took a two-handed chop at Fleury, and all hell broke loose. With every player on the ice involved in a fight, two Soviets came off of the bench, and the Canadians quickly followed suit. Now, in most bench-clearing brawls, the majority of players link up and hold onto an opponent and watch the main event. Not this time. In this brawl, everyone was fighting and it was not clean stuff. We're talking about 2-on-1s, kicks, headbutts, sucker punches. The whole nine.


It got so bad that someone decided to kill the lights in hopes of ending the conflict. Which incidentally worked... sort of. The teams were eventually split apart and sent to their respective dressing rooms. The game was called-off and both teams were ejected from the event. Canada was stripped of their record and robbed of its gold medal. As a result, Finland captured their first-ever gold medal.
Nearly 35 years later, it remains one of the most infamous games in hockey history. And something we'll likely never see again.
A shifting landscape in 1993
The 1993 version of the World Juniors was one for the history and record books. As the official fall of the Iron Curtain came and went in 1991 the political and geographic landscape in Europe was an ever-shifting paradigm. The former Soviet Union -- who played under the guise of the "Commonwealth of Independent States" in 1992 when they won gold -- participated as the Russian team for the first time in 1993. Meanwhile, smack dab in the middle of the event, the nation of Czechoslovakia dissolved into two independent countries: The Czech Republic and Slovakia. The world junior club remained a cohesive unit for the event, but they pulled the Czechoslovakian flag and anthem for post-game ceremonies.

On the ice, things were just as noteworthy. This was another one of those round-robin-only events featuring seven games each. Team Sweden posted an impressive 6-1-0 record while scoring a ridiculous 53 goals. The host Swedes boasted some of the most dynamic and dominant offensive forces to ever grace the event. Their top line featured a pair of 19-year-olds bursting with creativity and swagger in Peter Forsberg and Markus Näslund -- both players selected in the first round of the 1991 NHL Draft put on an absolute show.
Forsberg went on to set a total point mark that appears completely unbreakable nowadays by posting 31 points in those seven games. 31! His 24 assists equal the next highest point total ever by a skater at the World Juniors, set by his linemate, Näslund. The future Canucks captain went on to set the all-time goal mark that tournament by netting 13.
Now, we simply must mention that Sweden defeated Japan 20-1 in one of those games. No, you did not misread that -- 20-1. In that game, Forsberg potted 10 points -- another tournament record -- which may have helped just a tad in his march to the all-time point mark. But hey, everyone got their turn at playing a Japanese team that went 0-7 while surrendering 83 goals and scoring just nine.
Sadly, for the Swedes, their one loss came against the Canadians (who also went 6-1 with a loss to the Czech-Slovak hybrid squad), so they had to settle for silver. The gold medal drought hit 12 years for Sweden at that point.
Mika Zibanejad's golden overtime
Things didn't go as planned at the 2012 event in Calgary, Alberta. The Americans went 1-3 in round-robin play and had to slog their way through the relegation round. Canada went 4-0 on their side of the bracket before handing the Russians a 6-1 lead with 10 minutes left in the final frame. They managed to storm back and score four before hitting the post with 30 seconds remaining to see their hopes for gold dashed.

That opened up the door for a Russia-Sweden final with the Russians attempting their first back-to-back in a decade. Meanwhile, Sweden was attempting to break a 31-year-old gold medal drought and nab just their second-ever title at the event. They had played the bridesmaids more than enough times, nabbing seven silver medals over that spell.
The game was entertaining despite a lack of finishing as Andrei Makarov and Johan Gustafsson put on a clinic, with each netminder coming through regulation clean. Which set the stage for this:
Sweden grabbed their title and the Nordic nation was finally permitted a collective sigh of relief. Unfortunately for them, they've been snake-bit in the nine events since, with three silver medals, of course. They sure do love silver in Sweden.
A chance meeting in Alaska
The 1989 event was hosted in Anchorage, Alaska and saw the Soviet Union bring three of the most talented players to ever skate alongside each other. Mogilny, Bure and Fedorov came together to make all of the plays on the Soviet top line. It was a glimpse into the skill that would arrive in the NHL a few short years later.

The 17-year-old, Bure led the trio with eight goals and 14 points in seven games. Mogilny and Fedorov each potted 12 points and drove the bus to another Soviet gold medal. However, the ramifications of the American-hosted event lasted far longer than just the two-week tournament.
The summer prior, the Buffalo Sabres took a risk and spent a fifth-round pick on Mogilny. It was considered something of a wasted selection as the 18-year-old was a rising star for the Soviets and no one crossed the Iron Curtain early. Literally no one. However, as the legend goes, that 1989 event provided an opportunity for then Sabres Director of Player Development Don Luce to quickly meet Mogilny between games, share a few words and allowed Luce to hand Mogilny his business card.
Four months later in Sweden at the World Hockey Championships, Luce received a phone call -- Mogilny wanted out of the Soviet Union, and wanted to play in the NHL. After an impressive 20-year-old performance on route to gold, Mogilny was afforded a day off to shop at a mall as a reward. It was there that the escape plan was put into effect. Mogilny shook his KGB handlers for just long enough to sprint to the car with the Sabres brass inside and spent the next few days bouncing around different hotels around Sweden using various aliases before securing passage to the United States.
The rest, as they say, is history. Mogilny was the first of many Soviet players to defect before the end of the Cold War. He was a pioneer who went on to produce one of the most prolific goal-scoring campaigns in NHL history en route to over 1000 NHL points.
And it all came together thanks to a chance meeting at the World Juniors.
Oh, and then there's this amazing quote year's later from Mogilny's former Vancouver Canuck teammate, Adrian Aucoin discussing his defection,
"We're in the locker room and (Mike) Keenan is all over him. We were like, holy shit – normally he's not on Mogilny like that. Mogilny looks up, he's like, 'Mike, have you ever heard of how I defected, how they fucking threatened my family, how they wanted to kill everybody? You think you're fucking scaring me?'"
I guess the moral of the story is: Don't try to scare Alex Mogilny. It won't work.
Jordan Eberle's heroics
It's 2009. The game is the semifinals. The teams are Canada and Russia. You just knew it was going to be a wild one, and boy did it ever deliver on that promise.

For context, the Canadian team was led up front by a draft-eligible John Tavares on his way to a first overall selection, Cody Hodgson playing at a tournament MVP level, and Jordan Eberle scoring clutch goal after clutch goal. The backend was highlighted by P.K. Subban and Ryan Ellis. Meanwhile, the Russians boasted a recently selected sixth overall pick in Nikita Filatov but few other standouts. But they came to play.
The game itself was the definition of back-and-forth action. 1-0, 1-1. 2-1, 2-2. 3-2, 3-3. 4-3, 4-4. This brings us to the final two minutes and change when Dmitri Klopov jammed a loose puck past Dustin Tokarski to put the Russian's up 5-4 and every inch of air was sucked out of the Ottawa arena.
Fortunately, it set the stage for one of the most dramatic finishes in tournament history. I could regale you with a word salad about Ellis and his leaping keep-in at the blue line, or Tavares recovering it along to wall to dish it out front with five seconds left on the clock. But instead, let's just let the call do its own justice.
As the history books show, overtime solved nothing so it went to a shootout. Eberle scores. Tavares scores. Tokarski stops both Russian attempts, and it's Canada heading to the final against Sweden where they'd end up taking home Gold.
That play and that call have lived in Canadian hockey lore for over a decade. It's the source of many a team rallying their troops with a belief that even if they're down, they're not truly out until that final buzzer rings.
Here's hoping the 2022 event will provide us with another moment that will live on through the ages. And even if it doesn't, there will still be those Christmas pyjamas and joyful viewings beginning on December 26th. And there's enough joy in that alone to keep us coming back year after year.
You may also be interested in: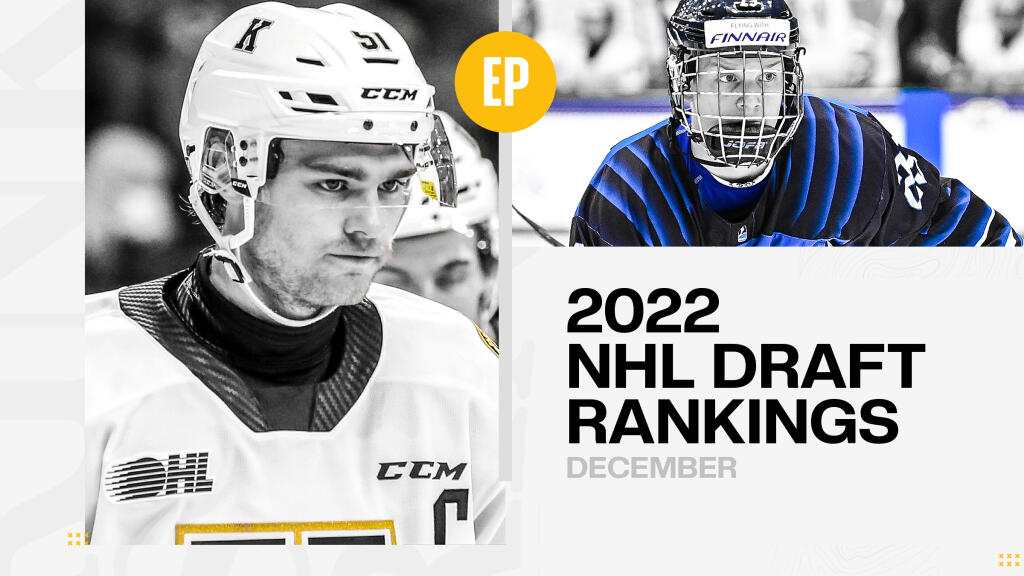 The EP Rinkside pre-World Juniors 2022 NHL Draft ranking
This article is about: