Fantasy Hockey
Robinson's Fantasy Rundown: How to handle slumping stars and empty-calorie scorers
The Halloween decorations may be going back into storage, but Spooky Season carries on in the form of some troubling numbers attached to household names in this fantasy hockey season.
Whether it's a skater stuck in a slump or someone feasting on percentages, how we handle these fantasy assets could dictate the course of our season and beyond, if you're in a keeper league setup. We're going to take a quick look at these players' outlooks and determine what we should do with them in the short and long term.
John Tavares, C, Toronto Maple Leafs
At first blush, John Tavares is off to an impressive start to his season. He has 14 points in 11 games to lead the Maple Leafs in scoring. However, the veteran centre is also struggling greatly to produce offence at even strength. The Toronto captain has needed the power play to score five of his seven goals and 65 percent of his total offence. Yes, Toronto has a high-level power play, but it's not sustainable for a player to rely that heavily on it.
Since joining the Leafs before the 2018-19 season, Tavares has generated 196 even strength points out of 274 total points. That's 72 percent of his production coming at even strength. That's how you hit the high notes. Because no one is posting 50-60 on the man-advantage.
Short Term: I'd be very interested in leaning on his recent hot stretch to try and move him out. The age-related decline has certainly shown up on the ice even if his production hasn't taken much of a hit just yet. At 32, selling at a high point would be a win.
Long Term: Sell. Sell. Sell.
Mika Zibanejad, C, New York Rangers
Wait, Mika Zibanejad is struggling? Doesn't he have 14 points in 12 games? Why yes, yes he does. But eight of those points have come on the power play including five of his six goals. We love Mika. The hair. The one-timer. It's all good. But the ineffectiveness at even strength is concerning.
This is a player capable of scoring 40-plus goals and 100 points, but he won't do it purely on the back of the Rangers' top unit. He needs to create more at 5-on-5 – especially finding the back of the net.
Short Term: Ride him. He's producing like a prime-aged player and we have to hope the 3.1 percent 5-on-5 shooting percentage will correct itself out soon.
Long Term: At 29, with a massive contract in his back pocket, and a team on the rise there is no reason to look to move Zibanejad soon. His value will peak soon, if it hasn't already, so if you're not contending anytime soon then go ahead and sell (for the right price). I'd certainly look to get out in the next few seasons.
Ryan O'Reilly, C, St. Louis Blues
It's been an inauspicious start to the season for Ryan O'Reilly. The former Conn Smythe winner has one point in nine games, a power play tally. He's shooting 5.3 percent in all situations and, yes, zero percent at 5-on-5. Oh, he's also minus-12 on the season. Yuck.
O'Reilly remains the team's top pivot, but with how dreadful a start it's been in St Louis, the team has shaken up the power play units with O'Reilly landing on the second unit. The 31-year-old is a pending UFA this summer and we thought he would have a ton of reason to show out this year. But alas.
Short Term: The only question is whether you want to send him to the waiver wire since his trade value will be nil. And you'll have to make that call judging by the talent sitting available. Things will certainly improve, but he already dipped to a 60-point level last season. Are we looking at a 50-point player this campaign?
Long Term: Get out.
Brock Boeser, RW, Vancouver Canucks
Another player who we projected to have a strong campaign and yet has… not had a great start is Brock Boeser. He's currently on the IR, a place with which he's become far too familiar. He does have four assists in the six games he's suited up for, but there are concerning signs.
The 25-year-old has just 1.5 shots on goal per game, down a full shot from last season and half of what he used to put on net when he was rolling earlier in his career. No goals mean the conversion rate sits at zero. To make matters worse, he lost his spot on the top power play unit to Andrey Kuzmenko.
The best we can hope for is that he comes back and lands on a line with J.T. Miller or Elias Pettersson and finds some quicker production and finds his way back onto the first-unit power play. Both are doable. Then he needs to stay healthy.
Short Term: Gotta wait this one out, sadly. The value could still come back to a reasonable level at some point. Either that or we'll check back in 2023 and talk about cutting bait altogether.
Long Term: Once upon a time I was convinced this would be a perennial 35-goal, 75-point winger with tons of shots. That vision becomes more and more distant with each game. He'll get hot - as all good players will, and if you have the chance, I'd move him then. You may 'regret it' if he ends up being as good as we once believed, but if you can get a high-end prospect or a reliable 60-70 point getter, I'd go get 'em.
Mathew Barzal, C, New York Islanders
This one isn't too complex. Mathew Barzal has 11 points in 11 games. 73 percent of them have been primary assists. Seventy-three percent of them have come at even strength. These are all very repeatable avenues to predict future production. He just doesn't have a single goal.
The good news is that the 25-year-old is shooting more than ever before, averaging 2.7 shots per game. The poor luck will end and he'll get his 15-20 goals, as he normally does.
Short Term: Hold and enjoy.
Long Term: I'm always open to moving a skilled player who just doesn't seem like he'll ever hit the next level - mostly due to the situation. And that's what we have here. If someone wants to give you a locked-in point-per-game guy in the same age range but on a more offensive team, I'd be all ears.
Kyle Connor, LW, Winnipeg Jets
Coming into Thursday, Kyle Connor was on an icy icy spell. One goal on 33 shots over nine games. This is the same player who popped 47 last year. The same player who has averaged 37 goals per 82 games for his career.
It's been a tragic start to the season, but there may be light at the end of the tunnel as he grabbed two points on Thursday - including an overtime winner.
Short Term: Hold on for dear life and ride out the storm. The shot volume is down a tad but still elite. He hasn't forgotten how to score. It's just been a tough run. If you don't own Connor, I'd be making all sorts of offers to pry him away from his owner.
Long Term: He's 25. He's ultra-skilled. You only move for an overpay.
Jonathan Huberdeau, LW, Calgary Flames
Things have not gone smoothly in Calgary for Jonathan Huberdeau. He has one even-strength point on the season - a primary helper two weeks ago. He's on a 46-point pace after recording a career-high 115 points last season in Florida.
This won't last. We know players can struggle with changes in environment and that patience is needed. But it's still an inauspicious start to his career as a Flame - a career that is still a season away from that monster contract kicking in.
Short Term: Someone might be willing to buy low in a trade, but that doesn't do you any good. You only move on if you're getting near value for what he would have garnered in the offseason. If not, you ride out the storm. If you're buying, stick low, but be reasonable.
Long Term: Similar to Zibanejad, this is a player that I would very much be looking to offload at a high point if you can do it in the next season or three. He's only 29, so there is time, but I like to cut bait on my star players earlier than later unless they're generational talents.
You may also be interested in: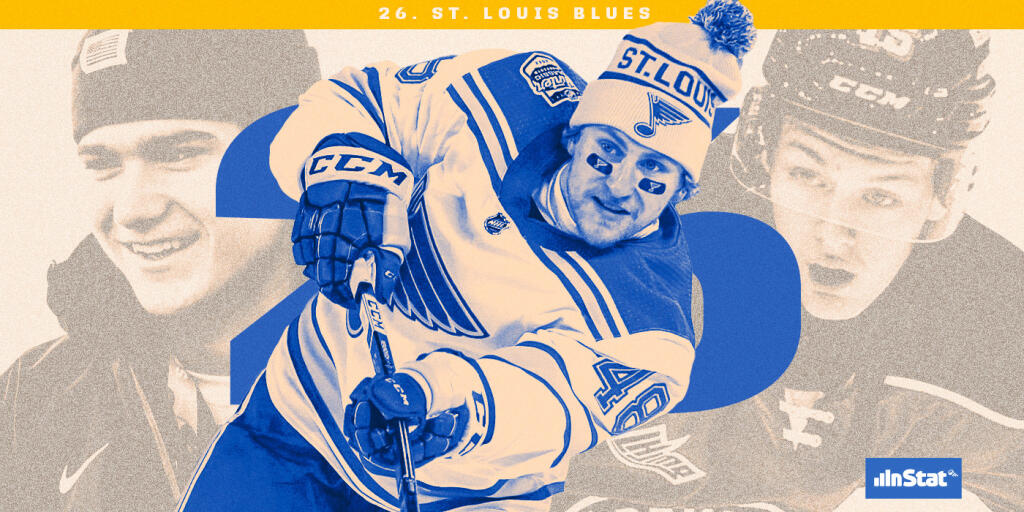 EP Rinkside 2022 NHL Prospect Pool Rankings: No. 26-ranked St. Louis Blues
This article is about: