NHL Prospects
Nolan following the Footesteps of brother, father to the NHL
He had the best seat in the house to watch Cal Foote's road to the NHL Draft.
Now, Nolan Foote's path will have him on the edge of his.
Nolan, eligible for the 2019 NHL Draft, is ready to use his brother's experience two years ago to help him face a stressful season, too.
"In his draft year I was playing with him and saw all the meetings that he went to with teams," says Nolan, teammates with Cal from 2016-18 with the Kelowna Rockets of the Western Hockey League.
"He's just given me advice the entire year on what to be ready for in the meetings, what's to be expected to talk about and all that stuff. He's helped me out with that.
"He's given me what to expect."
Cal, who turns 20 in two weeks, would know.
He endured the ups and downs of his draft season before being selected in the first round (No. 14) in 2017 by the Tampa Bay Lightning.
"That was a great year in Kelowna," says Cal, now a first-year pro with the Syracuse Crunch of the American Hockey League. "To be able to spend it with Nolan was pretty awesome. He got to see it first-hand. He was there during the actual draft day and with me all season long. He got to see how I dealt with it and how I went along with it.
"I think it helped him."
The experience still is.
Though Cal, a defenseman, is in Syracuse and Nolan is in his third season in Kelowna, the help hasn't halted.
"He asks a lot of questions about it," Cal says. "There's a lot of things that go on with the interview process and teams approaching the players. He's been asking questions and I think it helps him to have not only me but a few teammates go through their own draft year with the Rockets.
"He's seen it first-hand.
"He's been asking a lot of questions."
Nolan, who has 24 points (16 goals, eight assists) in 25 games this season, is wise to tap into the experience. Like his brother was before him, Nolan is a consensus first-round pick and the lofty tag isn't without its pressures.
And eyeballs.
"It's stressful at times," Nolan concedes. "They're there every game, the scouts. They're looking at you and watching you. My perspective is I'm just trying to play my best game for them. I know they're there. I want to play how I can play. I try to show what I can. At the same time, I try not to think about it because I don't want to be distracted throughout the year."
Distractions, Cal suggests, come part and parcel with the experience.
Other interruptions do too.
"There's a lot of different websites and articles and rankings that come out and I think that's an important thing for players, is to not get caught up with where you are and if you go up or go down," Cal says. "I think everyone's different. For me, I wasn't looking for it but if I stumbled across it you obviously take a look to see where you are.
"Don't get caught up in the hype. Just focus on yourself and your team game and make sure that's taken care of and the draft will come."
It's advice Nolan has tried to follow.
"I don't really like to go look at it or search it up, that stuff," he admits.
"Teammates will bring it up to me or buddies will bring up where I'm ranked. I try to stay out of that stuff, don't pay attention to it, and just keep playing."
Sound advice heeded from his brother.
Advice, likely, echoed by his father, too.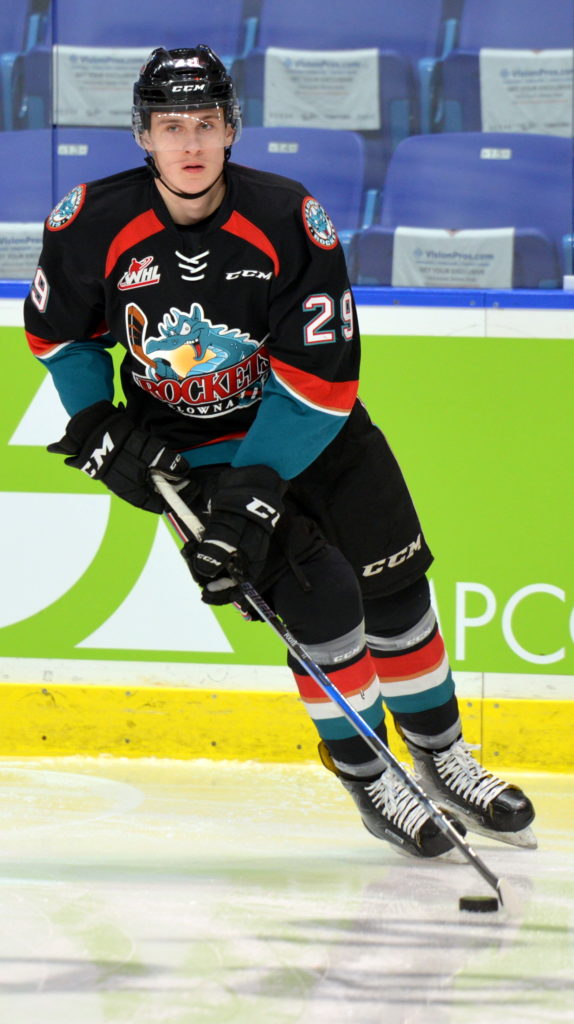 PHOTO: Doug Westcott.
Though that scrutiny didn't exist near as much as it did when Adam Foote was nabbed in the second round (No. 22) of the 1989 NHL Draft by the Quebec Nordiques, it's still wise to listen to dad. He knows a thing or two.
Adam, of course, is a two-time Stanley Cup Champion.
A World Cup winning defenseman.
Olympic gold medalist.
Hall-of-famer.
Veteran of 1154 regular-season and 170 playoff skates.
And, fortunately enough, head coach in Kelowna.
"I use both of them," Nolan says. "I talk to Cal every day. We stay in touch and we're always talking hockey. He's always giving me advice on what's to come. Same thing from my dad. He talks to me about what scouts want, what they expect and how to play. He's always teaching me the way.
"I take both of their advice and try to play my game."
Play his game.
Be his own player, too.
Sound strategy.
And, also likely, another nugget of advice passed down.
"For Cal, obviously, he's a defenseman so he's got a lot to live up to," Nolan says.
"I think it's the same for me.
"He had a great career and having Foote on the back of my jersey, I want to do whatever I can to make him proud. Not only that, I want to be the Foote I am, make my name.
"I think that's important."
You may also be interested in: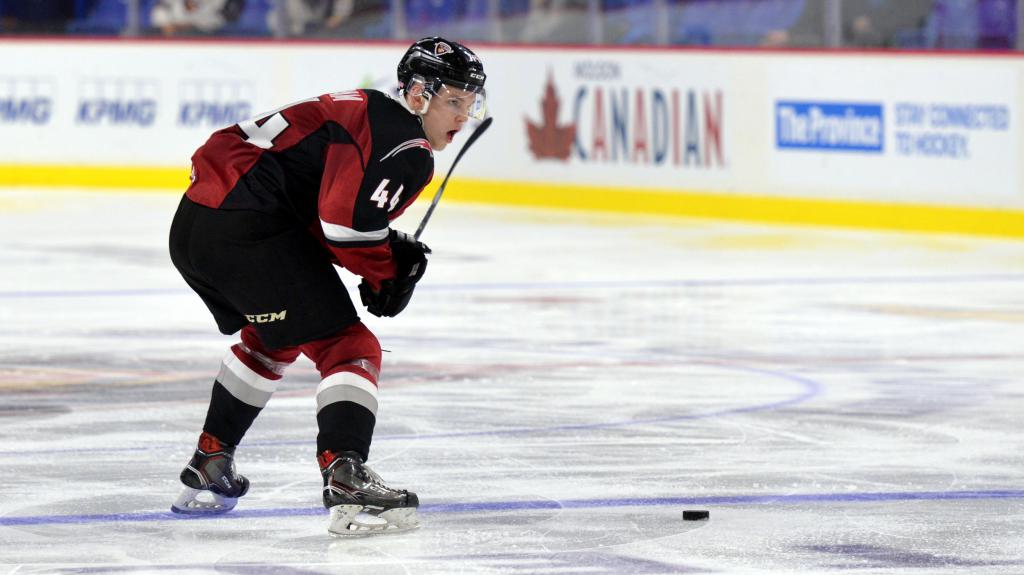 Ready to be the NHL man of the Byram household
This article is about: