NHL Prospects
Flyers first-rounder O'Brien: "I'm pretty hard on myself"
Making the adjustment from high school to college is tough for any hockey player and when you're 5-foot-10 and 175 pounds it can be even tougher to find your footing, but Jay O'Brien isn't just any hockey player.
Selected 19th overall by the Philadelphia Flyers at the NHL Draft this summer, the dynamic forward is hoping to get the call from USA Hockey to represent the red, white and blue in his first international tournament at the 2019 IIHF World Junior Championship later this month.
While the 19-year-old Massachusetts native has faced some bumps in the road – both literal and figurative – during the first few two months of his freshman season at Providence College, O'Brien finally got the monkey off his back this weekend when he scored his first collegiate goal, a beautiful breakaway that proved to be the game winner against New Hampshire, just when his confidence needed it the most.
"I'm pretty hard on myself and it's hard when I'm not scoring and putting up points, which is something I'm used to doing," said the former Thayer Academy star who put up 43 goals and 80 points in 30 games last season. "Everyone knew it would be an adjustment for me from playing high school hockey, but the biggest thing for me is to not get frustrated. I know I can play at a high level and I just have to stay confident."
Despite missing seven games to an upper body injury and struggling to get on the scoresheet, head coach Nate Leaman is pleased with what he's seen from O'Brien so far.
"His improvement off the puck has been outstanding," he said. "He works hard. He creates space and makes plays. He's very smart with his decisions, is quick on his feet, has a really good stick in traffic – he can get out of jail real well. He's got very good offensive instincts and he works hard, really hard. He's learning and making adjustments to get better with every game. I'm not worried about him at all."
O'Brien said his biggest challenge has been making decisions faster, being quick with the puck and getting in and out of corners.
"The game happens fast and you need to be quick and elusive or else you can put yourself in bad positions and they can force turnovers if you're indecisive. Especially at this level, you have to read as much as you can to put yourself in a good spot to score and make plays," he said. "On the defensive side, you have to be reliable in your own zone to play at this level, especially at Providence. You have to be on the d-side of the puck and pay attention to the details and be between the net and the shooter. You want to be a plus out there, not a minus."
While O'Brien hasn't seen the offensive results that he'd like, he's only been on the ice for three goals against, has won 57% of his face-offs and has taken zero penalties.
While Leaman said his play without the puck has dramatically improved, he's also looking for more improvement when he has the puck. Specifically, taking more shots.
"It's hard to get pucks to the slot area, so when you do, you really have to attack and take advantage of the opportunity," the coach explained. "He's got a good shot and needs to be a little more selfish and not think to pass all the time."
During his adjustment to college hockey, O'Brien has been focusing on his mental strength as much as his physical strength.
"I just want to improve every day. There are going to be ups and downs and there are going to be games you don't score or have a slump and I just can't focus on points as much anymore," he stated. "I need to focus on the details and working hard and getting better every day. It's cliche, but I really just have to get bigger and stronger. That's the bottom line. I know the points will come."
That work ethic and strong mental attitude is a big reason why Leaman isn't concerned about what O'Brien hasn't been able to accomplish offensively just yet.
"The reason he was a first rounder is because he has a unique combination of skill and work. He's high-end in both aspects," he said. "At our level, he just needs to put weight on and keep developing. It's going to take a little bit of time, but he's going to be a heck of a player."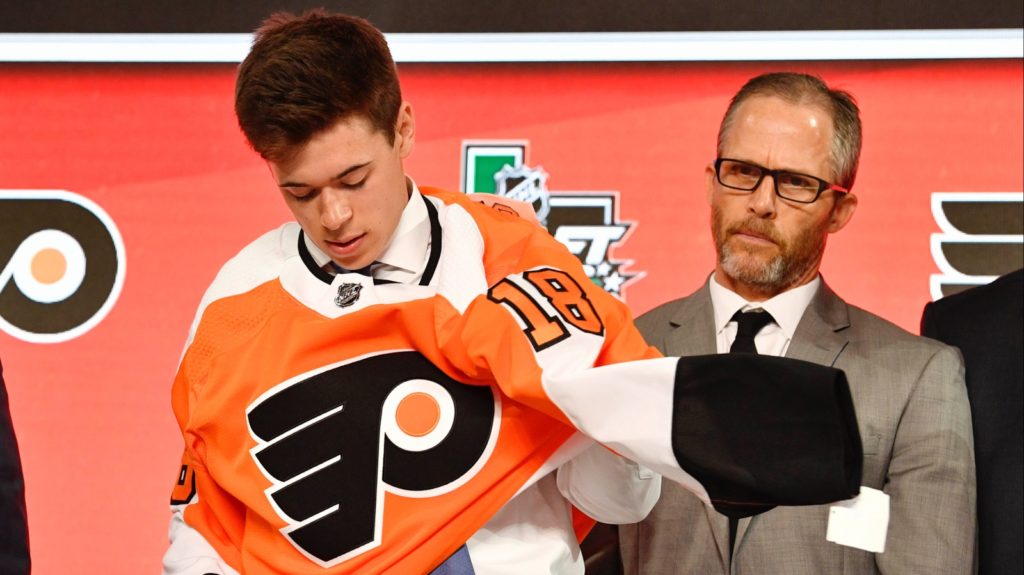 Jay O'Brien picked # 19 overall by the Flyers. PHOTO: Icon Sportswire.
As Team USA announces their preliminary roster for the world junior championship this week, O'Brian hopes he's shown enough to earn the opportunity.
"I have high expectations for myself and there's been a little pressure because I want to make that team, but I feel like I made a strong case during the summer showcase – making plays and putting the puck in the net – and with the improvement in my defensive play here this season, but I can't worry about whether I'm going to be picked or not," he said.
"It's a lot like the draft in that sense. You just have to do your best, show what you can offer the team and let things fall into place. Whatever happens, happens. But there's no doubt, I would love to make that team and help USA win a gold medal."
You may also be interested in: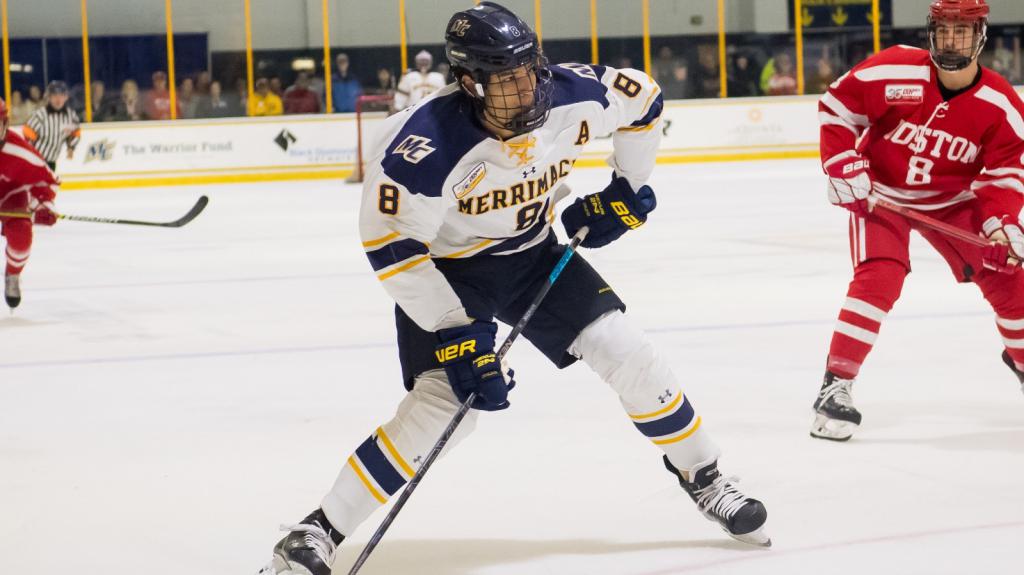 Late-blooming NCAA d-man could be a steal for the Jets
This article is about: