NHL Entry Draft 2019
Bobby Brink entering first round conversation
There is no question that Minnesota is a hockey hotbed in the United States. Producing players such as Phil Housley, Zach Parise, and Blake Wheeler, Minnesota is the state where most American-born hockey players are born. Therefore, it should come as no surprise that another Minnesota-born youngster is climbing up draft boards while lighting the USHL on fire.
Bobby Brink, an Excelsior, Minnesota native, began making a name for himself playing hockey for Minnetonka High. In his first season, 2016-17, he made an immediate impact, posting 26 points in 25 games. Brink co-led the team in points with Jack Bayless the following season with 44. Additionally, he contributed to Minnetonka obtaining the state championship, a highly regarded feat in Minnesota.
On January 31, 2017, Brink announced his commitment to attend the University of Denver. Although going the college hockey route used to be a less popular route to the National Hockey League, that is far from the case now. In 2018, seven prospects either playing or committed to an NCAA team were drafted in the first round. Brink will be looking to follow the footsteps of players such as Paul Stastny, Matt Carle, Jason Zucker, and Will Butcher who were all players whose path to the NHL went through the University of Denver.
The 17-year-old forward currently laces his skates for the Sioux City Musketeers of the United States Hockey League. Brink finds himself amongst the best players in the USHL, leading the entire league in scoring with 33 points through 19 games. His 15 goals are enough to place him second in that category while his 18 assists are enough for fourth-best. Brink's stellar play lately is a crucial reason the Musketeers find themselves in second place of the Western Conference, only behind the Tri-City Storm.
"Bobby has a tremendous work ethic and it carries over to the ice for us. He's a competitive kid who has been a difference maker for us every night", said Musketeers Assistant GM Andy Johnson.
Not only is Brink contributing a plethora of goals and assists, but he is also producing points on a consistent basis. From time to time, streaky scorers come along that put up high numbers. These players usually record multiple points in one game, and then they can be virtually nonexistent in others. This lack of consistency diminishes their value because these players are not reliable every contest. Streaky point production and offense is not a characteristic associated with the young forward. Every game he finds a way to make the stat sheet, frequently producing multi-point efforts. Brink has recorded more than one point in eight of his last ten contests, posting multiple points in 12 games total this season. His season-high is three points in a game, which he has accomplished on three separate occasions.
Though it's a significant aspect to his game, scoring is not the only weapon in Brink's arsenal. In his 2019 NHL Mock Draft 1.0, Steve Kournianos of The Draft Analyst identifies Brink as "an electrifying talent with a high IQ." He goes on to complement his playmaking ability stating "the Minnesota native makes plays look easy regardless of the degree of difficulty." According to Kournianos, allowing Brink to get close to the net is a huge mistake. "Brink's hands from in close are sick, and he can roof shots from the lip of the goal mouth on either forehand or backhand." Today's NHL is all about speed and explosiveness, both of which Brink possesses. He's equipped with amazing offensive abilities that could pave the way to a successful professional hockey career. Kournianos explains, "there's simply no way to prepare for him as he darts towards the net, and his small stature doesn't prevent him from taking the puck to the cage with authority."
Bobby Brink isn't afraid to take the puck to the net.
Regarding where Brink will go in the upcoming entry draft, projections are all over the place. Kournianos, for example, has him going 46th overall to the Carolina Hurricanes in the second round. On the other hand, HockeyProspect.com ranked him as the 26th-best prospect while Future Considerations has him all the way down at 75. The sporadicity regarding Brink's draft value demonstrates that the verdict is still out on where he belongs.
"His hockey sense sets him apart at this level – he's three plays ahead of everyone else. Combined with high-end skill you've got yourself a player who's contending for the league scoring title", Andy Johnson told EP Rinkside.
Regardless of where the future University of Denver Pioneer currently sits on any draft board or ranking, one thing is more than certain. If he continues to produce at the same level he now is for the rest of the season; he will keep moving up. I project Brink will find himself drafted in the later part of the first round, close to the 26 and 31 range. Dynamic offensive ability and speed are both hot commodities these days and Brink will be a prospect too good to pass on as round one reaches its final few picks. Additionally, the USHL to NCAA route for prospects has caught the interest of many general managers. Products of the USHL accounted for 33 picks in last year's draft.
With over seven months until the 2019 NHL Entry Draft, prospects will continue to make improvements to their overall game with the hopes of entering the first round conversation. Bobby Brink is indeed a player to keep a close eye on as the year rolls along.
You may also be interested in: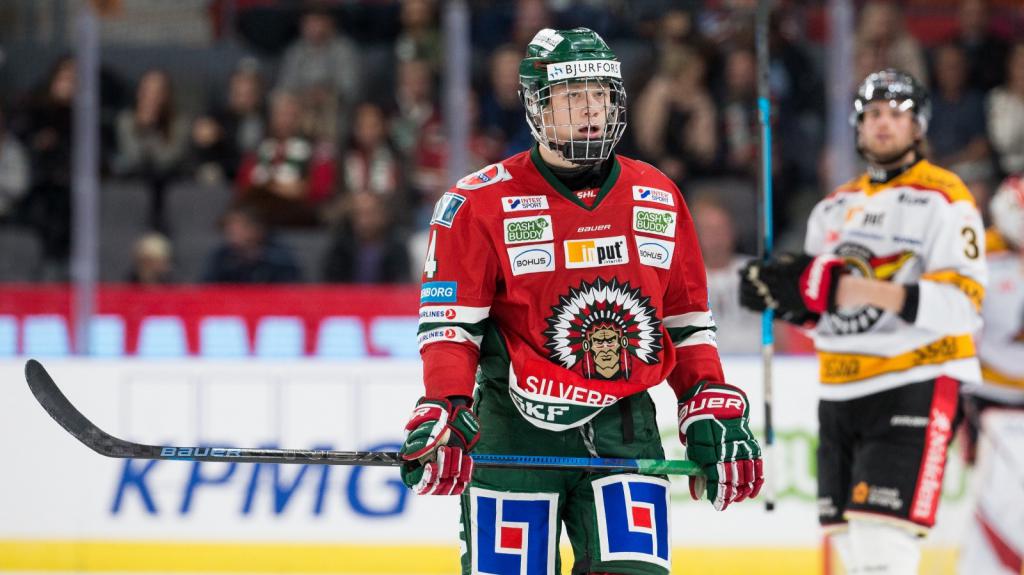 BLOG: Swedish Junior circuit loaded with 2020 talent
This article is about: