World Juniors 2019
Brace yourself – Devils prospect fights his way to WJC spot after injury
The relief was apparent. Not only did Fabian Zetterlund make it out of his comeback in the SHL unscathed, but he also scored one of the goals as Färjestad turned a 2–0 deficit into a 3–2 win on the road against Djurgården in Stockholm last Saturday.
The 19-year-old forward had hurt his ACL on October 20th in a game against the same opponent. At the time, it seemed like a big setback for both Zetterlund and the Swedish World Juniors team. As one of only a few returnees, the New Jersey Devils prospect would be a key player for the Swedes.
"When I injured myself, I didn't really have time to think about the World Juniors", he said. "But the day after, I got worried. Thankfully, I met our medical staff that same evening and they told me I could be back in six weeks."
That was just what Zetterlund needed to hear.
"Then I knew that if I did my rehab and put some extra hours into my workouts, I would be ready to go (for the World Juniors). I just decided that I was going to make it. The World Juniors added to my motivation", he said.
When Swedish head coach Tomas Montén presented his preliminary roster at a press conference in Stockholm on Wednesday, Fabian Zetterlund was the first forward he put on his board.
"I was really happy for him", Montén said. "I talked to him after the game (on Saturday) and, you know, he's an emotional guy and player, so obviously it meant a lot. At the same time, honestly, I didn't think he was going to make it back in time, but he called me and said he would. He was right."
Great work by #NHLBruins prospect Oscar Steen, goal by #NJDevils prospect Fabian Zetterlund.https://t.co/uLbjnYrDKJhttps://t.co/DnbUd4F7po#SHL #FBKse pic.twitter.com/IMZFvOa0K8

— Eliteprospects (@eliteprospects) December 1, 2018
"BUILT LIKE A BEAR"
Zetterlund managed to make his comeback thanks to a specially designed brace that keeps his knee stable.
"It's pretty big and keeps it from moving sideways. It felt good right from the get-go. I thought it was going to be uncomfortable, but it fits really well and I don't even think about it", he said.
Anders Karlsson, the assistant coach of Färjestad, gives his young pupil high marks for the work ethic he showed during his absence.
"He has made quite a remarkable journey", Karlsson said. "It wasn't that long ago he got hurt, and he should probably still be on the shelf, but he's a gritty young kid, almost built like a bear. He wanted to play earlier, but we kind of had to hold him back."
Scoring and playing a key role in his return certainly made it even sweeter. Zetterlund was both relieved and happy after Saturday's win.
"It was so much fun. The first two shifts, I was just running around everywhere, but once I got settled in it got better and better", he said. "It feels great that this game is behind me, knowing that the knee held up."
That's great news for the Swedes, as they prepare for their opening game against Finland in Victoria, B.C. on December 26th.

Tomas Montén. Photo: Bildbyrån/Simon Hastegård
*****
Tomas Montén was supposed to announce 26 players at the press conference today. He announced 25. The missing piece is Isac Lundeström, who belongs to the Anaheim Ducks but plays for the San Diego Gulls of the AHL.
Lundeström's agent Martin Nilsson was quoted in Swedish newspaper NSD saying that the Ducks had promised his client a chance to play in his second World Juniors. He probably will, but Montén had not been given the green light before announcing his preliminary roster.
"We have a dialogue with all the teams", he said. "Sometimes you get an early decision like we got from Vegas about (Erik) Brännström and sometimes you have to wait. But I totally respect Anaheim and their situation. They've had to deal with a lot of injuries and been a bit up and down."
He's optimistic about their chances of adding Ducks' first-rounder to the roster before the tournament starts.
"It's a bigger chance that they'll let him go than not letting him go. At the same time, they can't tell for sure right now and I don't want to put them in an awkward position", Montén said.
At this point, Rasmus Dahlin seems to be the only player the Swedes will be missing. Thanks to the inclusion of first-rounders like Brännström, Timothy Liljegren, Rasmus Sandin and Adam Boqvist on their defense, Buffalo Sabres' budding star won't be as missed as one would initially suspect.
*****
For the first time in many years, the Swedes head into the tournament without a clear-cut number one between the pipes. Anaheim prospect Olle Eriksson Ek is suspended for the first two games. This due to the incident that occurred after last year's gold medal game against Canada, where several Swedes put their medals away before the medal ceremony was over.
In his absence, Adam Åhman and Samuel Ersson will have to duke it out. Both have had an excellent season in Swedish Tier II league Hockeyallsvenskan. Their international stats, however, are not equally impressive.
"We'll see who gets the nod", Tomas Montén said. "All we know is that the best goalie is going to play. I hope our goalies will prove the experts wrong."
THE PRELIMINARY ROSTER
GOALIES
1. Adam Åhman, Oskarshamn
30. Samuel Ersson, Västerås (Philadelphia Flyers)
35. Olle Eriksson Ek, BIK Karlskoga (Anaheim Ducks)
DEFENSEMEN
3. Adam Boqvist, London Knights (OHL) (Chicago Blackhawks)
4. Jakob Ragnarsson, Almtuna (New York Rangers)
5. Adam Ginning, Linköping (Philadelphia Flyers)
7. Timothy Liljegren, Toronto Marlies (AHL) (Toronto Maple Leafs)
8. Rasmus Sandin, Toronto Marlies (AHL) (Toronto Maple Leafs)
9. Nils Lundkvist, Luleå (New York Rangers)
12. Erik Brännström, Chicago Wolves (AHL) (Vegas Golden Knights)
16. Filip Westerlund, Frölunda (Arizona Coyotes)
FORWARDS
10. Emil Bemström, Djurgården (Columbus Blue Jackets)
11. Samuel Fagemo, Frölunda
13. Johan Södergran, Linköping (Los Angeles Kings)
14. Hugo Leufvenius, Sarnia Sting (OHL)
15. Oskar Bäck, BIK Karlskoga (Dallas Stars)
17. Filip Svenningsson, Oskarshamn (Calgary Flames)
18. Jacob Olofsson, Timrå (Montréal Canadiens)
19. Filip Hållander, Timrå (Pittsburgh Penguins)
21. Nils Höglander, Rögle
23. Lucas Elvenes, Rögle (Vegas Golden Knights)
26. Rickard Hugg, Kitchener Rangers (OHL)
27. David Gustafsson, HV71 (Winnipeg Jets)
28. Fabian Zetterlund, Färjestad (New Jersey Devils)
29. Pontus Holmberg, Växjö (Toronto Maple Leafs)
You may also be interested in: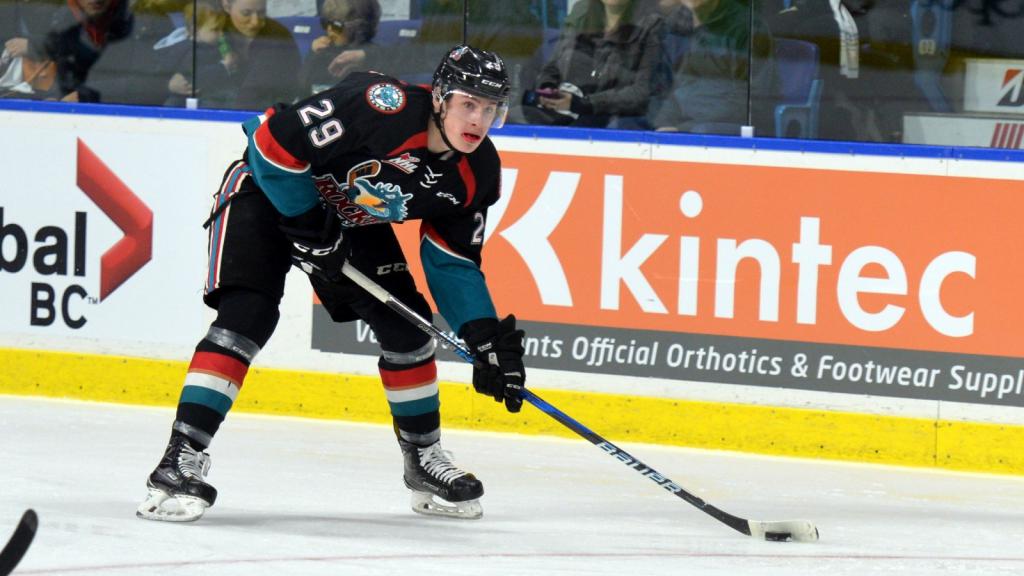 Nolan following the Footesteps of brother, father to the NHL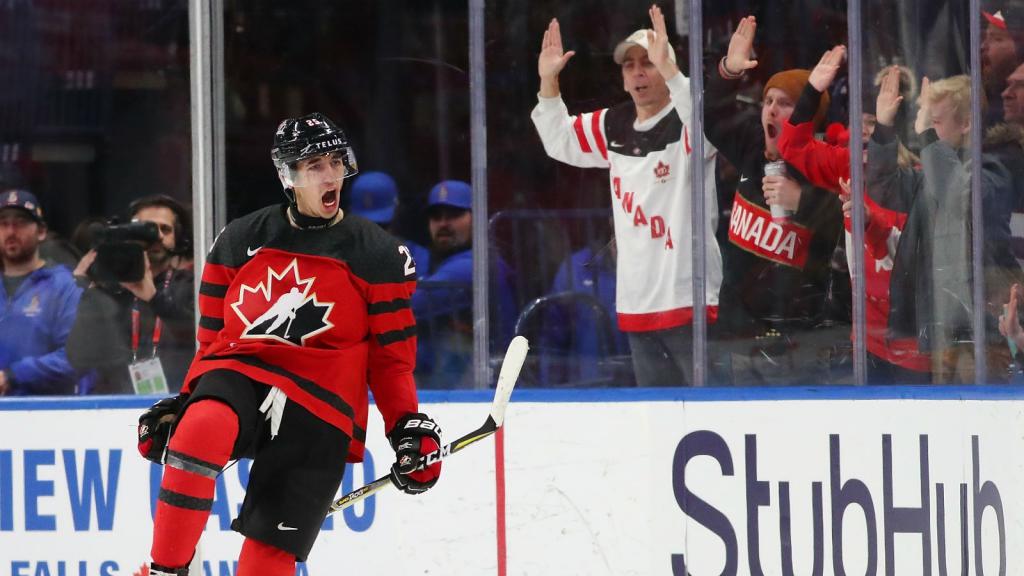 VIDEO: EP Rinkside Top 10 Goals of the Week
This article is about: