World Juniors 2018
FANTALYTICA: The best Fantasy prospects attending the 2019 U20 WJC:s
Welcome to another installment of the Fantalytica column. Every week, Fantalytica provides a granular, fantasy perspective about a group of prospects. Following last week's analysis of Team OHL, we decided to put an indefinite hold on evaluating Team QMJHL & Team Russia to evaluate the 2019 U20 WJC.
Fantalytica is a weighted fantasy league metric that creates a tangible, predicted value of an NHL prospect before they set foot on an NHL sheet of ice. The goal of this metric is to provide casual, competitive, and diehard fantasy hockey owners with a glimpse into the future of NHL players. These algorithms provide all fantasy hockey owners with additional knowledge to use when evaluating a prospect. Fantalytica combines the rules of any fantasy league to provide the most accurate predictions for all NHL prospects. Although Fantalytica provides a predictive value for a prospect, it does not represent the value a prospect may have to an official NHL organization – it provides a fantasy driven prediction that should only be used to evaluate a prospect on what they could provide from a Fantasy perspective. The system displays a value that simulates a close prediction of a player's fantasy production starting after his 200th game in the NHL (82 game season).
Metrics
Current Value: The broadest metric of Fantalytica, the Current Value metric represents a conservative prediction of a prospect, the best and simplest visualization for an owner to understand the value of a prospect to their online club.
Age Adjusted Potential Value: Providing a conservative metric for prospects wasn't enough. We needed to provide more, to really understand the ceiling of a prospect. The Age Adjusted Potential Value is a loftier prediction of a prospect's future production. This value weighs age differently, therefore creating a large discrepancy between any two prospects. This metric was created to give owners a better understanding of the potential a prospect can have, and how different all prospect can develop at different stages of their career.
Potential Multiplier:  This metric is a complimentary accessory to the two main metrics we use to determine a prospect's fantasy value. In simple terms, this metric is the different between the Age Adjusted Potential Value metric, and the Current Value metric. This provides two things: The amount of potential growth a player has, and how much the player has already grown. Players with a high Current Value and a high Potential Multiplier are predicted to have the most successful fantasy careers. Players with a low Current Value and a high Potential Multiplier are players deemed as 'projects', or rather, a player who has a lot of growing to do before his/her full potential is reached.
Rosters and Rules
This year's U20 WJC is comprised of 10 teams.
Group A: Canada, Czech Republic, Denmark, Russia, and Switzerland.
Group B: United States, Finland, Kazakhstan, Slovakia, and Sweden.
We took the 200 best players, based on our metrics, and ranked them based on their 2018-2019 statistics. We took the active rosters as of December 9th, 2018, many of which will be cut in preparation for the final roster submissions made by each presiding country shortly before the tournament begins.
We used these rules to quantify this week's metrics.
Goals (4), Assists (2), Hits (0.5), Blocks (0.5), Plus/Minus (1), SOGs (0.75), Powerplay Points (1), Short Handed Points (2), FOW (0.2), FOL (-0.1)
Without further ado, here is our proprietary list of the best players attending this year's U20 WJC based on 2018-2019 statistics.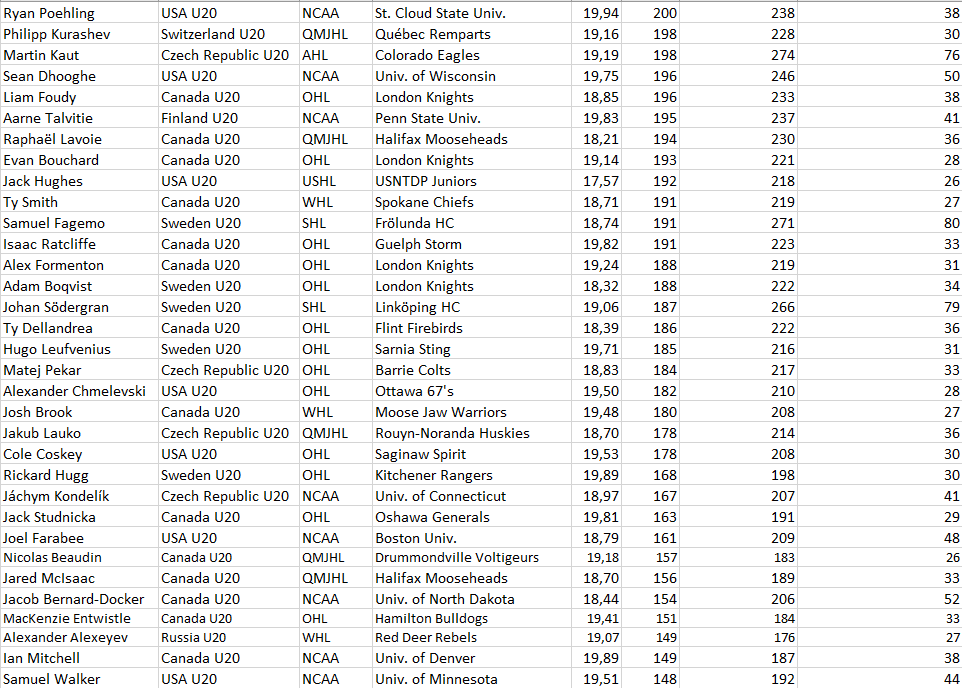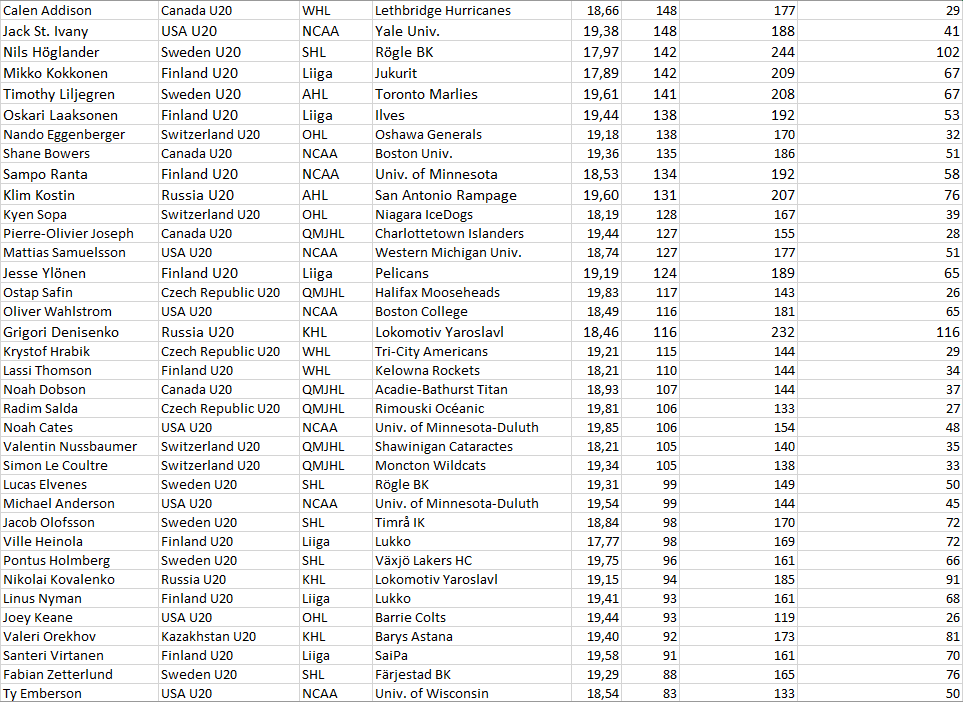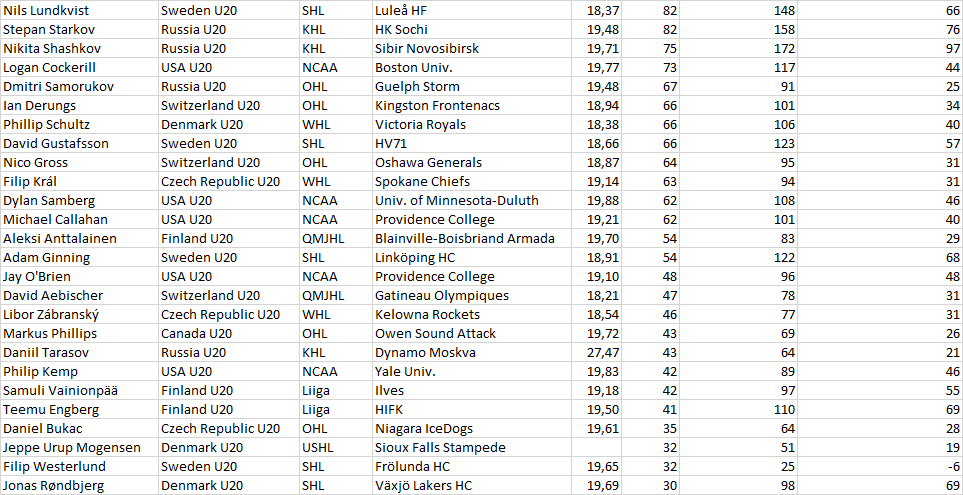 Representing Team USA this December is Evan Barratt. A 3rd round choice in 2017 by the Chicago Blackhawks, Evan has surely surpassed all expectations thus far. Holding a 1.71 points-per-game pace in the NCAA is no easy feat – he's currently 4th on an all-time totals per season list for the best points-per-game, sitting firmly behind Kyle Connor, Adam Fox, and Jack Eichel. That's some great company, huh? Entering the tournament, he currently has 29 points in 17 games for the Penn State Nittany Lions. A darker horse among dynasty formats, Evan should be picked up in every and all dynasty leagues on the internet immediately. Surely he will regress back towards the mean, but nonetheless, he has surged as a premium prospect to acquire this year. Just behind Evan is a hungry pack of Canadians: 2020 NHL Draft eligible forward Alexis Lafreniere, 2018 1st rounder Joe Veleno, undrafted Brett Leason, and 2018 5th overall Barrett Hayton. Canada has the best center depth in this tournament, and it's not close. Any 4 of these guys could hold down a top line spot against any U20 opponent, just as they do with their CHL teams.
Enough of those North American skaters, okay? Lets dig into the next group following the above mentioned Canadian centers.
Rasmus Sandin, Kaapo Kakko, Filip Chytil, Erik Brannstrom, Emil Bemstrom, and Rasmus Kupari round out some of the top European talent representing their respective countries this December. The two names who pop out from this group are Rasmus Sandin and Emil Bemstrom. Although Sandin is a 2018 1st round choice from Toronto, I was extremely surprised to see him catapult to the top of this list. I guess scoring at a .5 PPG pace as an 18 year in the AHL would do it. Oh, and he's a defenseman. With only 10 or so games under his belt among professional skaters, owner interests will be peaking during this tournament to see what he can do. Emil Bemstrom is a 2017 mid round choice from Columbus, but having an explosive breakout in the SHL is only helping him. He's leading the entire league in goals (12) among all ages and is leading in points among drafted NHL prospects. Despite a projected weak forward group for Sweden, look for Brannstrom, Sandin, and Bemstrom to lead on the ice and on the scoresheet.
To group Glass, Drury, Norris, Chekhovich, Robertson, Necas, Frost, Zadina, and Heponiemi as a supporting cast is putrid. Although they sit just beneath the top players thus far, these are some of the brightest prospects in the game today. Each of these players will bring a unique, dynamic quality to their teams and all will surely be leaned on heavily. Zadina and Necas are the only players of this group to be playing professional hockey so far, but both have made impressive strides in their development, so don't be surprised to see them produce some of the best numbers in this tournament.
Some surprising names to see towards the top are Alexander Khovanov and Sean Dhooghe. Both players are mostly unknown to the larger fanbase of the hockey world, yet both will bring skill and energy to their teams this December. Despite them being towards the upper middle of this long list, they sit next to stalwarts such as Quinn Hughes, Owen Tippet, K'Andre Miller, and 2020 top 5 hopeful Anton Lundell.
Once we get below the Current Valued players listed at 200, there seems to be little differences among the group. All players between 150 and 200 have relatively strong chances at a bright NHL career. Although some will fall short of their dreams to play in the NHL, playing for their home country in the best prospects tournament in the world surely has its glory. Many of these players will be productive for your dynasty team, despite their lack of production this year. Grigori Denisenko, Oliver Wahlstrom, and Timothy Liljegren sit lower than expected. These 3 are only a small sample size that represents a larger pool of prospects who are having a bit more difficulty adjusting to more competitive ranks. Look for these men to revitalize their image when they are tasked with a large responsibility to produce for their countries.
We hope you enjoyed this week's column, which highlighted some of the brightest prospects playing in this year's U20 WJC.
To conclude this column, I'd like to remind you all that these are educated fantasy hockey projections and must be taken with a small grain of salt. Not every player from this year's U20 WJC will be NHLers. Historically speaking, many players from past tournaments have played in the NHL, but not all will reach the 200-game threshold.
For questions about Fantalytica, please reach out to us via email or mention us on Twitter.
@Fantalytica
fantalytica@gmail.com

You may also be interested in: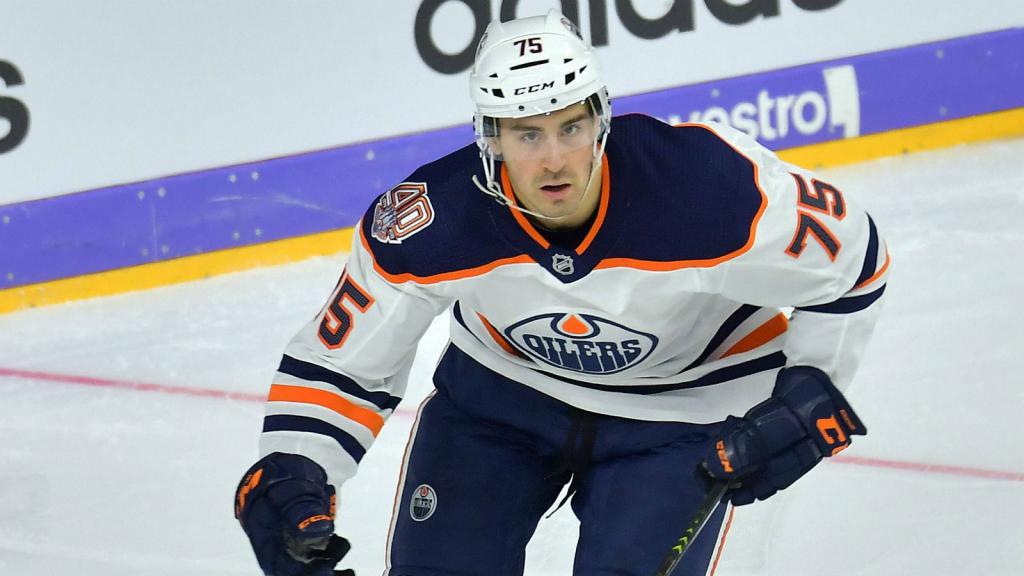 FANTALYTICA: Evaluating Team OHL from a fantasy hockey perspective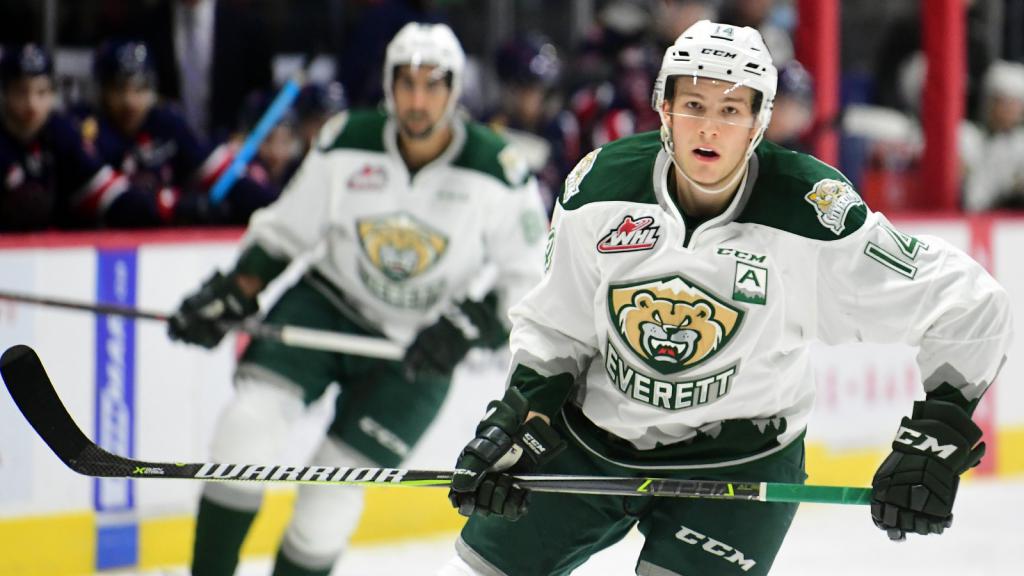 FANTALYTICA: A fantasy approach to NHL prospects
This article is about: