NHL Prospects
FANTALYTICA: The best Toronto Maple Leafs' prospects today, from a Fantasy perspective
Welcome to another installment of the Fantalytica column.
Every week, Fantalytica provides a granular, fantasy perspective about a group of prospects. Following the previous column, which honed in on the WJC, we decided to simplify our analysis and review the Toronto Maple Leafs' current prospect pipeline. Before we dig into the best prospects in the Leafs organization, I'd like to quickly review the metric definitions used for quantifying our projections.
Fantalytica is a weighted fantasy league metric that creates a tangible, predicted value of an NHL prospect before they set foot on an NHL sheet of ice. The goal of this metric is to provide casual, competitive, and diehard fantasy hockey owners with a glimpse into the future of NHL players. These algorithms provide all fantasy hockey owners with additional knowledge to use when evaluating a prospect. Fantalytica combines the rules of any fantasy league to provide the most accurate predictions for all NHL prospects. Although Fantalytica provides a predictive value for a prospect, it does not represent the value a prospect may have to an official NHL organization – it provides a fantasy driven prediction that should only be used to evaluate a prospect on what they could provide from a Fantasy perspective. The system displays a value that simulates a close prediction of a player's fantasy production starting after his 200th game in the NHL (82 game season).
Metrics
CURRENT VALUE: The broadest metric of Fantalytica, the Current Value metric represents a conservative prediction of a prospect, the best and simplest visualization for an owner to understand the value of a prospect to their online club.
DRAFT DAY VALUE: This metric is adjusted to the age when they were drafted. Essentially going back in time to replicate what their Current Value would be on the prospect's draft day.
AGE ADJUSTED POTENTIAL VALUE: Providing a conservative metric for prospects wasn't enough. We needed to provide more, to really understand the ceiling of a prospect. The Age Adjusted Potential Value is a loftier prediction of a prospect's future production. This value weighs age differently, therefore creating a large discrepancy between any two prospects. This metric was created to give owners a better understanding of the potential a prospect can have, and how different all prospect can develop at different stages of their career.
GROWTH FROM DRAFT DAY: This metric shows the difference in projected points from the day they were drafted, to the current projected points. This metric is very simple and very effective because it shows if the prospect has declined/inclined over the years.
We used these rules to quantify this week's metrics.Goals (4), Assists (2), Hits (0.5), Blocks (0.5), Plus/Minus (1), SOGs (0.75), Powerplay Points (1), Short Handed Points (2), FOW (0.2), FOL (-0.1)
Without further ado, here is our up-to-date rankings for the Leafs' prospects.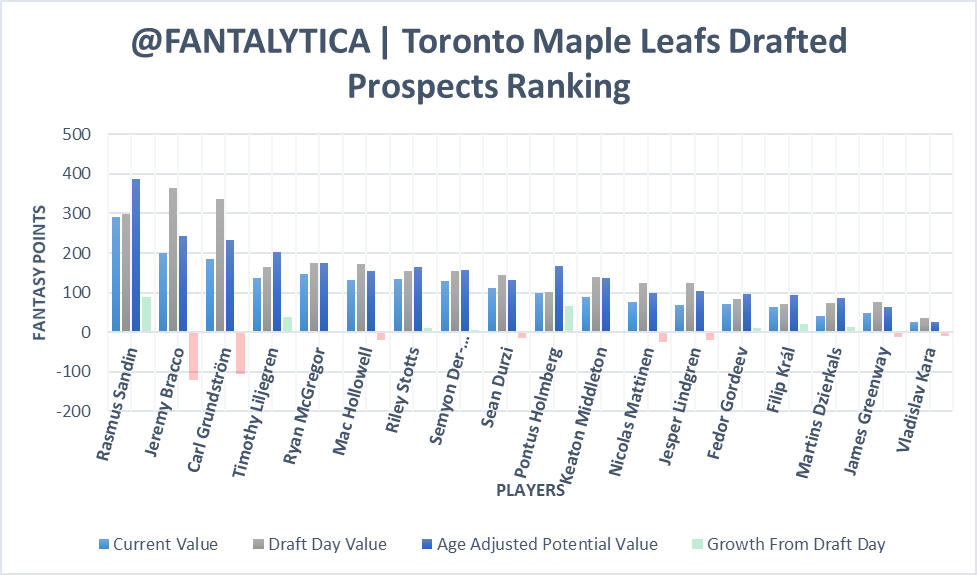 We took players from the last three years that are: not in the NHL full-time, deemed a prospect by Fantalytica, and under ownership of the Maple Leafs. The Leafs have one of the most lethal and young teams in the NHL – the same cannot be said about their AHL squad. This year the Marlies have all 4 of their best prospects remaining in the system, but have a dwindling pipeline after graduating almost all prominent assets to the big squad.
Rasmus Sandin is one of the most underrated defensive prospects in the game today. Overshadowed by Erik Brannstrom, Philip Broberg, and Timothy Liljegren can easily be done – despite being drafted at the tail end of the 1st round, Sandin has put together a very impressive D+1 year with the Marlies. Technically on loan from the SHL, Rasmus has shown an offensive prowess to his game that extends from his .88 Points-per-game pace in the OHL last year. About point-per-game in the 2019 WJC tournament, Rasmus has taken his opportunities and crushed expectations. Don't be surprised if you see him playing top 4 minutes on the Maple Leafs before Liljegren. Be bullish on him.
Just like Sandin, Jeremy Bracco was taken at the tail end of a round in the draft. 61st overall. Despite being just 21 years of age, he was taken back in 2015 – and by many fan's standards, was too long ago. Bracco has continued to improve his game at the pro level after spending his 2nd year with the Marlies in style – a .94 points-per-game pace. His trajectory has slowed down, after being a statistical darling on draft day. Bracco was fortunate enough to play with Auston Matthews, Clayton Keller, and Matthew Tkachuk during his draft year. Obviously being drafted behind all 3 has proven to be the right move. It's taken him a bit longer to creep towards an NHL job than the former 3 mentioned, but remain hopeful for Bracco's arrival. He'll get his chance – a 21 year old scoring at a point per game pace is nothing to sneeze at.
Carl Grundstrom came over after his SHL season to join the Marlies on their trek to the AHL Calder Cup. He was a key piece in winning the AHL championship.  A year younger than Bracco, Grundstrom projects to be a similarly producing forward. A great comparable is fellow Swede and organizational neighbor Andreas Johnsson. A great top 9 forward at the NHL level who can fill in as a top 6 player with skilled linemates. His draft day pace was a bit more than his current pace, but make sure you stay strong on him because like Bracco, he will be given an ample chance to show his skills in the NHL one day.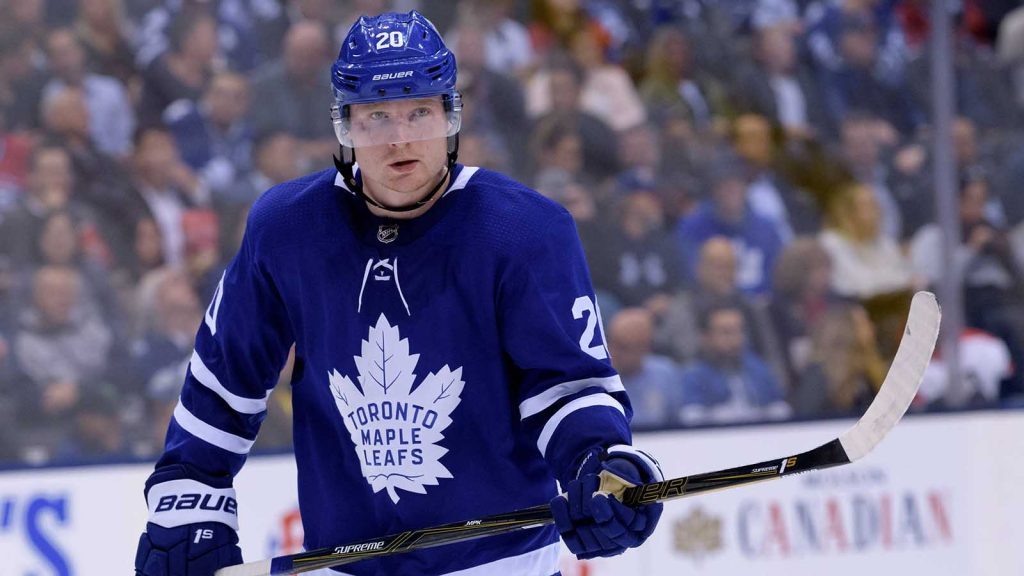 Carl Grundström. Photo: Julian Avram/Icon Sportswire
The chart may be slightly deceiving, but Timothy Liljegren is progressing at a consistent pace thus far. A guy was once projected as the 3rd best prospect from his draft year, Timothy has fallen down to earth. His injuries caught up to him and effected his rate of consistency and production. The Leafs are a world renowned organization and so far they have proven to develop prospects properly. Timmy is in great hands, and he will surely be a stalwart top 6 defender for the Leafs, or any other NHL organization, for years to come. Curb your expectations for him to become a top pairing defender – he has a high floor and lower(ing) ceiling.
After Liljegren, our rankings tail off sharply, with minimal discrepancy between the remaining 14 prospects on the board. Some notable players to keep an eye on are Pontus Holmberg, Ryan McGregor, SDA, and Sean Durzi.
Holmberg is having a great season in Sweden, he may take longer to marinade overseas before making the jump to NA, but look for him to hopefully sustain his breakout pro season.
McGregor is having a breakout year with the Sting. It also helps to be given a large confidence boost after being awarded the Captaincy, after 2 years of being an Alternate. Over a point per game pace in the OHL, McGregor is skilled enough to crack the top 9 one day, a similar style and usage as Connor Brown, watch for McGregor to get signed soon.
Semyon Der-Arguchintsev, otherwise known as SDA, was the youngest player drafted in the 2018 NHL draft. I'm sure you all know that though, its usually the first thing people point out to. Rather than using his age as an excuse for lack of production, use it as a strength. He's basically a 2019 draftee, and is producing like many projected 1st and 2nd rounders today. He's worth a flyer in almost any dynasty format.
Sean Durzi was taken by Dubas in the 2nd round as an over-ager. I'm not sure how he was missed in his first draft year either. Nevertheless, Dubas saw potential in Sean which is why he snagged him earlier than projected. Durzi plays an aggressive, up in your face, offensive style that surely works in the OHL. Let's hope it translates to pro hockey!
To conclude this column, I'd like to remind you all that these are educated fantasy hockey projections and must be taken with a small grain of salt. Not every player in the Leafs organization will play in the NHL.
For questions about Fantalytica, please reach out to us via email (Fantalytica@gmail.com) or mention us on Twitter (@Fantalytica. Our site is still under construction, but a demo site is currently up (Fantalytica.com).
You may also be interested in: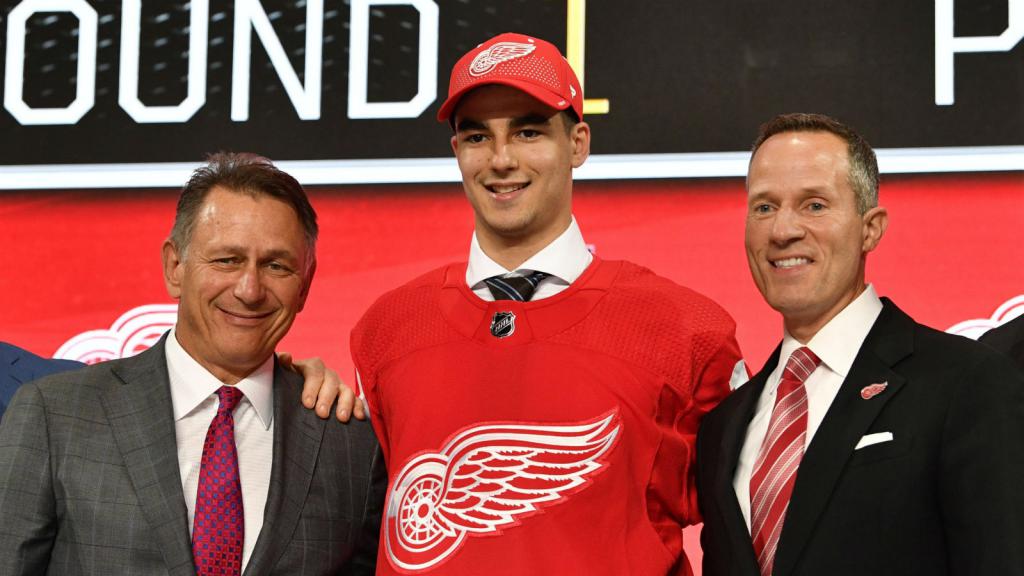 FANTALYTICA: The best Fantasy prospects attending the 2019 U20 WJC:s
This article is about: