World Juniors 2019
WJC REVIEW: Special teams and lack of offense behind Canada's disappointing exit
O Canada…….after winning Gold last year, and hosting the World Juniors in Vancouver and Victoria this year, the Canadians were considered favorites coming in to the 2019 World Junior Championships.  It didn't end well.
BY KEVIN OLEXSON, MCKEEN'S HOCKEY
The Canadian team was built with an abundance of talent and skill with all but two players on the team drafted and property of NHL teams. The injury bug hit early with Alex Formenton (Knee), Gabriel Vilardi (back), both out for the tournament before Canada had even completed their selection camps. Jaret Anderson Dolan played, but was hampered with a wrist injury, and Maxime Comtois, the only returnee from last year's team, playing hard and leading this team with a separated shoulder. They were hoping to add forward Robert Thomas of the St. Louis Blues, who was part of last year's gold medal team as well, and would be considered Canada's best player and expected leader going in to the tournament, but the Blues would not release him from their NHL roster. Tim Hunter (Moose Jaw) took over behind the bench after serving as an assistant coach last year and was joined by Marc Andre Dumont (Cape Breton), Jim Hulton (Charlottetown), and Brett Kisio (Lethbridge). Hunter wanted a fast team that would be aggressive and play an exciting up-tempo style of hockey.

Team Canada opened round robin play with a bang, and a record setting 14-0 romp of Denmark, The offensive onslaught seemed to have almost everyone involved, as Alexis Lafreniere and Noah Dobson were the only players who failed to get on the scoresheet. Led by four goals from captain Maxime Comtois, a three-goal five-point performance from Morgan Frost, four-point games by Cody Glass and Brett Leason, three assists each from Evan Bouchard, Owen Tippett, Jack Studnicka, Barrett Hayton, Ian Mitchell, and Markus Phillips all contributing with multiple points, and then nine other players notching the scoresheet with single points including goaltender Michael DiPietro. DiPietro posted the shutout, stopping all 14 shots that he faced with ease from the Danes, as none of them were all that difficult or dangerous. Things could not have started any better for the host team as they seemed dominant and poised to defend their gold medal. 
Their second game of the tournament put the Canadians up against the Swiss, who were a much improved and gritty bunch coming into this year's tournament. Canada managed to hang on to a 3-2 victory over Switzerland, which was a much different game from their first one.  Canada's Cody Glass opened the scoring 36 seconds into the game as he ripped one by Swiss goaltender Akira Schmid on a slick pass from Nick Suzuki. The Swiss tied it up on the power play when Philipp Kurashev slid into the slot and beat Canadian goalie Ian Scott with a big one timer on a nice pass from the Swiss Captain Nicolas Muller.  Almost five minutes later Canada reclaimed the lead when MacKenzie Entwistle beat Schmid from point blank range on a feed from Shane Bowers.
 Canada would stretch the lead to two goals when Noah Dobson broke down the right side and fought off Swiss defender Janis Moser cutting to the net and tucking the puck past Schmid. The Canadians failed to put the game away in the third when they were unable to capitalize on three consecutive power plays. Consequently, Switzerland fought back with Kurashev's second goal of the game when Nick Suzuki was sent off for tripping, and an extra attacker out for the Swiss with the net empty. With both teams trading minor penalties late in the game, the Canadians were able to withstand the Swiss barrage at the end of the game to hold on for the 3-2 victory.
Canada kept their record intact as they beat the Czech Republic 5-1 and have had their way with the Czechs winning 10 of the last 11. Maxime Comtois opened the scoring when he took a blindside pass from Owen Tippett as he was rounding the net and banked the puck in off the back of Czech forward Martin Kaut. Ondre Machala tied the game up after beating goaltender Michael Dipietro on a 2-on-1 taking a great pass from Jan Jenik. With the score tied at one, Czech forward Martin Kaut took a boarding penalty when he pushed Canadian defenceman Evan Bouchard into the boards from behind sending Canada to the powerplay. Brett Leason tipped the point shot by Ty Smith by Czech goaltender Jiri Patera to help Canada regain the lead.  17-year-old Alexis Lafreniere scored as he took a short pass from Jack Studnicka and rifled a hard one timer past Patera. Joe Veleno made a nice pass back to MacKenzie Entwistle, who was the trailer on a 3 on 2, and snapped a quick shot short side to go up 4-1. To cap things off in the 3rd, Czech Captain Martin Necas took a checking from behind penalty as he pasted Canadian defensemen Bouchard into the boards. Canada made quick work of that on the power play as Morgan Frost buried his 4th goal of the tournament on a sweet cross ice pass from Nick Suzuki to make things 5-1. Canada never looked back as they played a strong game, and DiPietro closed the door stopping 23 of the 24 shots that he faced for the win.
Team Canada closed out round robin play on New Year's Eve with a battle for top spot against Team Russia, who has been dominant in their outings up until that point. This was Canada's toughest test so far in the tournament, as they walked through Denmark and the Czechs. Canada played short a defenseman as Jared McIsaac sat out with a one-game suspension for a hit to the head during the Czech game. Canada opened the scoring early as Cody Glass poke- checked the puck loose in front of the Russian net where Owen Tippett was able to slide it back quickly to Glass who beat Russian Goaltender Pyotr Kochetkov.. Russia tied the game up on the power play with Morgan Frost off for a checking from behind penalty, as Grigori Denisenko took a beautiful cross ice pass from Vitali Kravtsov on his off wing and lifted it up top corner past Dipietro to tie the game. 
After a fairly even first period, the Canadian squad came out and dominated the Russians in the second period, playing their best period of the tournament, outshooting Russia 13-4, but Kochetkov played great and really kept the Russians in with many magnificent saves. Russia managed to get back to their game in the third, and a great effort by Pavel Shen who he took a pass in his own end from Alexander Romanov and took it all the way up the right side of the ice powering his way by the Canadian defense, cutting his way to the net and tucking it past Dipietro to give the Russians the lead. DiPietro played well to keep Canada in this game, including stopping two breakaways late in the game to give them a chance. Canada pressed to the end, but Kochetkov shut the door on the Canadians helping his squad earn top spot in the pool.
With Canada losing to Russia, it set them second in the pool earning them a quarterfinal date with Finland, who had finished 3rd in their pool, instead of playing Slovakia, as a victory against Russia would have secured. It was a very tight close game. Finland came out with a strong performance from the start and looked really good against the Canadians. After a scoreless first period, Canada struck first as Barrett Hayton carried the puck in and lost it making a move through the slot. The puck found its way to a pinching Ian Mitchell who slid in and beat Finnish goaltender Ukko-Pekka Luukkonen high top shelf to put the host nation on top. This game seemed to be a battle of goalies, as both goaltenders played extremely well. Luukkonen was stellar in this game (and the tournament as a whole) and was the largest factor in the Finnish win.  
DiPietro also played exceptionally well for Canada, and bailed them out time and time again, as they seemed to have set into defense mode and tried to preserve the one goal lead as Finland keep on coming on strong. Things went well until the last minute of the third period, when with 46 seconds left and the Finnish goal empty, Eeli Tolvanen carried the puck in and around the Canadian net when he banked the puck off the net, and then threw it in front when it came back to him, and he bankied it off Aleksi Heponiemi's leg, after which it redirected up DiPietro's stick and over his shoulder to tie the game.
Both teams had opportunities in overtime, but Canada seemed to have had the better opportunities, none better than when defensemen Evan Bouchard poke checked Finnish Captain Tolvanen at the Canadian blue line, breaking away on his own on Luukkonen before Tolvanen slashed Bouchard's stick out of his hands causing the referee to put up his hands indicating a penalty shot. Hunter chose Captain Maxime Comtois to take the shot. Comtois broke in, Luukkonen flashed the five hole and Comtois tried to slide the puck through but the Finnish net minder closed his legs quickly, making a great save and stoning the captain. Canada continued to press in overtime when Cody Glass broke down the right side and threaded a perfect cross ice pass to a streaking Noah Dobson who leaned in for a one timer on an empty net, only to have his stick shatter, allowing Aleksi Heponiemi to move up ice quickly to Aarne Talvitie who broke in and dropped a pass to Toni Utunen who followed up the play and let a shot go that deflected off of the stick of Cody Glass beating DiPietro to end Canada's medal hopes.     
After the overtime goal was scored by Finland, it was like the life was sucked out of Rogers arena, as the crowd and host nation were in shock.
To call this disappointing would probably be an understatement, and surely the Hockey Canada brass was not pleased with the results. You can rest assured that they are already working on changing things for next year's tournament. Maybe it was the unlucky 13, as It was the 13th time that Canada has hosted the event, and first time that they have failed to come away with a medal. It was also the second time in 21 years that they have failed to get a medal. With a team that was loaded with speed, talent and skill, there is no reason why this team could not have earned a medal on home ice. It just goes to show, no matter how good or stacked that a team may be, the games are still won on the ice, and anything can happen.  
This team looked so good to start, as they destroyed Denmark, squeaked by the Swiss, and then handily defeated the Czechs. When the competition got better, things got much more difficult for them. They did manage to open the scoring in each and every game, and they just got caught playing on their heels as Russia and Finland were resilient, and they couldn't switch gears. After scoring 14 goals in their first game, and a total of 22 goals in the first three, they managed only two goals in their final two games. Maxime Comtois led the team in goals with five, and Morgan Frost led the team in points with eight. The top line of Cody Glass, Owen Tippett and Comtois dominated early. Some of the stats are a bit inflated from the Denmark game, and they seemed to fizzle at the end. Mind you they did play two of the best teams in Russia and Finland, and two goaltenders who played great in Kochetkov with a save percentage of 95.3% and goals against of 1.45, and Luukkonen with a save percentage of 93.2% and goals against of 1.80. Michael DiPietro also played great in net for Canada as he put up a save percentage of 95.2% and a goals against of 1.23. His team just didn't score enough goals for to help him out.  
Special teams are another category that was not one of their strengths, and in this short tournament, if your special teams can't capitalize, you won't go very far. Canada's power play was the second worst in the tournament, second only to Denmark, as they went 3 for 18 for a 16% success rate. Coach Tim Hunter was reluctant to change things up, and stuck with his unit, even though it couldn't deliver. The penalty kill, was also ranked in the lower tier of the tournament, as it performed at an 80% clip, slightly ahead of Sweden, Slovakia and Denmark. It is a good thing that they were the second least penalized team, with Morgan Frost leading the team with 12 minutes. They struggled on faceoffs and puck possession, as Cody Glass led the team in faceoffs winning 66% of them. The next best were Comtois at 56%, and Jaret Anderson-Dolan at 54%. There are some really good puck possession teams here, and since they lost most of the draws, they were chasing the puck, or allowing teams to come in on them.
Speed was another inconsistent trait of the team. Hunter wanted a fast team, and this team has lots of speed, they just seemed to get stuck on cruise control, showing glimpses here and there, but just not consistently as they were not getting to pucks first or controlling the flow. I am not sure if it was just the style of play that this team wanted, but they never really looked comfortable or confident out there in the latter part of the tournament.
Perhaps it was the pressure of an inexperienced group playing in front of home crowd, or maybe they thought it would be easy after the 14-0 thumping in the Denmark game to start the tournament, or maybe they were just the recipients of some bad bounces that didn't go their way. Either way, this was a very disappointing result for Canada.
Some positive take-aways from this year's tournament: Brett Leason played well in his first world junior with three goals and five points. He showed off his good speed, his ability to go to the net and create scoring chances, as well as his nice set of hands. As one of only two undrafted players on this team, with 29 goals and 68 points in 35 WHL games, he will surely find a taker at this year's draft, possibly very early.
The other being 17-year-old phenom Alexis Lafreniere, who got to see action in his first tournament, playing against such high end competition, and he even scored a goal. Although he played a minor role this year, the projected first overall pick in the 2020 draft will certainly be back next year, and possibly the year after, so this team will very much be his, and it will be his turn to shine. He has good speed, size and strength, and his offensive skills are top notch. Scoring 19 goals and 60 points in 36 games for Rimouski, this was a great learning curve and experience for him. With the rest of the players on this team already drafted, most will move on next year.
Canada's defense and goaltending played fairly well throughout the tournament. Evan Bouchard has a strong showing, with the Oilers prospect displaying a good transition game, and was very big part of Team Canada. His strength, speed and mobility almost single handedly sent Canada to the semi-finals as he drew the penalty shot in overtime against Finland. Smooth skating defender Ty Smith played a strong transition game and really helped move the puck up ice. Both Ian Mitchell, and Markus Phillips played very well for Canada, and never looked out of place. Mitchell is smaller defender, a smart player who skates well with good offensive instincts and an impressive shot. Phillips is also a good skater who likes to join the rush and get involved with the play. As mentioned above, DiPietro was the best player for Canada, and also posted the best tournament stats for goaltenders. Playing in his future team's home rink, helped lay a foundation for the youngster as the crowd adored him. 
Canadian hockey fans will dissect this in and out, what could have been, what should have been, what went wrong here or there. But one thing is for sure, Hockey Canada will work hard to bring another strong team to next year's IIHF World Junior Hockey Championships in Ostrava and Trinec of the Czech Republic, as they make another run for gold.

You may also be interested in: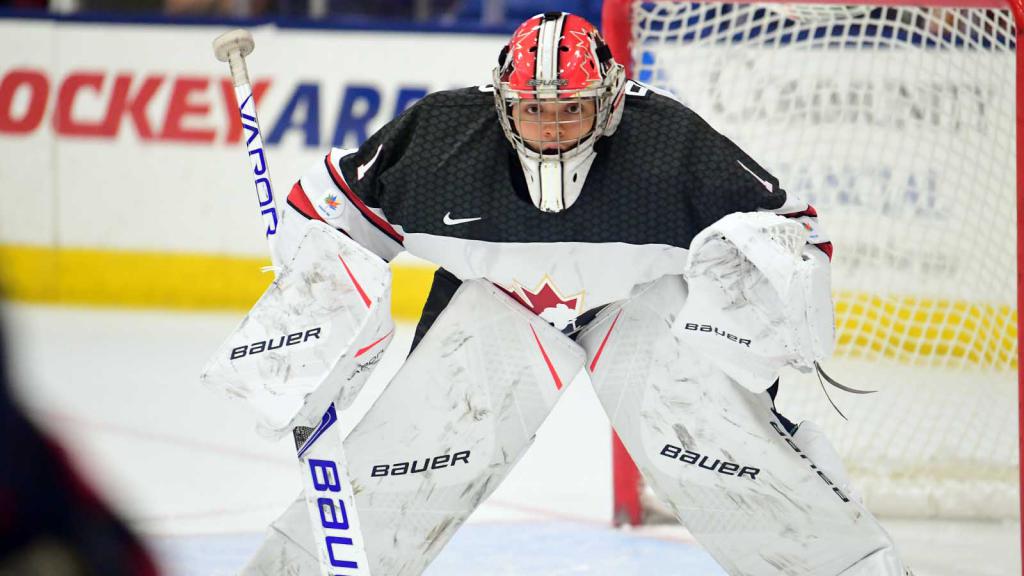 VICKERS: DiPietro carries Canada's hopes on shoulders
This article is about: