Rankings
FANTALYTICA: Evan Barratt – A Mid To Late Round Gem
Welcome to another installment of the Fantalytica column. Every week, Fantalytica provides a granular, fantasy perspective about a group of prospects. Before we dig into Evan's game, I'd like to quickly review the metric definitions used for quantifying our projections.
Fantalytica is a weighted fantasy league metric that creates a tangible, predicted value of an NHL prospect before they set foot on an NHL sheet of ice. The goal of this metric is to provide casual, competitive, and diehard fantasy hockey owners with a glimpse into the future of NHL players. These algorithms provide all fantasy hockey owners with additional knowledge to use when evaluating a prospect. Fantalytica combines the rules of any fantasy league to provide the most accurate predictions for all NHL prospects. Although Fantalytica provides a predictive value for a prospect, it does not represent the value a prospect may have to an official NHL organization – it provides a fantasy driven prediction that should only be used to evaluate a prospect on what they could provide from a Fantasy perspective. The system displays a value that simulates a close prediction of a player's fantasy production starting after his 200th game in the NHL (82 game season).
Metrics
CURRENT VALUE: The broadest metric of Fantalytica, the Current Value metric represents a conservative prediction of a prospect, the best and simplest visualization for an owner to understand the value of a prospect to their online club.
DRAFT DAY VALUE: This metric is adjusted to the age when they were drafted. Essentially going back in time to replicate what their Current Value would be on the prospect's draft day.
AGE ADJUSTED POTENTIAL VALUE: Providing a conservative metric for prospects wasn't enough. We needed to provide more, to really understand the ceiling of a prospect. The Age Adjusted Potential Value is a loftier prediction of a prospect's future production. This value weighs age differently, therefore creating a large discrepancy between any two prospects. This metric was created to give owners a better understanding of the potential a prospect can have, and how different all prospect can develop at different stages of their career.
GROWTH FROM DRAFT DAY: This metric shows the difference in projected points from the day they were drafted, to the current projected points. This metric is very simple and very effective because it shows if the prospect has declined/inclined over the years.
We used these rules to quantify this week's metrics.
Goals (4), Assists (2), Hits (0.5), Blocks (0.5), Plus/Minus (1), SOGs (0.75), Powerplay Points (1), Short Handed Points (2), FOW (0.2), FOL (-0.1)
*****
The NCAA has slowly become a place for talented young hockey players to groom their game on their way to the pros. Attending an American University to play hockey does not mean you are destined to be a professional athlete one day, however the skill level among collegiate level hockey has risen in recent years. In search for your next prospect to plug into your dynasty fantasy team, I encourage you to browse through the NCAA prospects available.
Chicago Blackhawks prospect Evan Barratt is currently a member of the Penn State Nittany Lions, a team slated among the Big Ten. After a solid freshman season, the second year Nittany Lion is on pace to triple his totals from last year. Now this does not mean he is going to jump into the NHL and be a point per game player, although it does show you that he can produce among older stronger competition.
Barratt, a two way player with elite vision to make plays with the best of them, possesses hockey IQ that makes him appear to be playing the game effortlessly. Along with vision, the Bristol native can make passes that leave his teammates with wide open cages to bury pucks in. An OHL draft pick (Flint Firebirds), he decided to play NCAA hockey to progress his game. I would say it has worked rather well for the young forward.
Now all this means nothing without him producing in the NHL. The Chicago Blackhawks prospect will be more than ready to deal with the pace and style of the NHL game when he reaches the league. Producing will come naturally as it seems to have done so his whole career. That can be contributed to his high hockey IQ and his hockey sense in general. Being in the right spots at the right time ready to make plays, Evan is usually producing at a lofty 1.5 PPG clip. Let's reveal what we think Evan will produce (starting after his 200th game in the NHL).
Figure 1: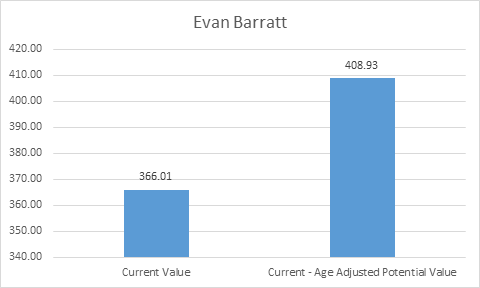 Current Value:
Evan Barratt tops all NCAA players with his current value as he plays today. Producing at over a point per game average will make that easy to see for most people when looking at his stats. To make a comparison, current Michigan Wolverines defenseman and Vancouver Canucks draft pick Quinn Hughes is six players back from Evan Barrett in current value. If you know Quinn Hughes's value then you can visualize the production the Chicago prospect Evan is sustaining.
Age Adjusted Value:
If we look to the future stats such us Age Adjusted Value, Evan Barratt continues to pull away from his fellow competitors. With other '99 born players he out values them by nearly 100 points. Hard to put into actual points, yes, but you can again get a feel for how his value has risen quicker than others. The elite vision he possess will allow him to be a playmaker on any line he ends up on in the NHL. Consistently producing points each week for your team is what he will do. He has the hands to finish off plays around the net and has the mentality of driving the net.
You sit there saying, where would Evan slot into my draft board or roster? He is not a highly drafted player. As a third rounder in the NHL entry draft, he will likely be a great find in the middle to late rounds. Picking him up ensures you a solid young, energetic, talented hockey player that will make other players around him better. At six feet tall he is elusive enough to out maneuver almost any defenseman along the boards. He has a quick shot that can beat any level goaltender on any given night. So what is their not to like about his game? Well that is a hard question to answer at this point. His skating is possibly the only area of improvement, not suggesting he is not a great skater because he is. Agility-wise he is up with the best of his class, but his top end speed does not rank with the fastest out there, however he utilizes his agility and vision to set himself up in the offensive zone.
In wrapping all this up I will finish with this. Evan Barratt will help you in every column a skater can register a point. Goals, hits, shots and all point categories in between, Evan will consistently provide you with points every week. You can rely on his presence when he begins his career as pro, a reliable two way forward that wants to be in the game. His defensive game is better than many at his age. Barratt will clog up shooting lanes with his body on any shift, providing you with blocked shots. He likes to get physical so he will mix it up along the boards.
If he is available grab him while he is, because he is not going to last long. Once people catch wind after paying attention to their top prospects, Evan Barratt will be a hot commodity among all fantasy leagues. A coachable player, Evan does not require constant reminding of his assignments on the ice. This is a guy you don't want to pass up.
We hope you enjoyed this week's column, which highlighted one of the brightest dark horse prospects in the game today.
To conclude this column, I'd like to remind you all that Fantalytica provides educated fantasy hockey projections and must be taken with a small grain of salt.
For questions about Fantalytica, please reach out to us via email (Fantalytica@gmail.com) or mention us on Twitter (@Fantalytica). Our site is still under construction, but a demo site is currently up (Fantalytica.com).
Kyle Outridge,
Fantalytica Beat Writer
You may also be interested in: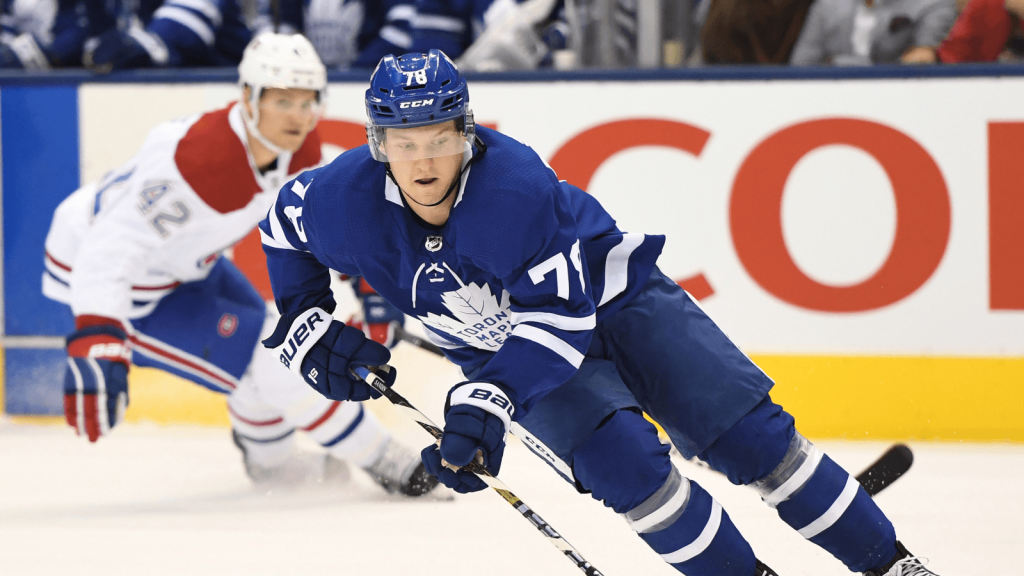 FANTALYTICA: The best Toronto Maple Leafs' prospects today, from a Fantasy perspective
This article is about: