Scouting Reports
VICKERS: Pelletier out to prove size doesn't matter
Jakob Pelletier has heard the question before.
He's answered it, every time.
It hasn't yet begun to wear on him, either.
Pelletier, listed at a slight 5-foot-9 and 157 pounds, hasn't tired of the inquiry.
"Not that much," said Pelletier, a star with the Moncton Wildcats of the Quebec Major Junior Hockey League and, potentially, a first round pick in the 2019 NHL Draft.
"I think it's the one thing that people notice about me is my size. It's always going to be that way. I think it just boosts me. Every game you can show no matter the size you are, you can dominate this game and play well.
"I think the game is changing a lot. To see guys, some short guys or little guys, play well in the NHL, that reminds me that no matter how big or how tall you are, you can always make it to the next level."
Truth be told, size hasn't slowed Pelletier.
If anything, it's motivated him.
"He's not a kid that's going to play on the perimeter," said Moncton interim head coach Josh Hepditch.
"He gets to the net and scores the greasy goals. He's a very skilled player, but he's not looking to beat guys one-on-one and through their legs and under their stick. He'll drive. He'll get to the net. If he doesn't have the puck he'll get to the net.
"When you have great skill and that attitude, you're going to put up points and be a good player."
It's what Pelletier has done through the opening three-plus months of the season.
In fact, the 17-year-old finds himself among the top producers in the QMJHL with 60 points (25 goals, 35 assists).
The undersized forward has come up big as a sophomore.
"I think a big thing for him is his determination, to be honest," Hepditch said. "He's a very, very determined kid. He plays hard on both sides of the puck. He's got one of the best motors that I've seen in a kid for 17. He's non-stop. He non-stop hounds the puck on the forecheck or the backcheck, whatever it is."
It's not the only thing Pelletier has going for him.
"When he has the puck, his hockey IQ is great, it's off the charts," Hepditch added. "He can score when he's got time. He can make a play when he's under pressure. He's a smart player who works on both sides of the puck. He's non-stop 60 minutes.
"That's a big part of his success this year."
The scouting report is simple, yet impressive.
"He competes hard," Pelletier self-described.
"He's a playmaker.
"He can finish.
"He's dangerous around the net and he plays a 200-foot game, too."
Quite the package packed into the No. 3 pick in the 2017 QMJHL Entry Draft.
Not that it's slowed others with the frame of late.
"I think the game is changing regards to size," Hepditch said. "He's great with the puck. He's very good in tight. He's very good in small spaces. He can get away from players quick.
"One thing for him that has come a long way is his shot and he knows that and he's worked hard at it. Last year as a 16-year-old, his shot wasn't one of his strengths, and to be a goal-scorer you have to be able to shoot. He just wasn't a threat outside the dots. It's come a long, long way. Now he's a threat outside of the dots. That's really starting to come for him.
"I think that's something where he's as much a scorer as he is a playmaker, now."
Twenty-five goals this season can attest — a new personal best.
Sixty points are just two from a fresh mark, too.
The numbers bode well for a player just five months from draft day.
Certainly, it'll be a big one for Pelletier.
"I don't think I try to think about that too much," he said. "The draft, I can't control that. I try to control the present with my performance. Just to see the interest of some teams, it's pretty fun. We all dream about that since we were kids.
"To know that I'll be there, I think it's a good feeling.
"I think I'm going to be pretty nervous though, but I don't know how bad it's going to be."
You may also be interested in: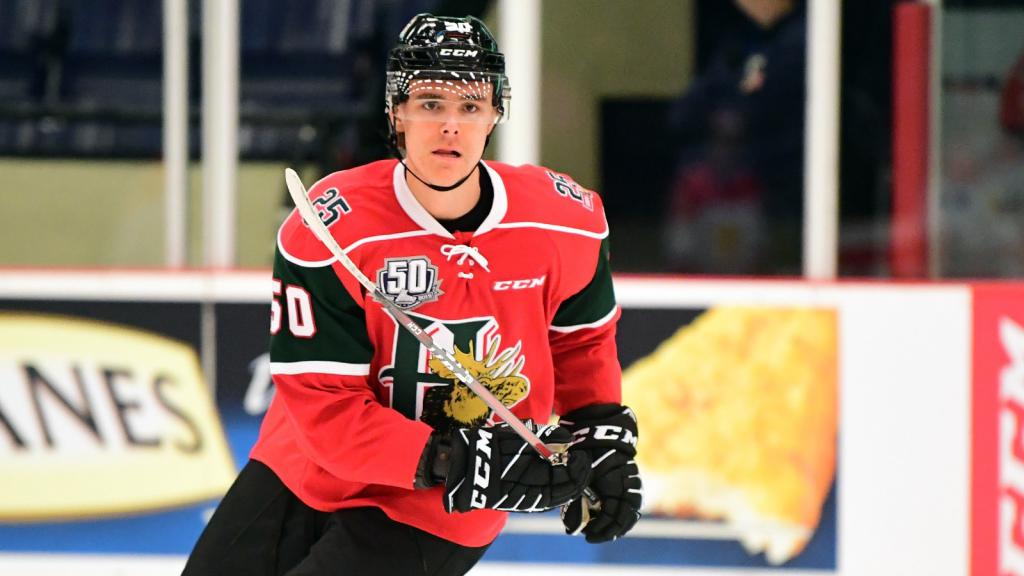 TOP 10 – QMJHL: Lavoie leads strong batch of prospects
This article is about: