World Juniors 2019
Back to school: WJC experience kickstart for Noah Cates
Sometimes, you need a little jolt in order to get back on track.
For Minnesota-Duluth freshman forward Noah Cates, it was a change of scenery that helped rewrite the narrative on his season.
Cates started off great in the collegiate ranks, recording a point in six of his first eight games with the Bulldogs. But his performance, at least on the score sheet, stalled. He didn't have a point in the next seven games, finally getting a goal against Western Michigan on Dec. 8, right before departing for Vancouver to represent the United States in the World Junior Championship.
Once there, he kickstarted his game, scoring a goal and two assists in seven games with the American side. That experience, and the improved play that came with it, carried over into his time back with Duluth.
So far, he has three points in four games as of the Bulldogs' sweep of Miami on Jan. 18-19th, bringing his season total to 6-4-10.
"It's been a whirlwind, especially the past month," Cates said. "But it's been a good adjustment coming back to college. I gained a lot of confidence on that stage with the World Junior team. That was really good coming back after such a good experience."
The native of Stillwater, Minn., accomplished a lot in the past few years. In 2016-17, he scored 65 points in 25 games for Stillwater High School, before spending a year with the Omaha Lancers of the USHL, tallying 55 points in 60 games.
He didn't make the U.S. World Junior A Challenge team, like many of his eventual World Junior Championship teammates. But that turned out to be more of a bump in the road in his young, but accomplished hockey career so far.
"I feel like it shows a lot about my development, getting closer and closer to finally make it," Cates said. "To be a part of that team at the World Junior level was also special personally. With that group, it was so special. To represent your country, it's something I'll never forget."
Cates, selected by the Philadelphia Flyers in the fifth round of the 2018 NHL Draft, has a lot going for him. Not only is he starting to adjust his game to the collegiate level, but at 6-foot 2-inches, and 185 pounds, he has the size that could help him become a skilled powerful forward at the highest level.
Minnesota-Duluth head coach Scott Sandelin and Cates are quite familiar with each other. Scott's son Ryan Sandelin — a Minnesota State commit entering next season — played on the same summer league team as Cates until they were 15 years old. This influenced Cates' decision to come to Duluth; Cates noted that he was comfortable being around Sandelin.
"He was a small, 5-7, 5-8 competitive, skilled player back then, and now he's 6-2," Sandelin said. "It's great that he's grown, but he's still got the hockey IQ and the competitiveness to go along with it. It's going to be fun to watch him get stronger and fill into that frame, as most kids do, and keep developing. I think he has a lot of really, really, really good attributes as a hockey player that are going to bode well for him down the road, and hopefully play at the highest level some day."
The bond between the two has continued, not only as player and coach in Duluth, but also at the World Junior Championship. Sandelin was an assistant for the U.S., and saw his forward gain confidence with the adjustment against international competition.
"It helped having Coach Sandelin at the World Juniors, helping him see me at that level," Cates said. "It just transferred back here, with me being really confident and comfortable with my game. College is a bit of a different game, but (the game) seems to be going a bit slower for me, so that's helped me a lot."
During the first half of the year, Cates was on a line with his brother, fellow freshman Jackson Cates, who is also his roommate. Sandelin decided after his point stagnation to shake the lines up, and moved Cates up the line chart, which contributed to his recent success.
The challenges Cates experienced over the past few months have been a bit jarring, but ultimately important for his development, as he's shown signs of his potential. Duluth plays in the NCHC, widely considered to be the strongest league in Division I, and the defending national champions are a great landing spot for someone trying to turn heads and make an impact.
"It's been an adjustment," Cates said. "It's a very tough league. If you're playing in every situation and you're playing to the best of your abilities, you can't help but develop. … Playing against these older guys, these stronger guys that can all play and have good hockey IQ, your game just has to develop playing in these big games."
While Cates has the potential to develop into an offensive dynamo, there are still things that he needs to work on at this still-early point in his collegiate career, and he recognizes as well as anyone that improvement is a process.
"Skating was a big thing, especially when I was around 18 during my draft year," Cates said. "I need to get a lot better in that aspect, (compared to) that year in juniors. Confidence with the puck, I see myself as more of a playmaker, so I need to get confidence with making plays at this level, with not a lot of time and space and playing against older players and bigger players."
As the regular season winds down, Cates will experience one of the tougher roads to the NCAA Tournament through the final weeks of the NCHC schedule and conference tournament. Considering how he's adjusted at this level so far, combined with his successful stint at the World Junior Championship, he's primed to take advantage of the challenge, as he's done multiple times already.

You may also be interested in: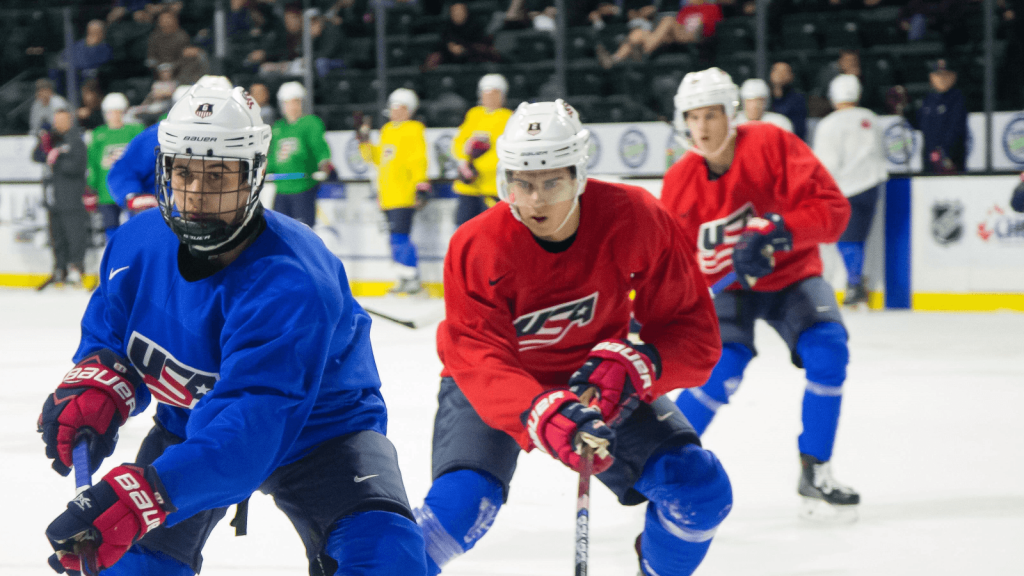 WJC REVIEW: Final loss still stings, but many bright spots on Team USA
This article is about: