NHL Prospects
Under the radar – BC defender Finkelstein could turn out to be gem for Panthers
Boston College sending players to the NHL is nothing new.
Johnny Gaudreau, Cam Atkinson, Chris Kreider, Noah Hanafin, Alex Tuch,
Colin White and the list goes on.
Who's next? Well, the Florida Panthers believe they have an
under-the-radar prospect in BC defenseman Benjamin Finkeltstein.
Finkelstein is under the radar in a lot of ways. He's a little
undersized, though he makes up for that with slick puck skills. He
comes from a state — Vermont — that has seen just two players make it
to the NHL in its history; John LecLair, a five-time All Star, and
Graham Mink, who bounced up and down between the AHL and NHL and
appeared in seven games for the Washington Capitals between 2003-09.
Finkelstein is now at BC after transferring to the Eagles from St.
Lawrence in the middle of last season. He just recently made his BC
debut after becoming eligible following the sit-out period for NCAA
transfers.
He hasn't registered a point yet in four games, but the
offensive-minded defenseman has attempted 17 shots. For the rest of
his time as an Eagle — which includes the rest of this season and all
of next season — he said he hopes to work on his defensive game so
that he's better prepared to make the step into pro hockey when the
time comes.
"I want to round out my game," he said. "There are always areas where
you can improve. For me, it's probably working more on the defensive
aspect of my game. If I can become a shutdown defender, my offense
will still be there. That will help me have success (at BC) and the
next level. It's all about work ethic and having the right attitude.
You have to trust the process."
The Panthers, who drafted Finkelstein in the seventh round of the 2016
NHL Draft, are keeping close eyes on him.
"They get to a few games at least, and we're always in touch," he
said. "They give pointers when they can and they're always checking
in."
Finkelstein is laser-focused on his development. Missing six months of
ice time has him playing catch up, to a certain extent, but the
experience of transferring has allowed him to grow as a player.
After leaving St. Lawrence last January, he landed with the Waterloo
Blackhawks in the USHL and went on to be named the league's best
defenseman, despite missing the entire first half of the year.
With Waterloo, Finkelstein was immediately thrust into a leadership
role as one of the older players on the team and one of just two
players with NCAA experience. Finkelstein went from a St. Lawrence
team where he was still considered a youngster, just completing the
first semester of his sophomore year, to a player who was one of the
oldest on the team.
Naturally, his younger USHL teammates looked at Finkelstein as a
mentor, and he had to develop as a leader as soon as he stepped into
the dressing room.
It was a strange circumstance, in the sense that Finkelstein was
playing junior hockey for the first time in his life; he went straight
to St. Lawrence after graduating from Kimball Union Academy in 2016.
"I never experienced the junior aspect of things, but it was fun," he
said. "It's a lot different. But it was good for me to step up as an
older guy and I had the opportunity to take on a big load for our
team. I owe a lot to my coaches and teammates in Waterloo, because
they let me play by style and we found success.
"Coming in halfway through the year I didn't really know what to
expect. I wanted to go in with an open mind. Having already played
college hockey, a lot of the guys naturally looked up to me and asked
me a lot of questions. A lot of guys there were eager to learn and I
wanted to be there for my teammates, so I fell into a leadership
role."
Now Finkelstein has finally arrived at BC. He started skating with the
Eagles just after Christmas and played in his first game on Jan. 11
against Providence. For the first semester, he said he needed to
finish up some academic credits to ensure his transfer went through.
"It was a long six months," he said. "There was a lot of waiting and
watching, but it's good to be back on the ice."
Finkelstein was able to join the Eagles on their trip to Arizona State
and Notre Dame before finally dressing.
"Being able to practice for a few weeks was definitely beneficial,"
said Finkelstein. "I needed to just get back up to speed and get into
game shape, and it also gave me a chance to get accustomed to being on
the ice with the team and building some chemistry on and off the ice.
It was hard to feel like I was contributing when you can't get out
there, so being able to finally get on the ice was a big thing."
Before transferring halfway through his sophomore season, Finkelstein
had appeared in 57 games for the Saints, and the Florida Panthers
draft pick had eight goals and 27 assists.
Finkelstein has continually focused on his development and taking the
next step. Moving to BC should get him even more ready for pro hockey,
and the Panthers, once his playing days at BC are behind him.

You may also be interested in: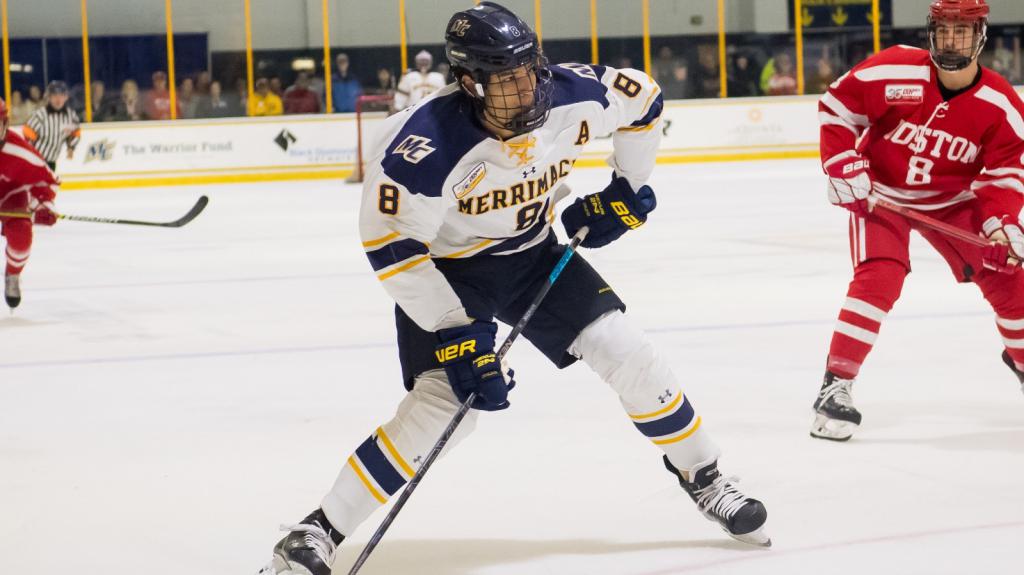 Late-blooming NCAA d-man could be a steal for the Jets
This article is about: