NHL Prospects
BODIN: Ten SHL free agents of interest to NHL teams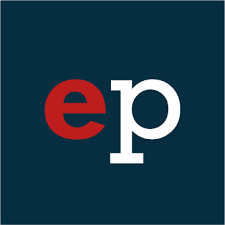 Uffe Bodin
For the past several years, the European free agent market has been of great interest to NHL teams. Although the rights to most prospects get picked up through the draft, there's always a few late-bloomers that will fall through the cracks.
Particularly in Sweden and the SHL, we have seen a lot of undrafted players get signed as free agents after getting a breakthrough a few years later than expected. Players like Lawrence Pilut, Melker Karlsson and Pär Lindholm are great examples of this.
This year, we are likely to see more examples of this phenomenon. Therefore, I've compiled a list of ten likely free agents to get signed by NHL teams during the spring and summer.
Let's start in net…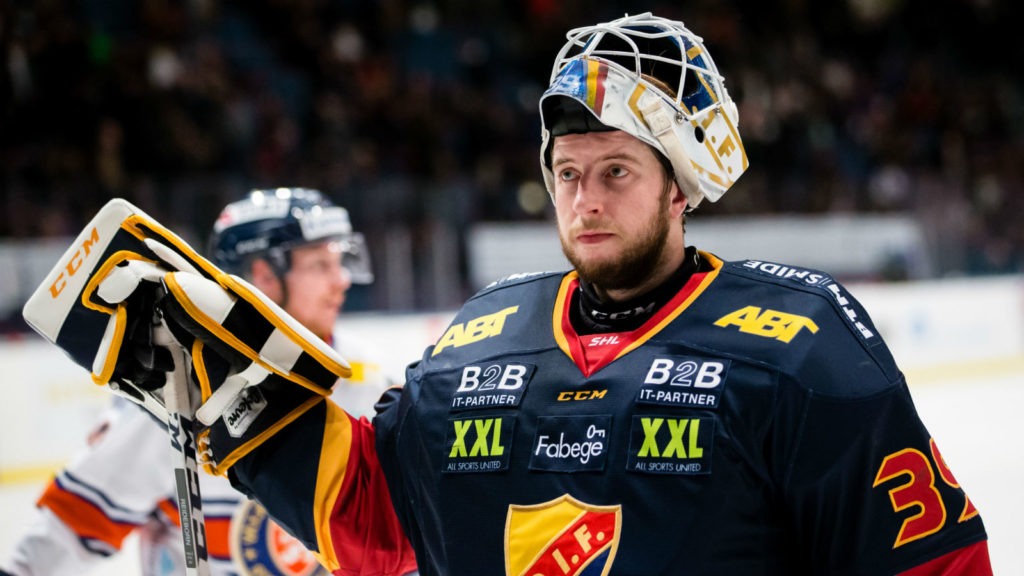 Photo: Bildbyrån/Andreas Sandström
Adam Reideborn, Djurgården
He just turned 27 years old, which could be a stumbling block of sorts. But after putting up fantastic numbers for the second straight season, it's hard to see a scenario where Adam Reideborn doesn't get a chance. After posting a 93,7 save percentage and being voted best goalie in the SHL last season, he's on pace for the same output this season.
He had discussions about an NHL deal after last season's success but never found the right fit.
"None of the offers I received felt one hundred percent right", he told me earlier this season. "None of them were situations where I felt I would get a fair chance.
"I feel like I'm ready now but I will still wait until I get an offer that feels good and that will give me a fair chance over there. If it feels like I'm the fourth or the fifth goalie in the organization, it's unnecessary to leave Sweden."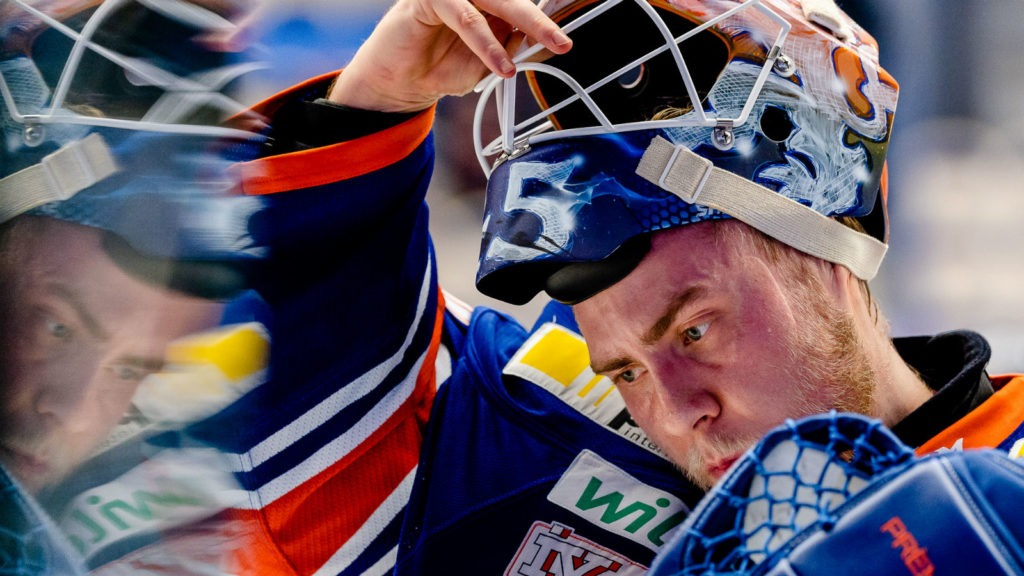 Photo: Bildbyrån/Jonas Ljungdahl
Viktor Andrén, Växjö
Viktor Andrén led Växjö Lakers to the championship title last spring after former NHLer Viktor Fasth went down with injury. After posting three shutouts in four games against Skellefteå in the finals, there were a few NHL teams the showed interested in the 24-year-old. Nothing came to fruition but the interest is still there.
"I'm not sad or bitter that nothing happened", the goalie told hockeysverige.se's Måns Karlsson last summer. "In a sense, it's a relief. I think I need more time, need to play more games on a high level to better prepare myself."
Viktor Andrén has a 90,8 save percentage this season and hasn't reached the same success as last year, yet, but having had success in the playoffs goes a long way. He should still be an intriguing depth guy for an NHL team in need of goaltending.
DEFENSEMEN

Photo: Bildbyrån/Johanna Lundberg
Carl-Johan Lerby, Malmö Redhawks
A smooth-skating 21-year-old defenseman with a ton of upside. Lerby has experienced somewhat of a breakthrough this season after getting last year derailed by injuries after being involved in a car accident, among other things.
Lerby, who has 16 points (3+13) in 37 games, is still under development and would probably benefit from another season in Sweden. But an NHL team would be wise taking a flyer on this kid, loan him to Malmö for another season and see him blossom next year. There are a lot of similarities to Lawrence Pilut, who looks like he's about to become a regular with the Buffalo Sabres after being SHL defenseman of the year 2018.
"I'm not the biggest guy", the 5'11 defenseman told me last week. "But these days, there are a lot of smaller players that dominate in the NHL. I'm still ways away, but I hope to play in the NHL one day."

Photo: Bildbyrån/Ola Westerberg
Emil Djuse, Skellefteå
He won a silver medal with Sweden at the World Juniors in 2013, but went undrafted and had a bit of a tough time at the SHL level early in his career.  After coming to Skellefteå in 2016, things started to fall into place for the intelligent rearguard. Djuse has taken strides each year, and now he has become one of the best defensemen in the Swedish league.
His underlying numbers are strong, and he's on pace for a career high in points. Earlier this week, Sweden's head coach Rikard Grönborg picked Djuse to play in next week's Beijer Hockey Games, which gives the 25-year-old a chance to show his skills at the international level.
NHL teams have Djuse on their radar.
"There's a lack of defensemen on the other side of the Atlantic Ocean, which means his chances are getting bigger", Djuse's agent Jacob Hedin told Norran.se a few weeks ago. "There are several NHL teams that are looking at him."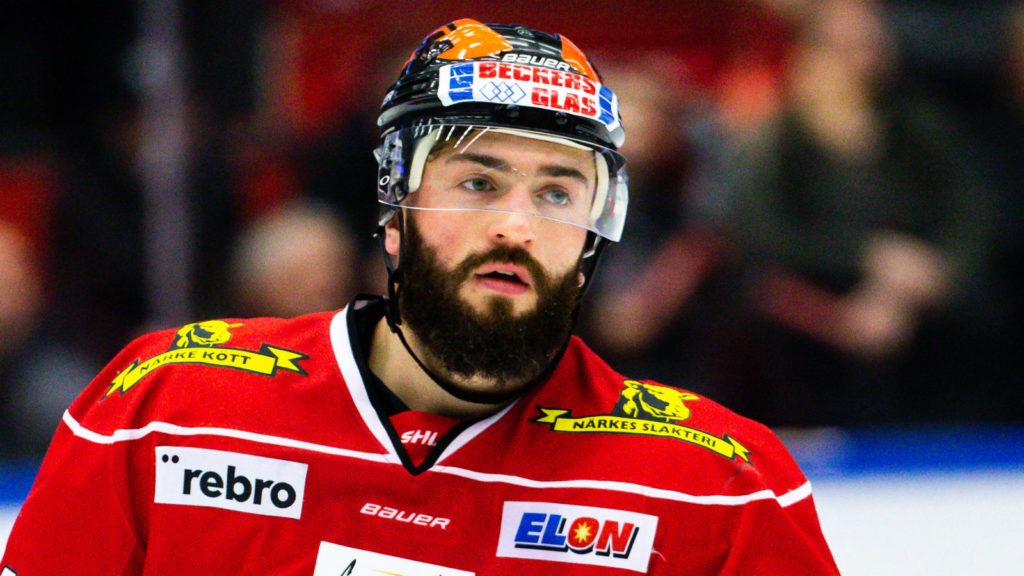 Photo: Bildbyrån/Johan Bernström
Nick Ebert, Örebro
The American defenseman was drafted 211th and last overall by the Los Angeles Kings 2012 and spent three seasons in the AHL before moving to Europe. This season, he has been anything but "Mr. Irrelevant" in the SHL. His booming slapshot and strong puck-moving ability have made him the second most productive d-man in the league with seven goals and 24 points in 35 games.
In an earlier interview with EP Rinkside, Ebert told me he wasn't keen on going back to North America if it meant playing in the AHL. But playing in the NHL is still the big goal for the 24-year-old.
"Absolutely, I'm not going to lie. When I was younger, that was the dream and it's a goal I haven't achieved yet. It's something I think of quite often, but to get that chance, you need to dominate over here, be one of the best defensemen in this league or any one of the other top leagues in Europe."
He's well on his way.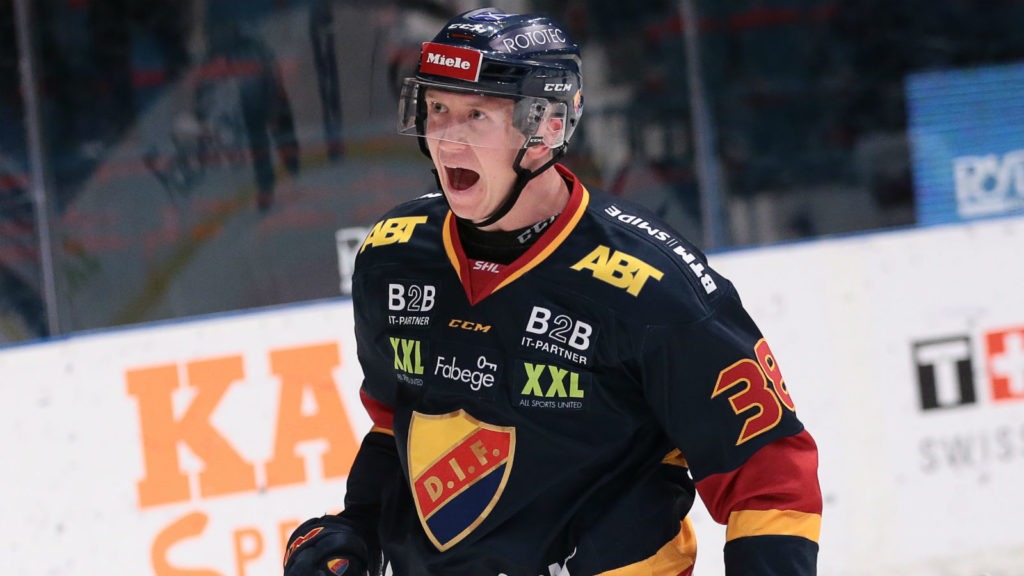 Photo: Bildbyrån/Andreas Sandström
Olle Alsing, Djurgården
Despite falling victim to an eleven game stretch without points recently, the 22-year-old's progress has been one of the great stories in the SHL this season. Late last season, Alsing had trouble getting ice-time with Leksand of tier II league Hockeyallsvenskan.
This season, he has looked really good in the SHL at times. He's the prototypical "modern" defenseman. A great skater with puck distribution skills and a high hockey IQ.
"Everything has gone really fast when you look back to where I was a year ago", Olle Alsing told me this week. "But everything's been going really well and it's really flattering that NHL teams are interested. It means I've done something right."
FORWARDS

Photo: Bildbyrån/Petter Arvidson
Jakob Lilja, Djurgården
The winger is the leading scorer in the SHL right now after putting up career-best 32 points in 38 games thus far. His breakthrough at 25 has lead to several chances with the national team, where he has also produced at the international level. His work ethic and all-round game might make him interesting for a bottom-six role and penalty-killing duty as he will probably have a hard time cracking a top-six at the NHL level.
"I've told my agent that I don't want to talk about the NHL, but that I want to play good here first", he told me earlier this season. "We'll see next year where I'm playing. Right now, I have no idea. But if I continue to produce here and get chances with the national team, opportunities will obviously come."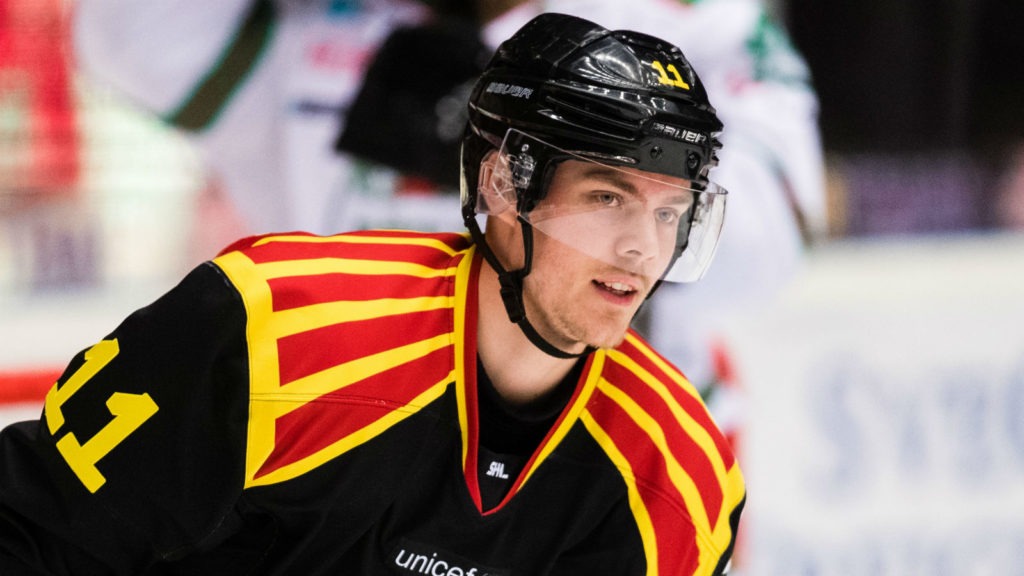 Photo: Bildbyrån/Andreas L Eriksson
Joel Kellman, Brynäs
The 24-year-old pivot had a strong season on a mediocre Karlskrona team, that was relegated from the SHL to Hockeyallsvenskan last year. That led to a contract with Brynäs this season where he has taken another step in his development. Currently sitting third in scoring, with 30 points (15+15) in 38 games, Joel Kellman has also shown that he can play at the international level. Next week, he'll be suiting up for Tre Kronor at Beijer Hockey Games in Stockholm after making his national team debut with Sweden in Moscow before Christmas.
"What I like about him is the way he competes", head coach Rikard Grönborg told me this week. "It was great to see that he did it on the international level too. Above that, he is very skilled and has a good head for the game. He was one of the surprises last tournament and that made me very curious."
Joel Kellman could be this year's Pär Lindholm. A guy that produces offensively on the SHL level, but that is good enough defensively to be a complementary player on the NHL level one day.
"It's going to take a lot", he told hockeysverige.se about his chances of playing in the NHL.  "It's obviously a dream for me and everyone else to play there. It's something you strive toward, but we'll see if it happens or not."
Joakim Nygård, Färjestad
Now, he did sign a new three-year-deal with Färjestad just yesterday, but that doesn't have to mean that NHL is out of the question. As it stands of now, the agreement between the Swedish Hockey Federation and the NHL gives SHL players the opportunity to get out of their SHL deals if they sign an NHL deal. So there's that.
26-year-old Joakim Nygård might very well do just that. His blazing speed makes him one of, if not the fastest player in the league. He has been a steady contributor for Färjestad the past few years and is defensively dependable which makes him bottom-six material for an NHL team looking to add depth.
"His speed makes him a threat offensively, but I also feel he can do other things for you as well, like kill penalties and be a good forechecker", Rikard Grönorg said as he made Nygård one of his players for Beijer Hockey Games earlier this week.
Nygård had offers from NHL teams last year, but chose to stay in Sweden.
"I look forward to having a great season in the SHL and to give myself even better chances of getting an NHL contract after next season", he told NWT.se last spring.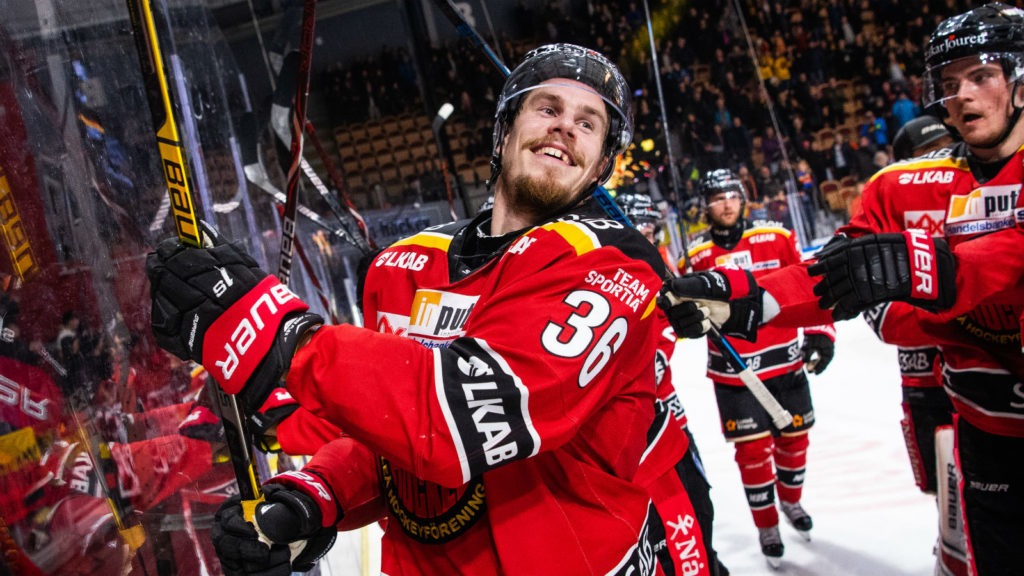 Photo: Bildbyrån/Simon Eliasson
Emil Larsson, Luleå
The son of former star player Janne Larsson, had a marvelous first season in the SHL last year, scoring 23 goals and finishing fourth in the league in goalscoring. This season, Emil Larsson has not had the same output, potting seven goals and 15 points in 34 games, but his all-around game has become much better – and he has stood out on the international level.
"He goes to the uncomfortable areas and has the guts to do the dirty work around the net", Rikard Grönborg said as he announced that Larsson had been chosen to play for Team Sweden at Beijer Hockey Games. "You might wonder 'shouldn't everyone have the guts to go to the hard areas?' But it's not as easy to position yourself the way he does or to step into the heat.
"It might seem like he scores a lucky goal, bangs home a rebound, but it's definitely a talent to be able to go to the right places and stay there. He came in as an extra player the last tournament and ended up being one of our best players."
NHL teams were interested in the 25-year-old winger last year. That interest remains.
You may also be interested in: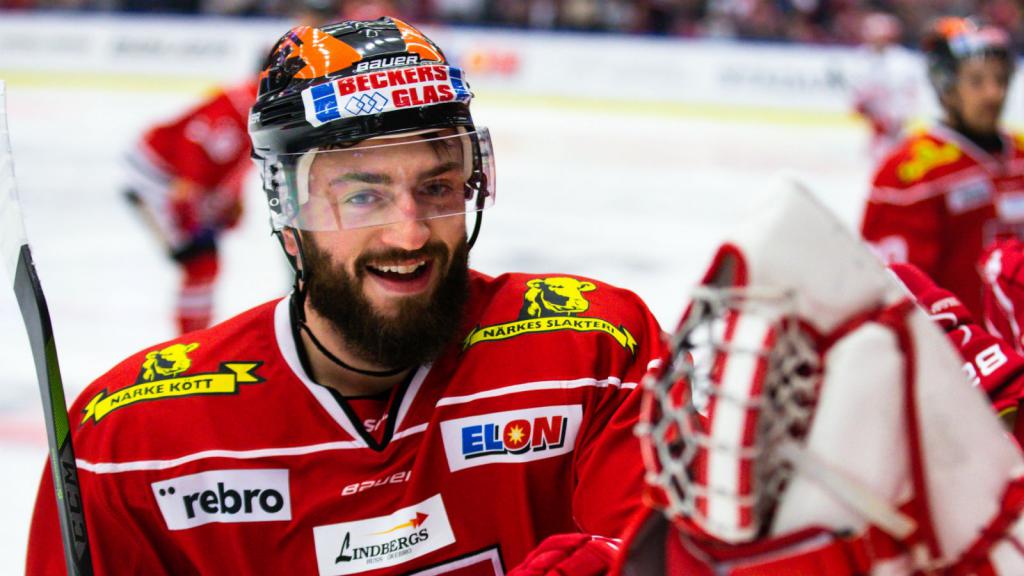 Not irrelevant anymore – last pick from the 2012 draft on the right path
This article is about: