NHL Prospects
Lavoie using Halifax experience to prepare for the big leagues: "They treat us like professionals"
The list is long.
From Nathan MacKinnon and Jonathan Drouin in 2013.
Nikolaj Ehlers in 2014. Timo Meier in 2015. Nico Hischier in 2017.
And Filip Zadina in 2018.
All recent first round picks.
All from the Halifax Mooseheads of the Quebec Major Junior Hockey League.
Raphael Lavoie, eligible for the 2019 NHL Draft, is hoping to add his name to the group.
"I hope I live up to the expectations," said Lavoie, the 13th ranked North American skater on NHL central Scouting's Midterm Rankings. "The organization's drafted real well and they're really helping guys get better really quick. It's been shown throughout the years. They've got some great names coming out of the Halifax organization. It's just the reward of being one of the best organizations in the CHL in my mind.
"They treat us like professionals. We have the best staff. We have really good people working with us."
He is well on his way.
The 18-year-old, who was selected in the second round (No. 29) of the 2016 QMJHL Entry Draft, has 45 points (21 goals, 24 assists) in 45 games in the QMJHL this season, and at this stage is a consensus first round selection.
Lavoie was also invited to try out for Canada's entry at the 2019 IIHF World Junior Championship in December as the only first-time NHL Draft eligible skater, though he was cut from the team in the process.
He's had an inside source on dealing with the ups, downs and stresses of his draft season.
Hischier.
"I'd say Nico is a pretty good name," said the six-foot-four, 196-pound forward.
"He's always been great. He was a great person and a great player. He was someone everybody would look up to. You'd just get up on the bench and say, 'Yay, Nico scored again.' He was really good, a really fun player to watch."

Nico Hischier. Photo: Bildbyrån/Joel Marklund.
Hischier, eventually, went first overall in 2017 to the New Jersey Devils.
"I mean, it never showed that he actually felt any pressure," said Lavoie, who had five goals in five games for Canada at the 2018 World Under-18 Championship, and three points (one goal, two assists) for Canada White at the 2016 World Under-17 Challenge.
He was always calm. He was always smiling. He was always laughing in the room. He was always having fun. I try to do the same. It's a game and we all love to play that game.
"We just try to have some fun."
That's the approach in a stressful season.
"For sure there's some pressure but you have to handle it," Lavoie said. "It's part of the job of being a hockey player. I just focus on my game and try to have some fun out there. Everybody when they meet you, friends and family, they want to talk and talk about it.
"It's okay."
With Hischier starring in his second season in New Jersey, Lavoie also has some help a little closer to home.
Halifax defenseman Jared McIsaac was selected by the Detroit Red Wings with the No. 36 pick in 2018, and Mooseheads forward Benoit Olivier-Groulx was taken 18 picks later by the Anaheim Ducks. Goalie Alexis Gravel was also drafted in the sixth round (No. 162) by the Chicago Blackhawks.
Again, Lavoie watched.
He can ask.
And, come June, use that advice to help become the next in a long line of Mooseheads first rounders.
"I'm a late 2000 so everybody my age got drafted last year," said Lavoie, a self-described power forward who is still working on his first few steps. "I can talk with some guys like Groulx and Jared McIsaac. They've all been through the process. We can talk about it, how it is and how they went through it.
"It's helped.
"You know what to expect. You know what's going to happen and you know what you're going to go through because they went through it. They're telling you about it.
"It's really helpful."
You may also be interested in: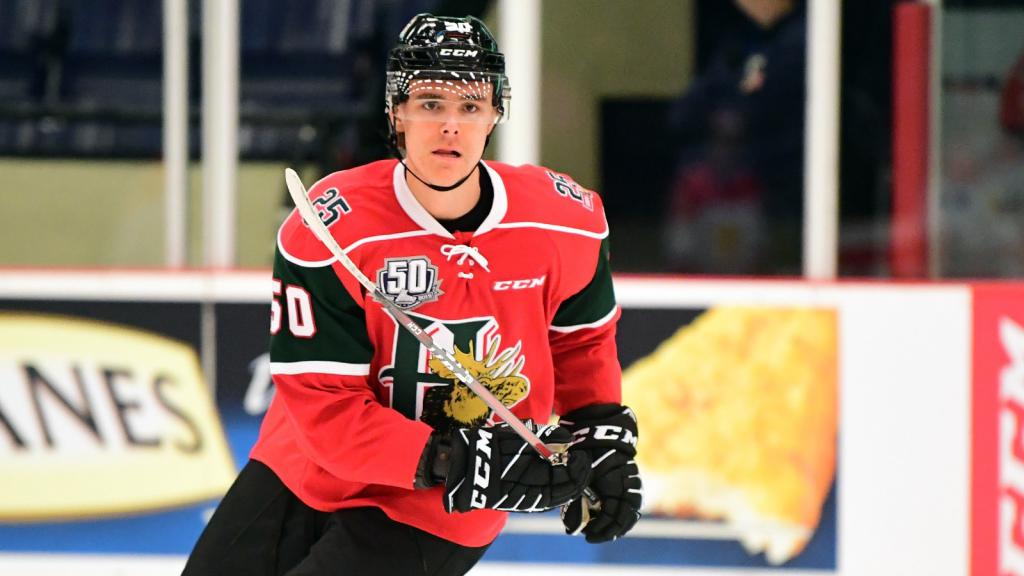 TOP 10 – QMJHL: Lavoie leads strong batch of prospects
This article is about: