NHL Prospects
AHL PROSPECT WATCH: A closer look at Verhaeghe, Ingram and Djoos
Let's catch up on and assess some of the weekend's best performances across the 31-team AHL.
TAKING HIS SHOTS
Amid the riches of skill and youth that the Tampa Bay Lightning have stashed with the Syracuse Crunch, it can be easy to overlook forward Carter Verhaeghe.
But you can't miss his name near the top of the AHL scoring list. Sitting just three points off the lead set by Chicago Wolves veteran Daniel Carr is the second-place Verhaeghe. He has piled up 54 points (22-32-54) in 43 games for the Crunch, who will take a six-game winning streak on the road when they visit the North Division-leading Rochester Americans on Wednesday night.
Verhaeghe's work this past weekend helped lead the Crunch to two more wins and win him the CCM/AHL Player of the Week award. The 23-year-old Lightning prospect added six more points to his collection in a pair of weekend wins, going 2-4-6 via back-to-back one-goal-two-assist nights. Before the AHL All-Star break last week, he put up a hat trick plus an assist in defeating Rochester on a 4-3 overtime win. In all, it totals 5-5-10 in his past three games.
As with so many Lightning prospects, past and present, Verhaeghe arrived in Syracuse rather unheralded. Tampa Bay acquired him from the New York Islanders on July 1, 2017 for then-Crunch back-up goaltender Kristers Gudlevskis. Originally drafted by the Toronto Maple Leafs in the third round of the 2013 NHL Draft, Verhaeghe had gone to the Islanders in the Michael Grabner deal of September 2015. From there, he divided his first two pro seasons between the AHL and ECHL, breaking through with 29 points (16-13-29) in 45 regular-season AHL games in 2016-17 for the Bridgeport Sound Tigers.
Gudlevskis, who has since moved on to Dinamo Riga of the KHL, spent one season in Bridgeport.
Verhaeghe, meanwhile, has thrived with the Crunch. After a 48-point performance (17-31-48) in the 2017-18 regular season, he finished second in team playoff scoring at eight points (1-7-8) in eight games before the Crunch exited in a second-round sweep by the Toronto Marlies.
Tampa Bay has a long history of unearthing and cultivating overlooked talent. Lightning forwards Yanni Gourde and Tyler Johnson were not even drafted. Ondrej Palat went in the seventh round in 2011. Mathieu Joseph was a 2015 fourth-rounder. Throw Syracuse rookie sniper Alex Barré-Boulet, an undrafted QMJHL forward whose 40 points (21-19-40) in 43 contests heads the AHL in rooking scoring.
Syracuse's forward depth means that head coach Benoit Groulx can have any number of options. Barré-Boulet, Verhaeghe, and Andy Andreoff worked well together in a 4-0 win against the Utica Comets this past Friday. They helped to put together a pair of third-period goals that put the game away for the Crunch.
The knock on Verhaeghe has been his skating, but he has shown he is able to keep up with the free-flowing Syracuse attack that leads the AHL at 3.81 goals per game. He owns a heavy wrist shot, patient hands in-tight, and a willingness to take himself into the slot with a sturdy-enough 6-foot-2, 187-pound frame. Among players with 110 or more shots, only Carr (19.8 percent) and Texas Stars forward Joel L'Esperance (19.5 percent) own a better shooting percentage than Verhaeghe's 19.3 percent rate. He also has thrived on the man-advantage with 15 power-play assists, ranking fourth in the AHL. The Syracuse power play holds down third place in the AHL at 23.4 percent.
The 27-13-2-1 Crunch have parked in fifth place overall in the AHL and third in the Eastern Conference. While the AHL-leading Charlotte Checkers remain 11 points off in the distance, the Crunch are within three points of second-overall Rochester. The Crunch see Rochester in three of their next six contests, including a home-and-home series next week. A clean regulation win Wednesday would take Syracuse to within one point of the Amerks with two games in hand. After stopping at Rochester to start five consecutive road games, the Crunch move on to New England for a Friday visit to the Hartford Wolf Pack, who are last in the Eastern Conference. A rare Saturday night off is followed by a matinee against the equally hot Providence Bruins, who have pulled off a 9-0-1-1 streak and swept Charlotte on the road this past weekend.
Looking a bit more afar on the Crunch calendar, they have a pair of mid-March dates in Charlotte against those Checkers.
ELSEWHERE
Crunch netminder Connor Ingram is making up for lost time. A December 21st injury put him out of action for five weeks, and the Crunch leaned heavily on veteran Eddie Pasquale. But Ingram, a 2016 Tampa Bay third-round pick, has taken the past three Syracuse starts after returning to health. He sandwiched a 21-save shutout this past Friday in between nods against Rochester and the Cleveland Monsters. In his most recent effort, a 6-3 home victory against Cleveland, he stopped all 23 shots over the final two periods after the visitors had taken a 2-0 first-period lead. That included shutting down six Cleveland power-play opportunities over the final two-plus periods. He has gone 12-5-0 | 2.37 | .921. His five shutouts tie him for the AHL lead while his goals-against average is fourth, and his save percentage stations him in a fourth-place tie.
The streaking Hershey Bears received some help for their blue line this weekend with the addition of Christian Djoos on a long-term conditioning assignment from the Washington Capitals. Djoos, 24, dressed for the Bears in their 3-2 shootout win Sunday afternoon with the Belleville Senators in town, and his NHL polish immediately stood out. Last season with the Capitals, he established himself as a full-time NHL defenseman, going 3-11-14 in 63 regular-season games and playing 22 contests on Washington's run to winning a Stanley Cup. He had picked up four assists in 28 games for the Capitals before a thigh injury on December 11th that required surgery. Before going to Washington full-time, he played two seasons for the Bears that included going to the Calder Cup final in 2016 and a 58-point regular season in (13-45-58) in 2016-17. Washington found Djoos in the seventh round of the 2012 NHL Draft. Hershey (23-20-0-3) has put together a nine-game point streak (8-0-0-1), salvaging the season for the Bears and taking them to within six points of the Atlantic Division playoff line.
In that same Belleville-Hershey contest, Senators defenseman Christian Wolanin left late in the third period after a neutral-zone collision with Bears forward Nathan Walker. The hit earned Walker a kneeing match penalty. The parent Ottawa Senators grabbed Wolanin in the fourth round in 2015. After a three-season NCAA career at the University of North Dakota, he turned pro. The 23-year-old is 5-16-21 in 30 games for Belleville along with 3-2-5 in 12 Ottawa games this season.
Henri Jokiharju quickly jumped into play with the Rockford IceHogs this past weekend. Sent down by the parent Chicago Blackhawks this past Thursday, the 19-year-old blueliner taken 29th in the 2017 NHL Draft went right to work. He launched a long right-circle shot past Chicago Wolves starter Oskar Dansk that set off four unanswered goals in a 5-2 win. The next night visiting the Milwaukee Admirals, he fired nine shots on net in a 3-2 overtime victory that nudged the IceHogs to within three points of the Central Division playoff line. Jokiharju competed for gold-medal winner Finland at the under-20 World Junior Championship along with playing 37 games for the Blackhawks as an NHL rookie (0-12-12).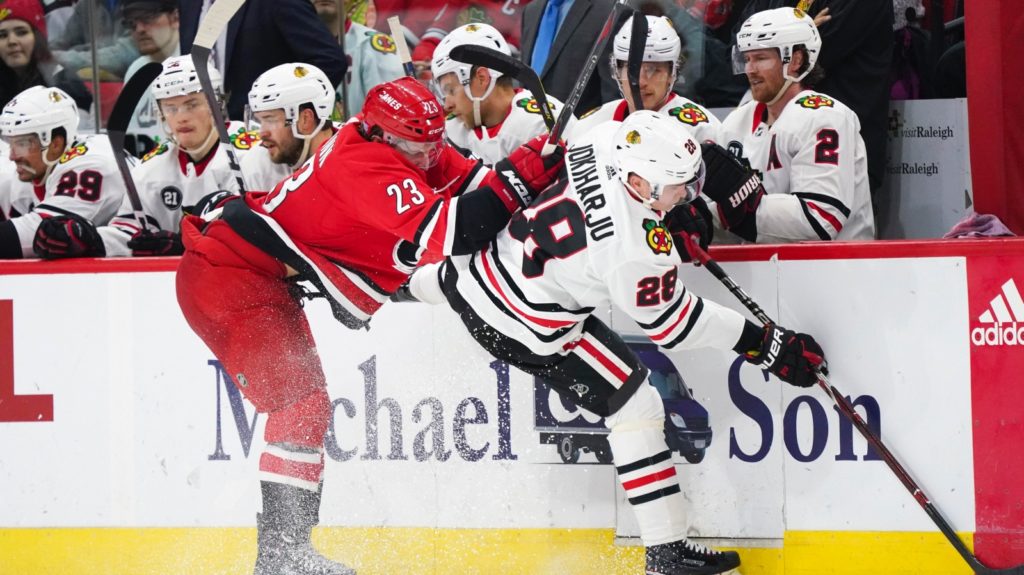 Henri Jokiharju. PHOTO: Bildbyran.
Colorado Eagles goaltender Spencer Martin continues to step up with veteran Pavel Francouz out of the line-up. After spending most of the season in a back-up role, Martin has made four consecutive starts, going 190-for-199 for a .954 save percentage. His 68 saves in shutting out the Ontario Reign on January 25th were the most by a goaltender in an AHL game since December 2004. He came back the next night with 47 saves on 51 shots in a road loss to the Reign. This past weekend, he led the Eagles to a two-game road sweep past the Tucson Roadrunners. After a 3-1 victory this past Friday, his 44 saves a night later pushed the Eagles past Tucson in overtime, 5-4. The Eagles are three points out of a playoff spot. The parent Colorado Avalanche took Martin, now 23, in the third round in 2013, but he has only played three NHL games.
Thanks to 10 consecutive wins, the Bakersfield Condors are closing in on the first-place San Jose Barracuda in the Pacific Division. The Condors have a two-point lead on second place and trail the Barracuda by three points, though San Jose still possesses four games in hand. In their latest outing this past Saturday, they blew out Ontario on the road, 6-2. Condors left wing Joe Gambardella holds an eight-game point streak (9-5-14), including two goals in a 4-1 home win against the Iowa Wild this past Friday. Right behind him is forward Patrick Russell with a seven-game point streak on 4-5-9. Condors rookie goaltender Shane Starrett's eight consecutive wins have him at 14-3-3 | 2.39 | .916 this season.
You may also be interested in: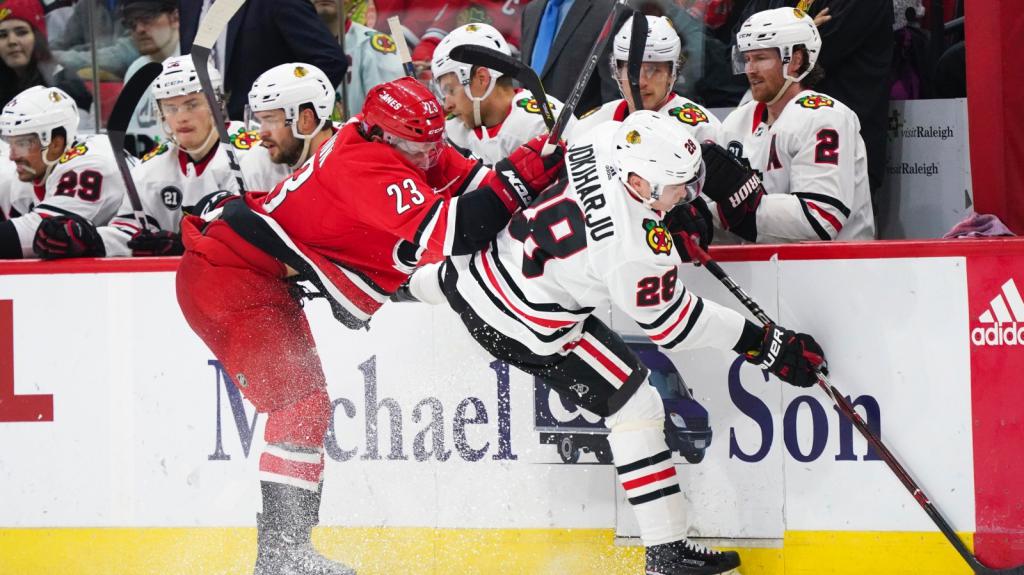 AHL WEEKEND: Jokiharju joins IceHogs, needs to "play to excel, not just survive"
This article is about: