World Juniors 2019
COHEN: Hughes will go first, and here's why
Now that the hype of the 2019 World Junior Championship is over, we can all talk about Jack Hughes in realistic terms. Some felt he didn't live up to expectations playing for Team USA, playing injured to the point he was mainly on the power play in the end, and he still scored a point-per-game. I was stunned at the negative comments I was receiving about him and then I realized, those people had never seen him play before. Still, he had a good tournament. But this resume has been building for quite some time, it didn't just start this season or even last season.
Kaapo Kakko will get drafted second overall unless something strange happens in this draft. Anything is possible and this is no slight to the talented Finn.
Back to Hughes. Forgetting about the 159 points and 58 goals in 80 games that he had with the Toronto Marlboros in minor midget hockey, I saw there was a huge buzz surrounding him when he was on the U17 team. As a captain he had 48 points in 24 games with 13 goals. He was the captain of that team. Things only got better from there.
In the U17 challenge he had 15 points and five goals in six games. With the NTDP that season he averaged two points per game (54 in 27 games). With the U18 team he had 12 points and five goals in seven games. Besides taking home the silver medal with Team USA he was named an All-Star and Most Valuable Player. He had the most points as well. Not a bad year.
In the 2019 World Junior Championship, he took home another silver medal. At some point he will run out of room on his mantle for the future awards that should be coming his way.
The doubter, and there are a few, will harp on the fact that he's small. He's only 5-10, 179 pounds. He'll get hurt if he gets hit. He does occasionally get hit and has been durable. Most times he's terrific at avoiding the big hit because of his hockey sense that allows him to think a step ahead of the defense.
The talented pivot does everything at top speed. His edge work is fantastic. He makes players around him better and the offense runs through him more than most young players you see these days. He decoys the defense well, exceptional passer and NHL shot. He's good at face-offs already but will need some work. As he gets stronger, he'll get better at them. He plays a two-way game and even though he's a pass-first guy, he can snipe and he's not afraid to be around the net to score.
Some of his older teammates have said they've learned from him. Most people like his older brother Quinn's (Vancouver draft pick in 2018), play and Jack is better. He's from a hockey family. He's very calm and doesn't have an ego. He doesn't panic with the puck. But he doesn't play it safe. He's always looking to get a scoring chance going.
The post lockout expectation of a first overall pick is to play in the NHL immediately. Is that a 100% lock? I think he likely does but it does depend on who drafts him and after they evaluate him what they think the best plan is for him. Every player is different. Different in how fast they develop and progress in their careers.
Leading up to the draft Hughes will win over the media. He's fun in interviews and he's smart and insightful. He loves the game of hockey. You can tell he gets up thinking about the game and goes to sleep dreaming about what he's going to do next.
Any team would be lucky to get him. I wouldn't start him as a top liner when he debuts. Let him start on the third line so he can find his way. Play him next to solid veterans who can skate. He will ignite his future teammates and they'll talk about how he sees scoring chances they didn't think were there at first glance. I don't think he'll beat Connor McDavid to become the NHL's fastest skater anytime soon. I do think his impact will be felt on the power play first and then 5-on-5.
Coaches love this prospect. He listens. He learns. He's a positive person. The more you watch him the more you pick up on some of the special nuances in his game. Fans will identify with him, especially ones that are under six feet. He'll motivate and become a role model for younger players.
I don't think the NHL will need to do a lot to market him. A lot of people in the United States, Canada and overseas are aware of him. He's been playing under the spotlight for years.
The NHL is the next logical step for him when his new team feels the time is right.
You may also be interested in: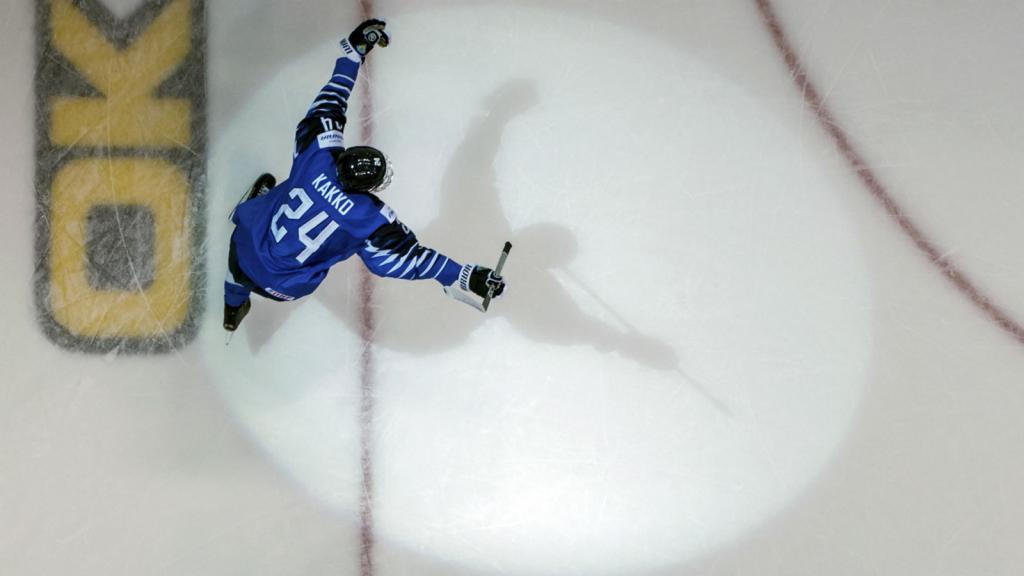 BODIN: Hughes vs. Kakko – the debate is heating up
This article is about: