NHL Prospects
Oilers prospect benefitting from another year in Sweden
Everything just went by so fast. One year Joel Persson was combining hockey on a semi-professional level with a job as a teacher's assistant, the next he was anchoring the first power play unit on the best team in Swedish hockey.
No wonder the 24-year-old had to pinch himself in the arm every now and then.
The unexpected success led to an unforgettable season. The right-shooting defenseman won a Swedish championship title with Växjö Lakers and ended up signing an NHL contract with the Edmonton Oilers. The one-year pact didn't really materialize into anything though. Persson decided it was best for his development to stay in Sweden and play another season in the SHL. The Oilers were happy to oblige.
"It all happened so quickly for me", Persson told EP Rinkside this week. "I felt like I needed to take it a bit slow, stay in Sweden and get some stability and experience from playing with the national team.
"My agent supported me and found a really good solution where the Oilers loaned me to Växjö. There were a lot of discussions that went on this time last year."
RE-SIGNED LAST WEEK
He has certainly gotten his fair share of ice-time with the Swedish national team this season. He is currently participating in his third tournament of the Euro Hockey Tour, competing in Beijer Hockey Games in Stockholm.
Prior to the tournament, he signed another one-year deal with the Edmonton Oilers.
"It feels really good to have that out of the way", Persson said. "(The extension) was what we were both aiming for. That we were able to come to an agreement. It's everybody's dream to play in the NHL one day and now I have a new contract that is going to give me an opportunity to do so. I know there are a few months to go before I'm heading over. I got to stay in the here and now and try to play as well as I can (with the national team) as well as in Växjö."
The Oilers have had their challenges this season, firing both head coach Todd McLellan and general manager Peter Chiarelli. Persson was signed to his initial contract by the former GM, but never had to worry about that.
"Of course, we wondered if that was going to be an issue for us (that Chiarelli got fired), but they stated pretty early that it wasn't going to affect me", Joel Persson said. "You learn that things can happen in a hurry over there. It's all a part of the business."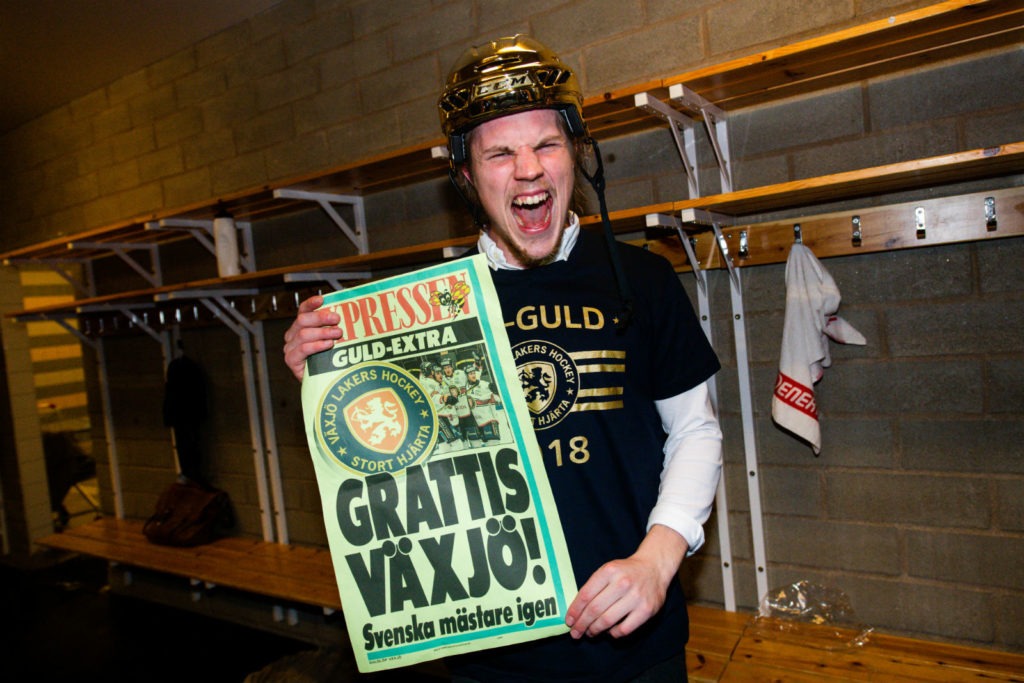 Photo: Bildbyrån/Simon Eliasson
PART OF A CHAMPIONSHIP TEAM
Last season, Persson's team Växjö Lakers was a dominant force in the SHL, leaving all their opponents behind in the dust. This season, the magic has worn off. Mostly due to all the players they lost during the summer – does the name Elias Pettersson ring a bell? – and, hence, the result hasn't been nearly as good as last year although they, by all means, look like a playoff team.
But for Joel Persson, everything is trending in the right direction. At the current national team break, he's among league leaders in points for defensemen with 23 (4+19) in 39 games. That's good enough to make him the second-best point producer on his team after Roman Horak, a former NHL center with Calgary and Edmonton.  He is also averaging 19 minutes of ice-time per game compared the 17 he had last season
Persson had 34 points (6+28) last season, but more than two-thirds of those were power play points. This season, he's been generating a lot more offense at even strength.
"I'm becoming a better player all-around", he said. "Last season it was all about the offense, lots of power play obviously because we had such an amazing first unit that scored all the time. But overall, I feel I'm a much better player today compared to last year."
ON HIS OWN TWO LEGS
Persson has been able to show he wasn't just a flash in the pan. Someone who just benefitted from playing with Elias Pettersson. This year, he has been standing on his own two legs.
"Last year I tried not to think or analyze too much", he said. "After the season I had, I understood that it wasn't likely I was going to hit the jackpot like that again. Obviously, it was great to have that kind of success and be a part of a winning team, but you can't rest on your laurels. You constantly need to improve on all facets of the game.
"The worst thing you can do is to become complacent. I try to remind myself of that all the time to make sure I'm not. It would be dangerous to my development if I walked around all happy and satisfied all the time."
Whether he goes to North America later this season or this fall remains to be seen. It all depends on how far Växjö Lakers makes it into the playoffs. The reigning champs recently added two-time Stanley Cup champion Kris Versteeg to their line-up in order to bolster their chances to repeat.
If you ask Persson himself, he would rather wait. And who can blame him?
Waiting would likely mean another shot at raising the Le Mat Trophy and after all – isn't winning exactly the type of experience the Oilers need in a player?
You may also be interested in: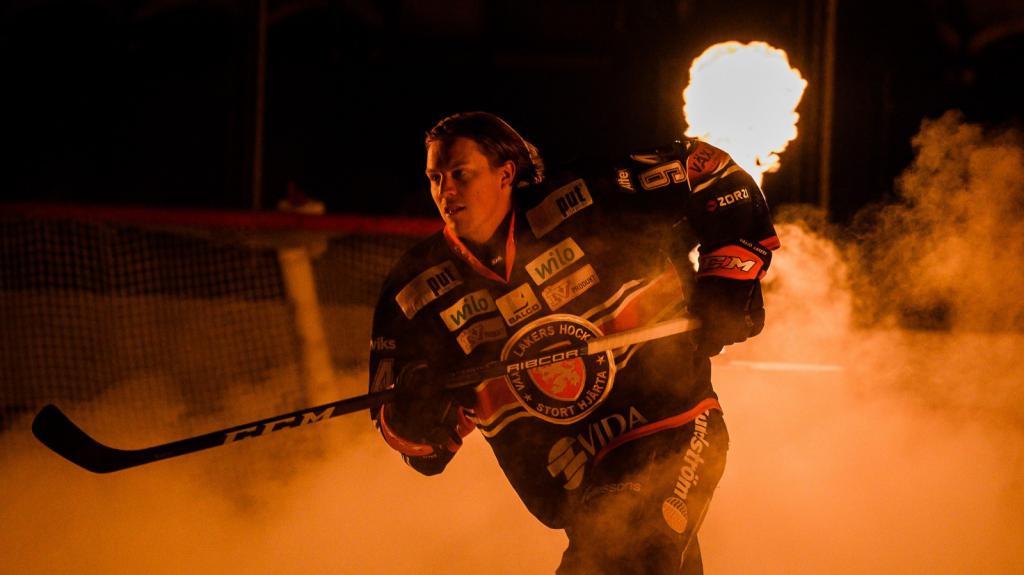 SIBNER: Joel Persson – a diamond in the rough?
This article is about: