NHL Prospects
AHL ON THE ROAD: Grand Rapids Griffins re-loaded and ready
"You've got to remember [what it is like to be 19 years old] and put yourself in his shoes. There are going to be ups and downs. You can see that he has a ton of skill. He's learning the pro game."
"You have to remind these young guys – this is a hard level. [AHL] guys compete every single night. Everybody is hungry to get to the next level, and I think he has learned that." – Grand Rapids Griffins captain Matt Ford on sixth overall pick Filip Zadina.
*****
Ford's words echo a familiar formula that the parent Detroit Red Wings have made a way of life in Grand Rapids, one that carried the Griffins to another Calder Cup championship two seasons ago.
That 19-year-old, Zadina, is the latest would-be Red Wing to take a path that the likes of Niklas Kronwall, Jimmy Howard, Justin Abdelkader, Jonathan Ericsson, Jiri Hudler, Anthony Mantha, Gustav Nyquist, Tomas Tatar and so many others took to Detroit and other NHL stops.
"What [the Red Wings] have built in their organization is that the road to the NHL starts in Grand Rapids," Ford said. "They all came here and learned how to win."
"[Zadina is] a big part of our group," Ford said. "He's one of us."
The 2017 title, the Griffins' second in five seasons, mixed a strong prospect group with a formidable collection of top-tier AHL experience.
That's the Detroit-Grand Rapids formula. It worked in 2017, and it worked in 2013 when they won their first Calder Cup. Grand Rapids has hit 100 points in two of the past four seasons and went to a conference final in 2015 as well. Another Calder Cup this June is certainly possible.
For the 2016-17 Griffins, that formula featured Detroit 2015 first-round pick Evgeny Svechnikov, who pumped in 20 regular-season goals as an AHL rookie. Higher-end prospects in forwards Tyler Bertuzzi, Martin Frk, and Tomas Nosek along with defenseman Joe Hicketts also skated the Calder Cup that June. That group partnered with high-end AHL forwards Ben Street, Matt Lorito, and Eric Tangradi. Further leadership came from captain Nathan Paetsch, Brian Lashoff, and Dan Renouf on the blue line and still more forward bulk in Matt Ford and Mitch Callahan. Jared Coreau provided the goaltending. Mix in trusty forwards like Colin Campbell, Kyle Criscuolo, and Dominic Turgeon, and it added up to a championship-caliber group.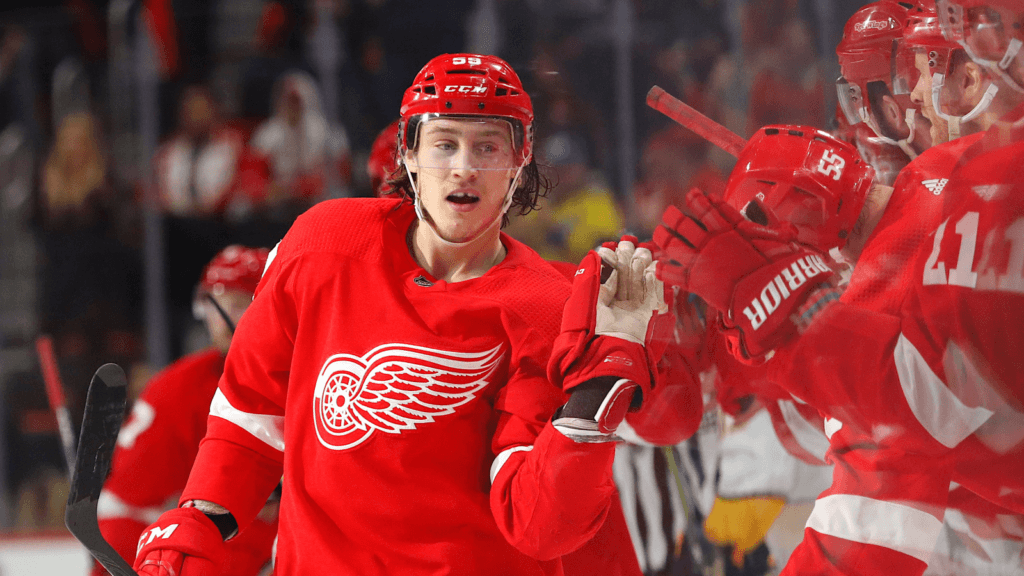 Tyler Bertuzzi was a part of the Calder Cup-winning roster of 2016-17. Photo: Rick Osentoski / USA TODAY Sports via Bildbyrån.
Bertuzzi, Frk, and Nosek all have graduated to full-time NHL duty. Svechnikov has been out all season because of knee surgery, but he earned 14 NHL games last season. Hicketts has shown promise as well.
That veteran group also mostly moved on as well. After a lengthy stint with the Anaheim Ducks earlier this season, Street has been with the San Diego Gulls and joined in the Pacific Division by Callahan, now with the Bakersfield Condors. Paetsch and Criscuolo headed off to the Rochester Americans, a Calder Cup contender this season in their own right. Elsewhere in the Eastern Conference, Lorito landed with the Bridgeport Sound Tigers, and Tangradi went to the Binghamton Devils. Renouf finds himself with another red-and-black team positioned to make a Calder Cup run, the Charlotte Checkers.
Ford pointed to the 32-year-old Street, who spent much of his pro career in the AHL before going to Anaheim, as an example for both prospects and older AHL players.
"No one should ever count themselves out," Ford said of Street. "I think that speaks to the kind of people that we bring into this organization that they find to not only win but to help lead these young guys."
Ford, Campbell, Hicketts, Lashoff, Turgeon, and blueliner Dylan McIlrath remain as regulars from that championship team. Griffins head coach Ben Simon is another holdover as well, promoted from an assistant coach to the head role before this season after Todd Nelson left for the Dallas Stars.
RE-LOADING
That group of seven saw up-close the winning recipe. This past summer, Detroit management went on the free-agent market and brought in more ingredients, starting at forward. In came 2017-18 AHL leading scorer Chris Terry from the Laval Rocket. Wade Megan came in from the St. Louis Blues organization, and the Griffins acquired Carter Camper from the Tucson Roadrunners in an AHL deal. Charlotte's Jake Chelios exchanged places with Renouf, keeping the blue line strong. After a good first season in Grand Rapids in 2017-18, forward Turner Elson stayed on with the Griffins. Detroit brought in Harri Säteri from the Springfield Thunderbirds, and Patrik Rybar arrived from Europe to anchor the Griffins in net.
They have teamed with the next group of Red Wings prospects as Detroit tries to rebuild. Filip Hronek, Vili Saarijärvi, and Libor Sulak are young defensemen with promise. Givani Smith is a 2016 Red Wings second-round selection in his rookie AHL season. Headlining the collection is Zadina.
It became clear by the end of the first day of free-agency that Detroit meant business with its Grand Rapids roster. Rybar had signed after his season in the Czech Republic had ended, Camper had already been shipped in from Tucson, and then Terry, Megan, Chelios, and Säteri all signed that day.
"I want to play for a Calder Cup," Terry said. "I want to be in the hunt and play for a team that is there to win. That was definitely really attractive. When that offer was there, it wasn't one that I was going to pass up."
THE RETURNS SO FAR
That mix has the Griffins 28-16-3-4, tied with Rochester at 63 points for second overall in the AHL. Their. 618 point percentage is fifth overall, and they are eight points off Charlotte's pace. Just as that 2016-17 Griffins team did, this season's group has made full use of Van Andel Arena. Their 18-5-1-3 home mark spits out a .741 point percentage that is fourth-best in the AHL as they continue their seven-game homestand with two more dates this weekend. On their way to the Calder Cup in 2017, the Griffins captured all 10 games on home ice.
Grand Rapids has outshot opponents in 34 of 51 games this season, and the Griffins' 28.2 shots-against per-game average puts them eighth in the AHL. Defensively, they allow 2.82 goals per game, eighth-best among their peers. Grand Rapids battled periods of first-half weaknesses that Simon worked to drum out. Since a 6-4 road to the Hershey Bears on January 5th, the Griffins have gone on a 9-4-0-1 run that has put them firmly among the AHL elite with two months to go in the regular season.
"I just think that we bring it every night," Terry said. "We're a consistent team that is not going to take nights off."
Armed with a dangerous shot and a tenacious puck-hunter, Terry has been the centerpiece of that incoming free-agent crop that has delivered. Terry, 29, arrived after winning the John B. Sollenberger Trophy as the AHL's leading scorer thanks to 71 points (32-39-71) in 62 games last season in Laval. That effort also put him on the AHL First All-Star Team even though the Rocket finished last overall. At 24 goals through 46 games in Grand Rapids, which has him tied for third overall, he is on his way toward his fourth AHL season at 30 or more goals. Camper, 30, has a hold on third-place in team scoring at 11-25-36 in 44 games. Elson's play earned him a new two-year contract with Detroit. Chelios is a steady defensive presence, and Megan has contributed 20 points (11-9-20) in 28 games while dividing his time between Detroit and Grand Rapids.
The Rybar- Säteri combination also has worked. Rybar, 26, is 11-7-5 | 2.32 | .914. He turned in a 33-save performance in his most recent outing, a 4-1 home win against the Wilkes-Barre/Scranton Penguins this past Saturday night. The 29-year-old Säteri has returned to his Springfield form, at least not yet, but he is 17-9-2 | 2.85 | .900. The season's first half inflicted most of the damage to his stat line. After Hershey dented him for six goals in that January 5th road loss, Säteri started his turnaround a week later on a 41-save night against the Belleville Senators. Defeating Belleville that night started a 6-2-0 run for him featuring a .936 percentage over those eight games.
Well on their way to a seventh consecutive playoff appearance, the next task for the Griffins is to elevate their power play, which is last in the AHL at 14.3 percent. Signs of life have shown lately, however. Two power-play strikes from Hronek, the Griffins' blue-line points leader (7-16-23 in 27 games), keyed a comeback home victory last week. He added two power-play assists in the win against Wilkes-Barre/Scranton.
And then there is Zadina. Simon has taken on the rookie as a major project. Detroit opted to station Zadina in the AHL rather than back with the QMJHL's Halifax Mooseheads so that he could better learn both sides of the puck. With 13-12-25 in 45 games, he can handle the AHL's skill level. Becoming a well-rounded, two-way forward is the longer-term objective, and fulfilling it will be what helps him to be a fixture in Detroit.
"It's a lot of teaching," Simon described last month. "Pulling out hair that I don't have. But it's breaking a lot of junior habits that he has had to rely a lot on, just his raw talent and raw skill. He has got to learn slowly, and he has progressed nicely. He has to learn how to use his teammates a little better, when to pick and choose when to use to offensive talents."
Simon's own development has been another Grand Rapids storyline.
"Another work in progress," Simon joked. "[The veterans] have been a good sounding board for me. We're a pretty open group, and we look for feedback both ways. It's a two-way street."
"It's trying to find those right pieces, but it's always a work in progress. [Through four seasons as an assistant coach and head coach], it has always been a good culture in the [dressing] room and within the team, so I think that has continued."
THE NEXT STEP
A strong run to the Calder Cup Playoffs is the next step for the Griffins, but both the crew in Grand Rapids along with Detroit management have set up the Griffins to succeed.
"We have a good combination," Ford said of the roster make-up. "If you look at what it takes to win during the playoffs, win during the year, Detroit gave us all of the tools to be a good hockey team."
You may also be interested in: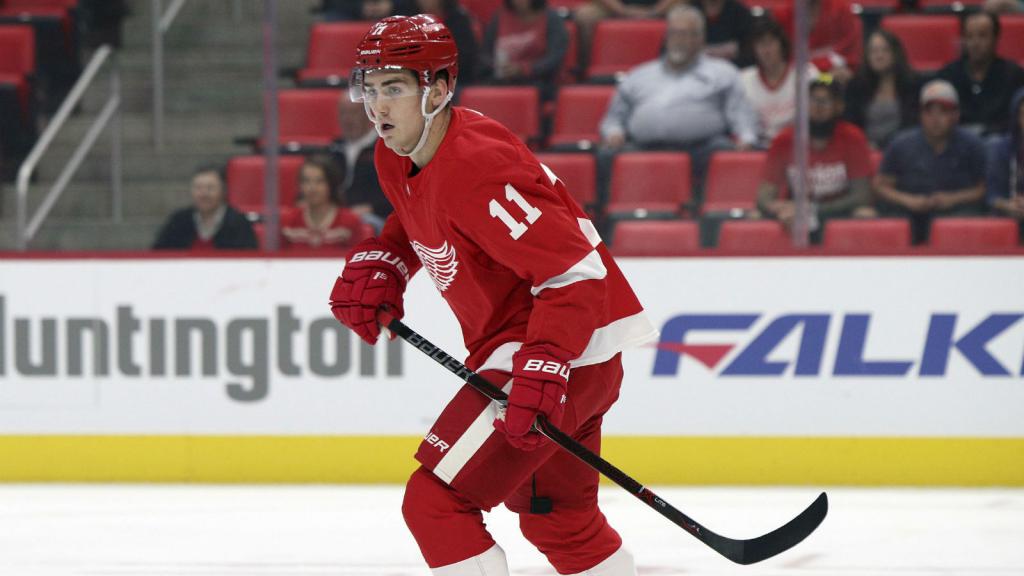 AHL PROSPECTS WATCH: Zadina finding his game after WJC letdown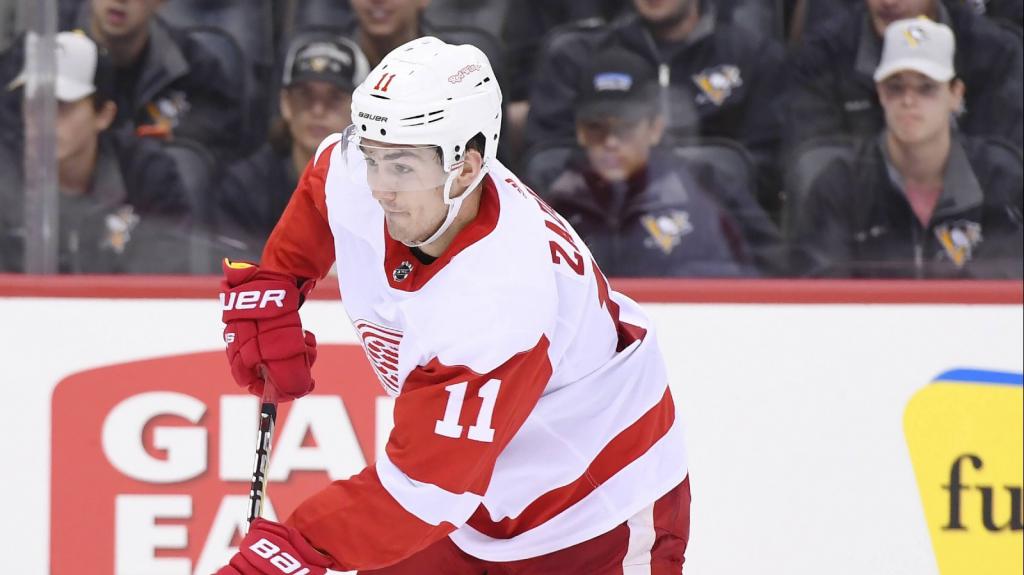 AHL POWER RANKING: Zadina gets Griffins back on track
This article is about: