NHL Prospects
THE PIPELINE SHOW: Hobey Baker candidate Barron, first-round hopeful Robertson
This week on TPS we get a closer look at the WHL's B.C. Division, speak with a New York Rangers prospect who is a Hobey Baker Award nominee while leading his team in scoring and a pair of 2019 Draft Spotlight segments featuring an undersized offensive dynamo and a 6'5 goalie on the rise.
2019 Draft Spotlight: Nick Robertson
With talent far exceeding his 5'9 frame, Nicholas Robertson is doing his best to prove to skeptics that not only is he worth taking a shot at on draft day but that he's worth a 1st round pick.
I spoke at length with the Peterborough Petes forward and, aside from some shoddy cell phone reception, the interview was pretty revealing. First, the California-born Robertson talked about his year, an impressive one, in light of a season that sees his team in the soft middle of the OHL's Eastern conference.
Then Robertson revealed that he's been playing with an injured wrist for much of the season but after getting medical clearance, didn't want to miss more time because it's his NHL draft season. That led into our chat about the draft itself and how much time he spends thinking about the upcoming day in June – which is a lot.
Of course the natural questions about his older brother, Dallas prospect Jason Robertson, came up. The major similarity being the way they both pile up the points while the obvious difference is that the big brother is a lot bigger; 6'2 compared to 5'9.
We also discussed the showcase events that Robertson has been part of this year like the CHL Top Prospect Game and the Hlinka-Gretzky Cup. At both events he partnered up with Hamilton Bulldogs forward Arthur Kaliyev to great success.
In the Dub: Bill Wilms
Long time WHL broadcaster Bill Wilms is my guest as we look closer at the BC Division headed into the final quarter of the regular season. Bill, colour analyst on Vancouver Giants broadcasts, offers great insight as the the strengths and weaknesses of the team as they try and chase down Everett for first place in the conference.
We spent a bit of time focusing on NHL Draft eligible Bowen Byram who is for most, the top rated blueliner in the class of 2019. I asked Wilms who he thinks of when trying to come up with a comparable WHL of the past for Byram and his answer is pretty interesting.
Wilms also shares his thoughts on the Victoria Royals, Kelowna Rockets, Kamloops Blazers and Prince George Cougars and if any of those teams seem like threats come playoff time.
NCAA Campus Report: Morgan Barron
Continuing our tour of Canadian Hobey Baker Award nominees this week is a returning guest of the show, forward Morgan Barron from the Big Red of Cornell.
Barron originally appeared on The Pipeline Show a couple of seasons ago prior to his 6th round selection by the New York Rangers in 2017. Since then the power forward has played almost two full years at Cornell including the current sophomore campaign where he leads his club in scoring with 27 points.
We covered why he thinks he's advanced as quickly as he has, whether Cornell was a larger step up from St. Andrews College on or off the ice, and how playing for coach Mike Schafer has made him a better player.
I also picked Morgan's brain about younger brother Justin Barron who is garnering a lot of attention for the 2020 draft as a member of the Halifax Mooseheads.
2019 Draft Spotlight: Carter Gylander
It can be tough for a goalie in his NHL Draft year as it's uncommon that a 17-year-old is the starter for his team. That's the case for Carter Gylander of the AJHL's Sherwood Park Crusaders and yet, the 6'5 keeper has done enough already to be ranked 12th in North America by NHL Central Scouting.
Gylander is one of those players that I get asked about by scouts, quietly on the side. It's like they don't want anyone else to know that he's someone they are looking at, their little secret. Well the secret is obviously out because I've been asked a lot about him this year.
I had a chance to speak with the local product and one of the things that stood out to me was his path to hockey. In the years since I've been covering prospects, Gylander is the first player who told me that his entry to hockey came after playing ringette. He was the goalie on his older sister's team and that continued on to when he finally did make the switch to hockey.
During our conversation we covered his thoughts on the WHL and NHL draft, his experience at Edmonton Oil Kings camp and his commitment to Colgate to play for the Raiders.
*****
Guy Flaming is the host of The Pipeline Show, a year round, 100% prospect orientated podcast now in its 14th season. Since 2006, the mandate of the program has been to introduce the audience to the future of the NHL and that is accomplished every week by speaking with the top players, coaches, general managers, scouts and media that junior and college hockey have to offer. It is free to subscribe to The Pipeline Show and is available via iTunes, Google Play, Soundcloud, Spreaker, the Podcast App and www.thepipelineshow.com
You may also be interested in: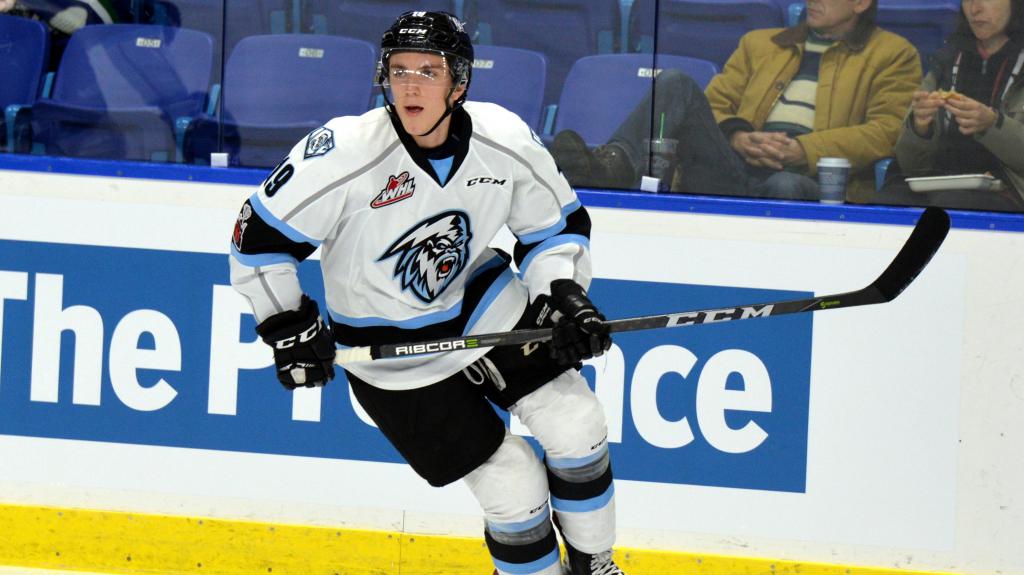 THE PIPELINE SHOW: "Krebs reminds me of Nugent-Hopkins"
This article is about: