NHL Prospects
WODON: The debate surrounding college transfers
College hockey recruiting is more cutthroat than ever. But poaching other teams' players is something frowned upon by most coaches. And, depending upon how you do it, it could be against NCAA regulations.
This issue bubbled to the surface again recently when it was announced that Holy Cross' leading scorer, Matt Barry, would transfer to Miami. He announced this himself, on his Twitter feed, in the middle of this season — his freshman year. Under NCAA transfer rules, Barry will be eligible to play for Miami starting in the second half of the 2019-20 season.
There is nothing that Miami necessarily did wrong. There is a new thing now called the NCAA Transfer Portal. This allows players to declare themselves as wanting to transfer, and puts them into a nationwide database. They can do this without getting permission from the current school to release them from their National Letter of Intent.
So Barry put his name in there, and Miami then was allowed to communicate with him.
This is not necessarily about Miami specifically, but it raised questions of whether there were many schools out there with no qualms about plucking players from other teams. To do so outright would be a violation of NCAA rules. But there are gray areas with back channels where things can be discussed. And there's where it gets hazy.
There are also situations where assistant coaches switch schools, and then take players that had committed to their old school, with them to the new school. One NCAA coach told me that this was reprehensible behavior. "That coach was on the payroll of his old school, he recruited that player for them." On the other hand, players build relationships with these coaches, and can they be blamed for wanting to follow them to their new school?
That kind of thing is expressly prohibited in most head coach's contracts. But probably not in assistant coach contracts.
NEW RULES COMING?
While all of this is happening, there is legislation in the NCAA pipeline that would change the recruiting calendar. Players would no longer be allowed to "verbal commit" to schools before approximately age 16. The more binding Letter of Intent comes around age 17, so the time in between would be shorter, limiting movement, theoretically. This is set to be voted on in April.
On the other end, some of the big schools, a couple years ago, tried to limit the upper age limit of players to 24. That would mean that 21-year old freshman would be limited to three years of eligibility. That measure ultimately failed. The new legislation is trying to rein in players from committing too young. There is, though, the concern about major juniors, which starts at 16 and is seen as competition to NCAA schools for higher-end recruits.
There was, at one time, a "Gentleman's Agreement," where coaches agreed not to recruit players once they verbally committed elsewhere. The problem is, many schools started stockpiling recruits. If you look on recruiting lists, some schools have upwards of 30 players committed over a three-year span. Not all of them can play, obviously. So some coaches started to say "forget it," and just kept right on recruiting those players anyway — some would call it "poaching," some would not.
With more and more money in college hockey — i.e. in the coaches' salaries — the pressures to win get bigger and bigger. Eventually, the Gentleman's Agreement collapsed under its own weight.
"I would rather have success and defend myself than be on the other side," said one coach of a high-profile team. "When it's all said and done, I want the best character kids on the ice and to be successful. I used to get all rattled and worried and try to be everything to everybody, and I stopped even worrying about the argument because I felt people were speaking out of both sides of their mouth. When (the Gentleman's Agreement) is convenient for them it's fine."
This coach said to me that he talked to other coaches with high-profile players, who said they wouldn't be surprised if other teams kept recruiting them. "It's part of the game, and that's what goes on in every other sport."
"The GA was (formed) when everyone was committing kids in the fall of senior year and once a kid made that decision you'd stay away."
There's another side to this, though … teams with the highest-profile players aren't really winning right now.
NO LUCK FOR TEAMS WITH YOUNG PROSPECTS
Of the eight teams with the most NHL Draft picks on their roster — between 8 and 13 picks — only Providence (with 10) is currently in position to make the NCAA tournament. The others read like a who's who of NCAA blue bloods — Minnesota, Boston University, Boston College, Michigan, Wisconsin, North Dakota and Notre Dame. Between them, those schools have won 38 national championships, and none of them are probably going to make the NCAAs.
This was not always the case. In the past, teams with the highest-end talent tended to win more. However, thanks to players leaving for the pros earlier and earlier, building a team is harder. This effect started to take place more than 10 years ago now, and it seemed for a while that some of these high-end schools had figured it out. But as evidenced by these facts and figures, they are still struggling to find the right balance.
The teams doing the best right now have a handful of NHL Draft picks — Minnesota-Duluth, Denver, Northeastern, Harvard, Cornell, Ohio State, Massachusetts, Quinnipiac and St. Cloud State — teams all primed to make the NCAAs, with plenty of talent, but a strong balance.
This could suggest that all of these recruiting shenanigans will have a way of policing itself. And because of the impact that agents ("advisors" in NCAA circles) have on recruiting as well, there will still be ways to circumvent the 16-year old age minimum if that comes to pass. This causes hand-wringing among some, but if the self-regulating nature of having "too much young talent" on your roster remains true, the bottom line is, everyone should probably stop worrying so much.
You may also be interested in: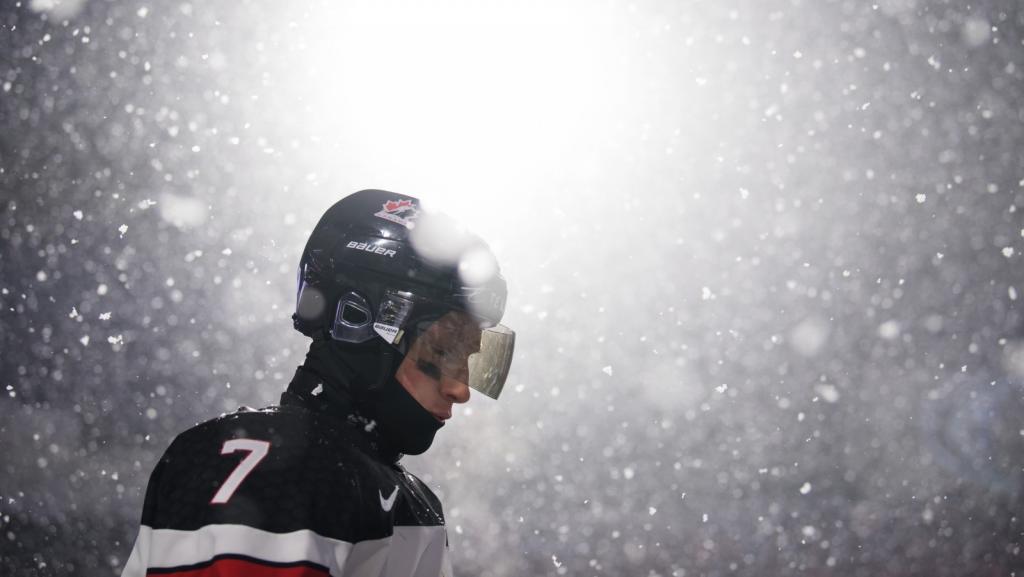 TOP 10 – NCAA: Cale Makar tearing it up for UMass
This article is about: