NHL Prospects
FANTALYTICA: Mining for gems
Welcome to another installment of the Fantalytica column. Every week, Fantalytica provides a granular, fantasy perspective about a group of prospects. Following the previous column, which honed in on the Finns, we decided to check out the later drafted gems of the future.
Fantalytica is a weighted fantasy league metric that creates a tangible, predicted value of an NHL prospect before they set foot on an NHL sheet of ice. The goal of this metric is to provide casual, competitive, and diehard fantasy hockey owners with a glimpse into the future of NHL players. These algorithms provide all fantasy hockey owners with additional knowledge to use when evaluating a prospect. Fantalytica combines the rules of any fantasy league to provide the most accurate predictions for all NHL prospects. Although Fantalytica provides a predictive value for a prospect, it does not represent the value a prospect may have to an official NHL organization – it provides a fantasy driven prediction that should only be used to evaluate a prospect on what they could provide from a Fantasy perspective. The system displays a value that simulates a close prediction of a player's fantasy production starting after his 200th game in the NHL (82 game season).
Metrics
CURRENT VALUE: The broadest metric of Fantalytica, the Current Value metric represents a conservative prediction of a prospect, the best and simplest visualization for an owner to understand the value of a prospect to their online club.
DRAFT DAY VALUE: This metric is adjusted to the age when they were drafted. Essentially going back in time to replicate what their Current Value would be on the prospect's draft day.
AGE ADJUSTED POTENTIAL VALUE: Providing a conservative metric for prospects wasn't enough. We needed to provide more, to really understand the ceiling of a prospect. The Age Adjusted Potential Value is a loftier prediction of a prospect's future production. This value weighs age differently, therefore creating a large discrepancy between any two prospects. This metric was created to give owners a better understanding of the potential a prospect can have, and how different all prospect can develop at different stages of their career.
GROWTH FROM DRAFT DAY: This metric shows the difference in projected points from the day they were drafted, to the current projected points. This metric is very simple and very effective because it shows if the prospect has declined/inclined over the years.
We used these rules to quantify this week's metrics.
Goals (4), Assists (2), Hits (0.5), Blocks (0.5), Plus/Minus (1), SOGs (0.75), Powerplay Points (1), Short Handed Points (2), FOW (0.2), FOL (-0.1)
—
Every June, NHL gems are found. Being drafted into the NHL is one of the best accomplishments for a hockey player. Although being drafted validates you're pretty decent at the game, it puts you under a microscope. The pressure is on. Thousands of fans track your progress, you aren't a young unsuspecting kid anymore. Transitioning from youth and junior leagues to professional can be very difficult on the mind and the body. Because of the increased difficulty, players who pass evaluations for both the mind and the body are usually taken closer towards the beginning of the NHL entry draft. Every previous NHL draft has unearthed a few later round gems – it's one of the reasons why the NHL has 7 picks per team. Organizations aren't always able to evaluate and define a players potential at 18 years old.
Here's where you come in. You own a fantasy team, don't you? Owners usually follow the status-quo of a prospect's real world value. "Oh, this prospect was taken in the 7th round, hes getting lucky. Bust.". Another man's 'trash' is another man's treasure!
Some of the most valuable players in the game today were taken outside of the 1st, 2nd, and 3rd rounds. Fantalytica has done the heavy lifting for you. We've taken a step back into the past, specifically the 2016 NHL draft. From the last 3 NHL drafts, we've taken our best valued prospects from the 6th and 7th rounds. We also threw in some of the best 2017 1st rounders to give you a better perspective. We've done our best to create an educational visual that plots the value some of these 'gems' can have for your dynasty/keeper league. We've labeled the general player potentials by ascending color. Top of the graph is best, bottom of the graph is worst. With a lot of overlap, any player within 1 sub-colors seems to be a reasonable projection for potential fantasy output.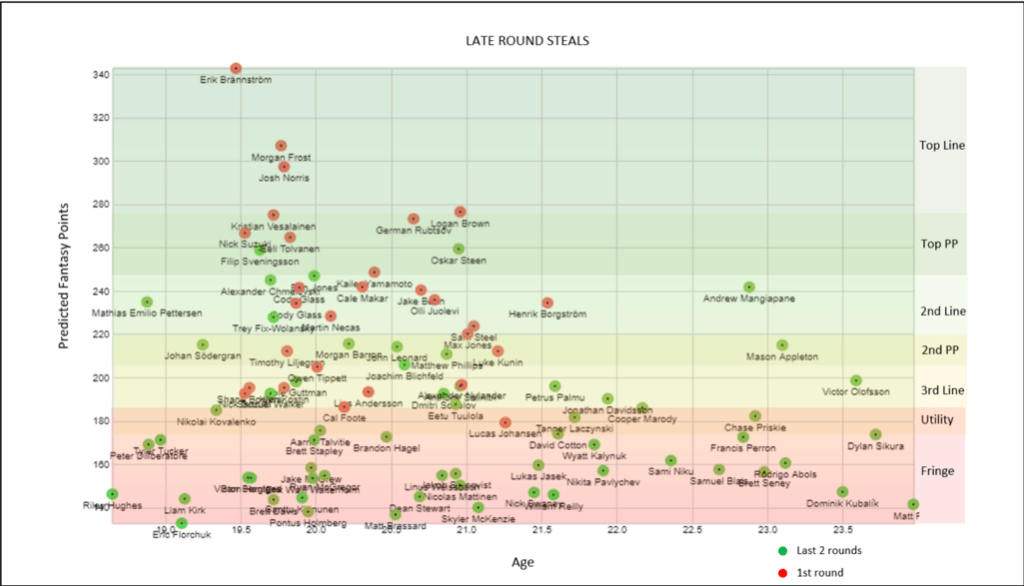 We aren't going into detail on the 1st rounders in this chart. They aren't steals.
The guys in green are the players who were given a flyer by NHL organizations these last few years, and just like the NHL, you should too. We don't recommend replacing a guy like Lias Andersson with Oskar Steen, despite the production you see from the graph. The gamble doesn't seem worth the risk. We do, however, recommend taking a flyer on Alexander Chmlevski, Matthias Emilio Pettersen, Andrew Mangiapane, and the other gems who sit among 1st round production.
There is a good chance that their accompanying NHL organizations are watching closely and will surely give each a chance to succeed. The production of these young men is impressive and should not be discounted due to where they were drafted. From the older end of the graph you can see the outliers that are currently surfacing in the NHL. Borgstrom (1st rounder), Mangiapane, Appleton, and Sikura are currently in the NHL and are proving to every NHL organization who passed on them that they were wrong. Victor Olofsson is knocking on the door. Chase Priskie is up for the Hobey Baker award in the NCAA. Cooper Marody has gotten more than just a cup of coffee in Edmonton. Trey Fix-Wolansky reminds many scouts of Alex Debrincat due to his size and knack for the net.
These guys get chances. Why shouldn't you give them one? With some careful choices, dropping the 3 worst prospects on your squad and replacing them with the best available players from this graph seem like a decent risk. Each year, many underrated players lurk in the darker rounds of the draft. Some of the projections we have on these players are sorely underrating potential – with some extended thought and research on these guys you should feel comfortable pulling the plug on an overrated prospect. Check these guys out.
The younger kids like Emilio Pettersen, Johan Sodergran, Nikolai Kovalenko, Samuel Walker, Filip Sveningsson, Ben Jones, and Ivan Chekhovich are just a few of the best underrated young men in hockey.
To conclude this column, I'd like to remind you all that these are educated fantasy hockey projections and must be taken with a small grain of salt. Not every player from this graph will get a chance to play in the NHL.
Thanks for reading.
Tweet at us @Fantalytica for all fantasy related questions. We post a lot more visual content just like this!
You may also be interested in: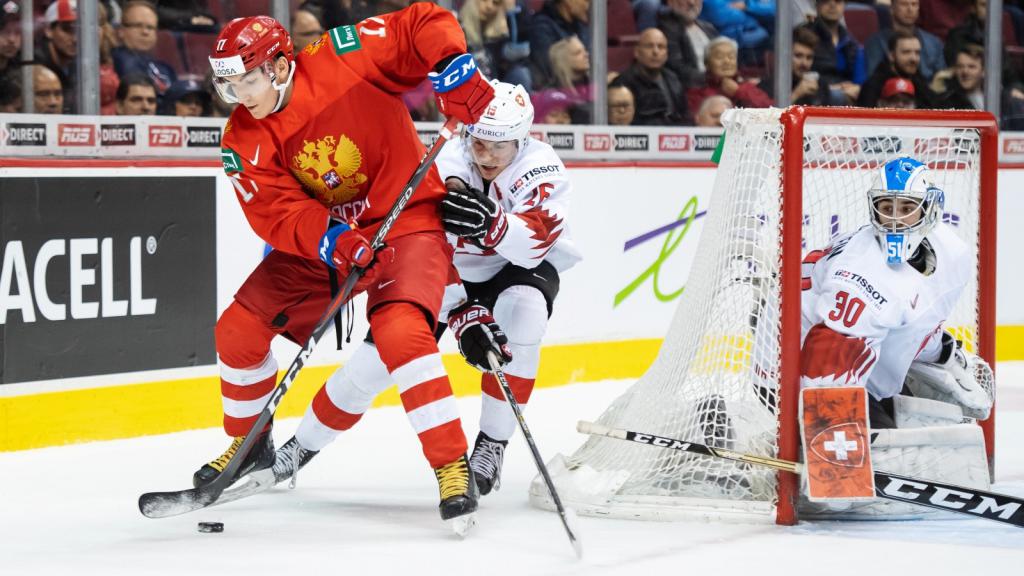 FANTALYTICA: Don't forget about the Russians
This article is about: