NHL Prospects
AHL POWER RANKINGS: Deadline aftermath
Every week, EP Rinkside serves up the weekly AHL Power Rankings, a look at the top Calder Cup contenders across the 31-team circuit and their player development picture.
The NHL Trade Deadline has passed, but it left an impact on AHL rosters with several players shuffled to different NHL organizations as some teams added postseason reinforcements and other clubs shipped out talent.
Because one trade deadline is not nearly enough, the AHL offers a follow-up one. The AHL deadline trade or loan players is set for next Monday, March 4th at 3 p.m. ET. There was no activity – zero – last season at the AHL deadline, but AHL management teams have been active with deadlines in past seasons.
AHL TOP TEN
1. CHARLOTTE CHECKERS (CAROLINA HURRICANES)
Management had a goal to firm up its forward depth going into the NHL Trade Deadline. Mission accomplished. They brought in NHL veteran Tomas Jurco from the Springfield Thunderbirds. Jurco, who has played 201 NHL games, can be a top-six AHL forward at the AHL level and won the Calder Cup in 2013 with the Grand Rapids Griffins. Carolina also made forwards Warren Foegele and Saku Mäenalanen eligible for the Calder Cup Playoffs. The Checkers swept the Lehigh Valley Phantoms at home this past weekend in back-to-back contests and welcome the out-of-contention Binghamton Devils this weekend. Another four-point weekend could give the Checkers a bit more breathing room in the Atlantic Division on the second-place Bridgeport Sound Tigers, who have crept to within six points of Charlotte.
Last Week: #1 – 12th week in a row
2. BAKERSFIELD CONDORS (EDMONTON OILERS)
Bakersfield has cleared another historical hurdle, sweeping the Tucson Roadrunners to reach 17 consecutive victories. That ties them with the 2004-05 Philadelphia Phantoms for the second-longest winning streak in AHL history. Still well off in the distance is the 2011-12 Norfolk Admirals' run of 28 wins in a row. In the more immediate future is a very challenging test at home this weekend with visits from the Iowa Wild and San Jose Barracuda; Bakersfield has three meetings with San Jose in the next five games. If the Condors would tie Norfolk's record, that would come March 30th at San Jose. The record-breaker would come April 2nd in Winnipeg against the Manitoba Moose. Edmonton made veteran forwards Josh Currie and Brad Malone AHL playoff-eligible. With the Oilers out of contention, the Condors should have a strong line-up when the Calder Cup Playoffs arrive.
Last Week: #2 – 2nd week in a row
3. BRIDGEPORT SOUND TIGERS (NY ISLANDERS)
Bridgeport executed a 3-in-3 weekend sweep that blew open the second- and third-place gap in the Atlantic Division. Laying a 5-1 score on the visiting Hershey Bears to close out the weekend put the Sound Tigers up eight points on the third-place Bears. Young blueliner Sebastian Aho has 3-6-9 in his past six games. Islanders management also made Devon Toews AHL playoff-eligible, another boost for the Bridgeport defense corps. They pay a visit to Hershey on Saturday night before finishing their weekend at the Lehigh Valley Phantoms. This weekend starts five consecutive games away from home, where the Sound Tigers have won six in a row. But they start an eight-game homestand in mid-March. The Islanders stood pat at the NHL Trade Deadline, but Bridgeport did add forward Michael Dal Colle on loan last week.
Last Week: #2 – 2nd week in a row
4. ROCHESTER AMERICANS (BUFFALO SABRES)
Rochester picked up two more wins before stumbling at home against the red-hot Belleville Senators to close out their week. The NHL Trade Deadline cost them defenseman Brendan Guhle in the Brandon Montour trade, but the Sabres did return top-pairing defender Lawrence Pilut to the Amerks. They also made forwards Tage Thompson and Danny O'Regan eligible for the AHL postseason. The organization lost goaltender Jonas Johansson to season-ending surgery; he had been Rochester's first-recall option. They have another home-and-home series against the rival Syracuse Crunch that starts Saturday on the road. Although the Amerks lead the North Division and are third overall in the AHL, they do not have significant margin for error. Only six points separate first- and fourth-place in the North, and those Senators are in fifth place only seven points behind.
Last Week: #4 – 2nd week in a row
5. SYRACUSE CRUNCH (TAMPA BAY LIGHTNING)
Thanks to a make-up game that goes Tuesday at the Binghamton Devils, the Crunch have a four-game week that features a 3-in-3 weekend with the Rochester home-and-home match-up. Their weekend slate begins with a visit from the Phantoms, who will bring a replenished line-up into Syracuse. The good news for the Crunch is that they survived the NHL Trade Deadline with their prospect-packed roster intact as the Lightning remained quiet. Eddie Pasquale played all three games in net last week instead of prospect Connor Ingram, and the Crunch picked up a two-game split against the visiting Toronto Marlies.
Last Week: #5 – 2nd week in a row
6. GRAND RAPIDS GRIFFINS (DETROIT RED WINGS)
Rookie forward Filip Zadina has heated up lately, going on a seven-game point streak (4-5-9) and earning himself his first NHL recall with the Red Wings. The Griffins finished a 5-1-1-0 homestand last week, but they picked up only one win in three games to close out their week. The Harri Säteri–Patrik Rybar net tandem has gone on a tear lately as well. However, 13 of their final 20 games will be on the road. That includes nine of 10 games away from home later starting in March. The power play remains stuck in last place, and help at the AHL Trade Deadline may be needed.
Last Week: #6 – 2nd week in a row
7. CHICAGO WOLVES (VEGAS GOLDEN KNIGHTS)
The loss of rookie defenseman Erik Brännström is massive and takes away a weapon that no other Western Conference competitor had to match the Wolves. But AHL leading scorer Daniel Carr continues his MVP-caliber season, and he pounded out another six points (2-4-6) in three games to help the Wolves sweep their week. Goaltenders Max Lagacé and Oskar Dansk each put up a 38-save win. They host the Rockford IceHogs to start their week and then take to the road for four games. The trip begins with back-to-back games with the Texas Stars.
Last Week: #7 – 2nd week in a row
8. TORONTO MARLIES (TORONTO MAPLE LEAFS)
It has been a long time coming, but the defending Calder Cup champion Marlies are beginning to take a firmer shape. They got a split in their two-game trip to Syracuse and grabbed seven of eight points in a busy week. The Leafs also brought in Milwaukee Admirals forward Nicholas Baptiste for future considerations. They have a rather light week ahead with two home games, including one against a fellow North Division team in the Cleveland Monsters. But they will play 13 games in a 28-day span in March. Holding third place in the North Division, they are only three points out of first place yet only two points above the playoff line.
Last Week: #13 (▲+5)
9. SAN JOSE BARRACUDA (SAN JOSE SHARKS)
The Barracuda start their week hosting the Iowa Wild, make a trip south to see the Ontario Reign and then start three consecutive games against the Condors and their 17-game winning streak. That could be the last chance for the Barracuda to catch the Condors, who have taken a five-point lead for the Pacific Division. The Barracuda have a punishing remaining schedule. Forward prospect Jonathan Dahlén came over from the Utica Comets in a Sharks-Vancouver Canucks trade that also did not take anyone off the Barracuda roster. Last week the Barracuda picked up two-game split at Iowa but stumbled against the rival Stockton Heat.
Last Week: #3 (▼-6)
10. IOWA WILD (MINNESOTA WILD)
Iowa has opened up a six-point lead for third place on the Rockford IceHogs in the Central Division. A playoff appearance would be the first for a Minnesota AHL affiliate since 2013. Iowa received good news Monday when Minnesota made forwards Ryan Donato, Jordan Greenway, and Luke Kunin eligible to go to the AHL. The AHL Wild start a six-game road trip Tuesday at San Jose and are not back on Iowa ice until March 12th.
Last Week: #11 (▲+1)
UNDER CONSIDERATION
11. SAN DIEGO GULLS (ANAHEIM DUCKS)
Players have moved to and from Anaheim on a regular basis, but the Gulls picked up home wins against the Tucson Roadrunners and San Antonio Rampage. They remain within striking distance of Bakersfield. On the schedule this week is a trip north to Stockton. San Diego is going with a Jeff Glass–Angus Redmond goaltending combination with Kevin Boyle in Anaheim.
Last Week: #9 (▼-2)
12. UTICA COMETS (VANCOUVER CANUCKS)
It was one step forward, one step backward for the Comets. They added veteran goaltender Marek Mazanec from the Canucks only to lose Dahlén in the trade to San Jose.
Last Week: #10 (▼-2)
13. HERSHEY BEARS (WASHINGTON CAPITALS)
Hershey's franchise-record 17-game point streak (16-0-0-1) finally ended with the loss at Bridgeport, but the Bears have reshaped the Atlantic Division race. The streak has allowed them to move five points above the playoff line. The Bears can build more distance starting Friday when they visit the lowly Hartford Wolf Pack on a quick three-game trip. They host Bridgeport on Saturday night, a big test. Goaltender Ilya Samsonov has been excellent in the second half as he shows the potential that pushed the Capitals to take him 22nd overall in the 2015 NHL Draft. Hershey also received 2018 Stanley Cup Final notable Devante Smith-Pelly from the Caps.
Last Week: #15 (▲+2)
14. PROVIDENCE BRUINS (BOSTON BRUINS)
Providence has NHL veteran forward Lee Stempniak on the roster. They played their third of five consecutive 3-in-3 weekends. Another one awaits.
Last Week: #14 – 2nd week in a row
15. BELLEVILLE SENATORS (OTTAWA SENATORS)
What a week in Belleville. The AHL Sens have a 15-game point streak (11-0-0-4), added rookie forward prospect Vitaly Abramov in the Matt Duchene trade. That was followed by Brännström. Ottawa management also sent Filip Chlapik and Max Lajoie to Belleville, so the AHL roster is primed. With little to look forward to in Ottawa for the rest of the season, the AHL Sens will be under a close eye. They are within one point of a playoff spot, and they could be a lethal first-round opponent for someone.
Last Week: #18 (▲+3)
16. ROCKFORD ICEHOGS (CHICAGO BLACKHAWKS)
Rockford scooped up one win in three tries last week, but veteran forward Peter Holland is looking like every bit the strong pick-up. Defenseman Henri Jokiharju is back with Rockford – how well he can remain focused on his business in Rockford will be the question.
Last Week: #19 (▲+3)
IN CONTENTION
17. LEHIGH VALLEY PHANTOMS (PHILADELPHIA FLYERS)
After nearly non-stop roster-shuffling this season, Philadelphia management did leave the Lehigh Valley roster in good shape. But they have to make up four points to reach the Atlantic Division playoff line.
Last Week: #16 (▼-1)
18. TEXAS STARS (DALLAS STARS)
The Stars face a grueling March schedule that starts with two home dates with the Wolves. After that, they have six of seven on the road. Denis Gurianov is back in Dallas.
Last Week: #17 (▼-1)
19. WILKES-BARRE/SCRANTON PENGUINS (PITTSBURGH PENGUINS)
Losing forward J-S Dea is not what the AHL Penguins needed. Maybe his return, defenseman Chris Wideman, can help. Five points out, their 16-season playoff streak is in danger.
Last Week: #19 (▲+1)
20. TUCSON ROADRUNNERS (ARIZONA COYOTES)
The Roadrunners have been swept at in two-game home sets by the Condors twice in the past month. Arizona brought in Laval Rocket veteran forward Michael Chaput to address organizational depth as well to push the Roadrunners into the postseason.
Last Week: #12 (▼-8)
21. CLEVELAND MONSTERS (COLUMBUS BLUE JACKETS)
Cleveland lost Abramov but did take back-to-back wins to stay on the edge of contention.
Last Week: #24 (▲+3)
22. SAN ANTONIO RAMPAGE (ST. LOUIS BLUES)
If it is February, it must mean another painful road trip for the Rampage. They have two wins through eight games so far. The 10-game march ends finally this week, but it did a number on what had been a solid rebound from their poor early season.
Last Week: #26 (▲+4)
23. MANITOBA MOOSE (WINNIPEG JETS)
Three consecutive regulation losses to open a six-game road swing have put Manitoba's playoff chances in severe jeopardy. But there is hope after they added Mason Appleton and Tucker Poolman from the Moose, and standout goaltender Eric Comrie was not traded.
Last Week: #21 (▼-2)
24. MILWAUKEE ADMIRALS (NASHVILLE PREDATORS)
One win in their past 10 games means Milwaukee is in desperation mode. They have a chance to push back this week when they go on the road against San Antonio and Texas, two teams that they are trying to fight past to reach Rockford.
Last Week: #23 (▼-1)
HANGING ON
25. COLORADO EAGLES (COLORADO AVALANCHE)
The Eagles face a massive week with four home games.
Last Week: #22 (▼-3)
26. STOCKTON HEAT (CALGARY FLAMES)
Wins in three of their past four games have prolonged Stockton's chances for a bit longer. They have two crucial home games against San Diego that start a very difficult March schedule.
Last Week: #29 (▲+3)
OUT OF CONTENTION
27. SPRINGFIELD THUNDERBIRDS (FLORIDA PANTHERS)
Florida management has started to clear out a glut of veterans.
Last Week: #25 (▼-2)
28. LAVAL ROCKET (MONTREAL CANADIENS)
Laval's roster continues to be picked over – Chaput became the latest player out the door on Monday.
Last Week: #27 (▼-1)
29. BINGHAMTON DEVILS (NEW JERSEY DEVILS)
It is AHL audition time in New Jersey.
Last Week: #28 (▼-1)
30. HARTFORD WOLF PACK (NEW YORK RANGERS)
The Wolf Pack have managed to win three of their past six games, which is at least some semblance of life in Hartford.
Last Week: #30 – 2nd week in a row
31. ONTARIO REIGN (LOS ANGELES KINGS)
Remember when defensive hockey defined the Los Angeles organization? Ontario allowed an average of 49 shots per game in a three-game week.
Last Week: #31 – 2nd week in a row
You may also be interested in: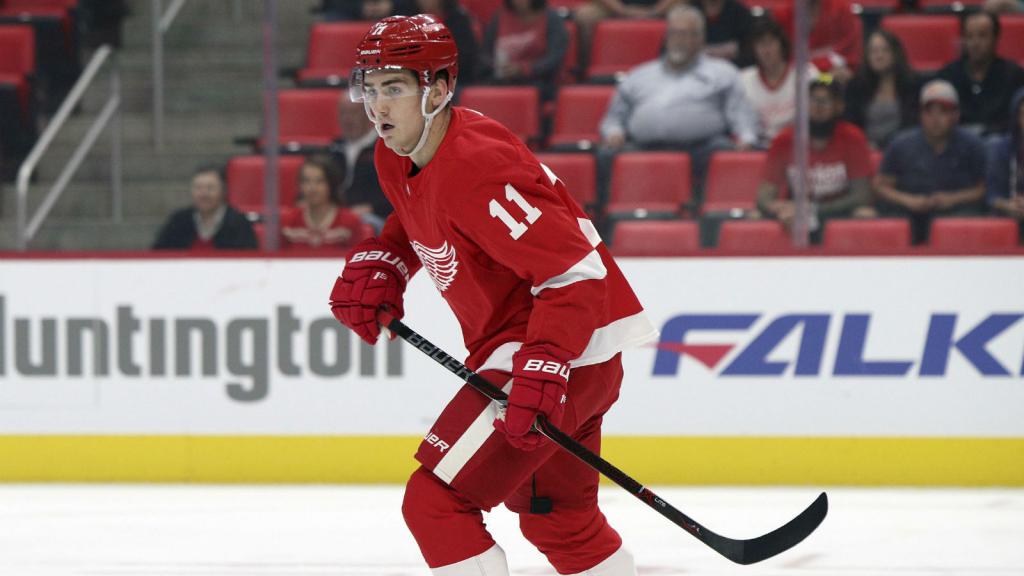 AHL ON THE ROAD: Grand Rapids Griffins re-loaded and ready
This article is about: